Pokémon GO beta invites are going out to U.S. testers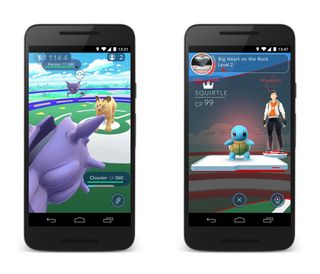 Niantic Labs is now sending out invites in the U.S. to players who wanted to beta test its upcoming Pokémon GO augmented reality game.
Beta testing for the game had already begun in Japan, Australia, and New Zealand. In a blog post, Niantic says:
Pokémon GO is expected to officially launch later this year.
More: It's time to get caught up on Pokémon Go
Awesome. Posted via the Android Central App

Frantically hitting refresh on my Inbox now... :P hahaha

If any of you got invites can you invite others? Please? :D

Pretty sure thats not how it works

I would've totally jumped on this, but I shudder to imagine the battery drain this game would put on your phone, especially a beta version. Pokemon Go looks like it'd keep your phone active even more than Ingress would.

Yeah, I was excited at first but then I just thought about how much of a battery drain this game is gonna be and I was just like, no... Haha Posted via the Android Central App

Ingress only eats my battery when I actually have it open. Even simply switching away causes it to basically suspend the app so I notice no battery drain. Really the only battery drain involves the GPS usage. If you're confident in using your phone with Google Maps, Ingress and Pokemon Go will work fine for you. Posted via the Android Central App

Can anyone who gets an invite post info about what the invite looks like/who it's from, etc.? I want to make sure I don't miss it if I get one.

Well here is what I found
http://pokemongo.nianticlabs.com/signup.jsp

Right, that's the sign-up page that was in the news a week or two ago.

OK, my bad
I just sign up for it.
I got bored of Ingress after level 16

I got my invite. It's from the Pokémon Go Team, if you're looking for it in Gmail. Posted via the Android Central App

Does everyone who signed up get an invite, or is it random? Posted via the Android Central App

Japan and Australia betas were random from what I hear. So I'd expect US to be similar. Posted via the Android Central App

I got mine, it was a pretty standard email. So far its fun, its more like a pokemon skin on ingress than a pokemon game though. Posted via the Android Central App

I just got my invite but it's not letting me download :/

while this is all good, it only means that we in the arab world will not be able to enjoy this game any time soon :(

I'm still waiting and hoping that I get an invite, but if I haven't gotten it by now maybe I won't. Which sucks. :(
Android Central Newsletter
Get the best of Android Central in in your inbox, every day!
Thank you for signing up to Android Central. You will receive a verification email shortly.
There was a problem. Please refresh the page and try again.