A $13 leather Pixel XL case that's good enough for now ...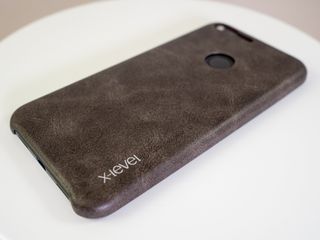 If you just have to have a case on a phone (and that's a thing I've finally come around to), then you have to have a leather case. It's really the only civilized thing to do, right?
Problem is leather cases for the Pixel XL are pretty hard to come by at this point. Google doesn't sell any directly, so we're pretty much on our own to find something. And the something that I've found is an inexpensive one from X-Level.
See at Amazon (opens in new tab)
This PU leather case — the gist is that it's not quite as nice and absolutely not as expensive as "genuine leather" cases — came in at about $13 for me. I'm willing to spend more on a case, especially if that means it's going to hold up longer. But a couple weeks into this one and so far it's been money well spent. The cutouts for the camera and fingerprint sensor aren't over-sized. There's a little bit of daylight visible from the front where the 3.5mm headphone jack sits, but that's a minor fit-and-finish thing. The case itself fits snug enough and hasn't once tried to come off.
Image 1 of 4
This actually gives the Pixel XL — the larger of Google's two 2016 phones — a much better feel. It's no longer too thin. It's no longer a little slippery. I can put it down on my desk without worrying about scratching it. And, yes, I've even dropped it a couple times, with no additional dings on the phone. (What you can see in the pictures here was what led me to finally get a case in the first place.)
So while we await something a little more official and more expensive from the usual suspects, this X-Level case for the Pixel XL is doing me just fine.
Image 1 of 5