A $13 leather Pixel XL case that's good enough for now ...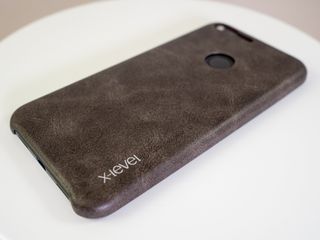 If you just have to have a case on a phone (and that's a thing I've finally come around to), then you have to have a leather case. It's really the only civilized thing to do, right?
Problem is leather cases for the Pixel XL are pretty hard to come by at this point. Google doesn't sell any directly, so we're pretty much on our own to find something. And the something that I've found is an inexpensive one from X-Level.
See at Amazon (opens in new tab)
This PU leather case — the gist is that it's not quite as nice and absolutely not as expensive as "genuine leather" cases — came in at about $13 for me. I'm willing to spend more on a case, especially if that means it's going to hold up longer. But a couple weeks into this one and so far it's been money well spent. The cutouts for the camera and fingerprint sensor aren't over-sized. There's a little bit of daylight visible from the front where the 3.5mm headphone jack sits, but that's a minor fit-and-finish thing. The case itself fits snug enough and hasn't once tried to come off.
Image 1 of 4
This actually gives the Pixel XL — the larger of Google's two 2016 phones — a much better feel. It's no longer too thin. It's no longer a little slippery. I can put it down on my desk without worrying about scratching it. And, yes, I've even dropped it a couple times, with no additional dings on the phone. (What you can see in the pictures here was what led me to finally get a case in the first place.)
So while we await something a little more official and more expensive from the usual suspects, this X-Level case for the Pixel XL is doing me just fine.
Image 1 of 5
Get the Android Central Newsletter
Instant access to breaking news, the hottest reviews, great deals and helpful tips.
Who is this guy and why is he writing articles on AC?

Where the heck do they find all these new scrubs to write for AC?

Andrew should have bought this case instead of the Google **** he blew 40 bucks on.

For $13? I'll take seven.

Seriously its great. I had this case for my Note 7 and it was awesome. I remember asking on Amazon of it was real leather or not and someone responded that he wasn't sure but that I wouldn't regret buying it. He was right. It just feels good in the hand and makes holding the phone so much better.

Looks like you already dropped the device on the bottom. It survived the drop without cracking the screen. That's a plus.

I know you love you some Leather. I highly recommend Slickwraps real leather back covers. Had one on my S6 for about a year and half and only got better with age! Perfect cut never even looked like it was going to peel etc... even with a 4yr old handling it daily. I promise not a spammer just a happy customer.
p.s. I just put the cork cover on my s7

I usually get slick wraps leather skins for my phones too. I love the feel but absolutely hate their shipping and customer service times. I hate myself for ordering from them sometimes.
When I ordered my last skin from them for my pixel they did not have the real leather option yet so I tried the cork skin and I really like it. It feels nice and I am not worried about scratches on the back now

This actually makes the Pixel look like a decent phone.

you mean decent...iPhone :)

How long until Shinola or Hardgraft offer something similar to what they offer for the iPhone? Now those would be primo!!

Lol I haven't wanted a leather case ever since my first smart phone (iPhone 3G) back in '07 😂. In my mind leather cases are reserved for the old school flip phone's. Also I don't own a Pixel, that being said, this case looks pretty darn good, although no bottom protection? I'd probably pass. A nice, cheap, grippy $5-6 plastic case is usually the ticket for me.

I have this case as well and I'm satisfied for the $13 I paid for it. If google released a leather case comparable to Apple's I would throw down a premium for one no questions asked.

So if I don't put a dead animal on my phone, I'm uncivilized? That is a weird thing to say.

So, Phil is really happy with a $13 basic leather case while Andrew is really unhappy with his $40 Live Case..... You know something is wrong when the cheaper product has better quality.....

I think you found a flaw in Andrew. ¯_(ツ)_/¯

Makes me want to get a leather case for my 6P now! A quick look showed me a few leather cases on eBay for cheap. Whether they're real leather for not is hard to say though.

What color is this? Looking at them on Amazon, it seems the only colors for the XL are black or gold, but the pictures look like the "coffee" color.

How can one have non genuine leather? It's either leather, or it isn't. What a ridiculous article.

It's almost as if there's more than one grade of leather ...

No it isn't. Bicast, or if you prefer PU leather is crap. Polyurethane applied to scrap leather. Leather grades are different grades of real leather. In England it is illegal for sellers to call Bicast leather. Because it isn't.

That was my point. And exactly why I specified PU leather in the post, and not "genuine leather." Thanks for reading, but I'm really not going to argue about this one. Not sure what more you expected from a $13 case.

Your headline is I'm really happy with this $13 leather Pixel XL case Why not I'm really happy with this $13 fake leather Pixel XL case?

I didn't write the headline. It's OK to read the story, too.

Ok, classify protein leather... Genuine question btw, I think it's better than PU but it's not real in the sense that it's not off a four legged animal... The subject comes up on headphone forums a lot and assume people think it breathes better and/or lasts longer while others say the opposite. I've never bothered to research it, not like I have a choice in the leather used by X or Y headphone.

Hey Phil what color is that? It looks like the Dark Coffee on the Amazon link but it is not available for the Pixel XL :(

Okay Phil. Upon reflection I have been a bit of a wanker. Perhaps it's just the ire I feel at my beloved ac being ruined by obtrusive and repetitive adverts (earlier I counted Seven Android pay ads nestled within 26 articles in the news feed) seeping out in an inappropriate manner.

Nice to see you here again Phil.. I have been using the real leather cases like yours for a few years now.. I've tried the PU cases and after a while they all start to stink.. I think the PU really stands for Pee You cause that's the odor given off of them... Lol If TetDed ever makes one for the Pixels make sure that you give them a try.. I've got one on my 6p and love it. Another one is Pierre Cardin.. which is normally about $15.00 cheaper. Take care Bro.