Pixel 4 hands-on shows 'crazy fast' Assistant, Ambient EQ display feature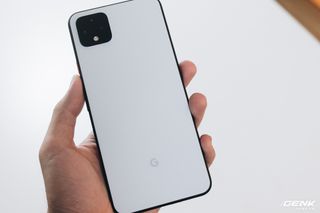 What you need to know
The next-gen Google Assistant is "crazy fast" and works with continued conversation.
Ambient EQ changes the display color and brightness to match your surroundings, similar to Apple's True Tone.
Face unlock can be unlocked by someone who "looks a lot like you, say, an identical sibling."
What would a Pixel launch be without massive leaks? Even though the new Pixel 4 smartphones aren't set to be announced until October 15, we've already seen video reviews and extensive in-depth looks at some of the exclusive features.
Now, we're getting another closer look at some of the features, such as the new Google Assistant, Ambient EQ, and the selfie camera, from Nextrift.
First up, we get a size comparison, and the Pixel 4 XL is very similar in size to the Galaxy S10+ and Pixel 3a XL. So, if you like the way those feel in your hand, you're going to be happy.
Nextrift also reveals that the next-gen Google Assistant is "crazy fast". Back at Google I/O, it was revealed that Assistant would be getting faster, and the Pixel 4 XL appears to show that is most certainly the case. The Assistant's also gotten a nice redesign and works with continued conversation. No longer will you have to keep repeating "Hey Google" again and again.
We also get a close look at the disclaimer for the face unlock on the Pixel 4 XL. It warns that your phone can be opened by someone else if it is held up to your face with your eyes opened. It also mentions that the phone will be able to be unlocked by someone that "looks a lot like you, say, an identical sibling."
That shouldn't be too surprising. I mean, if someone looks exactly like you, what did you expect to happen? Even the iPhone's Face ID has been tricked by identical twins.
Speaking of the iPhone, if you've been a fan of the True Tone display, then you'll enjoy Ambient EQ. According to Nextrift, the technology is very similar, changing the brightness and color of your display depending on your surroundings.
If you had any worries about Active Edge being removed, they were unfounded. The feature is still present and so are the options to adjust sensitivity and actions.
It has also been confirmed there is no microSD card slot, because why would there be? This is a Pixel after all and it has never featured one, I don't see Google ever adding one either.
Finally, we get to look at some samples of the selfie camera on the Pixel 4 XL vs. the Samsung Galaxy S10+. The images taken with the Pixel 4 XL are on the left while the images from the Galaxy S10+ are on the right.
As you can see in the photos, the Pixel 4 XL continues to blow away the competition when it comes to photography. The Pixel 4 XL has a much more natural exposure and color when compared to the S10+. Even the portrait mode shows an improvement over the S10+ with better separation and blurring.
Google Pixel 4: Leaks, Release Date, Specs, and News!
I never, EVER use Google Assistant. Am I missing out??

Yes...yes you are... ESPECIALLY if you use Android Auto. Assistant blows away everything else out there, including Alexa. It's accurate as hell, and does a good job of being contextually aware. It's even got personality (try the British and Australian voiced, lol).

Alexa skills are miles ahead and way more useful than anything I ever got out of using google assistant. The experience may be subjective but it seems that more developers are coding better quality and useful skills for Alexa and Siri shortcuts than for google assistant.

Siri and Alexa cannot even stop navigation on google maps or play a particular song on Spotify, so what skills are you really using I am quite doubtful!

YES, I use It too interact with my Home Devices I use Chromecast on my crappy TV and it turned my TV into a smart TV I can now use Google assistant from my phone to turn my TV on and off it has much more uses also

Hmm, conflicting opinions... Guess I'll just have to try it myself! Cheers guys

NO!!! Orange Man Bad! No conflicting opinions allowed

Don't feel bad b/c I never use it either... Don't let that distract you from the fact that these digital virtual assistants are Skynet in the making 😅😂🤣😭

I don't use these things. Honestly, I prefer to just make my account as secure as possible, with as much tracking turned off as possible. Assistant can cook breakfast, and I'd still pass on it, personally. I just don't want to have to manage data privacy to that extent.

I don't use it much, but when I do its always 100% correct and I never have to repeat myself.
Give you a perfect example.
You can be laying in bed with your phone in the table away from you and then you wonder something stupid like Hmmmmm I wonder how much my 2000 Honda civic ex weights. "Ok google how much does a 2000 honda civic weight" "2,513. Ahhhh now I can go to sleep

I'm even more impressed that it gave you the answer using weight as opposed to weigh.

I use it all the time & it's 100% accurate. My wife uses SIRI on her iphone. I always joke with her, I ask once & get the correct answer. With SIRI she's always playing repeat 0 repeat, sometime 4 times before she gets the correct answer, yikes! After all these years SIRI still struggles..... Kind of a joke if you ask me?

I used to use it a lot on my pixel 2 xl (especially because of the ability to squeeze to bring it up), but ever since I started using my OP 7 Pro I've stopped using it as much...

I thought I'd miss having the Squeeze feature. Now I just use the long press on the power button to bring up the Assistant on OP7P... easy transition honestly!

What, no microSD on the Pixel again? Awww man 😂

The pixel images are still too damn dark. When will Google address this? Everything always looks underexposed. The bokeh is also far too extreme.

I agree with your comment, I like the pics on the right...

How do you get Google home to turn your TV into smart TV???

A lot of TV's even from a few years ago have settings to allow Google Assistant or Alexa control. It's not exactly turning the TV into a smart TV...just many of them already are and people don't realize it. Also, with a minimum of third party switches and controllers you can make just about anything electric in the house 'smart'.

The pixel pics look bad. Cant even blur correctly
Android Central Newsletter
Get the best of Android Central in in your inbox, every day!
Thank you for signing up to Android Central. You will receive a verification email shortly.
There was a problem. Please refresh the page and try again.