Is the Pixel 3 too small of a smartphone?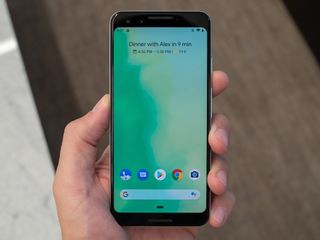 (Image credit: Android Central)
Similar to that past two Pixel lineups, this year's Pixel 3 series consists of both an XL and regular model. You'll find nearly identical specs across the board, save for a difference in battery capacity and screen size.
The Pixel 3 XL ships with a 6.3-inch display whereas the Pixel 3 has a 5.5-inch one. That's half an inch larger than the Pixel 2, but even so, there's some debate around this year's smaller Pixel about whether or not it's too small.
Here's what some of our AC forum members have to say on the subject.
What do you think? Is the Pixel 3 too small?
Android Central Newsletter
Get instant access to breaking news, the hottest reviews, great deals and helpful tips
Joe Maring was a Senior Editor for Android Central between 2017 and 2021. You can reach him on Twitter at @JoeMaring1.
I find this amusing, but okay.

There's always a debate about this or that....Lol. If the screen size is really 5.5 inches, then no one should really complain. The very first Samsung Note series was under 5.5 inches and well considered a phablet. People just talk. Keep quiet and enjoy whichever phone you purchase.

You are correct about that, but the old Note had a 16:9 aspect ratio. This is a little taller so the width of the phone will be smaller than that of the Note. With that being said, the Pixel 2 can seem small for some people. After using it at Best Buy for a bit, I saw that it was a great phone for people who like smaller phones.

Too small? No I'm coming from the OG Pixel, and have always liked the "smaller" smart phones. I really hate the push into big giant phones. I will say I do understand the too narrow complaint. I don't like having a really tall phone, so I could stand for the phone to be a little shorter and wider. (Received my Pixel 3 yesterday)

No. I prefer a larger phone (current is Pixel XL) but I have a buddy with larger hands than mine who uses a regular Pixel and doesn't want anything bigger.

Look how big it looks in the hand in the picture. It isn't even a small phone. There is a reason the iPhone SE probably outsold all the Pixel phones combined. Sure, big phones are more popular but when given the option I prefer a smaller device and a significant number of sales go to smaller devices as well.

I didn't know iPhone Se outsold all of the Pixel Phones. Why not release a new version then.

The reason the SE out-sold every Pixel phone made is because it had and Apple on the phone, and was $200 cheaper than the next iPhone. Please.

My wife is still clutching on to an old Razr due to the lack of small phones, so no it is not too small. Perfect size for me, but still need smaller phones for people who have small hands and/or just want a smaller form factor.

5.5 is a very good size, it's the price that hurts. It's 150.00 bucks more than last yrs model, yikes!

Pixel 3 exterior dimensions are virtually the same as the galaxy s8 & s9 if that comparison helps.

Heck no, perfect size for me. I'm glad there are still smaller flagships. I don't want the big 6 inch phones and I don't have small hands.

No. If you want a bigger phone, buy the XL and shut up about the smaller one.

One handed use is clutch. Not too small. Of course, these are all opinions.

Pretty silly article considering the phone has a 5.5 inch screen

I just loving seeing all of the posts declaring that five and a half inches is big enough. 😉

It's not the size of the screen it's how it's laid out.

If the screen was wider in portrait mode vs. so tall and narrow it would have been perfect. (Think Moto X2). But I agree with others that a cramped keyboard is a no go for me.

One handed swiping on the keyboard is a bit difficult for me on my Pixel 2XL... So a slightly less wide screen might make that easier.....I struggle reaching the far left of the screen with my right thumb.... But I can see 2 handed typing being harder with less width... But I don't do that.. have to see it in person to try that out... But the notch is a no go for me... And the 3 is a mini Pixel 2Xl so it might be perfect for me...I actually like the design...

Same 2.5" width screen as pixel 2 and GS9. I think that's a good size for the smaller phone and keeps the keyboard/text size the same. The different aspect ratios really seem to confuse people.

Whine, whine, whine.... 8itch, 8itch, 8itch...

It's not small if you're looking for a small to medium sized phone. Too small if your priority is consuming a lot of videos or games but that's why there's an XL

I like the smaller form factor, currently using the pixel 2 and the size is good for me. The 3 I think isn't that much bigger than the 2 but with a bigger screen so that will be a welcome addition if I decide to get it

I ride bikes and dont want a gianormous brick in my pocket.

Too small? Seriously? This is still far bigger than the iPhone SE which is the last truly small phone. I wish they would have made this exact phone in the SE's exact dimensions. 4 years ago this was still a large phone. My hands haven't grown since then, have yours?

Heard of the Xperia XZ2 Compact? Probably the smallest phone today with flagship specs.

Yep. And I returned it because it was way too thick and heavy for its size and not having a large battery.

WOW.... this story is ridiculous.....i actually chose a Pixel 2 for the 5 inch screen and smaller format in my hand.... I previously had a Nexus 6 P... with the 5,7 inch screen ... didn't want a 6 inch or even larger phone....

I actually think it's still a bit too big. It's at the max for what will got in my uniform shirt pocket at work. The size really restricts my case choices. Can't wait to get it though.
Android Central Newsletter
Get instant access to breaking news, the hottest reviews, great deals and helpful tips
Thank you for signing up to Android Central. You will receive a verification email shortly.
There was a problem. Please refresh the page and try again.