Google Pixel 2 vs. Moto X4: Which should you buy?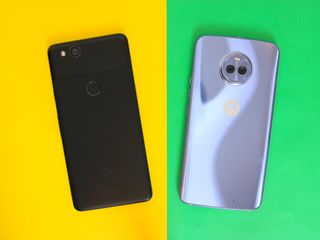 Phones like the Galaxy Note 8 and Pixel 2 XL are great choices for folks that love big phones, but if you're like me, you're okay with sacrificing some screen real estate if it means you can easily use your device with one hand. In 2017, two of the better small phones to be released were the Google Pixel 2 and Moto X4.
The Pixel 2 and Moto X4 have a lot in common, including great software experiences, unique designs, and compatibility on Project Fi. However, there is one big factor that sets these two phones apart – price. The Pixel 2 will set you back $250 more compared to the Moto X4, and today we're going to determine if it's worth the additional cash.
Why you should spend more for the Pixel 2
It shouldn't come as much of a surprise that the Google Pixel 2 is better than the Moto X4 in just about every single way. I wouldn't necessarily say the Pixel 2 offers $250 more phone than what you get with the X4, but there are a few key points where you can really see where those extra dollars went.
First and foremost, that camera. The Pixel 2 has the best camera on a phone right now, and while the Moto X4 doesn't take bad pictures by any means, the Pixel 2 just blows it out of the water. Even though the Pixel 2 has one lens compared to the two on the Moto X4, it still offers better detail, more natural portrait shots, and handles environments with big exposure differences much better.
Another area where the Pixel 2 gets an edge is with its multimedia experience. Despite having a smaller 5-inch display compared to the X4's 5.2-inch one, the Super AMOLED panel produces far deeper blacks and more enjoyable colors than the IPS panel on the Moto option. Some of this can be mitigated by changing the Moto X4's color profile to Standard instead of Vibrant that it defaults to, but even so, things still end up looking more cartoony than I'd like.
On that same note, while the Moto X4's single front-facing speaker gets surprisingly loud for its size, the Pixel 2's dual front-facing ones kick out a richer sound and get just a hair louder, too.
Lastly, the Pixel 2 has that user experience you can only really get with Pixel phones. The ability to squeeze the sides to launch Google Assistant is something I find myself using every single day, the Now Playing feature that automatically detects songs in the background never ceases to amaze me, and the overall performance has a level of smoothness you won't find on the Moto X4.
Why the Moto X4 is still worth it
The Pixel 2 is obviously a great phone, but for a lot of people, $649 is more than they're willing and/or able to spend on a new phone. If you'd like to get about 80% of the Pixel 2 experience for $250 less (or sometimes more), that's where the Moto X4 comes in.
One area where I think most people will agree the Moto X4 actually surpasses the Pixel 2 is with its design. The glass back of the X4 is stunning, and depending on how the light catches it, can showcase a multitude of patterns and waves. Speaking of which, the positioning of the new camera sensors often shows a reflection that resembles an "X." Well done, Motorola.
The glass panel does make the Moto X4 a fingerprint magnet, and while I personally prefer the more utilitarian design of the Pixel 2, the X4 is far more eye-catching. There's also an aluminum frame that feels sturdy and cool to the touch, the texture of the power button makes it easy to differentiate from the volume ones, and there's even a 3.5mm headphone jack and microSD card support – two things you won't find on the Pixel 2.
Another area where the Moto X4 excels is with its software experience. It may not be as snappy as the Pixel 2, but there are a lot of extra goodies here that make the X4 a lot of fun to use. Twisting and chopping to activate the camera and flashlight are two of my favorite smartphone features ever, the option to hide Android's navigation buttons and use just the front-facing fingerprint sensor works surprisingly well, and Windows users can even use the X4 to bypass their desktop's password/PIN.
In addition to all this, the Moto X4 also punches above its price range with support for Google Pay via NFC, a reliable fingerprint sensor, and a Wireless Sound System setting that allows you to listen to audio on up to 4 Bluetooth devices at once.
Which should you buy? Google Pixel 2
Like I said above, it shouldn't be a revelation that the Pixel 2 is the better of the two phones. It's Google's flagship phone competing against a mid-range handset from Motorola, so it's obviously going to be a superior product.
However, what is surprising is just how well the Moto X4 manages to keep up with the Pixel 2. It may lack the DNA that made me fall in love with the first two Moto X devices, but even so, it's still one of the best mid-rangers you can buy.
The Pixel 2 and Moto X4 are primarily sold as unlocked phones, and while you can get financing options and discounts on the Pixel 2 through Verizon, both phones are also two of the few devices that work with Google's Project Fi.
If you have the cash and money isn't an object for you, get the Pixel 2. It's the best Android phone you can currently get, and I can easily recommend it at its MSRP of $649. However, if you're trying to save a few bucks, don't second-guess the Moto X4. It's not a bad deal at all for $399, but you can get it for even less depending on where you shop. Amazon sells a Prime Exclusive version of the phone for just $279 (opens in new tab), and if you activate it on Project Fi, you'll currently spend even less at $249.
Get the Android Central Newsletter
Instant access to breaking news, the hottest reviews, great deals and helpful tips.
Joe Maring was a Senior Editor for Android Central between 2017 and 2021. You can reach him on Twitter at @JoeMaring1.
There is no no comparison between these two. First off the pixal incorporates the best shooter on the planet. Buttery smooth performance & the best updates. The X4 is nothing like the X's of the past. Plus it's a mid-ranger. This is a very stupid comparison if you ask me!

Agreed. They are indeed from two different classes of phones. Thought the X4's performance is very impressive for it's price, it's still not flagship material. That being said, having sold my Moto X4 to buy the Pixel 2, I can attest that for a few reasons they can be compared. Size: it's hard to get a flagship or near flagship performance phone in that 5-5.2" screen size that fits so comfortable in the hand. Value: Both phones provide really good value for the money. Would almost say that the X4 is better value because it's almost half the price and yet gets very close to flagship territory (minus the camera). Stock Android: Both are basically stock Android. The X4 barely puts anything other than what the Pixel has. I personally sold my X4 and it was a very hard decision. I did it because I thought that the extra $300 would be worth having the best smartphone camera in the market today. And I still stand by that decision. But that being said, for those who don't care for the camera much and want stellar performance, battery life, a great display, comfortable size and stock Android, the X4 is a solid device.

I think your last paragraph is really what the article was saying or talking about. I really like the concept of frequent updates and there are times when I don't need the best camera but need a - somewhat - comparable phone that works on project fi. I'm nearing retirement age fast - can I afford the latest and greatest- yes. Do I need that type of phone every year - no. Would I rather spend that money on extra vacations or traveling - you bet. So to me - this is an article that has great appeal to me. A phone that works well, has frequent security updates, works well when traveling and won't break the bank - has a sincere draw to me. 👍 Right now I am sincerely enjoying my Pixel 2 XL.

I think the article lean a bit more to the people on Fi who are looking to upgrade and people who are looking to make the jump.

Pixel's are too damn expensive. I opted for the Moto X4 Android One, with my Nexus 5X trade-in. Google, bring back the Nexus line as mid-tier/budget line of devices.

You won't get Pixel quality (camera) at Nexus prices.

Not everyone really crave for that camera though so the $200+ might be a little hard to swallow when the X4 will do just fine.

Plus having the wide-angle lens on the X4 is awesome. And I love the front-facing flash.

...that's what the new Android One is for.

Why not compare the X4 to the HTC11life. That appears to be a more equal comparision!

A better comparison would be the 1st Gen Pixel vs Moto X4. The Pixel would still won out, but it'd be closer.

I believe the answer is so obvious that this is a rhetorical question.
In case that leaves too much mystery, get the Pixel.
The Moto X4 has several cons that make it difficult to live with.
The OS takes up 13GB of the internal storage of 32GB.
The camera has serious lag between selecting the shutter button and the capturing of the pic.
The X4 is kinda fat.
There are very few brand name or good cases for the X4. I never did find a good hybrid case.
If you can afford the difference, get the Pixel.
If you cannot afford the difference, get the unlocked Moto Z2 Play, which is a much better phone and currently priced less than the X4, from motorola.com

X4 now that it's only $249. And it's the most affordable phone that has an IP68 rating.

The X4 is really good, a very pretty phone. I have the regular unlocked version and already have Oreo. In a world of Galaxy S8s and iPhones I get asked all the time what kind of shiny phone I have (I got the silver model). I have been using Moto phones since 2013 and I can't live without the chop and twist gestures, active display and a front-facing fingerprint scanner. Plus this thing gets 9+ hours of screen-on-time using only wifi, I'm always in wifi so I turn off my LTE unless I'm driving. The front facing flash and wide-angle rear lens are awesome!

or Moto X4 Vs Sony XA2? same price. same size. ...

The OS taking up 13 of 32 GB is what concerns me. Memory card storage volume might be big but not everything can be moved to external storage. I know some people are fine with their apps only taking up a few gigs. Unfortunately for me it's easy to have apps take up more than 15 GB.

I like the look of the X4 much more than the Pixel 2. It just seems like it's a much higher quality device next to the Pixel 2. But camera quality is important, and we know the X4 won't have near the low light photography capability the Pixel 2 has. If I didn't care about a new device (which I don't), and I had $400 to spend, I'd get a first gen Pixel. Software updates aren't nearly as important as they used to be, so I'm not concerned the X4 won't receive software updates as quickly as the Pixel.