iPhone 15 vs Samsung Galaxy S23
It's a tough decision between the iPhone 15 and Samsung Galaxy S23.
An Apple lover's new favorite
The iPhone 15 offers compelling upgrades over the iPhone 14, including the new intelligent portrait mode with the camera. It operates firmly within the Apple ecosystem, but the phone is also the lowest-end option in the new line. It's also fairly expensive if you want the highest tier of storage. But it's among Apple's latest and greatest.
For
Supports wireless charging
Great rated battery life
Exciting new portrait features
Higher-res screen
Useful emergency features
Against
Expensive
Doesn't include the new side Action button
No storage expansion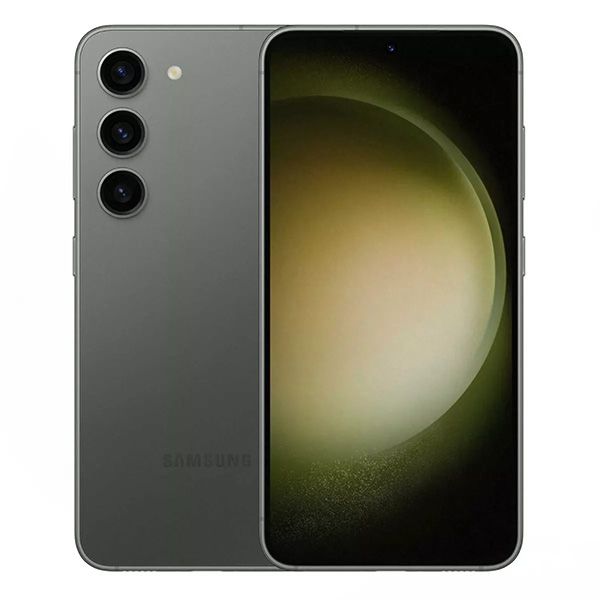 The Android user's dream
If you prefer the Android OS, the Samsung Galaxy S23 is among the best you can buy. It, too, has a solid camera and a stunning 6.1-inch screen. There's the Samsung UI built overtop stock Android so you get a personalized experience as well. Samsung also has many of its own app counterparts to Apple.
For
Supports wireless charging
Great rated battery life
Fast and adaptive refresh rate
Against
Expensive
No storage expansion
Lower resolution screen
The Apple iPhone 15 vs. Samsung Galaxy S23 sounds like a simple decision: if you love Apple and use other Apple products, the iPhone 15 is the logical choice. Conversely, if you prefer Android, and especially if you have other Galaxy devices and even things like a newer model Samsung smart TV at home, the Samsung Galaxy S23 is among the brand's newest and most feature-rich options. But what happens if you're on the fence? Maybe you have an Apple Watch but also use a Samsung laptop and have a Samsung TV, and you aren't tied solely to either camp. Or maybe you use one type of device now and you're considering a switch to the other. Here, we'll outline the features of these two phones to help you decide.
iPhone 15 vs. Samsung Galaxy S23: On the outside
Why you can trust Android Central Our expert reviewers spend hours testing and comparing products and services so you can choose the best for you. Find out more about how we test.
The iPhone 15 comes in traditional black, or you can choose a funkier color like pink, yellow, green, or blue. What's interesting is that the color is infused into the glass back, combined with the aluminum frame. It has a 6.1-inch Super Retina XDR OLED display with a 2556 x 1179 pixel resolution with a 2,000,000:1 contrast ratio. It can go as high as 1,000 nits max brightness, 1,600 nits peak brightness HDR, and 2,000 nits peak brightness when outdoors, so it's better viewable in sunlight.
The True Tone P3 wide color display looks stunning and offers haptic touch feedback. The screen also features the Dynamic Island strip at the top that shows useful and timely information. This might range from the current status of your food delivery to your gate for a flight, incoming or current call details, and more. One thing worth noting, however, is that the screen refresh rate on the iPhone 15 is just 60Hz, half that of the Samsung Galaxy S23. This is something multitaskers, video streamers, content creators, and gamers might notice.
The front is made using the Ceramic Shield, extra tough glass to withstand bumps, scratches, and falls. However, as with any smartphone, you should always invest in a protective case. The phone runs Apple's new iOS 17, which has neat usability upgrades and improvements when using various apps.
One big difference from previous generation models is that the iPhone 15 now uses USB-C charging versus Apple's proprietary Lightning connector. This means you can use compatible cables you might already have at home to recharge it, along with the one that comes in the box. The iPhone 15 offers up to 20 hours of battery life per charge when viewing videos, which can extend beyond that for lighter usage. It also supports fast charging and can use a 20W or higher adapter, purchased separately.
The phone is water-resistant down to six meters for up to 30 minutes, and it supports wireless charging. This means it's compatible with MagSafe charging cases as well as Qi wireless chargers. On the side, it has the same ring/silent switch that has been customary with the iPhone: only the Pro models have changed to the new Action button.
With Wi-Fi 6, the iPhone 15 also includes NFC, Apple Pay, FaceTime, and Face ID. It comes with 128GB, 256GB, or 512GB, but onboard storage is not expandable. You can, however, opt for iCloud cloud storage (for a fee) or use another third-party cloud storage device. As with any Apple device, the iPhone 15 works seamlessly with other Apple products, from Apple Watch to iPad, Apple TV, and more.
The Samsung Galaxy S23 has the same sized 6.1-inch screen that's FHD+ and slightly lower resolution at 2,340 x 1,080 but with double the fresh rate at an adaptive 120Hz, adjusting from 48-120Hz, depending on the task. Available in green, Phantom black, Lavender, or Cream along with Samsung exclusive colors like Lime and Graphite, Samsung says that all the finishes are inspired by nature with Earthy tones. They also use natural dyes that are infused within the polished metal frame. The screen is durable as well, made of Corning Gorilla Glass Victus 3.
Employing a new design compared to the previous generation model, the Samsung Galaxy S23 has a clear, flat rear panel that houses the three camera modules. In his review, Android Central's Derrek Lee says he loves that the three camera modules only slightly protrude from the frame, giving a cleaner look.
This phone runs Android 13 but also has Samsung's One UI overlay for added customization and personalization. This allows you to do things like add your own personal widgets, lock screen, and more. (It should be noted that you can do this with the iPhone 15, too).
As noted, there's an advantage if you have other Galaxy devices, like a Samsung Galaxy Watch, as well as compatible home entertainment devices like a newer-model Samsung smart TV or even laptop. This makes syncing across devices seamless, so it's an advantage worth considering.
The Samsung Galaxy S23 is rated for slightly longer battery life at up to 22 hours of continuous video playback. It also supports fast charging and uses USB-C. In his review, Lee says he got a good full workday from the phone after each charge, but he was disappointed that it only charges at a speed of 25W for wired charging and 15W for wireless.
While Samsung has historically included microSD card slots in many of its phones, the Samsung Galaxy S23 does not have one. Instead, it taps out at 256GB (there's also a 128GB option), which means you'll need cloud storage if you want to store a ton. It does, however, have an IP68 rating for water and dust resistance, making it one of the best waterproof phones.
iPhone 15 vs. Samsung Galaxy S23: Specs
Before delving further into these two phones, how they operate, and their camera technology, let's look at how they compare side-by-side when it comes to specs.
Swipe to scroll horizontally
| Header Cell - Column 0 | iPhone 15 | Samsung Galaxy S23 |
| --- | --- | --- |
| OS | iOS 17 | Android 13 (with Samsung One UI) |
| Colors | Pink, Yellow, Green, Blue, Black | Green, Phantom Black, Lavender, Cream + Samsung exclusives Lim and Graphite |
| Screen Size | 6.1 inches | 6.1 inches |
| Screen Resolution | 2556 x 1179 | 2340 x 1080 |
| Screen Type | Super Retina XDR OLED | FHD+ AMOLED |
| Refresh Rate | 60Hz | Adaptive 120Hz |
| Processor | A16 Bionic | Snapdragon 8 Gen 2 |
| RAM | 6GB | 8GB |
| Storage | 128GB, 256GB, 512GB (not expandable) | 128GB, 256GB (not expandable) |
| Camera | 48MP dual camera ultra-wide system, 24MP and 48MP super-high-res, 2x telephoto, 12MP front | 50MP wide-angle main, 12MP ultra-wide, 10MP telephoto, 12MP ultra-wide front |
| Speakers | Stereo with Dolby Atmos, Spatial Audio | Stereo with Dolby Atmos |
| Battery Life | Up to 20 Hours continuous video playback | Up to 22 Hours continuous video playback |
| Fast Charging | Yes | Yes |
| Wireless Charging | Yes | Yes |
| Bluetooth | 5.3 | 5.3 |
| Water Resistant | IP68 | IP68 |
| Cellular | 5G | 5G |
| Size | 5.81 x 2.82 x 0.31 inches | 5.8 x 2.79 x 0.3 inches |
| Weight | 171 grams | 167 grams |
iPhone 15 vs. Samsung Galaxy S23: Processing power and performance
Now, let's get down to the nitty-gritty of these two phones. The Apple iPhone 15 runs on the A16 Bionic chip, which includes a 6-core CPU, 5-core GPU, and 16-core Neural Engine. With stereo speakers, it also supports Dolby Atmos as well as Spatial Audio from supported sources (like Apple Music).
Working seamlessly with other Apple devices, ranging from MacBook computers to the Apple Watch, Apple TV+, iPad, Apple HomePod, AirPods, and more, you'll get a truly seamless experience if you own more Apple products. For example, you can track workouts from your Apple Watch and view them in the Apple Fitness and Apple Health apps and AirPlay content from the phone to an Apple TV. The possibilities are endless!
Apple includes some useful emergency features like Emergency SOS if you need to contact emergency services in a pinch, Crash Detection, and even emergency contacts via satellite when a cellular or Wi-Fi signal is not available. Keep in mind that the satellite services require a subscription, but Apple offers a free trial when you purchase a new phone. Some services also only work in the U.S. The latest addition to the mix for satellite services is Roadside Assistance.
You'll get 6GB RAM, which is decent but slightly less than with the Samsung Galaxy S23. For content creators and mobile gamers, this could be a deciding factor. But considering that previous generation iPhones have worked well for gaming with stunning graphics and fast performance with no lag, this might not be a huge deal. The faster refresh rate, however, which, as noted, is double on the Galaxy S23, is something certain users might notice.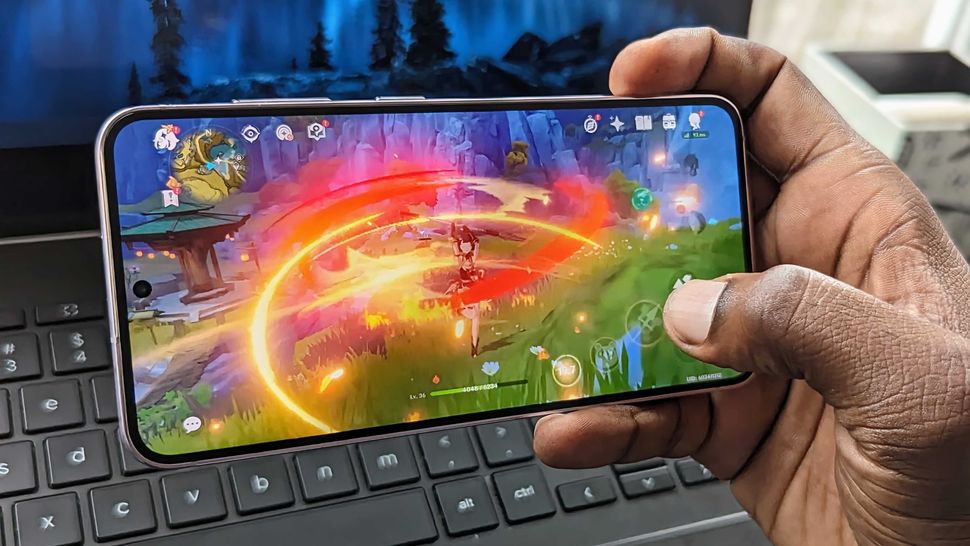 Like with the iPhone 15, the Samsung Galaxy S23 works seamlessly with other Samsung products, from smart TVs to laptops and Chromebooks, Galaxy smartwatches, Galaxy earbuds, and more. You'll get the same intuitive experience with devices that can talk to one another, share information, and connect without a hitch.
There's also an Eye Comfort Shield that makes for a more comfortable experience during long gaming sessions or while watching movies. Combined with the stereo speakers and Dolby Atmos support, as well as the 8GB RAM, the Galaxy S23 might be the better option for gamers.
iPhone 15 vs. Samsung Galaxy S23: Photography features
Nowadays, smartphones are not only communication devices but also cameras in our pocket. With that said, the photography features are of the utmost importance to users. And both these smartphones excel in this department with fabulous cameras, employing their own unique features.
The Apple iPhone 15 has an advanced dual-camera system with a 48MP main ultra-wide-angle camera. It can also take super-high-resolution photos at 24MP or 48MP as well as 12MP ultra-wide images from the front-facing "selfie" camera. There's adaptive True Tune flash and smart HDR 5, purporting to offer sharper focus overall, more detailed colors, and improved low-light performance.
What makes this phone stand out for photos, however, is the next-gen portrait option with focus and depth control. With this feature, you don't even need to manually select portrait mode: the phone will automatically analyze the subjects in the frame, determine if it's a portrait photo, and intelligently take the photo using the appropriate effects. You can even adjust the image after it has been taken, including switching focus from the subject in the front, for example, to the person (or animal) in the background instead. There are six portrait lighting modes in all as well, each with a different effect.
There are also new optical zoom options, including 0.5x, 1x, and 2x, a feature professional photographers will love. Plus, there's an improved night mode along with the ability to shoot 4K videos in cinematic mode. Other video options include action mode, slo-mo, time-lapse, and stereo recording.
Samsung is no slouch in the camera department when it comes to the Galaxy S23 either. It has a wide-angle camera with an even bigger 50MP sensor that is also optimized for low-light photos. There's also a 12MP ultra-wide camera and a 10MP telephoto camera with 3x optical zoom. The front camera, meanwhile, is 12MP.
In his review, Lee was pleased with how the camera performed. He didn't notice overexposed photos and was able to take great night shots as well. He did find, however, that the shutter speeds sometimes resulted in blurry photos or moments that were missed. But video performance was excellent, he adds, with sharp colors and a beautiful artificial bokeh.
There are some additional photography features with this phone as well. The Samsung Galaxy S23 has a Nightography mode that uses enhanced AI to help you get better photos in low-light situations. The front camera, meanwhile, can focus better thanks to dual-pixel technology. With Detail Enhancer, you get sharp-quality photos, including hi-res RAW images (you can take RAW images with iPhone 15 as well). There's a Photo Remaster feature as well that will help enhance dark or blurry images right in the phone and even upscale low-resolution images.
iPhone 15 vs. Samsung Galaxy S23: Which should you buy?
Now the million-dollar question: if you aren't tied to either platform, which phone should you buy between the iPhone 15 vs. Samsung Galaxy S23? They both have impressive specs and deliver on promises for fast and intuitive operation, good battery life, and being able to help you take wonderful photos. You can explore so much with both in terms of the UI, different usability features, photography options, apps, and integration with other devices.
Given the additional RAM and adaptive refresh rate that goes as high as 120Hz for the Samsung Galaxy S23, gamers might find that the Android device better meets their needs. For pro-level photography, you can't go wrong with either phone, but the new portrait options in the Apple iPhone 15 are intriguing.
Neither offers expandable storage, so you'll have to opt for the largest option available, which means you'll be paying more for the device and/or cloud storage. But the iPhone at least has a 512GB option, though it costs a pretty penny to upgrade to that version. Nonetheless, if you plan to store tons of apps, photos, videos, and more, you might choose the iPhone 15 just for the option to get more built-in storage.
The decision will ultimately come down to brand preference, what ecosystem you use now or plan to use in the future, and playing around with both phones to get an idea of how they work and how intuitive you find them to be. But in terms of specs, they are close. You won't be disappointed with either purchase.
A solid premium phone
The Apple iPhone 15 is one of Apple's newest, but if you already have an iPhone 14, you might not find it necessary to upgrade. If you really want an upgrade, take the time to save or finance a device and consider moving up to the higher-end iPhone 15 Pro or Pro Max options. There are more features with those devices, along with a sleek titanium finish. But if you are buying new, it's always best to get the latest device, and the Apple iPhone 15 is the cheapest of the bunch.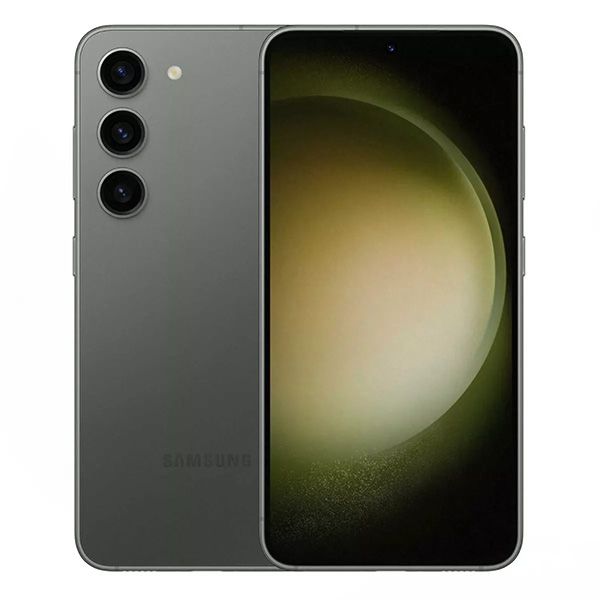 A premium Galaxy experience
Like the iPhone 15, the Samsung Galaxy S23 is the entry option in the new line that affords wonderful features relating to photography, usability, and more. This model offers significant upgrades over its predecessor, including a more powerful chip, larger battery, higher-resolution selfie camera, and more durable build. Compared to the iPhone 15, it's a good alternative if you want to stick with Android and get similar performance and a matched experience.
Sign up for Black Friday email alerts!
Get the hottest deals available in your inbox plus news, reviews, opinion, analysis and more from the Android Central team.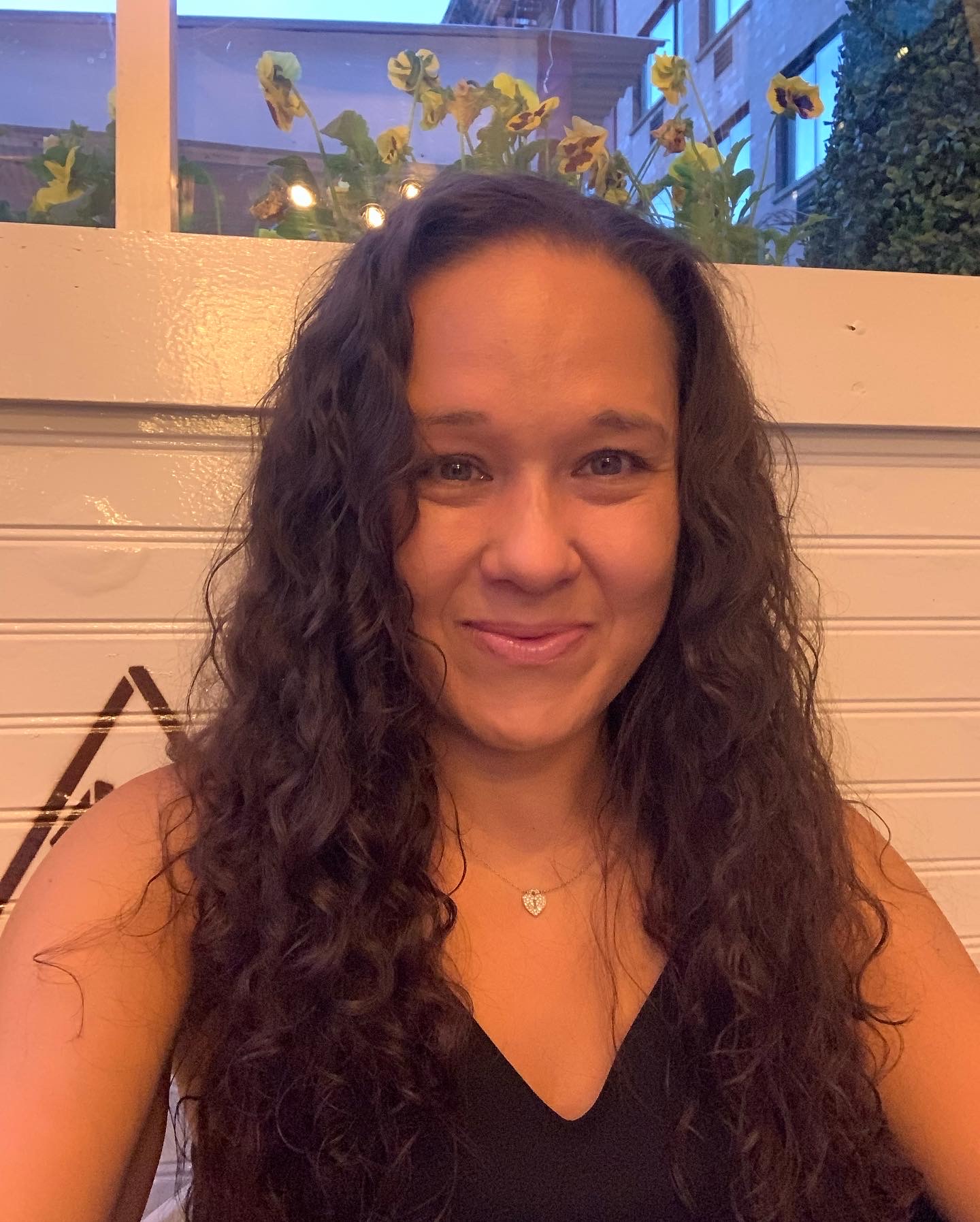 Christine Persaud has been writing about tech since long before the smartphone was even a "thing." When she isn't writing, she's working on her latest fitness program, binging a new TV series, tinkering with tech gadgets she's reviewing, or spending time with family and friends. A self-professed TV nerd, lover of red wine, and passionate home cook, she's immersed in tech in every facet of her life. Follow her at @christineTechCA.