Philips Hue 3.0 is the smart light update you've been waiting for [Update]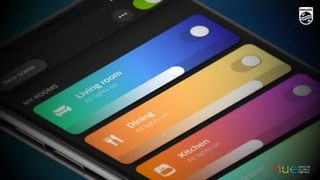 Updated 5/29/2018 — As expected, the big 3.0 update for the Philips Hue app is rolling out now. The new version is available on the Play Store now, so be sure to get your app updated ASAP!
It's been a long time in the making — we saw an early demo all the way back at CES — but Philips has finally released its Hue 3.0 app (opens in new tab) for Android and iOS, overhauling its design and offering much quicker access to presets for individual lights. There are also 30 new scenes created by Philips' lighting experts, who test combinations of colors and ambiance.
Philips told us that it has fielded complaints from customers upset that certain customization aspects of the app were removed from 1.0 to 2.0 — now they're back, and more thoughtfully implemented.
The company says that there is a new feature that lets you "extract the relevant colors from your favorite pictures and intelligently [apply] them to your lights," which is another long-awaited feature users have been asking for.
There's a new color picker, too, that encourages users to get really specific with the lights they're changing.
The update will be available later in May.
Download Philips Hue (free) (opens in new tab)
Daniel Bader was a former Android Central Editor-in-Chief and Executive Editor for iMore and Windows Central.
I don't care about a hundred methods to enter an RGB value. I want logic! Loads of LOGIC! Ways to control my home, via internet weather updates, daylight, locations, multiple users, AND/OR/IFs/etc... AI, intelligence...

Huetro for Hue on Windows ... still unbeatable, with a very good Cortana integration.

Are you sure it's released? Not seeing an update or anything in the app store (android).

Me neither, tried a vpn too just in case but still no luck.

Ah OK not just me then. Been waiting a while, I can wait a few more days or hours :-)

Philips have confirmed that this report is not accurate and that there is no plan to release the app update at the moment - will be "later in the spring".

That's a shame, they're also already showing app 3 on their homepage too. :/

They've been showing there since they announced it at CES.

I was really excited until I got to the comments.

Philips Hue 3.0 Is The Smart Light Update You're Still Waiting For. There. FTFY.

Wake me up when they allow more than one hue bridge per account...

Yes, it is the update we've been waiting for *queue anticipation because of article* aaannnddd...we've apparently still got some waiting to do. Cheers Daniel :/

Finally... Just came through.

Getting ready for the new lights due in the next month perhaps.

What about restoring to previous state after power outage?

Its in the play store now.. Downloaded and installed.
Android Central Newsletter
Get the best of Android Central in in your inbox, every day!
Thank you for signing up to Android Central. You will receive a verification email shortly.
There was a problem. Please refresh the page and try again.