Pebble smartwatch currently on sale for just $99.99 at Best Buy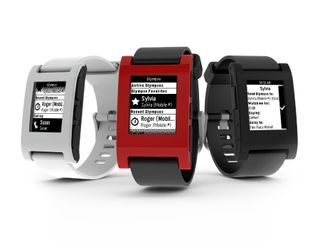 If you have been waiting for the price of the Pebble smartwatch to get a lot lower, then perhaps Best Buy might be able to help. The retailer is currently selling the basic version of the Pebble for just $99.99, a $50 reduction from its normal price of $149.99.
While we have seen sales on the Pebble in the past, they have normally cut the prices down by $20 or $30. This is the lowest sale price we have seen for the smartwatch, but there's no word on how long this reduction will last. The company recently updated the firmware for the Pebble to version 2.5.
Does this $50 price reduction makes you want to purchase the Pebble, or maybe buy one for a friend if you already have one and like it?
Source: Best Buy (opens in new tab)
Good move Posted via Android Central App

Anyway care to share what's the beneficial of having one of these smart watch? Posted via Android Central App

The internets been caring to share for the past year. Posted via Nexus 7 2013 or Galaxy S5

The internet does not care... FAIL, but that's what you get from thatguy97... Somebody find me thatguy44

Please tell me you forgot the /sarcasm tag? Please Posted via Nexus 7 2013 or Galaxy S5

If you don't need something fancy for half the price, the Pebble is a really good notifier, don't let anyone tell you otherwise. If you don't care about having Android on your wrist it's still a worthy competitor. I prefer to have both actually. Plus it works with iOS and Android.

+1 Posted via Nexus 7 2013 or Galaxy S5

I waiting for them to come out with one that has pastel colors and a newer version with QI charging. ... Posted via Android Central App

With the hardware this smartwatch brings to the table I feel the price tag should be $50......maybe even $75. Posted via the Android Central App

I can see myself buying it for $50. $100 not so much. I'll just pull out my Phone for everything except time - for which I use my $20 wrist watch.

That's pretty tempting at that price. I may pick one up this week

Bought my Pebble a year ago thinking I'd probably return it. One year later it's still on my wrist every single day. Bought a Moto 360 excited for the promise of android wear and zero intentions of returning it. 10 days later it has been FedEx-ed back to Motorola and Pebble is back on my wrist. Battery life, buttons instead of touch screen, sunlight viewing, app use and management, accidental clicks, driving distraction, lighting up at night in the car, media control, my infant not able to mess with it just by touching it, did I mention battery life, all superior on the Pebble. 360 has Pebble beat on design, color screen, and ease of connecting to charger. Still I found android wear a complete hot mess. It was so much easier for me to pull out my phone then to complete any task offered by wear. Completely kills the reason for the watch to exist. Android wear needs a complete overhaul and rethink in order to be viable in my opinion. I look fwd to the future of android wear but I'm staying Pebble for the foreseeable future. Highly recommend picking one up at this killer price. Posted via Android Central App

I agree with you on the Pebble. I've had mine for a year and love it! I don't really have any interest in the current crop of Android wear device. I like my non-touch screen. I'm thinking of getting another one at this price!!

Same here. Got it upon release and still happy with it. Only complaint is the materials used, because I got it beaten too easily. As long as they keep their software and screen as they are, I'll buy whatever comes next.
I do like the idea of Android Wear but all those extras I really don't need and since they sacrifice on battery definitely not even worth trying - even though I love the looks of 360.
I charge my pebble (18 months later) every 7-9 days, so my money can only go to those who can match that and e-ink screen visibility. Posted via the Android Central App on VZW Moto X

For all of those reasons, I'm waiting on a price cut on the Pebble Steel. I absolutely love the design and materials used. Pebble Steel > any android wear device Posted via Android Central App

I love mine. I see a Christmas present in someone's future for that price Posted via the Android Central App

Mine was a mainstay for me until the Moto 360. Now I know what a real Smartwatch is and the Pebble isn't it. It's still great for longevity and active use. But the Moto 360 kills it for everyday needs and overall functionality. -Shawn
Noting the world one S-Pen at a time.

I have a Pebble and Moto 360, and love both of them. They both serve different purposes for me, if I'm going to the beach or somewhere with heavy elements, I'll take the Pebble, at my desk job I use the 360.

Well done. Now I feel like spending money I don't have :) Posted via the Android Central App on VZW Moto X

The Pebble Steel is also discounted - to $199!
I have the regular Pebble that I got almost a year ago. For the past few months, I have been looking at the Pebble Steel, but I am afraid that it may be obsolete in a few months. I was looking at the Samsung Gear S, but I have a feeling the price and battery life will pale in comparison. I don't know how fast Android Wear will grow up and change.
Do you think any smart watches in the next six months or so will outmatch the Pebble Steel? Should I spend the money now? Posted via Android Central App

I've decided instead of pluck down now for the steel, I'm gonna stretch my original Pebble for the next few months and see what the next Pebble looks like when released. I invested a few bucks on a slickwrap and a leather wide band from Richard Tracy to freshen and change it up while awaiting pebble's latest and greatest... Posted via Android Central App

NO wait until after Christmas... there should be more reviews everywhere talking about the different things in smartwatches and how they compare... And hopefully a new upcoming Pebble (crossing my fingers) Posted via Android Central App

I bought my Pebble last November from Best Buy for $90 and it came with a free $20 gift card Posted via Android Central App
Android Central Newsletter
Get the best of Android Central in in your inbox, every day!
Thank you for signing up to Android Central. You will receive a verification email shortly.
There was a problem. Please refresh the page and try again.