Participating Subway restaurants will accept Google Wallet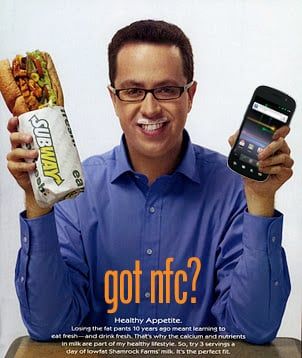 Fans of footlongs and 4G will soon be able to pay for their sandwiches using Google Wallet. The restaurant chain has announced (and we've also been tipped with an internal Subway e-mail -- there's a first) its intention to full support NFC purchases with Google Wallet at more than 7,000 restaurants by April 2012. Also in 2012, expect full support for Subway Cards.
Restaurants in Washington, D.C., San Francisco, Los Angeles, Chicago and New York, among others, have already been receiving the NFC hardware, and the rest should get them by the end of the year.
Hit the break for the internal Subway e-mail, or find the official press release here.
um. why does Jared have a milk mustache with no milk in the picture?
creeepppyyy
or--is it a reference to 'Ice Cream Sandwich NFC capabilities' (even though gingerbread builds have it)

It's a photoshop pic of got milk ad

Original is here => http://www.tias.com/stores/adsbydee/pictures/15261a.jpg

Read the small print at the bottom of the poster and you'll see why.

Lol agree with project... No mustache needed... Were not that slow... Lol but awesome...

Read the fine print on the pic. The phone is photoshopped. Its a milk advertisement

We need more places to do this. What nexus is he holding, it looks almost as big as his sandwich. Something is wrong, ohhhhh look at this... NO PHONE!
http://i643.photobucket.com/albums/uu158/MUTINOUS/6db56981.jpg

Yeah, because, you know, swiping a credit or debit card is just SOOOOO difficult compared to getting your phone out of a case, powering it on, unlocking the screen, finding an launching a "Wallet" app, maybe entering a password, etc. Yep. The future is bright.

The future is bright, especially when youre not walking around closed minded. What if you forgot your wallet at home or in the car but just so happen to have your cell phone. Better buy some shades homie....its only going to get brighter.

Eh, having a credit card doesn't prevent you from using cash. Just like having NFC doesn't stop you from using credit card or cash. You just have another option. If you use it often, you'll probably make it easy to find. And if you can get ready while you're in line, it may be easier than dealing with their stupid machine, then repeating what type of card it is verbally, and all the other stupid stuff you have to do with credit/debit cards. Not to mention, any interaction is exactly the same each time, because it's on your phone, not some stupid punch pad. EDIT: I bet you're also statistically less likely to get sick than touching all those grubby screens...

Is it just me..or does that Nexus s look HUGE in his hands?

+1 I was getting ready to ask the same thing!

Might have taken a little liberty with the photoshop. :p

It had to be at least as big as the milk glass it replaced :)

if you think the Nexus is big, imagine the size of whatever gave him that white moustache...

Ewww.....that's *not milk*... *blarrrrgh*
Android Central Newsletter
Thank you for signing up to Android Central. You will receive a verification email shortly.
There was a problem. Please refresh the page and try again.