Pandora rolls out version 4.0 update with a new feature set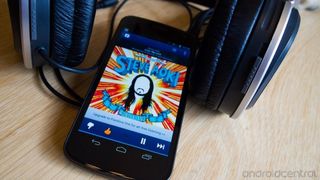 We got a look at the press images of a new update to Pandora -- version 4.0 -- a couple weeks ago, and now it has finally gone live for everyone to get their hands on. The app got a pretty substantial UI facelift in the previous update, and now this one brings extra features to fill out the entire experience. After linking the app to your Facebook and Twitter accounts, you can share the current playlist or song directly to each network. On the listening side, you can create and manage your different playlists, and add variety to current ones.
You can also now create a "music profile" for yourself, making a central repository for everything you do in Pandora. You can browse and follow other users' music profiles in what's being called the "music feed" as well. The update has just gone live in the Play Store, and you can grab a download at the link above.
Andrew was an Executive Editor, U.S. at Android Central between 2012 and 2020.
I'm at work atm so I cant really check it out but. It looks neat!AND ALSO #1 woot!!

That stupid line at the bottom of the app that doesn't match REALLY pisses me off.

Me too. The Pandora app is still ugly. Maybe someday the developers will realize that.

The progress indicator? That was one of my favorite new additions. To each his own, I guess - I was more pissed when I had no idea where I was in a song. I love it, so neener-neener-neener.

Why does pandora want access to send emails from my account?

I just wish it would cache songs better and not blast my ears with static in between songs.

Huh? Pandora doesn't do that. Unless you are calling the increasingly annoying ads "static". If you are actually getting bursts of static in between songs on Pandora, then may I humbly suggest that something else is wrong with your phone and it is not related to Pandora. I've been a Pandora listener for YEARS and have yet to hear any static while listening to Pandora that wasn't directly related to a problem with the output device. If you are just using "static" as a euphemism for the ads, then yeah. They are really annoying and don't make me more likely to subscribe. I wish there was a modded version of the Pandora client that would just drop the ads and tell the Pandora server it played/displayed them instead of actually playing/displaying them. Also, I still loathe the new UI. Basically, this "awesome new client" is just a slightly re-skinned version of their iOS client. The plain black and white look of the old client was FAR more in line with the ICS and JB theme than this thing. This one also enables more ads. Bleah.

Steve Aoki rules. I got a Mix Disc of his with a issue of Mix Mag!

Still no controls from the lock screen or from the Jelly Bean notification pull down.

I'll stick with the ancient version (1.3) no ads unlimited skips.

Or, you know, pay for it and support Pandora. What's it like 36 bucks for the year?

Yea disappointed, no control from lock screen! And it needs a bigger button menu to be more driver friendly.

These aren't new features, just new features on mobile. I'm amazed that so few have been able to point that out. But then again, people must not use Pandora.com. When I have 3 followers and I follow 89 of my friends, they have an education issue. Also, their UI is still atrocious, but I tried my hand to 'fix' it in Paint.net.
http://i.imgur.com/qOtxV.jpg
Anybody prefer mine on the bottom? I fixed button sizes...

Maybe you should apply at Pandora. lol Yes those simple button changes even go a long way

I love having a progress indicator but they way they did it looks ugly IMO.

I like Pandora, but IMHO, the app pales in comparison to Slacker Radio, and I prefer Slacker's service as well - but the Pandora app, while getting better, still has a long way to go to catch up to Slacker.

And STILL no sleep timer!
Android Central Newsletter
Get the best of Android Central in in your inbox, every day!
Thank you for signing up to Android Central. You will receive a verification email shortly.
There was a problem. Please refresh the page and try again.