With OxygenOS 11, OnePlus ditches stock Android for Samsung's One UI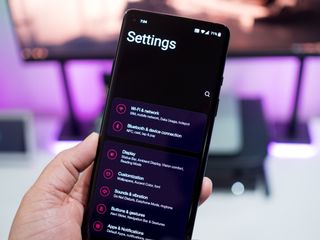 (Image credit: Harish Jonnalagadda / Android Central)
The first OxygenOS 11 preview is now live, and we've rounded up all the latest features. The latest version of the interface comes with a host of exciting features, including an always-on display, updated Zen Mode, new system font, optimized system-wide dark mode, and more.
But one change that OnePlus users won't be so keen on is the new design. OxygenOS always stood out for its clean user interface that's inspired by stock Android, with the skin likened to Google's Pixel Launcher on steroids. That's changing with OxygenOS 11 as OnePlus introduces a new design language that's more in line with Samsung's One UI than Pixel and Android One phones.
That's a controversial move by OnePlus, as the vanilla Android interface was what drew a lot of users to OxygenOS in the first place. The uncluttered interface coupled with meaningful additions like native screen recording, Zen Mode, and customization options allowed OxygenOS to stand out from the pack.
I've said several times in the past that OnePlus' skin is the best you'll find on Android, and a lot of that had to do with the fact that the interface was clean. With OxygenOS 11, OnePlus has shifted to a heavily skinned interface that looks very different to what you get on vanilla Android, with the manufacturer taking a lot of design cues from Samsung. A lot of the menu elements now sit in the lower 2/3rd section of the screen, and the large headers along with the increased font size makes the skin near-identical to One UI.
Source: Android Central
The difference is stark when using the dialer, messages, and other OnePlus first-party apps side-by-side with their OxygenOS 10 counterparts. There's a lot of added design flair now, and I'm not a fan of the overt customization. OnePlus didn't really need to make any changes to the user interface — it is one of very few manufacturers that has a vanilla Android UI — but with OxygenOS 11, that is no longer the case.
As OnePlus starts becoming a mainstream player, it is losing the core tenets that endeared the company to a lot of power users. OnePlus flagships in recent years have featured a lot of hardware elements from Samsung's Galaxy S series, and with the new software direction with OxygenOS 11, the company is doing the same with software as well.
Combine this with the uninstallable Facebook bloatware on the OnePlus 8 series, and it's easy to see that the manufacturer is shifting away from its roots. It's understandable why OnePlus would want to emulate Samsung in this area. Samsung is the largest Android manufacturer by some margin, and more users are familiar with One UI than stock Android. But by taking on this new direction with OxygenOS 11, OnePlus is leaving its loyal userbase behind, and relinquishing its position as the best Android skin in the process.
It's becoming increasingly evident that OnePlus wants to be more like a mainstream phone manufacturer — that much is clear when you consider the positioning of the OnePlus 8 series — and with OxygenOS 11, we're seeing just how thoroughly the company is intent on copying Samsung.
Android Central Newsletter
Get instant access to breaking news, the hottest reviews, great deals and helpful tips
Harish Jonnalagadda is a Senior Editor overseeing Asia at Android Central. He leads the site's coverage of Chinese phone brands, contributing to reviews, features, and buying guides. He also writes about storage servers, audio products, and the semiconductor industry. Contact him on Twitter at @chunkynerd.
Dude, everyone is entitled to their point-of-view, but there are limits to being bitter. At least prefix the article's title with "Op-Ed!" But I must say, if nothing else, I don't like the look of OxygenOS 11, even on its own merit. No doubt it will improve with time, though.

Probably want to attract Samsung users and they could care less of the small minority of users who prefer the old look.

Total disaster, I moved away from Samsung to avoid all this rubbish. Not sure I'll be installing OxygenOS 11 if it stays like this.

I got my Oneplus Nord yesterday to replace my S9+ because I wanted something different after One UI for years. Oh well!!! lol, it doesnt change that it appears to be a cracking phone

Nord itself isn't a VFM device.. Bad cams vand speaker and now this lol..

Guys, they are preparing for oneplus8t series which is going to have 8 inch taller screen, thats why OxygenOS 11 is experimenting with this kind of ui.

So disappointing - they'll be losing me for sure. I despise OneUI and it's the main reason I went to OnePlus in the first place. Devolution...

-1 to Android Central for letting this news become public with a false advertising title. OnePlus isn't ditching for Samsung One UI, they are just building their own UI just like LG, Samsung and Huawei does...

I wonder if anyone here actually read the article before they started getting upset at the fact that OP is making first-party apps easier to use one-handed.

You got to read the article before you puke my friend :)

I swear, you people are more obsessed with the idea of stock Android than you are with actual functionality. Phones keep getting bigger. Samsung was the first OEM to address that with their UI. OnePlus is following that lead and making apps easier to use one-handed on their increasingly larger phones, and you're just crying, "tHeY'rE cOpYiNg SaMsUnG." Based on the content of this write-up, they aren't actually copying Samsung's One UI—they're just wisely making the UI easier to navigate. And you're whining about that. Wow. It's SO terrible to think that you might be able to use a large phone with one hand. 🙄

They are choosing to use a very similar design to what Samsung is doing with OneUI. A UI design that not only is less useful but one that I personally find off-putting.

Less useful? I can do anything with one hand thanks to OneUI. I missed a lot of things when I briefly used Pixel. Stock is too poor for me.

Less useful, yes, because you can see less of the list on the screen. Less information density is less useful. A one handed mode that shrinks the entire display is a better way to address one-handed usability on large phones imo. I don't really like super large phones anyway so I have no need for a one handed mode but if you have to have one make one that doesn't look awful when don't need it or for those that don't want it.

I own both a Galaxy S20+ and a OP 8 Pro, and I enjoy both UIs for what they offer. Just to clarify, One UI doesn't limit the info on the screen. You can bring information to the bottom by swiping down, or expand the information to fill the screen by swiping up. One UI also gives you the option of shrinking the display in One-Handed Mode. Unfortunately, my OP lacks both these features, and I'm glad to see they're finally making the interface easier to use on their bigger phones. I just had to comment because its obvious you've never properly used OneUI before.

Just say that you've never used OneUI rather than pretend you know what you're talking about. 🤣 Putting things in reach when you need them is the opposite of less useful.

What about Samsung makes their phones easier to use one handed? They have one hand mode but its clunky and slows the whole system down. Samsung has some of the best hardware on the market but combined with their software it makes you want to throw it in the trash. Even if you don't throw it in the trash wait about a year and you'll relize why adding as many hard to use, clunky features, turn your phone into a paper weight because even the best hardware can't keep up. Samsung has conered the market on taking expensive state of the art technology then marketing the crap out of features that never seem to work right that then kill the phone in a year. This sets you up to buy the next garbage phone that's marketed like toothpaste. On top of that, this whole process of having you buy a new phone every year is incredibly taxing on the environment, they would be better for the eviornment as a oil company.

Oh well, I don't know what has been your experience, but I've been using one of their midrangers for about a year know and it has been good, I kinda love One UI, it looks stylish and it's really helpful when you have a 6inch screen size phone. Some features I don't use but I don't mind them and they haven't contributed to slowing down the phone in the least tbh. Not everyone will like it, but is not rubbish at all.

Looks like I'll be ditching Android for good sooner than I thought if I can't fine a decent stock Android phone to complement my iPhone 11 Pro Max as a secondary device to it. But to be honest I no longer care about Android as I'm moving to Apple completely in the next 3 years starting with the iPad Air next month and then the Apple Watch with the Mac completing the full transition to Apple's far superior ecosystem.

Apple is great, Android is becoming tedious and complicated. And OnePlus is now becoming another Samsung clone With their shift in UI and will deserve to lose customers, thank goodness for iPhone which is hassle free, use to use and consistent with no bloat. Next up OnePlus will be bringing ads and they'll be full on Xaomi and Samsung with their heavily modified skin.

My S10e is the easiest phone I've ever had...no sure where you're getting this. Set up a nice home screen, a few of the most used apps, a few widgets and I'm off and running. You CAN'T do any of that with the iPhone, the worst phone ever. Until Apple lets you make the phone YOURS it'll never be a useful product.

Right Beno....(wrong),thats why Apple iOS added 9 features with iOS 14 that Android has had for years.

My wife had several iPhones. Went to Android for 3 years and now has the 11 Pro Max. She said that Apple has become complicated and harder to use. Its all about personal choice. Apple=best hardware. Higher end Android=great hardware with much more customization. Y'all quit being haters. Apple this, Android this...blah blah blah!

Beno: the Richard Yarrell of iOS. 🤣

What's wrong with copying Samsung.?At least, it is a very successful company and it's software must also be good.. Besides, in tech, each copy the other.
I stiil like Oneplus for its boldness.

Oh man, that sucks to hear that they are doing that but I do understand they want to grow their market share and Samsung has a huge slice. There are other ways of course to lure over people but if they can copy the look and keep the price down under them, then why not I suppose.

Everyone copies each other these days so what? Thankfully Android has plethora of choices to choose from. If you like familiarity choose Apple. If you want variety choose Android. End of conversation. Bye. Sayonara. Ciao.

Phew! Nearly bought a Nord...no chance now they've switched to the crappy UI.

OnePlus...the OnePlus killer?

I was interested in a OnePlus because of the UI! They really don't have much to differentiate themselves anymore. Guess I'll be sticking with the iPhone, or going back to Pixel.

Apple = great. OnePlus = bad. Oh and Android Central is way smoother on my 11 Pro Max and doesn't freeze like on my OnePlus 7T.

But I like what Samsung has done with their UI. I'm a fan of One UI and don't think it's bad at all. As phones evolve companies adjust accordingly. They (Samsung) have taken great strides with a nice skin and simplicity to address the ever their ever evolving smartphones. Tweaks and adjustments will come as usual. Apple does the same thing. They (Apple and their iPhone) is what I call bland. You want stock Android buy a pixel or Nokia. I personally like the HUGE DIVERSE SYSTEM OF ANDROID. If you want the same crap buy a iPhone!

Just makes leaving them behind a smarter move then I knew was loyal fan from first phone through 6t saw the writing on the wall and I'm done with them

I use 2 phones, Pixel and Samsung. And One UI has everything stock Android needs without having to download a third party app. Seamless desktop integration, one handed usability, customizable status bar, QS and navbuttons are also great additions from OneUI. I'm cool if OOS uses One UI as a "base" - minus the duplicate Samsung apps.
Android Central Newsletter
Get instant access to breaking news, the hottest reviews, great deals and helpful tips
Thank you for signing up to Android Central. You will receive a verification email shortly.
There was a problem. Please refresh the page and try again.