Original Moto 360 will not receive the Android Wear 2.0 update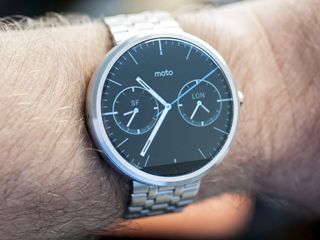 Motorola has confirmed that the original Moto 360 will not be receiving the Android Wear 2.0 update. This shouldn't be a huge surprise to anyone, as the watch was first released back in September 2014 and has some lower end hardware in it. While it is never fun to hear that your electronic of choice won't be getting the next update, sometimes it doesn't make sense to update things, as updates are costly and could affect performance.
Motorola revealed the information in response to an unrelated question on Twitter.
Though it won't receive the Android Wear 2.0 update, Motorola has confirmed that it will continue to receive security patches when needed. If you're still rocking the original Moto 360 and are interested in the new features that 2.0 will bring, you'll want to start looking into purchasing a new watch.
Jared started off writing about mobile phones back when BlackBerry ruled the market, and Windows Mobile was kinda cool. Now, with a family, mortgage and other responsibilities he has no choice but to look for the best deals, and he's here to share them with you.
I'm so glad i didn't get this....even at its discounnt price.

Dang. I knew this would happen eventually, but it still hurts.
I've had this thing since launch, and I still love it. I wish Google would add Android Wear to AOSP. Posted via the Android Central App

I still use my first gen and it runs good enough. i don't see any reason at this time with android wear to want to upgrade.

That's probably at least partly why it's not getting an update. There isn't really a reason to upgrade from a first gen, so they're trying to give you one. It's best to assume I'm being sarcastic. if I'm ever serious I'll type "/s" to make it clear.

Possibly but I think it has more to do with that processor. That thing is junk and was already outdated when that watch was released. Posted via the Android Central App

Do you own one? Mine works perfectly since the day I bought it. Couldn't be happier with it. Posted via the Android Central App

As the owner of a first gen, the processor does exactly what it should. I never experience lag and it works like a champ.
That's far from "junk". That being said, I expected that at some point the watch would not be supported with the latest update. It's no big deal. It still tracks my workouts well and tells me my heart rate when I ask.

I have a first gen Moto 360 and I experienece A LOT OF LAG! What, are you guys kidding me??? Sometimes it freezes for 30-40 seconds when swiping. I've done multiple factory resets and as soon as I start adding some apps I see lag, and it gets worse as I add more apps. Unfortunately, the way Android Wear is designed I can't pick and choose which apps on my phone push their apps to thee watch so I've just come to deal with it. I'm starting think maybe I got a bad one. ...Joe K.

It sounds like u have a bad device...my og moto360 doesn't lag either and at one point I had a lot of unnecessary apps on it just testing them out

I have the first gen also and a moto 360 sport . The OG runs just fine . The sport is a hair smoother but the OG is not laggy Posted via the Android Central App

So because you had a bad experience with yours, either because of defective hardware or user error, all of them are jumk? Posted via the Android Central App

If you're going to start some shiz with somebody at least make sure it's the right person. I never said anything of the kind. I just described the problem I've had. ... Joe K.

The first gen is not junk. What a stupid comment Posted via the Android Central App

That's a shame. I still rock mine everyday. Bummer From my Nexus 6P

This announcement doesn't prevent you from still enjoying th watch. You can still use it... Posted via the Android Central App

Marshmallow update hit the battery life pretty hard on mine. I am OK with no more updates. Posted via the Android Central App

That happened to mine too. I did a full reset after dealing with it for a few days and then it was better than ever. Faster smoother and the battery was easily lasting all day with 40% or more still in the tank when I put it back on the charger.

Battery life is awful since MM updated. Maybe isn't a bad news. But maybe fragmentation is arriving on Android Wear.

It's not fragmentation lol. Motorola feels that anymore updates may make watch even laggier. There's only so much you can do. At some point Apple will do the same with their watch. That's the nature of technology. Do you expect a phone like the s3 to keep getting updates forever? Posted via the Android Central App

Imo the watch got smoother with each update Posted via the Android Central App

Same here, and no degradation of battery life. Bluetooth connectivity has improved with each update. I won't say that it's super quick in terms of voice commands, but it executes them surprisingly well. Scrolling through the screens has never been 100% smooth for me, but lag isn't the word I'd use. It's been a solid device for me.

Battery life has always been awful. It's not much worse now.

Battery went from 3/4 day to 2 days. Hardly battery problem. It's operator error Posted via the Android Central App

I'm assuming Sony SmartWatch 3 won't either. Anyone hear any confirmation? Posted via the Android Central App

I'm wondering this as well. Posted via the Android Central App

I have no idea but I'd bet it will. Posted via the Android Central App

Bummer, but all hardware support comes to an end. I'm still enjoying mine and I probably will not upgrade until the day I wake up and it's DOA. Posted via the Android Central App

Dang. I know of so many people who bought this because it had some really good deals around the time the second gen came out. I bought the Zenwatch 2 because it was only a bit more and had modern hardware. Posted via the Android Central App

That's what I did. Didn't want anything old. Looks like that decision paid off. Posted via the Android Central App

Yeah, but it's a Zenwatch 2... Posted via the Android Central App

This REALLY sucks. What the hell, Moto? This watch is perfectly capable of running Wear 2.0.

This makes me glad that I went for a Pebble instead.

I'm ok with it not getting updated. I really only care about notifications on my Moto 360. I'll probably keep it until the day it dies and get whatever round Android wear watch is cheapest at the time.

So glad I sold it (Thanks Swappa!) and moved on to Huawei Watch! Posted via the Android Central App

Disappointing. So basically they want to treat watches just like phones and try to force upgrades every year or two to get the latest updates. Problem is, whether it was a normal watch or now a smartwatch, I don't buy or upgrade to new ones every year or two. I expect something like a nice watch to last a long time, period. I've enjoyed Android Wear ever since my first LG G Watch, but I'm not going to participate in the upgrade every 2 years game for watches. If I spend $300-500 on a real watch, it's not obsolete in 2 years and it's unacceptable, to me at least, to obsolete a smartwatch in two years. If that's where AW is headed, I'm probably done buying them. I have a nice collection of real watches (many mechanical that will outlast me!), but I'm not going to have a drawer full of obsolete smartwatches due to the upgrade game.

You don't need to update it. You buy things for how they run and what they run at time of purchase, not how they will be in 2 years. Does it still connect to your phone and provide you with all of the features it did when you bought? Will it continue to do that until it is no longer supported by whatever version of Android your phone has? If so then you have no reason to complain

Totally agree. Posted via the Android Central App

you are talking as if the device was free

Paid, yes. With the full knowledge that at some point in the next few years, it will no longer get updates. You buy things for how they function at the time of purchase with a reasonable expectancy of support. I would say two years of current up-to-date OS support is pretty decent and you will still be getting security patches for a while. They're not throwing you under the bus.

How does and update determine if your watch is obsolete? Without any new update my watch is not obsolete it's working just the same... Posted via the Android Central App

Yes, it's just like a smartphone. It's only so much the tech can handle. Quit whining Posted via the Android Central App

And that's the rub too. "Only so much the tech can handle" is a joke. They charge $400+ for these things with specs that match a $40 moto E phone, pathetic. For $400+ these things should have SD800 or better and twice the memory, and maybe they wouldn't be so damn weak as to handle a minor upgrade. It's not whining when the design is pathetically weak from the start, and then that's a justification for lack of updates. If these things are so weak, they need to be priced at $50, like a moto E.

The fact that you're so butthurt about this is a joke

Exactly. We should all be content about spending a lot for things that quickly lose support. What could possibly be wrong here. People just don't seem to get it. Just because phones, watches, or whatever get support for a short time is the norm, that doesn't mean it SHOULD be. People should expect more, but look at the society we live in. Not at all surprised. Posted via the Android Central App on LG G2

Dude, almost every new tech is expensive at first. The iPhone 4 was $400 when it came out? Do you expect Apple to update for the life of the phone? A smartwatch is a small computer that can only take so much. If you want a smartwatch that gets updated for longer than that then get a different watch. No need to go beserk over this. I hope things get better for you. Have a nice day. Posted via the Android Central App

Not going beserk and I'm having a pretty great day actually. Thanks for caring. :D

Good to know. Posted via the Android Central App

I agree with this , i gave up on my original asus watch and dont think i will get another, if i do it will probaby be tizen

I don't know, I think we all knew this going in. Software will not be updated forever or even three years. This is the main reason I will not purchase a smart watch. I'm not going to replace two pieces of tech every two to three years if I want updated specs. Posted from Nexus 6

My armitron analog watch does me just fine.

Of course they push these updates that will eventually lead to the hardware being obsolete. They don't make any money from people keeping the same tech year after year. We don't pay for the updates, but rather the hardware driving the updates...its just business

Meh. Not having reason to complain does not preclude my desire to complain. And "need" doesn't even enter the equation. No one needs a smartwatch to begin with. Posted via the Android Central App

I almost just bought the metal band one for $99. Glad I didn't. Posted via the Android Central App

I bought a refurbished 1st Gen with metal band on Amazon for $99. Yes, the whole watch.

I just bought the metal one for 79.00 bucks on daily steals . I feel its worth it . Posted via the Android Central App

I'm very angry about this. The watch is not even 2 years old. Shame on Motorola.

Sucks bit not unexpected since they went with an older TI IMAP instead of a Snapdragon like everyone else. We knew this day would come. Posted via the Android Central App on the Moto X Pure Edition

The new features seem cool, but I'll leave well enough alone. There's still not enough adoption in the developer community for me to care enough about getting a newer watch to enjoy newer wear apps. Maybe once Google Assistant is more of a thing and Google Home is out I'll upgrade. Posted via the Android Central App

It's not like the watch stops working without this update. Posted via the Android Central App on the Moto X Pure Edition

I think this is why i'm not understanding why ppl are so angry...the watch will still work just fine and receive security updates

I was considering this or the S2 Classic. Hearing about how bad battery life was on the Moto 360 1st gen after MM I held off. Glad I chose the s2 classic. (I know it's not Android wear) Posted via the Android Central App

I have a S2 classic. It's phenomenal. I'm on day 3 on one charge. It's at 32%. Totally amazing IMO. I was one of those "Tizen needs to go away, Android Wear forever!" people. Had a Huawei and 360 gen 1, sold them both. I decided to try the S2 classic and let me tell you, Tizen is so optimized for a watch it's not even funny. Love it.

The TI calculator processor has died. Rip in pieces.

Mine is showing its age with dead pixels and a little bit of odd battery behaviour. Upgraded to a 360 sport. Love the screen here in sunny Florida, and battery life is great as well. This should come as no surprise from Moto, it can't update something that the hardware can't deliver on. This underscores for me why I don't need to spend over $300 on a watch with no resale value and will degrade faster over time. I did however get the TAG, because in my mind, I get to use it for two years before getting the mechanical watch, all for $3000. Not cheap(or maybe worth it) but that mechanical will last for decades. Posted via the Android Central App

I bought mine almost 2 years ago for 80buxs, pfft just time to get another one. Posted via the Android Central App

I don't get this whole smart watch thing anyways. Basically some of you are going to spend 200-400 bucks every couple of years, just to have an extension of your smartphone. To each their own. Posted from Nexus 6

Had mine basically since day 1. I just have no reason to upgrade as it works okay (minus some random minor issues). I just don't want to plunk down $200-$300 for another Wear watch that really isn't going to have many more features than my still-functional OG 360. Google isn't doing much of anything with Wear to convince me to upgrade. Posted via the Android Central App

Mine still works, so I'm okay. I'll upgrade when I wake up with a dead watch. Otherwise, I'm gonna let it ride.

One reason not to buy these products...they do the same with phones,after they sell you software updates stop after 2yrs...Samsung is a joke Posted via the Android Central App

What world do you live in where Samsung made the Motorola 360? I'm seriously curious... Posted via the Android Central App

Bizzaro World Posted via the Android Central App

I bought an $11 smartwatch. So far, so good. Don't know if I'll ever return to Android wear. Posted via the Android Central App

A buddy gave me his OG 360 when he switched to Apple (phone/watch) and it's been pretty cool. I drive for a living so not having to pull out the phone to see what type of notification came through is darn useful to me. Does it suck it won't get big updates anymore? Yea, but for my uses it will still be handy. I'll likely replace it only when it dies. Posted via the Android Central App

Mine still works just fine. And from what I'm seeing so far with the new update, I'm not necessarily sure if this is something I actually want. While software updates are always a good thing, sometimes I think I'm not sure exactly what Google wants to do with the Wear platform. We'll see what happens, but as it stands right now I'm totally fine with my current 360 on 1.4. Posted via Moto Maxx

LOL
im sure the xda developers will have something to root i mean say about this.

Google's forced obsolescence policies will result in more electronic waste.

Thank you Moto or even lenovo, after two months I need to sell my watch and buy something new but with speaker.

Rightly so. It's time but to cater to first generation watches. Anyone with a first gen moto should save up and buy the new one coming this fall Posted via the Android Central App

That's exactly why I can't get into smartwatches... It's just another expensive device that needs to be charged (almost) everyday and will not be supported in a year and half. Worse, they are trying to turn them into mini smartphones by adding a bunch of functions that work poorly on that form factor. No thanks...

Clearly you've never used one, as your guesses at what the watches have and do is pretty piss poor... Posted via the Android Central App

Clearly you didn't ready my comment as I never made any statements on anything specific on "what the watches have and do". #facepalm

Stating they are mini smartphones to start with is a pretty specific statement so... Yeah, because again, your guess is piss poor, so there's that. Posted via the Android Central App

Wonder if the urbane will be dropped by LG sent from my silver gs7 edge

I learned that Google removed the ability to swipe back to go to previous screens in 2.0. It now requires the watch button to be pressed. This makes me pretty angry because I can't press the physical buttons on watches with my disabled fingers. I'm glad 2.0 isn't coming to the 360 because I wouldn't be able to use my watch. I guess I won't be upgrading to a new Android Wear watch anytime soon until Google fixes this obvious problem with accessibility.

The original G Watch isn't getting it either. This makes sense because apparently most of 2.0 is controlled using a button; and the G Watch doesn't have a button. However, the 360 does have a button so there's no reason it can't be updated. Posted via the Android Central App

The reason would be that it has an outdated TI processor that was already dated when they decided to go with it.

security patch alone is not enough. Motorola not even bother to fix ambient mode bug on the original Moto 360 since marshmallow update. Posted via the Android Central App

Sad but inevitable. I like the "lugless"; looks like a watch but sorta different look. Also a fan of the fully smooth watch face; especially when swiping. I'll keep using it until there are no longer security updates. I don't wanna get in the habit of doing tech refreshes for watches that I do for phones ; unless Goog starts making a nexus watch, packaged with a phone. ;-)

To be honest I can understand why the CPU in this watch could slow down to much, if however the lg g watch and the Samsung gear live are skipped when they have the same guts as most of the new watch's (I know you need a button but Google could allow the swipes to continue) this smacks of planned obsolescence and I am not doing the same dance as my phone, I will be done with the watch's for good. Posted via the Android Central App

I'm very happy with the 1 Gen Moto 360. Works fine for me. I wore a Timex for 12 years before the Moto 360 and never once did Timex upgrade the watch! ;-) I figure the 360 will last me another 5 years or so.

Looking at the new controls for 2.0, I'm not sure I want it anyway. The reviews of the beta make it seem like they've gone all Apple Watchy as opposed to the simple and smooth cards.

It's a bummer but I got mine for $1 so I'm not complaining. At least mine was updated to Marshmallow Posted via the Android Central App

Bit of a shame, but it's served me well. Was only a matter of time until this was confirmed with the outdated hardware. Posted via the Android Central App
Android Central Newsletter
Get the best of Android Central in in your inbox, every day!
Thank you for signing up to Android Central. You will receive a verification email shortly.
There was a problem. Please refresh the page and try again.