Original Droid RAZR and RAZR MAXX receiving Jelly Bean OTA update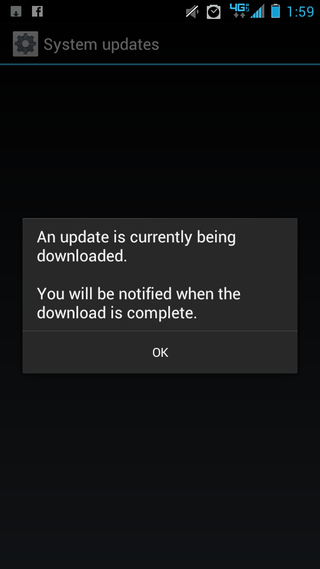 It's a Christmas Eve miracle! Seemingly out of nowhere, the original Droid RAZR and RAZR MAXX are pulling down an OTA update to Android 4.1.2 Jelly Bean. Several different users in our forums are reporting that their handsets are (often slowly) downloading a very large update, and being greeted with Jelly Bean goodness when they reboot. We don't have any official support documentation from Verizon yet, but it doesn't get much more official than updates currently being downloaded.
So are any of you seeing the update hit the notification bar of your RAZR or RAZR MAXX? Head to the forums and let us know.
Source: Droid RAZR Forums; Droid RAZR MAXX Forums; Thanks, Sean!
Get the Android Central Newsletter
Instant access to breaking news, the hottest reviews, great deals and helpful tips.
Andrew was an Executive Editor, U.S. at Android Central between 2012 and 2020.
inb4 "where's my Bionic update?!"

As a Motorola Atrix 4G owner I find this to be complete BS!!! The same year the RAZR comes out and it receives two OTA's for an updated OS. Out of the two years the Atrix has been around only GB...What a waste of really awesome technology in a compact phone. The Dev community is where it's at, not with Moto...Lazy F#&$@!!!

I have to agree. Hence the reason I say vote with your wallet and screw motofail. I am pisses as an Atrix 4G owner we were lied to for a year. What this prove is buying moto on a non verizon phone is plainly stupid and motofail is not seeming to do anything to correct that problem.

if google hasnt had the chance to fully take the reins of motorola yet(the last round of phones moto put out were the last of the moto phones,) how can honestly blame current moto for past moto's lies and bullcrap?

I have to agree. Hence the reason I say vote with your wallet and screw motofail. I am pisses as an Atrix 4G owner we were lied to for a year. What this prove is buying moto on a non verizon phone is plainly stupid and motofail is not seeming to do anything to correct that problem.

Ha! I was like the first one to get a Bionic where I live....after Verizon sent me 3 replacements...I had enough. I called them and said I wanted a replacement device this time and they sent me a Razr Maxx...it is like a different world. Even with that said, I missed the actual phone itself and loved having removable batteries.

I got the same error that says Download suspended

I'm still waiting for my update in northern california. *sigh*

And now we have multiple devices ahead of the Verizon Galaxy Nexus. GJ Verizon.

I don't know what you're talking about. The VZW GNex got the update months ago.

It's in 4.1.1 IIRC, while the razr's are on 4.1.2. Not that much higher, but still, that fact the a nexus device is behind is sad, let alone on the same and slowest of carriers.

That's cause Verizon stinks like dog doo and so is the Verizon Galaxy Nexus.

If you care that much, you should root, unlock, and flash the latest stuff. If you can do this but don't, you shouldn't complain.

Not really bro..he has a nexus device, so he's right. No other devices should be ahead in "official" updates. Besides, not everyone feels comfortable rooting & flashing.

I must say I love Motorola's build quality but I really want to see a Moto nexus device. And Verizon all I can say is that as a Galaxy Nexus user I hate you so much.... :)

I was thinking Motorola should make a Nexus device.... Nexus 5/ Nexus Razr. With 5" screen... so it'll work with the whole 5, 7, 10 thing they are doing with the size... also it would be the 5th Nexus device. It would have Android 5.0 (Key Lime Pie)... and a bunch of other cool feature.

Actually I read that Motorola and Google are in fact working together again to make a new device, that's all that has been said though. Don't know for sure that it is Nexus material though.

I got the same error that says download suspended. How do i fix this??

Called Motorola and what happened was they were updating there servers with a patch and it caused a glitch to to be thrown out to your phone all it was I had the same thing

I didn't get the download suspended, I got download FAILED. Now that I go into manually update, it says my device is up-to-date. No it isn't!!!! ;)

I just got the same exact message. Mine is doing the same thing... ohh this is gonna tick me off! lol

Epic Fail This would've been awesome Christmas gift had it worked..
Or this could be a sick joke....

im having that same problem

Same here - Download started, then after a few hours, 'Download failed', then a manual check (both before and after a reboot) report 'Your system is up to date.' Could this have been an accidental release?

I had the exact same thing happen. VZW said to pwr cycle and do it over 4G but no luck same boat.

Same here. I saw Update, said YES and it FAILED. Now it says I am up to date.

I'm getting that now as well... Damn you

Mine is currently in the processing of updating and my wife's (a Verizon employee line) was almost through downloading before it hit the error. I'm going to check my nieces' devices tonight. And to clarify, mine is not signed up to soak. Edit: Kansas City area

I think the update was sent out too soon (or by accident), someone caught the error and stopped the roll out. At least that's what it sounds like to me. If that's the case we should all raise hell! This sucks!!

idc i want my sam nexus with the 4.2.1 update i spoke to google they said verizon isnt pushing it out but they do have the sw in there system

Same thing was happening when my bionic was getting ics....I did a data reset and it went smooth from there...

How do you reset your data??

My Droid Razr started the update and then it said download failed.
And now when i try running the update it says that the phone is up to date

Same For Me how Do You fix this

That happened to me too! I wonder if this is just an experiment.

JB is pretty. Hope you all get it soon. At least we know its going to happen. It has to be released before the end of the month, otherwise Moto is going to be out a lot of money.

Well, that was retarted. I let the phone sit for 1.5 hours after clicking OK on the initial prompt. Nothing happened. I kept getting update in progress when I tried to check for updates. I then restarted the phone and checked for update only to be told my phone is up-to-date. Somebody gonna get hurt real bad!

Right there with you, buddy. My ordeal happened the EXACT same way as yours - to the letter. This is really ticking me off!

so it appears to not work for anyone? I just got the notice and told it to install. We'll see what happens. I'm rooted and wonder if I will lose that or it will fail because of that...

All we can all hope is that they push it out today so we can wake up tomorrow morning open up our phones and receive a nice gift.
Now for the not so bright side, this is Motorola and Verizon were talking about here after all....My cell phone bill ruined Christmas..

Got the notification, pressed download now and it said download failed and it says that my phone is up to date! LIAR! lol

By the way Merry Christmas everyone!!!!!!!!!!!!!!!

I have the Droid RAZR and it said I had the update, and then I didn't click update fast enough and it said update failed. Now I can't download it VIA system update.

Droid Razr Maxx downloaded and upgraded fine.

WOW... phone says update... press update... phone says downloading.. get excited.. POOF.... Jellybeans all over the floor for Christmas.. No.. really.. download failed.. then says up to date.. WTF Verizon.. don't tease us like this. It's Christmas... not April Fools.

Update started and failed here also

i called verizon and they told me there is no record of us receiving the update. And to contact motorola

I also called Verizon and they told me that the Jelly Bean Update is not available for the RAZR and the MAXX. What a sick joke to tease us all on Christmas! Hell, Microshat does a better job when giving updates!

I called VZW as well. I was told they had been pushing Jellybean for over 60 days. She didn't say my RAZR was not part of the OTA. The system would only attempt an OTA update to a qualified IMEI. My question is whether it is rooted devices that are failing. I just footed last week!

my phones not rooted and mine keeps failing

worked for me, I'm now at 4.1.2, but I lost root. Hopefully it's not too tough to re-root it.

My phone said i had an update, then nothing happened. It is like taking a Christmas present right back.

That is what mine had done also

I was in the middle of video taping my two kids reading the Christmas story when the notice came up. It stopped the video and I hit okay to start the download all to have it fail. What a sick joke.

and this is what motorola told me "The update is only an ICS Maintenance Released."

I just got mine about an hour ago. My wife's phone also a Razr Maxx has not got the ota update yet.

"And the motorola rep said : In order to provide you with the best possible support for this type of question, we will need to ask you to call our call center directly. You will not have to repeat any troubleshooting steps that we have just done as I will be saving this entire conversation and all you will have to do is dial 800-331-6456 and say "Technical Support" or press 2. When prompted, please enter your 10 digit cell phone number that you provided me earlier in our chat. You will then be directly routed to one of our Level 2 Technical Support Specialists. Our Level 2 agents are available M-F from 7am-7pm CST. Your reference number for this chat is 121225-002901

In Kingsport, TN on December 24,2012 have a Droid Razr Maxx notified me that there was an update to download now or postpone and be notified again within 12 hours. I chose to go ahead and download now. Was notified around 30 minutes later that the download had failed to retry the download. I tried to go in and force an update under the check for updates option and it shows that there are no updates for my device at this time. How does that work one minute there is an update and the next there is not one.

Last update these two phones will see

Tried to update and it said upload failed and then it said I was up to date! First Verizon eliminates unlimited data and now sends fake updates? Not a good way to run a business!

You really think that's a "fake" update? How dillusional.

http://www.examiner.com/article/christmas-hopes-dashed-jelly-bean-update... You may want to get your head checked.

I rec'd the notification a few minutes ago, but like many others the download failed [sigh], and the system updates option shows up-to-date as well. Patience is a virtue.

Does any body know what the software version the update is

I did a screenshot once I rec'd the update notification, and mine indicated it was update 98.72.8.en.US (331.7 MB), so I believe that is 4.1.2.

My Droid Razr MAXX just flashed an update box on my screen and advised it would auto start the update. I pressed OK, then received an error message stating update failed. . . When I go into setting then check software update, it states I am up to date... UGH.... this close!

Same exact thing happened to me :(

My update actually went through and other than project butter being fantastic,the update seems hhalf-assed... I don't have a weather widget and that was supposed to be updated my settings also didn't update as well as my camera.. I may have been lucky enough to receive Google Now and Project Butter, but the rest isn't there. At this point I'd much rather have gotten the whole update instead of a few perks, but I'll live. Sorry to everyone who didn't get it. Merry Christmas!!!

I got the same download and warnings and fail on my RAZR. My system now says "updated" with version 4.0.4.

I called motorola and they are re pushing the software to my phone

I called them as well and Level 2 support refused to push it to my phone. He said it is 'buggy'. I call BS!

Tell Them To Push To My phone

I just got off the phone with Verizon who escalated my call to level 2 Motorola tech support. It turns out that the update that we all got this morning feel as because of a Motorola Server boo boo and none of us were supposed to get that until notification until the middle of next month. Oops™™™

Sorry for the voice text type-0s

I got the update...and it is real...Jellybean 4.1.2 Webtop is still there and working. Root retained using OTA Rootkeper. Mobile Hotspot still works fine. I now have ~300MB available RAM with no apps running vs ~200MB before the update. Hopefully someone was able to save the update file before they applied it so it will be available for download...

got my update and im loving it... hope everybody receives thier's also..merry christmas everyone

For those that are updating successfully, what Droid version do you have?

I have a regular droid RAZR, but I recently got it replaced because my original broke. I don't know why it went through for me, but like I said it doesn't seem complete just a few perks.

Have a razor maxx. Failed to update, phone Is showing no new updates available :(

I have a Razr Maxx and I can see it is in the process of downloading something. I am keeping my finger crossed.

Updated to 4.1.2.
Loving the Google now and the new voice search! Also installed chrome and project butter. everything is smooth as a babies butt. Guess I was one of the few lucky ones to get the update. It was pushed to my phone this afternoon. I didn't do anything but select update now verse postpone update to later.

Just got off the phone with Motorola Level 2 support and they refused to push it to my phone - saith it was an accident and that it was still buggy and causing phones to crash. I call bullsh*t! Sure hop someone posts the file soon. I'm all giddy on Christmas Eve wanting my new tech present!!

Sorry for the typos, guys...

While this is an step in the right direction motofail still has long ways to go before I would trust them. He'll this proves more that if you do not not on Verizon do not get motofail as you will not get any support.

While this is an step in the right direction motofail still has long ways to go before I would trust them. He'll this proves more that if you do not not on Verizon do not get motofail as you will not get any support.

Spoke with the Motorola people. They basically explained it as an "oops" and that it will be available early next year. That's alright...I like using flash player anyway.

So was anyone actually successful in updating?

Looks like 4 successful out of hundreds of thousands, someones head at Verzion and Moto is going to roll for Christmas...
and some very select few just got lucky......

people's downloads might have stopped because of server overload. i can't even check to see if there's an update. says try again later.

Another motofailure from a company that abandoned support for my Photon 4G

I really hate this disappointment. VZW might as well go ahead with the update to remedy the customer back lash that may follow. That is, if they care at all.

Verizon has become AT&T and only cares about customers money.

I have a download link for the update for those who want to update via SD card. Running jelly bean now and loving it

Can someone go onto their device and pull the downloaded zip file? Give it to those guys on DroidRzr.com so they can create some download instructions and ROMs...please

http://d-h.st/vCW to download zip file. i downloaded and updated. it works i tested it

Thanks will try now.
As long as LapDock is still there, I'm happy to update.

Update doesn't work on my RAZR MAXX: apply_patch_check: Gmail.apk
Error in /tmp/sideload/package.zip (Status 7)
Installation aborted.

i got no errors on mine. heres to the original post
http://www.droid-life.com/2012/12/24/original-droid-razr-receiving-myste...

Could you possibly send upload and me a link to your /system/app/Gmail.apk ? Pre-loading the new version wil get me past this error. I have OS 6.16.211 and the Gmail app isn't frozen or anything, but its checksum fails the updater check. Thanks!

Find me of face book I'll do what I via chat there

Unrooted, Removed SU and SafeStrap files with ES FileExplorer. 800 tries later, phone finally let me into Recovery Mode and is now upgrading to JellyBean. Thanks for posting it Jason

Like a few others who've posted, a Moto rep also said the update was pushed in error. Oh well

I got my update this afternoon - all successful but my wireless. That will no longer connect to my network. Fail.

There is no jellybean update I called Motorola and what had happened is they we're updating there servers with a patch and it caused a glitch to be thrown out to these 2 device also called verizion and was told the same thing I am just as disappointed

there is, well, was an update. i think it was just an error that it leaked. im running jb now on my phone. and u can download the file and install from sd card as long as it unrooted or do a temp unroot

There was never an update I call Motorola when they updated there servers with a patch it caused a glitch that did no harm to your device and they told that the jellybean update is around the corner

There was never an update I call Motorola when they updated there servers with a patch it caused a glitch that did no harm to your device and they told that the jellybean update is around the corner

well i am running jelly bean. have google now and the best of jb on my maxx. so never an update, updated mine. scrool up read the linked article and diy

Of course there's Jelly Bean for the original RAZR / MAXX, it was released early today , I've installed it manually (look around here or other sites to find the update file to side load) . Hoping I didn't make a mistake in choosing to install this not yet official JB update (it's my work phone, so oh well...)

We know there's an update, but Karl doesn't seem to be convinced.

like i said read my post i called motorola and spoke to tec support and i also called verizion and all it was was a glitch when they were updating there servers with a patch and had nothing to do with the jellybean you people are all second guessing yourself and i read all these post and from what i seen is i was the only one who called to get the aswer

Karl, you are correct that there was a glitch and they corrected it, however, you are blind or trolling if you keep saying they never pushed an OTA update to JellyBean. They did, apparently by accident, and then pulled it as quick as possible. But not before some were able to download and install the update. I can assure you it is real, as I am currently running JellyBean (4.1.2) on my RAZR MAXX right now.

I have downloaded the. Zip to sdcard-ext but is fails installing using safestrap

It isn't a custom ROM. You can't install it with with a custom recovery through SafeStrap. You need to use Matt's utility or RSD Lite to fast boot back to STOCK .211. Then flash the update through the factory recovery. Before you flash it, root your phone and save root with VooDoo OTA Root Keeper.

Unrooted, Removed SU and SafeStrap files with ES FileExplorer. 800 tries later, phone finally let me into Recovery Mode and is now upgrading to JellyBean. Thanks for helping me sort out my thought process.

This is the correct version of Gmail.apk that should be in /system/app if you are getting the same Code 7 error I was: https://www.dropbox.com/s/91sgu23i0takx15/Gmail.apk Use Root Explorer to install it.

Lol, this can be seen as an extra Christmas present for some. Good to see they're still rolling out the latest updates for older phones.

For most, it's a Christmas troll.

I received the exact update notification yesterday afternoon. It started to download automatically. Every time I'd check how far it was, it said download temporarily suspended. After a couple hours it said download failed. How can I try again? Was it jellybean?

I am stationed in Korea and I got thenotification that I had a new update downloaded. I went ahead and installed it. My phone is worthless now. I can turn it on, but it doesn't get past the keypad and the green notification light keeps blinking . I have a droid razr maxx which originally had ics installed . It is not rooted, but the storage was encrypted through the stock settings for ics. does anyone else have this annoying problem?

First of all, thank you for your service. To your question, JB is running perfect on my Droid RAZR MAXX. You should try a factory reset and if that doesn't work, download the update from one of the links and ref lash it manually.

I forgot to mention that when I checked my RazrMaxx for system updates it said my phone was up to date after the download failed. After reading the post from Nate Black, I'm not going to push the issue. I was disappointed with how my phone was after the ICS update. (My battery life wasn't the same. My emails always move to bottom of the list when opened, and I can't save a draft message). I do like other features ICS has, but I'm skiddish now about this latest update after reading previous post!

I'm from Amsterdam, the Netherlands. Has anyone in Europe received an ota jellybean update? My RAZR Maxx is waiting. I bought it in Germany. Merry Xmas!

I got the "oops we released JB too early" update last night finally and I know my Razr Maxx is running fast and smooth right now, only bug I've noticed so far is the lag in screen rotation but other than that, thank you Verizon and Motorola I'm not one of the many ungrateful asses out there that constantly complain "where's my ICS?" "where's JB?" "What the hell is it taking so long, I'm about to die without any updates!" From one happy Verizon Razr Maxx owner, thank you for the Christmas goody :)

it also lacks speed dial option in phone app.

No actual update. We have been fooled...duped...hoodwinkled.

OK Motorola just call me and told me to wait that their is an update and they start to push it out since yesterday. This call come after spending 30 mins with Verizon and Motorola yesterday and they telling me that their is no update. But today i get woken up my this call form a manager who put me throw to Tech Support Level 2 witch made it clear that about 2 Million hand set got the update and if we are not the luck one that it should be in the next hour to 2-3 days that all of us have the update.

This seems plausible. They know the update got pushed to a few phones through legitimate sources and now they have to support it. The only logical thing would be to go ahead and update everyone to the same version and then offer a smaller patch later to fix anything that wasn't 100% ready to go yet with this build. Though its running very smooth for me so far.

Found this handy thing for people that can't wait, like myself. http://www.androidgadgematic.com/2012/12/manually-update-droid-razr-maxx...
Make sure you do the Voodoo thing to keep your root. Merry Crossmas!

Thanks for this. I just updated my Droid Razr to 4.1.2 Jellybean and it works great. The link that you sent with the instructions worked beautifully. It runs like a dream. Does anyone know if Verizon ever correct the OTA issue for this update?

Yes work like a charm. Thanks dude info.

I actually updated with this file and it worked fine with root. It was failing initially but once I uninstalled safe strap recovery it worked like a charm and I kept root access.

I received the update notification as well. Download failed too. I have downloaded the update but it failes installation. The error I get is E: signaiture verification failed.
Anyone have an idea why?

I Have A Droid RAZR Maxx And Update Went Fine. However, When I Went Into Check My Email It Says I Have To Give gmail Permission To Be An Admin On My Device And Grant Them Access To Erase All Of My Data At Any Time Along With Other Permissions. Is Anyone Else Getting This With The 4.1.2 Update?

Yes, I got that one as well. I checked my Gmail, restarted my phone and upon reboot something popped up and I accepted and haven't seen anything strange other than that.

Are any of these updates even for non US; non VZW phones MY RAZR? Mine is still stuck on 2.3.5

Thank you to whom over posted the link to download day install. I dl'd, followed directions, and am now happily enjoying JB on my RAZR Maxx. Haven't had problems re:gmail as of yet.
If you all want it so bad, just DL the build and install yourself. If you prefer to wait for OTA, that's fine too... just stop complaining if that's your choice. ;-P

If you don't want to wait for the OTA update to be released, then go to this link: http://www.androidgadgematic.com/2012/12/manually-update-droid-razr-maxx... and follow the instructions and it will work just fine. I just did on my Razr XT912 and I am now a proud user of Jellybean on my device.

You can download the update file from:
www.dragoncustomservers.com/uploads/Blur_Version.6.16.211.XT912.Verizon....
Copy it to the sdcard-ext folder (external sdcard)
Then boot to recovery and install zip
Also same file different name:
www.dragoncustomservers.com/uploads/Update.zip

Hello RAZR guy, is this update also suited for non Verizon phones?

It's for CDMA only meaning Verizon only. If you use any other carrier then I wouldn't flash it, possibly could brick your phone.

I'm on 6.16.211 but its not JB. The update fails for me. Any ideas?

I updated my Razx Maxx and the stock weather widget and my notepad with important info are gone nowhere to be found in the internal/external memory. Other than that everything is fine

I got it on 12/24...works great but I am noticing a significant battery drain since...I have the original Droid Razr. Other than that I love it!

Update went pretty smooth for me on a Verizon Razr Maxx. Phone is running nice. OTARootKeeper worked like a charm. So far I've only had one issue: for some reason my Google Authenticator database was corrupted during the upgrade. Luckily, I had a recent backup from Safestrap that I restored the database file from. Note 1: Just noticed that my notification volume keeps going back to max, even though I set it to around 75%. Not sure what the deal is yet.

I would like to point out the obvious for those of us who particcipated in the soak test for this phone earlier this year. This update was available temporarily WITHOUT A SOAK TEST. From prior experience with mototola roms before that means I can tell you that this ROM IS NOT READY. The fact that it is not ready will probably show up in the next month or two for those who have installed it already, or it may never show up. Who knows. When we add in the comments from people saying that motorola and VZW are saying that the update is not ready/is scheduled for the middle of next month AND the fact that it is way ahead of the original schedule??? I will wait until I hear the results of users from the soak test.

flashed to external sd card from download link posted here, I have a RAZR MAXX, no problems everything is working fine so far, camera, google now, play, etc.. all good. I started from factory reset which probably helps to clear up any app overwrite issues...

Hi Does anyone know how to prevent Razr from OTA updating. I do not want to update. I would like to wait. Thank you in advance.