Oppo N1 'CyanogenMod Edition' will run CM out of the box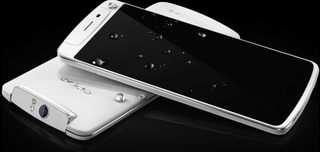 Chinese manufacturer Oppo has announced that it'll ship a limited edition version of its new N1 handset with aftermarket firmware CyanogenMod as the default operating system. Regular Oppo N1 devices, which run the company's Android 4.2-based ColorOS as standard, will already support the ability to install CM through the stock recovery, but the difference with the CM edition is it'll arrive running CyanogenMod software out of the box. In addition to all of CM's features and a visual style closer to stock Android, the device will also include "extra CyanogenMod accessories" — stickers, packaging and cases featuring the CM and Oppo mascots.
As you'd expect from the close partnership between Oppo and CM, CyanogenMod on the N1 will fully support the device's array of wacky features.
The Oppo N1 CyanogenMod Edition will debut internationally in December, priced the same as the regular N1 — that's 3498 yuan in China, which translates into around $570 or £360.
Press Release
Limited Edition OPPO N1 to Ship with CyanogenMod
Special OPPO N1 With CyanogenMod Available in December
SHENZHEN – November 8, 2013 – OPPO will be selling a limited edition of their latest flagship device, the OPPO N1, which will ship with CyanogenMod. This special edition of the OPPO N1 will come running CyanogenMod out of the box, which has been customized to support all the unique features of the OPPO N1, and include extra CyanogenMod accessories.
OPPO N1 CyanogenMod Edition
OPPO recently unveiled the OPPO N1, an innovative device outfitted with a large 5.9" HD screen, rotating camera and a rear touch panel. To perfect the OPPO N1 further, OPPO partnered with CyanogenMod, the world's most popular aftermarket Android operating system, to give users a choice in the software they run on their OPPO N1. A limited supply of OPPO N1 devices will ship running CyanogenMod.
The limited OPPO N1 CyanogenMod edition also comes with extras like CyanogenMod stickers, unique CyanogenMod packaging, and a specially designed case for the N1 featuring CyanogenMod and OPPO mascots, Cid and Ollie.
Non-limited international OPPO N1 devices ship with OPPO's ColorOS system, and will support the installation of CyanogenMod directly from the OPPO N1 stock recovery without the user needing to root and install a custom recovery. In addition, it will come pre-loaded with CyanogenMod making it easy to flash CyanogenMod directly without downloading or transferring any files.
Unprecedented Partnership
OPPO's partnership with CyanogenMod marks the creation of the world's first CyanogenMod hardware product. It is also the first time CyanogenMod has made software customizations for a smartphone manufacturer. The CyanogenMod team has tailored their software to specifically support all of the unique features of the OPPO N1 including the O-Touch back touch panel, O-Click Bluetooth remote control, the revolutionary rotating camera, and also unique features from ColorOS such as double tap to wake and screen-off gestures.
The limited edition OPPO N1 with CyanogenMod will ship internationally in December at the same price as regular OPPO N1 devices.
Alex was with Android Central for over a decade, producing written and video content for the site, and served as global Executive Editor from 2016 to 2022.
Wonder what the deal with GApps will be

Probably nothing since there backed by a licensed phone company. No different than any other skin over android. Posted via Android Central App

You forgot to say FIRST. This whole thread is irrelevant now. Posted via my thumb(s) and the submit button.

SO CyanogenMOD version will run CyanogenMOD! makes sense.

Haha seriously. CM fans don't flash either huh? I very much appreciate all the hard work, dedication, and innovation he/they've brought to Android over the years. That said the general approach they've taken lately is a real bummer for many devs and modders alike Posted via Android Central App

My question is: How much? and will it be LTE. At this point the nexus 5 pricing has put a lot of non contract priced phones really hard to get since it is so low cost to get a nexus 5.

The price of $570 is given in the article above. As for LTE, when Oppo was at the BBQ, they were indicating these devices were only HSPA+ outside of .cn

NO WAY!?!?! Posted via Android Central App

I'll make it run Paranoid Android just to troll Posted via Android Central App

Probably based on CM anyway. It seems like all of them are or were.

so...the cm version will come bloated with OEM "features". kinda loses the appeal of cm doesn't it? (btw cm, can you please include s pen apps in your note 3 release?)

Surprisingly, even the Nexus 5 has let some bloat in. I got an update to some HP printer app on my Nexus 5 the other day...

I know right! Disabled that shiz straight away. Gonna get rid of it completely later when I can be bothered Posted via Nexus 5

Ugh, I know. I mean, it's a neat feature, but if I wanted it, I'd download it. Including Google Cloud Print is perfectly sufficient.

I don't think so. It looks like the limited edition CM version will come with regular CM (with device-specific tweaks to complement any unique hardware features, I'm sure). I think any OEM bloat will be on the standard edition that runs Oppo's Color UI.

Awrsome, specs are also up to par according to their website. http://en.oppo.com/products/n1/specs/ Posted via Android Central App

Wish something like this existed in the states it's one heck of a concept. Posted via Android Central App

If it had U.S. LTE bands, I would definitely consider it.

Absolutely Posted from my HTC One GPe via Android Central App

Want dat! Posted via Android Central App

Who would use a Chinese made phone? It would probably break the first week Posted via Android Central App

But it wouldn't break before sending all your personal information to China.

Chinese made phone? Seriously? How many phones can you think of that don't have any parts made in China? None. Most phones made are in China, and all the rest at least have parts from there. Posted from the awesome new Nexus 7

You do know Samsung and LG are in Korea right? Even the Nexus 5 says made in Korea. And HTC is in Taiwan, not to get political but whether that's China depends on who you ask... It's complicated, but they operate very differently than mainland China. I imagine some of the parts might be made in China, though most major components are manufactured by TSMC in Taiwan for companies like Qualcomm (US), including the SoC. Point is, saying X phone is made in China like some $2 toothbrush is a little bit off the mark. Oppo on the other hand IS based out of mainland China. Not that I share the sentiments expressed above, Oppo has offices in California too and AFAIK they make some pretty solid BD players. Build quality of their phones is apparently pretty good too, tho I've never held one.

I think you forgot the "/s" at the end of your post.

Most phones are already made in China. Of course if you had a brain you would've known that.

Now this would be interesting Posted via Android Central App

I still think the rotating camera cheapens the look of the phone.

A little "champagne gold" spray paint will fix that ;)

I think there is a very high paying career in marketing gadgets somewhere out there for you. That's brilliant. Millions of status-obsessed suckers would totally fall for that. Remember in the 90s when people would pay hundreds of extra dollars to have tacky gold painted trim and emblems on their cars? What's old is new again!

"I still think the rotating camera cheapens the look of the phone." Uhh no it doesn't.

Opinions. Posted via Android Central App

Sounds interesting. Posted via Android Central App
Android Central Newsletter
Thank you for signing up to Android Central. You will receive a verification email shortly.
There was a problem. Please refresh the page and try again.