OPPO F7 is the latest Android phone to sport the notch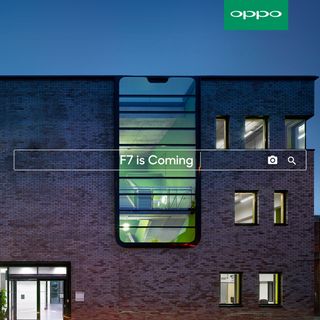 ASUS demoed the ZenFone 5 late last month, and the main thing that stood out about the phone is the iPhone X-like notch. It was only a matter of time before other manufacturers offered their own take on the notch, and today OPPO is doing just that with the F7. The successor to the F5 is set to launch in India later this month, and as you can see from the teaser image, the phone will sport a cutout where the front camera is housed.
The OPPO F7 features a 6.2-inch display with a resolution of 2280x1080. We've seen 18:9 panels go mainstream over the course of the last year, and it looks like that'll be the case with 19:9 panels this year, with the added pixels to accommodate the notch. The phone comes with an 89.09% screen-to-body ratio, and you also get gestures that allow you to navigate between apps.
Like previous devices, a key area of focus with the OPPO F7 is the selfie camera, with the phone featuring a 25MP camera at the front. OPPO introduced an AI-based Beauty Recognition feature late last year in the F5, and the F7 introduces AI Beauty 2.0 with "differentiated beautification touches for different people, e.g. male or female, in a group photo."
The AI learns your preferences over time — based on edits you make to your photos — and automatically applies those effects for subsequent shots. The company is also touting additional improvements to the front shooter, including HDR and AR stickers.
The OPPO F7 is slated to make its debut in India on March 26, which is when we'll know more about the specs and pricing. What do you guys make of the design of OPPO's upcoming phone?
Android Central Newsletter
Get instant access to breaking news, the hottest reviews, great deals and helpful tips
Harish Jonnalagadda is a Senior Editor overseeing Asia at Android Central. He leads the site's coverage of Chinese phone brands, contributing to reviews, features, and buying guides. He also writes about storage servers, audio products, and the semiconductor industry. Contact him on Twitter at @chunkynerd.
This might also be an outlook on the OnePlus 6

That'll be the R15. That's also set to launch soon.

What I love is people say they are copying the iPhone X wasn't the esentials phone out before the X?

It's more about how the notch design looks that similar to the Phone X.

It's also fair to say that almost literally no one cares what Essential did. They do care about what Apple does.

Oh course. It's been like that since the day white earphones become popular as it represented you had an Apple iPod and of course the introduction of the iPhone.

No, walkman was much more influential than apple I am afraid. Having an ipod has never been impressive.

Why does it have to be this way?

Maximizing the screen as much as possible.

Maximizing the screen as much as possible, while also admitting they do not have the engineering skills to do it any other way. And also hoping that people will buy into it as a trend without realizing that they are being played.

Nah, maximising sales to people who think "this looks like an iPhone X, except I can afford it!".

It must be really embarrassing to walk around with a phone like this with everyone knowing you're too cheap to afford the real thing. The iPhone. As much as I like android OS.. It hurts me to see these rip offs from these other manufacturers that use it. It's too bad BlackBerry and Windows Phone OS got murdered however, Still.. I use the KEYᵒⁿᵉ so at least the originality of a phones physical appearance gets retained.

I agree with you I hope those phones stay over there

I agree 1000%. These OEMs have no shame and their designers, not a single shred of originality or dignity. My mobile is an extension of me and there for must be as unique as me. I carry a Note 8 and an Idol 4s windows mobile as my back up. I use continuum on it regularly. An underrated feature way ahead of it's time. If I wanted to be one of the heard, I'd get a @#$&! iPhone!! Makes me sick...

Essential phone had the notch first. I get it Apple is bigger in the space and made it more popular.

You're not really informing anyone of anything at this point by repeating that Essential had "a notch" first. The horse is dead already... stop beating it. But to clarify... the notch design everyone seems to be copying (quite clearly) is the notch design of the iPhone x, not the Essential phone. And before you say it, Apple didn't copy the notch from the Essential phone because they absolutely couldn't look any more different from each other.

You actually care what people think of you because of the phone you own? Grow up

Notch minus the sophistication. What a joke. This is why the Chinese never can gain respect. They were, are and most probably will be rip offs.

You do realise there more than just Chinese OEM's adopting the notch right?

Of course Chinese companies innovate and develop new technology. You just dismiss it when it happens because you're prejudiced.

Yeah they all rip off the essential phone.

Essential phone did it best in my opinion. Little notch for its camera. An original idea at the time executed perfectly for the design they were going for. Even Apple had reason for the notch; their fancy-smancy, depth sensing camera array is housed in there. There is a method to the madness. But these guys and others like them simply want to one of the crowd. It's disgusting this is what mobile design is coming to.

Yeah agree with you, totally

Apple's original design was for an all screen with the sensors underneath it. Unfortunately, the tech isnt there yet. The notch is the closest to achieving that. Rumors are saying the X's successors notches will be a lot more smaller in depth and width with the same shape. Who would have thought so many Chinese OEMs would have came out with a similar notch shape design. Shows how much originality they have and shame to release a product that takes so much inspiration from another company's product.

Yet the notch on the iPhone x, and all these other copycats of the iPhone x design, look nothing like what Essential brought to market. So I really don't think Apple was copying the notch from Essential. I don't even think Essential was even on their radar. Still isn't.

I just hope Google doesn't do this BS to the Pixel

Just don't buy. Very simple. It's stupid and yesterday I read an article on how Apple may be eliminating the notch. These companies should learn 1 important fact. It's better to be a leader than a follower.

Just stop with this stupidity.

I hate that notch! Why imitate an iPhone? Create your own way. Imitating creates the thought that this isn't as good as an iPhone. Do your own thing and praise or criticism is at least your own.
Android Central Newsletter
Get instant access to breaking news, the hottest reviews, great deals and helpful tips
Thank you for signing up to Android Central. You will receive a verification email shortly.
There was a problem. Please refresh the page and try again.