Open your watch face options with Minimal and Elegant for Android Wear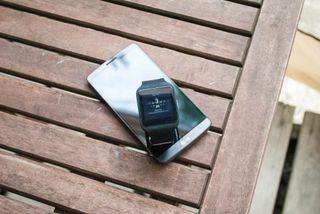 If you thought minimalist meant there was no information but the time displayed, then boy were you wrong. The Minimal and Elegant watch face is exactly what it claims to be, but is also a gorgeous watch face for Android Wear With access to tons of customizable features, weather, time, and the full date, it tells you everything you need at a glance without appearing cluttered or messy to the eye. If you haven't checked out this watch face yet, then keep reading!
From a single glance you can catch all the information that you'll actually need from your watch. At the top of the screen the weather is displayed by degree, alongside an icon indicating weather conditions. Just below that is the time. It's displayed in a slick design in which the numbers scroll to the left as time passes. Your AM/PM indicator is mounted discretely just above the hour. Below the time is today's full date including the day of the week. Under that you even have the current wind and precipitation. All together it is set up fantastically. All of your information has it's designated place so it's easy to check things at a glance. You have tons of ways to customize these features including the color, brightness, ambient display, and just so many more. The big draw with this watch face is most definitely the sheer amount of ways you can customize.
If the fairly bare face isn't your style, but you like the layout of information then you are in luck this time. The Minimal and Elegant watch face allows you to use any of the hundreds of faces available through the Little Worlds community on Google+. Everything from cities, to superheroes can be added to this watch face. Each face appears a bit differently, but they seem to either show up as a small image under your displayed information, or they take up most of the screen with your information displayed over top of them. They're all user made, and all completely free which is pretty awesome. You can even make your own custom faces which is a brilliant idea, and really allows you to customize to a greater degree than most faces. The Minimal and Elegant watch face is currently available for $.99 in the Play Store.
The Minimal and Elegant watch face brings it all to the table. A eye popping and organized display means you'll never have to take time away from your day to figure out the weather, or date. Tons of customization options including hundreds of Little Worlds to explore, and the option to create your own give you real control over the way your watch face looks. Have you used the Minimal and Elegant watch face or any of the Little Worlds available for it? Tell us about your favorites in the comments below!
Jen is a staff writer who spends her time researching the products you didn't know you needed. She's also a fantasy novelist and has a serious Civ VI addiction. You can follow her on Twitter.
I like the watch face, but it makes my Moto 360 battery drain much quicker than a stock face.

That is quite surprising as many testers reported excellent battery life. May I ask you to join our beta community? We can check all the things and try to look at it from your perspective. As mentioned below the app received update it got some cool features along with more and more little optimizations. I am pretty sure there are settings which would lead to even better than stock battery life (disabling animations and glow effects is the main thing to check, stock doesn't provide such "goodies") - Thank you, I hope to see you in beta. M.

Sometimes you have to restart your watch after applying. I've had that happen before. Posted via the Android Central App

Bought this watch face a few months ago. It's a nice idea especially for those with a Moto 360. You can almost hide the flat tire if you go with one of those cities as a background. Posted via the Android Central App

It now has the ability to add a pic as the watch background. Big addition, don't think it was mentioned in the article. Posted via the Android Central App

Great watchface app, especially for the Moto 360. Great developer too!

This has been my go to watch face for my G Watch for a while now. So simple, clean, with the relevant info I need at a glance. I love the mini worlds they created, and I use the Caribbean theme myself for the summer. It's a great app for Wear, worth the admission price!

This was made for people who don't want to spend the 5 minutes in WatchMaker to make this. Posted via the Android Central App

Dear Natefish - this app introduced many unique solutions, functionality and design elements - never seen before in Watch Face design. I think that sometimes it's good to share $0.99 to support creative devs and designers otherwise we wouldn't get such variety of apps, designs and options as we have now. I value your opinion and I would rather offer you a week for test (week long refund window) if you would like to check it out, you can reach me via Google Play. :-)

Thank you for great article!

Gonna give this a try on my 360 Posted via the Android Central App

Somebody suggested this watch face a few weeks ago in a comment somewhere, and I've been using it ever since on my Moto 360. Little Worlds is a great idea to make the flat tire nearly unnoticeable.
Android Central Newsletter
Get the best of Android Central in in your inbox, every day!
Thank you for signing up to Android Central. You will receive a verification email shortly.
There was a problem. Please refresh the page and try again.