OnePlus promises 2 years of software updates for all phones going forward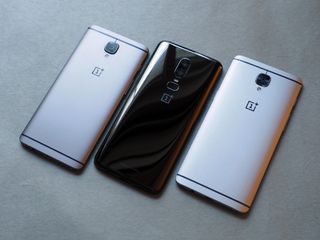 OnePlus is finally addressing one of the biggest concerns surrounding its phones since the company's inception — the longevity of software support. Per the OnePlus forums (opens in new tab), we now have official details on the new OnePlus Software Maintenance Schedule.
Under this schedule, all OnePlus phones (including T variants) will receive 2 years of "regular software updates" from the date of release.
Regular software updates include the likes of Android version upgrades and new OnePlus-specific features, and along with this, all phones are also getting 3 years of Android Security patch updates that will be pushed out every two months.
The OnePlus Software Maintenance Schedule goes into effect right now and applies to the OnePlus 3/3T, 5/5T, 6, and all future phones.
On a similar note, OnePlus announced that the Open Beta program for the 3 and 3T will be ending this week. In early-July, users that are in the Open Beta will receive an OTA update to go back to the current stable build of OxygenOS.
In other OnePlus news, CEO Pete Lau recently took the stage at Mobile World Congress Shanghai to confirm that the company plans on releasing a 5G-compatible phone next year and that it's still in talks to bring OnePlus phones to U.S. carriers (something we first heard about in January at CES).
With OnePlus's new commitment to software support, are you more likely to buy a OnePlus phone for yourself and/or recommend them to people you know?
OnePlus 6 review, a second opinion: The best Android phone under $550
Android Central Newsletter
Get instant access to breaking news, the hottest reviews, great deals and helpful tips
Joe Maring was a Senior Editor for Android Central between 2017 and 2021. You can reach him on Twitter at @JoeMaring1.
LUL. I just snorted coffee all over my office and the hallway and bathroom. Good one OnePlus.

Why? I'm always sceptical, but your reaction seems a bit ott considering how they've been with updates since the 2. Or are you just still pissed because you broke yours?

Wasn't that always the expectation, OnePlus?

If only they made a smaller phone, this would benefit me. Since they don't, this is just general good news.

Gotta say the OP6 is one hell of a device and I'm enjoying it way more than I expected. Adding these upgrade commitments makes it even more of a treat.

Got my wife a 6. The rumors are definitely true, it's an awesome device.

I'll believe it when I see it... Although they've been pretty good with the 3 onwards. I probably won't see it though, cause I'm planning to not install P. It is very cool that they're updating devices on the beta to the stable channel, could've easily left them out in the cold.

Just curious what is wrong with P? Legitimate question because I really haven't looked into the features since I figured the 3T was never going to get it and I plan on keeping it at least another year (Until December 2019) if I don't break it.

They killed support for substratum. If you don't know what that is, my main objection to P doesn't affect you. I'm not sure the 3T will get it anyway though... It's 2 year window will be up around the same time as P launches. But as long as your battery is ok I think you'll easily get another year+ out of it.

I know what substratum is. I think it is interesting, but not enough so that I am willing to go through the hoops to install it. I'm fine with just using the OP3T's built-in dark theme and letting Nova Launcher theme what it can.

It's important to me... Google can keep its hard to read snowblind os. The partial dark theme is one of the things I like about OnePlus phones... And the light is why I won't consider a pixel.

Since I got mine, at release I have already received 3 updates! Although I AM still only on the May security patch. ;)

I'm really not that botherd about updates as I've been happy with Android since 6.
But credit where it's due, I believe the 3T is on 8 and may get 8.1
There are phones released in 2018 that won't see that.

8.1 is really good and if P takes just a few features out or changes things people like there is no reason to update.

I've been very impressed with the number of updates on the 3T. I'm inclined to believe this isn't just lip service.

Partnering with US carriers is fine as long as still have the option to buy the non carrier models directly from them. Don't want crippled crappy carrier phones.

Speaking from personal experience, support for the 3T and 5 have been very good and I don't expect that to stop. I feel like this was the plan all along it's just that now they have officially announced it. Regardless, the community support for these phones is so strong you can likely stay "up to date" with a little know how and technical savvy for 4+ years.

Really impressed with Oneplus. Can't wait till I see the day I run into one while passing by store or seeing some more people with on in public.

Good for OnePlus but I'll be sticking with Pixel as they offer 3 years of updates now and I prefer the Pixel launcher over Oxygen OS even though I like Oxygen OS along with the fact that OnePlus are a shady company

I'm looking here for that Pixel 2 guy who jumps in all the articles. MY BLOODY PIXEL 2 IS ****** BETTER THAN ALL YOUR PHONES COMBINED.

No phone is perfect but the Pixel is better for me just like Samsung is probably better for you.

Yass God honey u better comment through with my pixel 2 is better them yours comments .

I'll say it again, no phone is perfect but my Pixel 2 XL is better for me.
Android Central Newsletter
Get instant access to breaking news, the hottest reviews, great deals and helpful tips
Thank you for signing up to Android Central. You will receive a verification email shortly.
There was a problem. Please refresh the page and try again.