OnePlus' partnership with McLaren was doomed from the beginning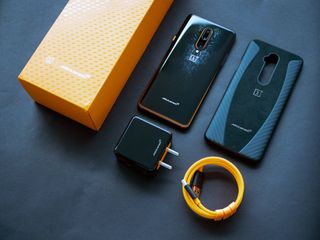 (Image credit: Harish Jonnalagadda / Android Central)
OnePlus confirmed last week that it was ending its partnership with McLaren. The collaboration with the Formula 1 outfit kicked off in 2018, and resulted in two phones: the OnePlus 6T McLaren Edition and the OnePlus 7T Pro McLaren Edition.
It is sad to see the partnership fizzle out, and while OnePlus didn't say why it wasn't renewing its deal with McLaren, it's easy enough to guess. Lackluster sales likely played a part, but there's also the question of synergy: it never made much sense for OnePlus to team up with a Formula 1 outfit.
The McLaren collaboration was focused on speed — what better way to highlight speed than partnering with a Formula 1 outfit? — but the resultant devices didn't differentiate themselves enough from OnePlus' regular phones. And with OnePlus effectively culling a majority of its European workforce earlier this year, the partnership with the Formula 1 outfit ended up being another casualty.
But the bigger issue is that McLaren just does not have any brand recognition outside of Formula 1. Sure, it makes a few road cars, but outside of Formula 1 enthusiasts (like myself) and automotive fans, no one knows about the brand. There's also the fact that McLaren is going through its worst spell in Formula 1, finishing ninth (out of ten teams on the grid) in 2017, sixth in 2018, and fourth last year. Far from the heady days in the '90s when the brand dominated the sport.
And while Formula 1 has tens of millions of fans around the world, that fanbase is limited to European markets, Australia, and parts of Southeast Asia. The sport doesn't have a sizable audience in the U.S. or India, and that meant a majority of customers in OnePlus' two largest markets had no idea about the brand. It's no wonder, then, that the collaborating is coming to an end.
Finally, there's the fact that the phones weren't all that exciting. OnePlus' previous collaboration with Disney stood out because it resulted in unique designs — the OnePlus 5T Star Wars continues to be my favorite OnePlus phone because of the Sandstone White finish. The OnePlus 6 Avengers Edition was more modest in terms of differentiated design, but the Avengers insignia at the back was enough to make the phone fly off virtual shelves.
The OnePlus 6T McLaren Edition had neither. Unlike the Avengers model, there wasn't a strong brand association here to make the phone sell regardless of the design, and the overall design itself was tame. McLaren has a distinctive Papaya Orange color scheme that it uses on its Formula 1 cars, but the phone featured a narrow orange band paying homage to the color. It would have been much better if OnePlus decked out the 6T in that vibrant Papaya Orange hue — if nothing else, it would have made the phone stand out.
The OnePlus 7T Pro McLaren Edition made things worse. OnePlus added a pattern underneath the glass layer that made no sense (it was styled after McLaren's composite material), and it ended up making the phone look ugly. As a McLaren fan that has watched Formula 1 for over two decades, I wanted to see exciting designs that celebrated McLaren's rich heritage in Formula 1. Instead, what I got was a phone with a derivative design.
At the end of the day, OnePlus just didn't know how to leverage the McLaren partnership. OnePlus wasn't the first tech brand to team up with a Formula 1 outfit — AMD is one of the sponsors for Mercedes AMG Petronas, IBM has teamed up with Aston Martin Red Bull Racing, Microsoft partnered with Renault several years ago, and HP has deals with three teams on the paddock.
It's a shame that OnePlus could not make the McLaren partnership work, but here's to hoping we get a new collaboration this year with another brand, one that appeals to its global audience. I'd suggest Fnatic.
Harish Jonnalagadda is a Senior Editor overseeing Asia at Android Central. He leads the site's coverage of Chinese phone brands, contributing to reviews, features, and buying guides. He also writes about storage servers, audio products, and the semiconductor industry. Contact him on Twitter at @chunkynerd.
I'm questioning myself if they will do a special edition of one of their phones in the near future.
A partnership leading to something that differentiate the special edition to the standard one.

Baby vomit just isn't a good colour for a phone... And that's coming from someone with a Canary yellow S10e in a clear case with a purple bumper. What's this about them shutting down in Europe?

Don't mind me in my nasa suit after testing it underwater in zero-g boots..

McLaren does indeed have brand recognition. Every time I see one on the street I am in awe.

I happen to love my OnePlus 7tpro 5G McLaren Ace Atkins with is amazing and I love the pattern on the back but I guess that's just me

That leather backed one would have been pretty sweet.

I am wondering whether to buy either of these phones.

I always thought that the McClaren edition OnePlus phones were overkill and made no sense.

Idk some people like the odd look of the one plus 6t mclarren addition i think it looks cool but that phone really wasn't all that exciting of a phone I think they did a way better job with design and specs on the new one plus phones but there phones aren't nice enough for me and reliable like Samsung I love my s20 ultra 16gb ram 512gb storage and it does all 5G

Hey, at least I own the last ones that will be ever made, and I'm guessing the the price might raise because this partnership has ended

"OnePlus effectively shutting down its European business earlier this year" What kind of garbage journalism is this? Oneplus is still in business in Europe.
Android Central Newsletter
Thank you for signing up to Android Central. You will receive a verification email shortly.
There was a problem. Please refresh the page and try again.