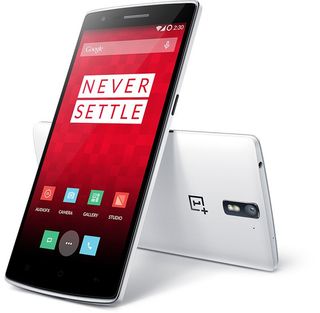 Chinese firm OnePlus has taken the wraps off its first handset, the "flagship killer" OnePlus One, powered by CyanogenMod with a super-low price tag. The device aims to shake up the high-end Android smartphone market, though you'll need an invite to actually buy one at launch.
The company is promoting its new phone under the banner of "Never Settle," but if you're interested in learning what hardware you'll actually be settling on if you pick one up, you can view the full spec sheet down below.
More: OnePlus One forums
OnePlus One hardware specifications
Swipe to scroll horizontally
Category
Features
Color
Silk White/Sandstone Black
Dimensions
152.9 x 75.9 x 8.9 mm
Weight
5.71 ounces (162g)
Operating System
CyanogenMod 11S based on Android 4.4
CPU
Qualcomm® Snapdragon™ 801 processor with 2.5GHz Quad-core CPUs
GPU
Adreno 330, 578MHz
RAM
3 GB LP-DDR3 @1866MHz
Storage
16/64 GB eMMC 5.0, available capacity varies
Sensors
Accelerometer, Gyroscope, Proximity and Ambient Light
Battery Capacity
Embedded rechargeable 3100 mAh LiPo battery
Display
5.5 inch JDI 1080p Full HD (1920 x 1080 pixels), 401 PPI
LTPS IPS with TOL
Corning Gorilla Glass 3
Cameras
13 Megapixel - Sony Exmor IMX 214
6 lenses to avoid distortion and color aberration
Dual-LED Flash
f/2.0 aperture
5 Megapixel "Distortion Free" front-facing camera
4K resolution video with stereo recording
Slow Motion: 720p video at 120fps
Cell. Frequencies
GSM: 850, 900, 1800, 1900MHz
WCDMA: Bands: 1/2/4/5/8
LTE: Bands: 1/3/4/7/17/38/40
Wifi
Dual-band Wi-Fi (2.4G/5G) 802.11 b/g/n/ac
Bluetooth
Bluetooth 4.1
NFC
65T (software card emulation, payment methods and multi-tag support)
Positioning
Internal GPS antenna + GLONASS, Digital Compass
Speakers
Built-in Stereo Speakers
Microphone
Tri-microphone with noise cancellation
Ports
Data & Charging: Micro USB 2.0, Audio: Jack 3.5mm
Buttons
Power Button, Volume Rockers, Capacitive / On-screen buttons
SIM
1 slot - Micro SIM
Indicators
1 LED notification light (multicolored)
Audio supported formats
Playback: MP3, AAC, AMR, OGG, M4A, MID, WMA, FLAC, APE, AAC, WAV; Recording: AAC, M4A
Video supported formats
Playback: MP4, H.263, H.264, RMBB, FLV720P; Recording: MP4
Image supported formats
Playback: JPEG, PNG, GIF, BMP; Output: JPEG, RAW
In the Box
1x OnePlus One; 1x Wall Charger; 1x USB Cable
Alex was with Android Central for over a decade, producing written and video content for the site, and served as global Executive Editor from 2016 to 2022.
What's the the price of this supposed to be because it sounds like a killer device.

$299/€269 (16GB version) or $349/€299 (64GB version)...

Seriously? 64gb for the price of 16gb with the N5? I am might have to buy one. I've never used CM before though. AC App via Nexus 5

You aren't missing a damn thing. CM sucks.

What makes CM suck? Its pretty much stock android with the option to customize it, am I missing something here?

Prior to 4.x CM had far more customizations...almost as much as PA. Now it's as bare bones as AOSP...if I want bare bones I'll just use AOSP...why do I need CM?

If you need almost unlimited customization, try Xposed Framework ;)

Depends on the device you're using it with. If you're using a stable build or release candidate with a more developer-friendly device (think Nexus), you'll probably have zero problems. If you're using it with a phone that was never meant to be unlocked or screwed around with, you'll get some crashiness and maybe a broken feature or two. Considering that this phone was designed with CM in mind, I would imagine it would be as stable as any other OEM ROM out there.

I stick to CM-based ROMs for Privacy Guard. At least I can still have control over what information my apps bleed.

It doesn't suck but it is SO OVERRATED. Posted via Android Central App

It's just like stock android but with a couple more settings to tweak.. Posted via Android Central App

That's £250... 300 with VAT... Hmm... If that pans out it'd be very tempting. Not sure I can face going back to capacitive buttons though. Posted via Android Central App

You have the option of going with on-screen button and turning off the capacitive. Easy change in the settings menu.

I always replace on screen buttons with pie Posted via Android Central App

Thanks Alex!! It's nice to know someone here puts some real effort into their job by doing some accurate research before clicking 'post'.

Just stop. You are such an ass.
ಠ益ಠ

The butthurt is strong in this one. Posted from my Nexus 5 via Android Central App

Good, good. Let the butthurt flow through you Posted via Android Central App

Lmfao
I can't get the image of Emperor Palpatine saying that out of my head

Nice comment ass hat Posted via Android Central App

You poor thing.. :'-( Posted via Android Central App

This thing hits almost all the marks and is priced to kill. I hope it makes a splash. ಠ益ಠ

What sucks is the white model only comes in 16gb :( But the back is removable so I guess it's half the battle. Hands on video here btw: http://forums.oneplus.net/threads/hands-on-video.2906/

Struggling to find something about this that isn't awesome?! Posted from the ONE

Pretty much the size for me. Everything else is tempting, but this phone is TOO big. Got Nexus?

Its only slightly bigger than the S5, but with .4 more inches of screen. But I agree it is a large phone.

Yeah, I may end up giving it a try, but I really am waiting for the LG G3. That phone has my interest very piqued. Got Nexus?

Its more than slightly bigger than the S5. Its actually taller than the note 3 and slightly narrower. Its a big device.

You are right, my bad. Must have read my millimeters wrong.

Chinese compensating for something I think... Haha jk xD that was bad of me >< Posted via Android Central App

What? It's taller than a Note 3... It's huge.

You also need to consider that it's smaller in width compared to the Note 3. Posted via Android Central App

The camera is a bit pedestrian at this point (good but nothing special), no expandable SD card slot. These are dealbreakers for me. Gotta wait for the Note 4 now...

Have you seen pictures taken from it??? ಠ益ಠ

no i havent, but I have seen Sonys 20MP on the Xperia which I like, this would be 7MP worse. I didnt say it would take bad pictures but the specs are pedestrian and in a "flagship killer phone" i would expect more.

"7MP worse" lmao How can you browse this site and make such a stupid comment? Haven't you learned by now that MP does not equal quality??

Lets take two Sony camera modules. Right? So same module, one takes 20MP photos and one takes 13MP photos. Everything else is the same. Tell me how my statement is wrong. I am well versed in the fact that MP does not equal quality BUT when comparing two of the same modules and one is 20MP and one is 13MP the 20MP module will beat it out every time. This is a flagship killer phone right, but its camera doesnt beat out the Xperia Z1s sooo tell me again how im wrong in an apples to apples comparison.

One could also say that the Z1 wastes 50% more storage when saving pictures. The MP value is only useful up to the point of the largest image you intend to use. It does not add any quality when rendered at or below its max dimensions, the lens and sensor do that.

agreed. I have at least 9, 8x10" pictures hanging in my house right now so 8"x10" would be the largest image I would use. We cannot use my wifes OG HTC Ones photos in 8"x10" photos as they are just too grainy (the picture is OK but my Note 2 at that size blows it out of the water). I do understand these are PAS phones and not DSLRs but the more quality the better for my needs.

"this would be 7MP worse." I have never heard such a term used before in regard to megapixels. hahha

Pedestrian?? For $299/$350?? Dude, are u serious?? I understand the gripe about no expandable storage but any other complaint is just stupid.

To you. Doesn't make it stupid. Posted via Android Central App

He doesn't know what that word means.

Dude you are such a pedestrian. Posted via Android Central App

Pedestrian, i.e. dull or lacking excitement. Yeah im not excited about a 13MP SONY shooter. ESPECIALLY when you take into considering that its a "flagship killer". Context is everything. Im excited about the 20MP+ SONY modules, I am excited about the Nokia Lumina 1020 camera module and I would be excited about an 8MP or better HTC Ultrapixel shooter had they decided to upgrade. I get it, its a cheap phone. Im going to pay that same price since I am due for an upgrade so its not a big deal that off contract its that much.

I know what u meant by pedestrian. I didn't ask for a definition, I was confused as to why you would call it that. Just because it's being called a "flagship killer" doesn't mean it has to beat EVERY spec on other flagships because different flagships have different specs and it would be difficult to beat ALL of those specs with a price tag of just $299. This phone is not JUST about the camera but about everything overall. Another phone may have the Sony 20MP modules but it may lack in other areas. This phone is attempting to cover all areas other flagship phones are at a price that "kills" those other phones.. and that's what they meant by "flagship killer".. Flagship specs, killer price.

I think you have an issue with reading in general. I called the camera of the phone pedestrian, which it is, compared to the top phones. Actually, you have internet commenter syndrome or ICS, which stems from reading bits of things and formulating an opinion before you actually listen to whats being said. What is important to ME about a phone, Camera, Speediness of OS, storage, ease of connectivity and design, in that order, which is why I said this was a dealbreaker. JESUS CHRIST READ THE COMMENT, LISTEN TO WHAT IT HAS TO SAY AND THEN COMMENT.

I understand exactly what u meant. Actually, u are an idiot or IDIOT that doesn't understand that I make a great point and u don't want to accept that. I think your expectations are too high for a low-priced, high spec'd phone. There's nothing dull about a 13MP camera on a $299 phone. Leave Jesus out of this and go screw yourself.

Ill give you a second to see my other comment. And ill respond by saying, just because you think someone is good and think a 13MP shooter in a cheap phone works for you doesnt mean it works for others. I stand by my overall comment that the 13MP shooter is pedestrian and the lack of storage is not going to cut it. At $349 (IF YOU BUY THE $299 VERSION YOU ARE DUMB) its no where near in the league of buying a flagship phone if you are due an upgrade. Have fun with your pedestrian phone kid.

Eh ill give you a pass, my comment on the specs being pedestrian were based on the camera/storage so if you didnt read the first comment I could see how this was mistaken. Well there you go, not saying the phone overall but camera/storage ability. Otherwise its a good phone still dealbreaker for me.

Yankees... Such an extremely tired old argument. If 64 GB internal with more than a day battery life with exceptional camera and stereo front facing speakers for $350 no contract, no carrier bloat isn't good enough for you then you probably have other issues also.

Where does it say it has front facing speakers? It just says stereo speakers, I don't see anything about front facing? Posted via Android Central App

Speakers have to be front facing to be good?

No I never said that. He said that it has front facing stereo speakers and the article says stereo speakers. I was just wondering if it does have front facing? Posted via Android Central App

I don't see that in jimbos comment. Anyways, they are downward facing speakers I believe.

Jimbo said front facing speakers Posted via

This is Jimbos comment I see on the web:
"Yankees... Such an extremely tired old argument. If 64 GB internal with more than a day battery life with exceptional camera and speakers for $350 no contract, no carrier bloat isn't good enough for you then you probably have other issues also." Nothing about front facing speakers. Maybe I am just crazy.

You got to be because he said"stereo front facing speakers" Posted via

Obviously he edited the comment on the app and it did not translate to the Web version. ಠ益ಠ

why is this a tired argument? I take a lot of pictures with my phone, take HD movies and store movies for my kids. I NEED expandable space. I have a 64 GB card Im about to swap out on my N2 because its used up and as my kids get older I am going to be taking more pictures and videos. I made no mention of battery life and speakers because whatever phone I get will have acceptable battery life and speakers arent that good. Its not a tired argument when its something I need thanks. PLUS 64 GB after the OS and Apps will probably be around 50GB. That will be filled up in a year.

You can always move pictures and videos to a computer. Or some online storage option. Maybe you have it filled after a year, so then you clear some space.
I have always preferred sd storage option, but at this price? I can make the 64gb work Posted via Android Central App

I have Dropbox which doubles as my backup. I could move it to my desk top yes but thats extra hassle not to mention I dont trust desktop HDDs. For the price this phone is good but Im not worried about price (to a certain extent). My contract is up with sprint so whatever phone I get will actually be less than the $349 for the 64GB. And just because you can make the 50GB or so work (it wont be 64GB after the OS and Apps and such). Im not saying this is a bad phone just isnt the flagship killer it claims to be with the missing options I need. Its a great phone at a great price but its not what I need.

You trust SD memory more than magnetic drive's. Am I reading this correctly Posted via

I trust NOTHING. Haha they are all susceptible to failure over time. I have had bad luck with HDD and always would rather have non moving parts over moving parts but with that said I dont trust either so thats why i have cloud back up.

FYI, It is USB ON THE GO capable so just get a micro usb male to standard USB female OTG cable, Plug in any old jump drive or usb micro sd reader/writer and transfer off any files to external storage or micro sd card via the before mentioned adapter. This is a big thing that most everyone who complains about EXTERNAL MICRO SD card forgets or is uninformed of. I carry this with my s5 and a couple jump drives on my key chain so I can always back up when needed. Also useful to load a ton of movies on for long trips and then plug into my phone and play off of. Just my $.02

I always have trouble sending large files to Google Drive or Dropbox. It just won't do it. I took a video that's about 8 minutes long and is about 1GB. It just won't transfer it..

I have 4gb movies on my Dropbox. You jelly? Posted via Android Central App

Holy crap, learn to save things to the cloud.

See comment about dropbox. I do, but that is filling up quickly as well, then ill start to have to pay for it! I do not want to rely on a cloud service to keep my photos, I want "physical" copies as well. Since I dont print these out like the good old days, my photos will be saved on "SSD" forever as well as cloud storage. But deleting and relying on my familys memories to one source solely is foolish.

good lord what more do you want in your cellphone camera

I want great low light, fast shutter, OIS, good flash, exceptional picture quality (I blow up pictures to put in frames around the house). Its the whole reason i did NOT go with the HTC ONE M8.

CM instead of AOSP. Recent CM deviations from AOSP is really disappointing.

no USB 3.0 (or whatever version the "flippable" one is), no Qi charging. If it had at least one of those two, I would be sold.

+1....no wireless, no thanks

No phone has the flippable USB 3.1 yet. I agree on the wireless charging, however.

+1 on the no wireless comment. I have a history of destroying USB ports. :(

quite a beast! It'll certainly get the company off to a good start if they maintain decent quality control.
Apart from a great hardware spec, I think choosing CyanogenMod will prove very popular too.

Any chance this will work with Sprint? Posted via Android Central App

Not intended for CDMA carriers like Sprint and Verizon.

Exactly why i'm leaving Sprint in June. GSM is where i'm headed.

I finally left Verizon unlimited for T-Mobile unlimited and never looked back.
T-Mobile coverage is the same or better in my area, and my wallet breathes a sigh of relief every month.

You can get a Nexus 5. Comparison between Nexus 5 and OnePlus shows each has hits the other misses.

4k video playback on a 1080p display? im guessing that is solely for when having it hooked up to a 4k tv

You can make the same comment on the Note 3, Z2, and S5.

Sorry, but for 16gb I will not settle. Posted via Nexus 5 Android Central App

64GB version only 50 bucks more...

Yeah, seems like a no-brainer.

Looks like verizon uses 13 and vzw wireless uses 4 for lte hopefully we will get it so I can ditch samsung Posted via Android Central App

You'll have to be in areas that use band 4 LTE on Verizon. There is no CDMA support in this phone.

If you never want a phone call or text since both of those run on CDMA. Posted via Android Central App

Why would they go with such a big screen size. A phablet seems like an odd choice to launch your brand with.

Its pretty close to the size all flagships are now. Posted via Android Central App

Go big or go home.
But, yeah, seems a bit big. My G2 is 5.2 and I love it, but even with large hands it's a stretch to use sometimes.

Does this phone support Sprint? Posted via Android Central App

The OnePlus One is a GSM plus LTE phone. Sprint, Verizon , and their MVNO's like Virgin and Boost currently use CDMA plus LTE. Therefore the OnePlus One cannot be used on the Sprint and Verizon networks.

Doesn't support T-Mobile lte, vzw lte/cdma, or sprint lte/cdma. So att gets the win. Posted via Android Central App

I believe T-Mobile uses band 4 LTE, so it should work. Posted via Android Central App

Droid life already said it wouldn't work on T-Mobile Lte and will b slow on T-Mobile 3g. Posted via Android Central App

Wrong. I'll believe what ONEPLUS website has listed over what Droid Life says lol...
https://www.androidcentral.com/e?link=https2F2Fcrea...
Stay Connected
GLOBAL 4G LTE
Enjoy blazing fast and smooth connectivity whether you're around the corner or across the world with OnePlus One powered by Qualcomm© Snapdragon™ processor with a 4G LTE multimode modem. Unlocked and contract-free, roam wherever you'd like the One by your side.
use it on
AT&T or T-MOBILE

We got any solid information on Verizon support?

None, it is right in the specs. Posted via Android Central App

You CDMA users are always so hopeful. :-) Posted via Android Central App

5.5 inch screen... Too big Posted via Android Central App

No USB 3.0? It's 2014, every phone should have that, especially one that claims to be a flagship killer.

Looks great on paper, wonder what corners were cut. Posted from my Nexus 5 via Android Central App

Did they cut corners? Or do other manufacturers (other than google) make over $300 of profit on each phone sold?

Keep all those specs, but skrink it down to 4.7" and I'd be sold.

No newly released phones are less than 5" silly. Looks like you're SOL

+1, you can keep the price too.

Looks awesome. But does it have Google service layer built in on CM? Posted via Android Central App

it has playstore. what does Google service do anyways?

CM worked out a deal to include all Google services, so running CM is like running stock AOSP but with some extra tweaks and theming capability.

That's good then. So google now, Gmail and so on is supported out of the box with cm. I like the look of the phone and size. I currently have a note 3. So the specs are not to far apart. Posted via Android Central App

Dang that's cheap for 64gb. No one can deny this is on par with the M8 and gs5 for half the price. Although, you can hate and nitpick all you want lol.

The only hype is the price. The hardware is not amazing imo. We've seen it all before.

Wow really it's as good or better than most Android phones out there man folks are hating on this device because its affordable with high send specs. These guys are on the right track Posted via Android Central App

I agree, but specs are only part of the story. I'm *really* looking forward to the reviews of this device. Hopefully AC and/or Marques Brownlee get their hands on one sooner rather than later.

Oppo build quality is immaculate, and running the latest processor with 3gb of ram? Its pretty good. Posted via Android Central App

Lol big claim. One that won't come true because of this. Posted via Android Central App

According to Google, the Nexus series is now dead... I wonder why?

This is kinda like a bigger updated Nexus 5. My only question is: Why is it a 16/64GB option and no 32GB option?? If there's no expandable storage then why not just go with 32/64GB for $329/$379 or something like that? Besides that this is great (except for needing an invite).

Because if you can get 64gb for what a 32gb option would cost why bother Posted via Android Central App

I wish it had Qi Charging. I am dependent on it for my N4.

That's a beauty, a very sexy looking device. At the minute though, my M8 is going to be hard to beat. Posted via Android Central App

Battery size ? Availability for the us?

Why in the blue hell is this thing so large. Oh well..sure I'll get used to it. Especially for only 300 bucks. Posted via Android Central App

I hope they change their minds on next version and include sdcard Posted via Android Central App

No 800Mhz GSM/WCMDA or LTE Band 20 support. That's going to be a problem in Europe.

If this thing was available for everyone without the need of an invite it would have been the killer of all flagship of 2014 for real. Posted via Android Central App

Does it work with BOTH US & UK LTE bands? My only frustration with US version of Nexus 5 is its lack of support for the UK LTE bands, I'm hoping OnePlus will work on LTE networks across the pond.

My only concern is CM support
Will this device actually see timely updates?
Posted via Android Central App

Why is it so damn big? Why can't we make a one handed power phone. I have a moto x, and love the size. I went to a nexus 5 for a little, then went back to moto. Phones just keep getting bigger. When will the bigger train end????? Posted via Android Central App

I currently own a Nexus 5 and this phone just blew me away (on paper), waiting for reviews to make a final decision.

Is there any chance that they'll produce a version that includes infrared, so it could also be used as a universal remote control?

To grab the OnePlus One for a huge discount please visit https://www.google.com/?gfe_rd=cr&ei=hutwVKHROoLV8ge-1IDoBg&gws_rd=cr&fg...

This sounds like a nice piece if equipment. Waiting for rollout and an invitation to buy one.
Android Central Newsletter
Thank you for signing up to Android Central. You will receive a verification email shortly.
There was a problem. Please refresh the page and try again.