OnePlus' Carl Pei says it's time to 'rock the boat' with OnePlus Z teaser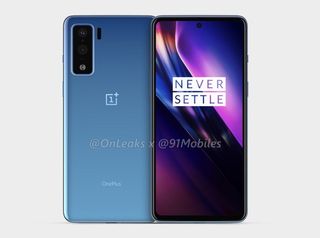 (Image credit: @OnLeaks)
What you need to know
OnePlus CEO Pete Lau has teased the beginning of "something new."
OnePlus co-founder Carl Pei has also teased a "new beginning" and claims it is "time to rock the boat again."
It is possible that the company is teasing the launch of the rumored mid-range OnePlus Z/OnePlus Nord.
In a tweet published last week, OnePlus co-founder Carl Pei had hinted at the possibility of the company's upcoming mid-range phone launching at the same $299 price point as the OnePlus One. OnePlus CEO Pete Lau has now posted a new tweet teasing "new beginnings."
Even though the tweet doesn't offer any clues, it is likely that Lau is teasing the launch of the OnePlus Z/OnePlus Nord. Lau's tweet includes the OnePlus logo in blue, possibly hinting at one of the color options that the mid-range phone could be offered in. OnePlus co-founder Carl Pei has also posted a few tweets using the same #NewBeginnings hashtag. Pei says in one of his tweets that it is time for OnePlus to "rock the boat again."
https://twitter.com/getpeid/status/1275039391623245824
Another tweet posted by Pei, which has now been taken down, showed a team of people wearing Avicii t-shirts, which seems to suggest the upcoming mid-ranger might actually be called the OnePlus Nord. While the phone was initially referred to as the OnePlus 8 Lite, it was later said to be called the OnePlus Z. More recently, tipster Max J claimed the phone will be called the OnePlus Nord instead.
The OnePlus Z/OnePlus Nord is expected to feature a 6.55-inch AMOLED display with a hole-punch cutout and a 90Hz refresh rate. It will be powered by a Snapdragon 765G chipset, paired with 6GB of RAM and 128GB storage. The phone is slated to be launched in India at an online-only event on July 10.
In the mobile phone segment Sony is a mess, HTC is moribund and LG acts as if it's bipolar. Motorola has been content to be an average player in the midrange segment. Huawe has had its meteoric rise slowed by a Trump intergalactic missile. Samsung and Apple have thus become complacent about their pricing of their phones. There's a real need for a shakeup.

In my humble opinion the one plusZ will be better than the pixel4a & 5, any takers?

This is the thing that pisses me off about OnePlus, and I think alphabet (I'm not even going to attempt your name dude) has a valid point. This would have been the perfect time for OnePlus to strike and offer the 8 Pro with ALL U.S. carriers! What were they thinking? I mean, they offer the 8, and it is 5G, but when you have your FLAGSHIP KILLER phone being called THEE BEST phone of 2020, but you can only get it on their website, WTF!?!? When you have the top spot waved in front of you, you grab it by the throat and squeeze! Talk about a fumble on the 1 yard line, I just don't get it. I have the
7 Pro 5G with Sprint, and everybody I show it to says "One who?" This was your chance to make a splash and everyone would finally know the superiority of the value and top notch hardware all rolled into OnePlus phones! I love showing off the "pop up" selfie cam and watch the jaws drop, or the crispness of the QHD+ with it's 90Mhz refresh rate while watching "click,click,boom". Scramble the troops and get this done so the world (or at least the US) can all own and marvel at their 8Pro no matter who their carrier is, OnePlus! Please!
Android Central Newsletter
Thank you for signing up to Android Central. You will receive a verification email shortly.
There was a problem. Please refresh the page and try again.