OnePlus announces Bullets Wireless, its first wireless earbuds, coming in June for $69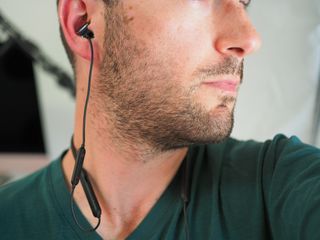 After prototyping wireless earbud options for two years, OnePlus says it's finally ready to release its first pair to the world. They're called the Bullets Wireless, and they're coming June 5 for $69 / €69 / £69.
The Bullets Wireless look and perform similarly to the company's second-generation wired Bullets V2 earbuds, but there are some key differences. For starters, it uses Bluetooth, so it requires charging — but the good news is that it uses USB-C to do so. Not only does that give the headphones five hours of charging in 10 minutes (thanks to the higher charging throughput of USB-C) but it means you no longer have to carry around a Micro-USB cable for your accessories. At least not this one.
The buds also snap together using magnets on the backs of each earpiece. Once paired to a phone (the Bullets Wireless use the same quick pairing technology as Google's Pixel Buds), they connect automatically when the earbuds are separated, and shut off when they're together. In my quick testing, this worked really well. A long-press of the play/pause button activates Google Assistant, too, which is handy.
Bullets Wireless sound pretty good for the price, too. They use Qualcomm's aptX codec, and come with three wing and tip sizes for all ear shapes.
They'll be available on June 5 from OnePlus. While the OnePlus 6 has a headphone jack, this is undoubtedly the better way to listen to music on it.
See at OnePlus (opens in new tab)
Daniel Bader was a former Android Central Editor-in-Chief and Executive Editor for iMore and Windows Central.
I see a wire and will stick to actual wireless earbuds, my Airpods.

Good thing they're not relying on you for a profit.

Well...maybe not rely on me, but it's never fun to lose potential customers.

In a world with true wireless earbuds, to call these wireless is confusing and annoying.

They should probably call them semi-wireless.

Surely I can't be the only one that hates these type of earphones that go inside your ear/completely fill your ear hole? Yeah, ear hole. I much prefer the old school earbuds like the airpods that still let air in.

I hate most of them, and keep a set of earpods because of the comfort, even though they sound poor. The exception for me was the HTC USonic earbuds, as the body of the earbud provides a positive stop that keeps them from going too far. They are the only set I can fall asleep with or wear for more than 15 minutes. I have a couple sets of earbuds that feel like someone is shoving a pencil up your ear canal...

I find in ear to be so much better. Especially when ambient sound is built in like IconX.

I am with you 100% on that. Any type of plug that goes in the ear canal, I am out on. Again, as the sage-like FishhPoohh stated, they aren't missing much if I personally don't buy them. But it still doesn't mean my opinion isn't relevant as a consumer of electronics.

Where is it said that they'll be free with phone purchase? I see no mention of that on OnePlus's US site.

I'm also wondering. I can't find it anywhere. The closest thing I found was someone on Reddit asking for someone with an extra code to get them for free.

Daniel need to check with one plus they just confirmed TO ME those attending the LIVE London event get free Wireless Bullets with a purchase of the OnePlus 6.NOT The public.
Bummer

My fault, sorry about that!

« While the OnePlus 6 has a headphone jack, this is undoubtedly the better way to listen to music on it » Then I am pretty sure the oneplus 6t or 7 will ditch the headphone Jack
Android Central Newsletter
Get the best of Android Central in in your inbox, every day!
Thank you for signing up to Android Central. You will receive a verification email shortly.
There was a problem. Please refresh the page and try again.