OnePlus 6 vs. OnePlus 5T: Should you upgrade?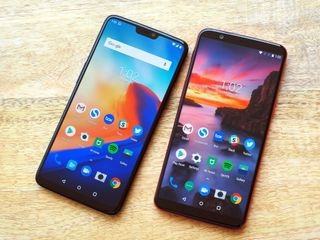 OnePlus has followed a six-month release cadence over the last couple of years, introducing a new device in the summer and following it up with a refreshed variant with upgraded internals around November. The OnePlus 5T, for instance, retained the same design aesthetic as the OnePlus 5 while ushering in an 18:9 panel.
With the OnePlus 6, the company is refining its design language with the addition of a glass back. This isn't the first time OnePlus rolled out a glass design — the OnePlus X gets that distinction — but the switch away from metal gives the OnePlus 6 a more upmarket feel.
Like previous OnePlus devices, the OnePlus 6 offers the latest hardware available today, with the company rolling out a 256GB storage option for the first time. There's also a notch up front, which OnePlus says is designed to maximize the screen real estate, and the phone is resistant to the occasional splash of water.
With the phone coming just six months after the launch of the OnePlus 5T, you won't notice a significant difference in specs or the resulting performance. So should you still consider an upgrade? Let's find out.
OnePlus 6 vs. OnePlus 5T: Specs
Swipe to scroll horizontally
Category
OnePlus 6
OnePlus 5T
Operating system
Android 8.1 Oreo
OxygenOS 5.1.2
Android 8.1 Oreo
OxygenOS 5.1.1
Display
6.28-inch AMOLED, 2280x1080 (19:9)
Gorilla Glass 5
6-inch Optic AMOLED, 2160x1080 (18:9)
Gorilla Glass 5
Chipset
Octa-core Qualcomm Snapdragon 845
4x2.80GHz Kryo 385 + 4x1.70 Kryo 385
Octa-core Qualcomm Snapdragon 835
4x2.45 Kryo 280 + 4x1.90GHz Kryo 280
GPU
Adreno 630
Adreno 540
RAM
6GB/8GB LPDDR4X
6/8GB LPDDR4X
Storage
64GB/128GB/256GB (UFS 2.1)
64/128GB (UFS 2.1)
Rear camera 1
16MP, 1.22μm, f/1.7
OIS, EIS
Dual LED flash
4K@60FPS, 720p@480FPS
16MP, 1.12μm, ƒ/1.7
Dual LED flash
Rear camera 2
20MP, 1.0μm, ƒ/1.7
20MP, 1.0μm, ƒ/1.7
Front camera
16MP, 1.0μm, ƒ/2.0
16MP, 1.0μm, ƒ/2.0
Battery
3300mAh
3300mAh
Charging
USB-C
Dash Charge (5V 4A)
USB-C
Dash Charge (5V 4A)
Water resistance
Splash resistant (no IP rating)
No
Security
Fingerprint sensor
Face unlock
Fingerprint sensor
Face Unlock
Audio
AptX HD, Dirac HD Sound, Dirac Power Sound
AptX HD, Dirac HD Sound, Dirac Power Sound
Connectivity
Wi-Fi 802.11ac , 2x2 MIMO, Bluetooth 5.0
USB-C (2.0), NFC
GPS, GLONASS, BeiDou, Galileo
Wi-Fi 802.11ac , 2x2 MIMO, Bluetooth 5.0
USB-C (2.0), NFC
GPS, GLONASS, BeiDou, Galileo
Network
LTE Band 1/2/3/4/5/7/8/12/17
18/19/20/25/26/28/29/30
32/34/38/39/40/41/66/71
4xCA, 256QAM, DL Cat 16, UL Cat 13
LTE Band 1/2/3/4/5/7/8/12/17
18/19/20/25/26/28/29/30/66
4xCA, 256QAM, DL Cat 12, UL Cat 13
Dimensions
155.7x75.4x7.75mm
177g
156.1 x 75 x 7.3 mm
162g
Variants
Mirror Black, Midnight Black, Silk White
Midnight Black, Lava Red, Sandstone White
What's the same
The OnePlus 5T wasn't exactly short on performance, and while the OnePlus 6 comes with Qualcomm's latest silicon, you're not going to see a massive difference when it comes to day-to-day usage. There's 6GB or 8GB of LPDDR4X RAM on either device, but you can get a 256GB storage option with the OnePlus 6.
Thankfully, the headphone jack is intact on the OnePlus 6. You also get AptX HD on both devices, and Dash Charge is unchanged as well if you're looking to quickly top up your phone in the middle of the day.
The OnePlus 6 comes with OxygenOS 5.1.2 atop Android 8.1 Oreo out of the box. I'll delve into the additions on the software front early next week, but if you've used a OnePlus device over the last 12 months, the experience should be largely familiar.
What's different
The design of the OnePlus 5T felt iterative, but that isn't the case on the OnePlus 6. The glass back and pronounced curves along the sides make it a much more comfortable device to hold, and the added 15g of weight and 0.45mm thickness — thanks to the Gorilla Glass-encased back — gives it a reassuring heft.
The display on the OnePlus 6 is marginally larger — 6.28 inches over 6.01 inches — even though the phone isn't as tall as the 5T, which is facilitated by the notch. The added 0.27-inch screen real estate fits in a few extra lines of text when you're browsing.
Videos are still letterboxed to fit to a 16:9 ratio (or 18:9 in a few cases), so you don't have to worry about the notch interfering with your ability to view multimedia content on the OnePlus 6.
On the subject of multimedia, the OnePlus 6 continues to offer a single speaker that's located at the bottom, but it manages to beat out the 5T both in terms of clarity and loudness.
Image 1 of 5
There are a few changes on the design front aside from the glass back. The Alert Slider has been moved to the right side of the phone, with the SIM card slot switched over to the left.
While the underlying hardware is largely similar between the two devices, the OnePlus 6 does offer a new imaging sensor (Sony IMX 519) with larger 1.22μm pixels and OIS. I haven't used the OnePlus 6 long enough to make a full judgement on the camera quality or battery life just yet, so stay tuned for that early next week.
OnePlus is also touting water resistance with its latest flagship. The phone isn't certified for an IP rating, so it's only good for the occasional splash of water and won't survive a dunk in the pool, but it's better than what the OnePlus 5T managed.
Should you upgrade?
The OnePlus 5T is still a fantastic phone today, and is in fact better than the OnePlus 6 in a few areas — particularly if you're not sold on the idea of the notch. The device did incredibly well in terms of sales, so much so that it was sold out in North America after just four months, and globally a month after.
If you already have the OnePlus 5T, it makes little sense to pick up the OnePlus 6. Considering the company's release window, we'll likely be seeing the OnePlus 6T in just under six months, with the phone offering wireless charging as a possible differentiator.
But if you haven't picked up the OnePlus 5T and are looking for a phone with flagship specifications and top-notch performance, you cannot go wrong with the OnePlus 6. The notch is irksome, but you can at least hide it away, and the glass back makes the device feel more refined next to its predecessors.
The OnePlus 6 goes on sale starting May 22 in North America, and May 21 in India. The 64GB variant starts off at $529, with the 256GB option going all the way up to $629.
Get the Android Central Newsletter
Instant access to breaking news, the hottest reviews, great deals and helpful tips.
Harish Jonnalagadda is a Senior Editor overseeing Asia at Android Central. He leads the site's coverage of Chinese phone brands, contributing to reviews, features, and buying guides. He also writes about storage servers, audio products, and the semiconductor industry. Contact him on Twitter at @chunkynerd.
Still no IP rating.
In this day and age, there are enough options that have it, there's no reason to buy one that doesn't.

No other phone has flagship specs and IP rating for 530 bucks. If budget is the concern, this still is the phone to get.

No wireless charging.... on a glass back phone? No thx

For myself there is no reason to have a glass back phone without wireless. Metal is so much more durable. No ip rating & no micro s/d support. More so now then ever with the notch this is truly an iPhone clone. Now, the good stuff it's a speed demon, the price 529.00, a larger amoled display, OIS & EIS not bad. If you don't mind missing a few premium features I guess you can't beat the price! Look at what LG is asking for the V30S a reduced price of 729.00 and last years processer. I would take the op6 all day long!

Here is my take on phones that won't work on Verizon, or AT&T or sprint etc.
I won't give them money. Make the phone for everyone, or you don't get money. end of story.

Can't be that hard to add them. And cost must be small?

You have to remember that the US market is an also ran to Oneplus. They're not going to add hardware that's only useful in a market that doesn't matter.

that's fine. no sale then.

It works on AT&T and T-Mobile. It will not work on Sprint or Verizon, who to use a Sprint anyway? I would love to see Verizon as an option but it's not a deal breaker for me. Buy what you want, at the end of the day if you are considering buying a OnePlus phone you should know if it will work for you. I have been in few very large areas (cities not just in the middle of no where) in Oklahoma for work that just have no signal for Verizon. I have a OnePlus 3T and I use a Straight Talk ATT SIM card, I won't pay the major carrier monthly plans. It has worked everywhere of been, no activation fee crap or high prices for just one or two phones on the plan.

Need a camera review.
If it's excellent the near £200 saving on a Pixel could be worth giving it a go.

Nope. No notch > notch. The other specs don't matter. Too bad they don't sell the 5T anymore.

I would wait for the hidden notch feature but if I never had to see it I could live with it being there.

From what I've seen you can hide the notch from launch, don't know why you would though... I don't like notches either, but you may as well use the extra screen if it's there.

Still use the screen for notifications.
I hope it's looks like a normal bezel but with notifications in it.

Fall is the best time to buy a phone. If you have to have a oneplus, the "T" variant is the one to go for anyway

Why is autumn the best time to buy a phone? The way I see it, the hardware is that much closer to being outdated.

I tend to like the latest OS over hardware

The 6 will be updated at the same time as the 6T though, that's a none issue.

Plus if it's like the 3T then updates will stop after 18 months, not 2 years like the 3, receiving less than 2 years OS is poor in my view for a £500+ phone.

You get a far better range of options to pick from when buying in the fall. Take a look at what will be released by fall: Google Pixel line.
Samsung Note.
Apple phones including any late release.
OnePlus T variant Those are just some important/relevant ones.

This would be a pretty cool phone, specially at that price range, but what I don't understand is why go glass back and no wireless charging?? Not to mention that notch!! Complitely hideous on any phone period.

Typical OP they are probably keeping wireless charging and possibly IP67 or even IP68 back for the 6T, as I'm not sure what else they can add in the fall?

Carl Pei is in the process of trying to work a deal with a US carrier. That would be great if he could pull it off. If Verizon carried it I would give it a go. By today's standards 529.00 is still a good deal for what's offered. The way I look at the notch it's not a feature it's a compromise. One I really don't like. So they offer to block it so why have it in the first place?

Have it for those who want it and hide it for those who don't. That's why.

If u can't shrink the lower bezel then don't shrink the top one. Some manufacturers will simply compromise everything just to look like or be in a conversation with Apple. Guess that works as an advertisement.

Looks like a good phone overall, but doesn't appear to be much of an upgrade over the 5T, at least on paper. I'll be curious to see some real reviews as they become available.

Being honest... If you are going to burn $700 annually on a one plus phone... Maybe spend more and upgrade a better phone every two years. The foolish question posed by Android Central ignores reality. Reality is the OnePlus phones are purchased by Budget conscious consumers... Who can't afford to upgrade annually... This will be their phone for several years... Being sarcastic... I'd rather spend$1350 🇨🇦 dollars and upgrade a Note from Samsung annually. In fact... There is no better value I can think of than spending $13,500 for the next ten years, in annual phone upgrades.

Oneplus seem to have done a good job at creating a fan base.
They seem to know how many phones to make and sell out before releasing the next version.
They don't even have to sell their phones at a discounted price.
All in all you have to admire their business model.

I'm not anti OnePlus... The writer is an idiot for thinking those that buy cheap phones upgrade annually.

Maybe, but plenty of comments on his article...

Plenty of users of the OP forum do seem to upgrade annually to be fair.

Annually? This is 6 vs 5T, not 6 vs 5.

You're missing the entire point of not only the article but also the brand. OnePlus isn't marketing to people that want cheap phones...that's what we have Nokia and Motorola for. OnePlus is for enthusiasts, who absolutely upgrade and buy new phones that often. Do a little research before calling someone an idiot....

I will buy the 5t over the 6...

I would never switch from the 5T to the 6 abomination. If they were the same price I would still take the 5T.

The fact that they have taken away the option of buying a 5T was enough to lose this 4x, early OPO customer. When my 3T battery quit in March I wanted to buy a 5T, especially since there was no solid word on dates for the 6...Imagine my surprise when I found out they weren't selling them to customers, only to certain online retailers who would sell you one for Retail = $75-150; puck that spit. I didn't have an issue getting a second 1 after the 2 came out, or an X after the 3 came out. The evolution of their marketing strategies, this artificial scarcity, has turned off a lot of customers as their prices have crept up. The 6 is nowhere near the "flagship killer" that the original One Plus 1 was; there are plenty of phones that fulfill more than your every need for much less than the 6

Oh yeah... Let's mention again how a glass back gives a phone an upmarket feel. It's because of you freaking reviewers that basically every higher end phone has a glass back now. Supposedly it makes it more premium or upmarket or whatever BS you want to call it. Not everyone sits at a desk all day long. Some of us actually go outside and do physical things where our phones are more likely to get damaged and we'd love to see a top spec phone with a durable rubber back and edges. It wouldn't be slippery and for those of us that don't like cases it would likely be durable enough to not need one. How freaking stupid is it to go on and on about how beautiful these glass backed phones are and then they get a case slapped on them so it won't break and then you can't see the glass back anyway.
I guess its the day and age we are in where people are getting stupider and forcing form over function.

If you're so worried about the glass back, buy a solid case. Another non-issue.