The OnePlus 5 will be unveiled on June 20, pop-up events will sell the phone right away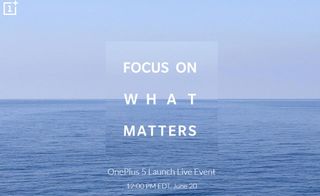 OnePlus has announced that it will unveil its new OnePlus 5 via an event on June 20. The online event is set for 12:00 p.m. ET.
After the online event is over, OnePlus will be hosting a handful of satellite events in major cities on June 20 and 21 to give fans an opportunity to see the OnePlus 5, get free swag and be one of the first to actually buy the phone. You can see full details on the launch page (opens in new tab), but here's the gist:
New York (Meatpacking District): 7 p.m. ET June 20
Paris (Colette store): 11:00 a.m. June 21
Copenhagen (3 store): 4:00 p.m. June 21
Berlin (LNFA Conceptstore): 6:00 p.m. June 21
Amsterdam (Daily Paper): 6:00 p.m. June 21
London (details soon)
Helsinki (Elisa): 5:00 p.m. June 21
Oulu (Elisa): 5:00 p.m. June 21
Tampere (Elisa): 5:00 p.m. June 21
Turku (Elisa): 5:00 p.m. June 21
You can get your brain going on what you want to see by checking out its launch page (opens in new tab) and then set yourself a reminder for June 20.
Android Central Newsletter
Get instant access to breaking news, the hottest reviews, great deals and helpful tips
Andrew was an Executive Editor, U.S. at Android Central between 2012 and 2020.
Why? The next big thing is already here: The Samsung Galaxy S8+. Near bezel-less design, Infinity display, most features of any smart phone, Snap Dragon 835 processer, water proof, AKG headphones included, etc, etc, etc :-)

Do you cuddle with it at night too?

The most fragile phone to date with a shape and lack of bezels that makes hard to hold. Fingerprint sensor position that makes no sense. Awkward display size that isn't​ compatible with alot of apps, and let's not forget the biggest kicker of them all... 850+ US dollar price tag. I'll gladly take something better (aka flagship phone) for me at a reasonable price.

Do you need to get an Invite from somebody first?

Wondering the same thing. I am ready to get rid of my bug riddle Nexus 6p.

I think they were taking the piss.

I'm in the same boat! Can't wait to get rid of this thing!

Since the KEYone launch was absolute trash, turns out this might be my next phone. Hopefully they keep to their design roots and don't do anything too outlandish that necessitates a large price bump.

Pixel-class camera and 4000mAh battery, that'd get me interested.

That's unattainable at the price point

So raise the price point a bit, I don't mind.

I like the blurry grainy picture though

That's what they want you to believe. There is so much money being made on these devices.

I keep saying that but some people believe that in order for a phone to be profitable it has to sell for $650 or more. For a collection glass and silicon that costs maybe $200 to make with slave labor. Then some wise guy always chimes in with the but but but there's R&D and marketing, blah blah blah. That guy can take nice hot cup of shut the f up. These phone have huge margins, how do you think Apple has made so much money by making $100 off each phone? No, they make all that money because they have $400 profit off every iphone. If another company wants to make a little less and get some market share then more power to them. Of course if Oneplus decides to jack up their price to anything over $450 their goose is cooked.

Easy for you to say, you aren't a CEO of a company with investors down your throat

Not my fault they are public, if they don't want investors breathing down their throats then keep your company private.

I'd almost care, if it wasn't a cheap oppo.

Have you seen or held one?.. They are top notch quality and performance

Ahh, got me.. Damn Trolls blend in amongst us

When can the rest of us plebs order one? I cracked the corner of my OnePlus 3T this weekend 🙁

Bad times, must've been a hell of a tumble. They seem pretty sturdy, though I've always had the flimsy shell case they sell for £20 on mine.

I had dumb gym shorts with pockets on and I went to Home Depot. I was kneeling down looking at something and the phone slipped out of my pocket and fell about 12 inches but the floor in Home Depot is concrete and the phone landed smack dab on the corner. I wasn't using a case either which for sure would have saved it... Feelsbadman :(

Hmm... Let's see if they can do something interesting!

Bleep. When I saw the "pop-up events", I was hoping Toronto might be included. I have some cash my wife doesn't know about...

This is why I am not married. No one is dictating my spending

that isn't why you aren't married, LOL....you probably just can't afford it, with the right spouse your spending is irrelevant LOL....given you are of a specific means....

No you compromise either way

Wow. Over the top response? Lol. Anyway, after a new notebook and an S8+ off contract, why rock the boat.

why thr r 4 cities from Finland? trying to be fitin as Nokia?

Lack of English language skills aside, it is a good question...

That is nice! Pop Up sales how cool is that....hey are they hiring....

No San Francisco this time? :(
Android Central Newsletter
Get instant access to breaking news, the hottest reviews, great deals and helpful tips
Thank you for signing up to Android Central. You will receive a verification email shortly.
There was a problem. Please refresh the page and try again.