NVIDIA's upcoming (and unannounced) Shield refresh goes live early on Amazon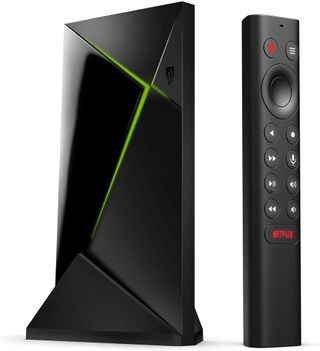 (Image credit: Amazon)
It's been a pretty well-known secret that a new NVIDIA Shield is on the way, thanks to some code diving and a trip or two through the FCC and Bluetooth and Wifi regulatory organizations.
But someone apparently has hit the wrong button on Amazon (opens in new tab), and the new NVIDIA Shield TV Pro has been splayed out before us in all its glory. (It was spotted earlier by @androidtv_rumors on Twitter, and the page has since been taken down.)
The big upgrade that most folks will care about probably is the inclusion of Dolby Vision, which is generally considered to be the better of the HDR standards. But it's also proprietary and must be licensed, which is why we haven't seen it on as many devices as you might think.
Other standout features gleaned from the Amazon listing include:
A new NVIDIA Tegra X1+ processor that supposedly is 25 percent faster than the first generation.
3GB of RAM and 16GB of on-board storage.
A pair of USB 3.0 ports for extra storage, or USB cameras or keyboards — whatever you want, really.
The aforementioned Dolby Vision to go alongside Dolby Atmos for audio.
There's also a new remote control, which blessedly will include motion-activated backlit butons and a lost-remote finder. (I'm still looking for one of my skinny first-gen remotes.) It'll run on a pair of AAA batteries, which will be in the box. The remote also will feature infrared for better TV control, as well as Bluetooth connectivity. And it'll have a microphone so you can fire up Google Assistant (or Amazon Alexa) whenever you want.)
That triangular shape, though? We'll just have to see about that.
Also of note — though we'd maybe take this with a slight grain of salt — is that the Amazon listing notes an Oct. 28 release date alongside the $199 price.
Image 1 of 5
The next-gen
(opens in new tab)
The best Android TV box gets better
NVIDIA Shield has been the only Android TV box you should buy for years — and it's about to get better. The internals are upgrade. It finally supports Dolby Vision. And it's got an all-new remote control.
Get the Android Central Newsletter
Instant access to breaking news, the hottest reviews, great deals and helpful tips.
No SD card slot for expandable storage? Really hoping for a new Shield tablet in 2020.

Would using one of the two USB 3 ports for expanded storage be a problem for you?

Honest question, why choose a Shield over a Roku device? At one point I considered the Shield but then ended up with a Roku and have purchased a couple of more Rokus for what a Shield would have cost me. I'm hoping someone with both can shed some light on the subject.

I've had Roku and several other Android TV based boxes and tbh for the most part if it's just for streaming Netflix and other normal streaming services the Shield is overkill. I have my shield set up on my network and "smart home" so I can easily play my wanted content also set up emulators and gears tv on it to run other "free" content. Of all Android boxes I've had it's easily given me the least problems and is pretty up to date on Android P also if you have a gaming PC it being Nvidia it get the new gforce experience to stream your PC games onto it.

Depends on your needs but the Shield is much faster and doubles as a gaming console. The ability to side load other apps makes it better too and supports VPN well if you venture on the dark side of streaming. But if you're only streaming a couple popular services, the Roku probably can suffice.

Thanks for the replies. For the most part I use it as a standard streamer for YouTube TV, Netflix, Plex. I hadn't really thought of it as a gaming console.

Yep! Then you are the perfect Roku candidate. The Shield offers a lot more. But if you aren't going to use the "lot more", then you're fine with Roku. I have a Roku TV and it's quite solid. But I use my Shield connected to my LG OLED. This will probably make me move the existing Shield to another TV and buy the new one. Dolby Vision on my LG OLED is really fantastic (especially blu rays but would still like it for streaming content too.

It's all about power. Roku is a fine device and suffecient for a certain user but the Shield is another level. Perhaps not everyone needs that level. I have the Roku Ultra and the Shield side by side and the Roku is a second choice. It's also a long lasting device with unmatched support. Look at a 4 year old Roku vs the 4 year old Shield. No comparison in capabilities.

It can bitstream any audio codec you throw at it. Not a big deal unless you have receiver setups above 5.1, can also handle 10bit video. I want to say gaming but I haven't used it for that (yet). If you're ripping your Blu Ray and uhd Disk collection to a file server and want to get the most out of your content.

It is very powerful and expandable. You can add a external HDD to it, keyboard, mouse. I got the one with the game controller. I used it to play for instance the game Watchdogs using GeForce Now streaming the whole game through the internet. Worked great! It was about the only way to get in on the GeForce Now game streaming beta and some free games are available, as well as a lot of the games in a Stream library and some other services. Can also use in home Gamestream and Steamlink. Plus there are a lot of Android game apps, emulators, etc.. It makes a great Plex client, but can also function as a Plex server. Hope it will be compatible with Stadia and Xcloud. Wish I had more time for all the games and stuff, but have mainly used it for YouTube and Netflix.

Let me know how it works with a 65" Vizio P series tv. I had to abandon my current Shield TV. The only way I could get it to work was to set the Shield TV to 1080p

Have you tried any other streaming devices? Some Vizio TVs have a very well known problem with 4K content. My M65C1 flickers badly when I try to play 4K 60Hz video, both with the Shield and a Roku 4. Of course, Vizio blames it on the cables and other devices, but there is a big long thread about it on AVS forums with many people having the same issue. I basically can't play 4K video on my 4K TV.

Was hoping for more if an upgrade. I used my Shield mostly for emulation, specifically GameCube games. Sold it since my Note 10+ and Tab S6 both blow it out of the water for gaming power. I'll skip this generation then.

This thing will be an emulating beast. I wonder how good the X1+ will be at Wii emulation.

So I bought and returned the my nvidia shield yesterday. The reason is because NVIDIA decided to prevent downloading side apps ( APK apps). So you can't download apps outside of the google play store. Other than that I like the shield.

This is not true, you can sideload any apk and there's a sideload launcher. I have many apk files sideloaded.

Can you all email me how too. Nvidia told me this. Lanspa@gmail.com

Not sure about direct downloading, but I sideload APKs all the time on my Shield TV.

Can you email me how lanspa@gmail.com

I don't know what you did or didn't do to make that assumption, but it's highly inaccurate.

Sorry can you email me how too. Lanspa@gmail.com I returned it to Best Buy and bought a formuler z8. I wanted the nvidia for the sound quality.

Just look on youtube, plenty of videos on there show you how to sideload apk's.

WTF, people have been begging for Dolby Vision on the current Shield for years. It could be done over software update, now we have to buy a new unit to get it? Lame.

I think you should probably settle down and wait for the official announcement. Dolby requires licensing. And it sounds like you don't quite know how that licensing works. You might want to wait for nVidia's announcement first.

I own 2 ShieldTV units both are great gen regular model and a Pro with a 500GB SSD. I will be passing on this very modest update. And it's not liek its going to get any exclusive games anymore.

That triangle shape? You mean the button with the triangle on it? Pretty sure that's just the back button.

The back is a point like a 'triangle' cylinder instead of flat like a candy bar.

Oh I see it now. Difficult to see since the Amazon page is down. It's the same shape as my Sleep Number remote. Maybe to make it harder to lose?

The whole point for Android boxes in general is basically for Kodi. Or for people who run apks like cinema, tea tv etc. It's for cable cutters and streamers. You don't need alot of storage imo

What are 'motion-activated' buttons? Does it have an IR receiver on the base unit? How about far field mics on the base unit so I don't have to use the controller for always listening GA? Did they put more space between USB ports for larger connectors? They really have to step up the hardware use cases if they want me to buy another Shield instead of using the Android TV interface on the TV itself (2017 Sony 900E).

Can you email me the how to do this I was using puffin. Nvidia techs say they don't allow this. I was trying to side load cinema apk and Zion.

I have both apk's on my shield.

The stupid Netflix dedicated key ruines it in my opinion. I really hate those keys on remotes since you can accidentally press them and launch an app you don't want when your watching/doing something else. I know Netflix must be paying good money to have that key but still.

Not happy with the minor upgrades specially when they are upgrading it after years of launch. Very minor updates will be seen in processor performance, outdated RAM of 3GB, etc It is better to wait for new PS5 launch rather than wasting time and money here

You cant sideload apk's onto the playstation.