NVIDIA Shield TV gets Amazon Music and 5.1 audio for YouTube with latest update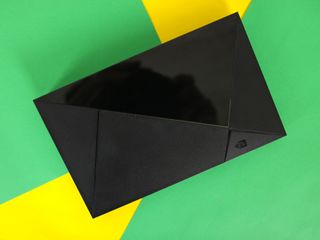 Whether you've owned an NVIDIA Shield TV for a while now or are thinking about picking one up as a Christmas present (Pst, it's on sale for just $142 right now) everyone's favorite Android TV box is about to get even better thanks to the new SHIELD Software Experience 7.2 that's rolling out to users now.
One of the biggest things included with this update is the addition of the Amazon Music app. Currently limited to Shield TVs in the U.S., the Amazon Music app allows you to access your songs from both Prime Music and Amazon Music Unlimited. If you're not already signed up, you can do so here (opens in new tab) and get three months of Music Unlimited for just $0.99.
If you watch a lot of YouTube, you'll be happy to know that this update includes support for 5.1 audio when streaming all of your favorite videos — making the Shield TV the first media player to offer this.
Also included is the December Android security patch, customizable Quick Settings, SMBv3 support when using the Shield TV with a PC or NAS, and the option to turn on automatic downloads when new software updates land.
Last but not least, the 7.2 update brings the Google Assistant to our friends in Canada, Germany, and Spain.
NVIDIA Shield TV vs. NVIDIA Shield TV Pro: Which Should You Buy?
Joe Maring was a Senior Editor for Android Central between 2017 and 2021. You can reach him on Twitter at @JoeMaring1.
"brings the Google Assistant to our friends in Canada" Definitely had Google assistant on my shield in Canada since last year some time.. Canada got it at the same time as the US, update 5.0(?) I think.

I just wish YouTube TV would start supporting 5.1

I did the trial about a year ago and I felt the video quality was poor as well, do you find the same thing?

Actually, I think the video quality is good, the only time we had a video quality issue was when we were having a network issue. I only have 2 gripes with it: (1) 5.1 surround sound is not supported (even if the show has it); (2) Switching from the DVR recording to on-demand occurs too fast (which I know is related to their agreements with the networks).

Under which particular circumstances are you saying 5.1 sound is not supported? 5.1 Netflix has been supported for a very long time (2-3 yrs if not longer). Playback of ripped DVDs and Blu-rays with 5.1 surround sound tracks has also been supported for a very long time (again, 2--3 yrs if not longer). Amazon Prime with 5.1 has been supported for many months. Inaccurate negative comments. Hell, even Dolby Atmos surround has been supported for over 12 months. Get with it. By the way, just an owner - no commercial or other relationship with nvidia, except as a Shield owner.

I think 'the Dr.' was saying that YouTube TV doesn't support 5.1.
I tried the supposed YouTube 5.1 mentioned in the article after the update, and I didn't get any surround sound like I do with other apps like Kodi or Vudu.

Thanks tflash. You got it YouTube TV doesn't support 5.1. And sure those others mentioned do, but most of the streaming TV services don't which is annoying.

I wish Sling, Hulu Live TV, YouTube TV, or any other TV streaming service would support 5.1!
Thank God that OTA signals transmit in DD or I might consider getting cable again.
Android Central Newsletter
Thank you for signing up to Android Central. You will receive a verification email shortly.
There was a problem. Please refresh the page and try again.