NVIDIA announces the Tegra Note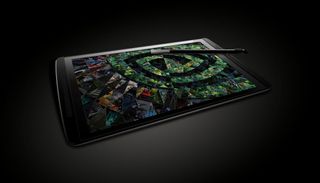 NVIDIA has taken the wraps off the Tegra Note this morning, making the device that's been slinking around various wireless certification sites official. Complete with a special processor supported stylus, the Note serves to be the reference platform for NVIDIA's partners to use and showcase the features that are built into NVIDIA's latest Tegra 4 SoC.
Manufactured by NVIDIA but sold through trusted partners around the world, the 7-inch, 1280x800 Tegra Note will retail for $199. It certainly look like you'll be getting your money's worth, and the list of features is impressive, even if the display resolution is a little disappointing. The note name implies stylus support, and NVIDIA is promising an uncompromised experience from their DirectStylus support. Other features include a powerful camera that will be capable of 100 fps recording for slow-motion playback.
In addition, the Tegra Note, which sports a 5MP rear camera, will launch with the Android version of SmugMug's Camera Awesome, one of the top camera apps from iOS. Accessory makers are also on-board, and NVIDIA suggest that we will see "accessories galore" including smart covers, special tips for the DirectStylus, and Bluetooth capabilities that turn the tablet into a game controller.
Maybe the best news, at least for people reading Android Central, is that NVIDIA will directly handle any and all updates for the tablet. Experience from having the Shield let's us know this is a good thing, as they have been quick to respond to issues and aren't afraid to roll out the OTAs.
For more, see the link below. The full press release and another press image is after the break.
More: NVIDIA
NVIDIA Reveals Tegra Note – Complete Tablet Platform, Powered by Tegra 4
By now many of you may have heard of NVIDIA Tegra Note, but are still wondering what it is.
Back in June at Computex, we briefly demoed an early version of the device, when it was better known as Tegra Tab. One of the many innovations it introduced was NVIDIA DirectStylus technology, which significantly improves passive stylus performance.
So what's Tegra Note?
It's a complete tablet platform, designed by NVIDIA and brought to market by our partners.
It embodies the NVIDIA brand – from our hardware and software (right down to OTA updates), to our industrial design, accessories and network of partners in game development.
It elevates the abilities of our partners, so they can provide tablets packed with innovation and features at prices they may not have been able to deliver on their own. In turn, NVIDIA gains access to their deep sales and distribution expertise in regions worldwide.
And it starts at a suggested retail price of $199, which will help many more people experience the new technologies going into Tegra Note, including its 100 percent Android OS.
This isn't a first for us. About a year ago, we announced Project KAI – a Tegra 3 reference design intended as a recipe to build low-cost, high-quality Tegra 3 tablets. Google's Nexus 7 was one. Tegra Note takes this to the next level by delivering a complete platform, not just the hardware.
In the next month, our partners will be bringing Tegra Note to market worldwide with features that speak to local consumers, among them are EVGA and PNY Technologies in North America; EVGA, Oysters, and ZOTAC in Europe; Colorful, Shenzhen Homecare Technology and ZOTAC in Asia- Pacific; and XOLO in India.
To whet your appetite, here's a quick rundown on some of the Tegra Note's unique features:
Ultra-fast performance – Powered by Tegra 4 with a 72-core GeForce GPU and quad-core Cortex-A15 CPU with a fifth battery-saver core, making Tegra Note the world's fastest 7-inch tablet.
Superb stylus – NVIDIA DirectStylus technology transforms a normal stylus into an incredibly responsive experience with finer point and broader stroke control. It also comes bundled with apps for convenient, stroke-based note taking.
Exceptional sound – NVIDIA PureAudio technology offers rich, deep audio – including the widest frequency range in a tablet – through front- facing stereo speakers with a bass-reflex port.
Groundbreaking camera – The camera uses Tegra 4's processing power and Chimera computational photography architecture to deliver stunning new features. Tegra Note also brings SmugMug's Camera Awesome app – one of the top camera apps on iOS – to Android. Camera Awesome delivers exclusive Tegra 4 features like tap-to-track and 100 fps video with slow motion playback.
TegraZone gaming – Delivering unmatched gaming, NVIDIA TegraZone provides easy access to Tegra-optimized games with visual effects that aren't available on other tablets. Tegra Note also supports a variety of game controllers for console-class gaming.
Great battery life – 10-plus hours of HD video playback.
Accessories galore – An intelligent slide cover flips and bends to support and cover the tablet. It also lets the tablet be set up in three distinct positions using the build-in magnets for added flexibility. The DirectStylus Pro Pack enables a variety of writing styles with interchangeable tips. And Bluetooth capabilities turn the tablet into a game controller.
On top of that, users get over-the-air (OTA) software updates provided directly by NVIDIA. This will help ensure customers have current software, offering the richest experience with their devices.
Here's a full set of the specs for quick reference:
| | |
| --- | --- |
| Processor | Tegra 4 mobile processor with quad-core Cortex-A15 CPU and 72-core GeForce GPU |
| Display | 7-inch HD IPS LCD display (1280 x 800) |
| Camera | Rear 5 MP and front VGA webcam |
| Storage | 16 GB storage with micro SD expandable up to an additional 32 GB |
| Audio | Front facing "HD Audio" stereo speakers with a unique bass-reflex port |
| Stylus | Chisel and Brush tips for natural writing and broad strokes |
| Peripherals | Micro HDMI connector to drive big screen TV videos and gaming |
| OS | 100% Android with latest version of the OS |
| Software Updates | Over The Air software updates directly from NVIDIA |
| Battery Life | 10 hours HD video playback |
Senior Editor — Google Ecosystem
Jerry is an amateur woodworker and struggling shade tree mechanic. There's nothing he can't take apart, but many things he can't reassemble. You'll find him writing and speaking his loud opinion on Android Central and occasionally on Twitter.
Incoming Samsung lawsuit...?

I would think so. I mean that's pretty blatant ... If T-Mobile can sue over a color....

If Apple can sue over black candy bar shaped with rounded corners. Posted via Android Central App

You forget that Asus has the PadFone Note as well.

Stylus technology is not exclusive to Samsung. In Nvidia's case, they are using different technology than the Wacom technology that Samsung is using. No lawsuit can be filed. Posted via Android Central App

I believe what he is referring to is the Note name being trademarked by Samsung not the technology itself. Posted via Android Central App

You can't win a lawsuit over a single word like "Note." Samsung makes the "Galaxy Note." Note is a generic word describing a function. If someone were to use the Galaxy part of the brand, that might not end well for them.

Beat me to it. Posted via Android Central App

British Sky Broadcasting Group successfully sued Microsoft over "sky" in Skydrive.

Samsung did not invent the stylus or the functionality. The PalmPilot had this back in about 1997.

Talking about the note name, not the functionality

My friend: For my next tablet, i want to buy the note.
Me: Which one, the Galaxy note or the Tegra note?

Front facing Speakers are a big plus, although the 1280X800 display is disappointing when you can get Nexus 7 2013 with 1920X1200 instead. Also intrigued to see how the battery life shakes out with Tegra 4.

I think there is a very real issue of how needed that higher resolution really is however. As a 1st gen Nexus 7 owner, and apparently old guy, I simply do not want for higher resolution in a 7" package. At comfortable viewing distances, I simply do not see pixelation. Even if I get up within a foot of it, seeing such pixelation is so minuscule as to not be a distracting quality. Obviously, 1080p/i movies must be downscaled to watch them, but if one can't see the difference (as I can't on a 7" screen), does it matter? Granted, the screen size of the Note appears to be a bit larger than my 7's, so the ppi issue may make the lower resolution more noticeable. However, typing this on my desktop PC with the 23" 1920x1080 monitor upon which I can clearly make out pixelation at a comfortable 18" away, rarely thinking much of it, higher ppi seems like a higher end want that many people simply would not appreciate the difference of - particularly if their vision is not top-notch at close range. I know though, if all else is the same, which it isn't in this case, why take the lower end product? Nvidia on that count appears to have failed on that count, having been focused most heavily on price point vs. appealing to the high end user that such processing power most likely appeals to. In other words, the higher end display obviously costs more, so the real questions are: How much more is it worth the market segment they are targeting, and how much more would that market actually pay? I think they could have taken more of a risk on price point there, as gamers and enthusiast expect nothing less than the best from a reference chip maker such as Nvidia. But compared to the new Nexus 7, is the performance difference of the hardware inside worth the tradeoff? For me, I can't say it matters either way, as my 1st gen. 7 still meets 99% of my needs just fine. (Save for the lack of rear camera and SD slot.)

I can see pixels of any 7" tablet having 1280x800 or lower resolution at around 12" distance and it bothers me. 250PPi should be minimum at such viewing distance.

Good point I think the screen resolution it's fine people with the galaxy note 8.0 have = resolution screen and they are happy as shit paying more money with something that does not rep does not preform no where near this new toy and people still get rape with the price tag just cause it's samsung, it's ppi it's even higher an am sorry 1080p is not really a big deal you can only see the difference in tvs and PC monitors not really so much in portable hardware must of the 1080p phone you can't even see them good at all in daylight, I think nvidia did and excellent job here with this new toy, for me is a must have I kind of getting sick of the galaxy note line right now it's the same candy with a some what different rap they kind of killed it after the first note.

If this was a 10 inch tablet with a higher resolution I would have just said mind made up for the tablet ill buy this holiday season. My 7 inch "old"nexus tablet just doesnt get any attention since its not much bigger than my Note 2.

Link to the Page on Tegra site is broken.

Sound really nice for $200, are they offering a LTE version or Wi-Fi only? Still for $200 I might pick one up! Posted via Android Central App

Use this link to Nvidia's blog, announcing the Tegra Note
http://blogs.nvidia.com/blog/2013/09/18/tegra-note/

I'd rather just get the nexus 7 Posted via Android Central App

Exactly. Unless you really need the stylus, the N7 is a much better deal. Posted from my pure Google Nexus 4 using the AC app.

The N7 is slower, and has no expansion port. I'm getting the Tegra note the moment it goes on sale. It will be a perfect companion for my Nvidia Shield.

This one is cheaper, have front facing speakers, SD slot & stylus support. Although personally I would get the new nexus 7 too(I already own one and enjoy it).

wow great specs and micro SD!!!! Really surprised the used NOTE. I would buy this over the N7 w/ those specs and mainly due to the MicroSD. BUT NOTE REALLY? Hey how about the Tegra Stylus?

Yeah... After the g2x and tf101 experience... Still not tempted. Posted via Android Central App

Same boat. Between the g2x and tf01 I doubt I'll ever go for a Tetra device again.

Meh...Tegra processors suck and the display is last generation. The other features are cool, but those are two compromises that I'm not willing to make.

How much experience do you have with Tegra processors? Posted via Android Central App

Please tell me exactly how the Tegra 4 sucks, it's tied for the fastest mobile processor out with the Snapdragon 800, the Snapdragon has a slight edge in CPU performance and the Tegra 4 has the edge in GPU performance, and it simply demolishes the Nexus 7 2013's processor, the only real disappointment is the display, but really only even in a pure numbers game is it disappointing cause honestly 1080p isn't really necessary as you're exceding how fine of detail the human eye can see, heck even with TV's in the 30-40' range 1080p has questionable benefit. My only real complaints with this would be the SD slot, is it really only 32gb max, or does it really support 64gb like basically any high end device with an SD slot and the screen size, I would really prefer something in the 8" range, so now I have the tough choice of the superior speed of this but with a smaller screen and significantly lower price, or the LG G Pad 8.3 with the bigger screen, but slower processor and expected $100 higher price tag.

Same boat. This vs LG G Pad Front facing speakers, dedicated mhdmi and lower price vs larger, higher resolution screen... Hmm. -Suntan

They do? Please tell me what has better benchmarks than a Tegra 4 Nvidia shield.?

I doubt it will come close to the Samsung stylus if this doesn't use the wacom technology. And why does Smugmug make a deal with their new app for a tablet? Seriously?

It's actually more accurate while using less power and doesn't require an additional digitizer layer. The real question is what apps will take advantage of it? Chimera is why for the camera. Impressive tech. I would rather see it in a phone, but at the same time I'm just happy to see it at all. Posted via Android Central App

The screen resolution immediately turned me off. I had to force myself to continue reading... A shame really. Posted via the Android Central App on my Note 2

Yeah that screen resolution is wack. How can u show off how good Tegra really is when the display is less than the competitors? The price is great but I'd pay a little more for a better display..

720p tablet? What is this, 2011???? Sent from the heartland of Africa

This would be great if the display was higher resolution, even costing an extra $100. As is, I am not interested. Posted via AC App on HTC One GPe

Hmm for 200$ this is a pretty crazy piece of hardware. Its only real comp is the nexus 7. I wont judge the screen until i see it side by side with the nexus 7. Resolution is not everything. Here are the real questions: Bootloader unlockable without warranty issues? Will android updates be timely(timely defined as within 60 days of release from Google)?

Nexus 7 2013 have one of the best screen in any tablets hands down, it have the best contrast ratio and is Over 40% brighter than Ipad4's display. The chances it gets topped by the display on the Tegra tab is very slim.

Considering that Samsung had used the Note name for years, it is unbelievable that this product is being called anything close to that brand name! Maybe nvidia called it that in the release documents, but cleverly, they will admit they have to change the name after Samsung threatens to sue. Then the real tablet with the real name will be released, which nvidia had sitting in the warehouse all along, and they have achieved their goal: all of us talking about an average product. Genius!

So my optical geniuses - tell me why you need 1080p? Can you actually see any difference from 2 feet away? I can't and i have 20/20 perfect vision. Yea, for the specs, i'd prefer the 1080p, but 720 is just fine. This is most likely my next tablet and I'm GLAD i passed on new Nexus 7

I don't have 20/20 vision, but I can tell a big difference between 720p and 1080p. On phones it really doesn't matter because the screens are smaller, and so they have a larger PPI. On tablets, I refuse to buy anything less than 1080p anymore, because it does make a difference. Try using the two side by side sometime. Posted from the incredible new Nexus 7

The difference in PPI is huge, 1200p on a 7" tablet equal 323 ppi which means you achieve "retina" at 10". 800p gives you some 216 ppi which means you won't get "retina" at any distance shorter than 20".

I'm in. Just sold my old N7 last week. Was waiting to see if anything new was coming out. Glad I did. Yeah the resolution may be lower than n7, but 1080p may be overkill anyway to all but the tech geeks. The processor has to work harder to push the extra pixels around. The speakers,the hdmi port,and the expandable memory make this a slam dunk for me!!!!

So, is this a dedicated gaming tablet?

Resolution is a little low otherwise I wouldn't hesitate.

"Maybe the best news, at least for people reading Android Central, is that NVIDIA will directly handle any and all updates for the table" So.. for a Non-carrier, WiFi tablet, what other options would there ever be, except by the manufacturer?

The way they're doing it means that this is basically a white label tablet that will have branding of another company on it. The other way to do it would put that particular company in charge of updates, instead of nVidia.

This is a BFD! nvidia did this correctly. They sat back and observed the market, and seen what Samsung and Google were doing, and they followed suit. This is perfectly price, but uhh...maybe a name a name change. How about Shield 7.0 or sumn?

I have 20/20 Vision and when I use my Gen1 N7 and place it next to my friends Gen2 N7 I am not worried about the screen resolution So that is a moot point for me. I really want to see what the Tegra 4 has to offer. Hell I have a yearly expense account with work I may just use that and buy both tablets.

I dont know how people can moan about this thing only having a 1280 X 800 screen, the Galaxy Note 8 screen looks fine, i had the Nexus 7 2013 and yeah its a nice screen, but its awkward in the way its got the tall bezels, i think the speakers aint up to much and they are on the back, $199 is the same price as the old Nexus 7 and $160 cheaper than the Note 8, i dont think anyone can moan at this, its got a built in micro HDMI, Latest Tegra tech, i dont know why people think the last Tegra sucked, it was usually the cheap nasty nand that companies used that created the lag $199 this is a steal.... especially when the Note 8 is $379 Side Note: People saying "use them side by side" why would you use them side by side? if you have one 7/8 inch tablet then why would you buy the other and use it side by side, obviously there will be a difference then, but use the 720p one for a couple of days without placing the 1080p by its side and you will not know

Getting you.. v¡a ACapp njo¡!

Interesting, I like it. Especially that SD slot. Currently new n7 and it's been great so was the old one. I might have to give this a try I like specs and support. Posted via Android Central App

Will this be better than the nexus 7(2013)?? Just got it two days ago now I'm thinking of returning and waiting for the tegra tablet Posted via Android Central App

Better is relative. The Tegra 4 is faster than what's in the N7, but the display on the N7 is almost certainly better. The other consideration is updates. You'll just plain get them faster on the Nexus no matter what.

Yes! I have been trying to figure out my new tablet, and I think I found it. Coming from my old galaxy tab 7 with a 600 x 1024 ppi (which never bothered me) I'm sure this display will more than please me. Posted via Android Central App

Sign me up for the "HD" version (with a decent res FF camera for video chat / conferencing while we're at it...). Till then, I'll pass.

Did they not announce the amount of RAM? That's my deciding factor. Posted via Android Central App

Ive read at various sites that it is 2gb of ram, and possible premium and business versions Posted via Android Central App

Let me know when they announce the 10" or more. Size does matter.
Android Central Newsletter
Get the best of Android Central in in your inbox, every day!
Thank you for signing up to Android Central. You will receive a verification email shortly.
There was a problem. Please refresh the page and try again.