NVIDIA announces Tegra 4 processor with 4G LTE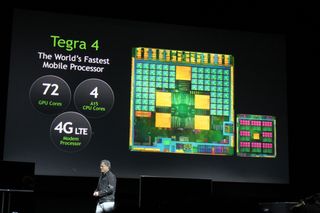 Today at CES 2013, NVIDIA announces the Tegra 4 processor, which features 72 GPU cores, 4 A15 CPU cores, and a 4G LTE processor. What does that mean in practical terms? 27 seconds to load 25 unique web pages (versus 50 seconds on a Nexus 10). NVIDIA claims browsing is even faster at browsing the web than the iPad 4, Droid DNA, and Kindle Fire HD.
Another utility is in photography. NVIDIA showed off the Tegra 4 processor handling HDR photography better than the iPhone 5, which takes two seconds to process (compared to the Tegra 4's 0.2 seconds). They demoed on stage a prototype Windows tablet being able to process a live view of HDR photography, complete with a comparison slider. The overall idea here is that every shot is an HDR shot, but Tegra 4 will also enable strobe motion, 3D reconstruction, and object tracking. Here's how they're architecting photography and a full press release.
Image 1 of 5
Get the Android Central Newsletter
Instant access to breaking news, the hottest reviews, great deals and helpful tips.
Simon has been covering mobile since before the first iPhone came out. After producing news articles, podcasts, review videos, and everything in between, he's now helping industry partners get the word about their latest products. Get in touch with him at simon@futurenet.com.
Wow! Just had a nerdgasm.

Can't wait to see Apple, Samsung and Qualcomm one up this processor!

Wow. They won't. And so much For Intel and AMD/ATI. Nice warm-up to CES.

I owned an LG G2X. Beautiful citing edge hardware with a near vanilla Android build and a Tegra 2 processor. I thoughtit would be awesome. I didn't realize that the proprietary drivers Nvidea insists on keeping control over would almost completely stymie even the geniuses at XDA from building a worthwhile ICS ROM. Never again will I ever buy another Nvidea powered device until they become developer friendly.

It was a buggy pos phone. I don't blame Nvidia for it. I blame LG.

Please please please, a dual-channel memory configuration. Tegra 2 and 3 sucked because it kept choking on a narrow memory bandwidth. Everyone except NVIDIA has dual channel memory.

Yes, its dual channel. The leaked slides from a few days ago indicated as much. Edit: And it's confirmed. http://www.anandtech.com/show/6550/more-details-on-nvidias-tegra-4-i500-...

At last, this was really the bottleneck of previous Tegra soc's.

Nividia Tegra 4 this looks pretty impressive in theory. I wouldn't put any eggs in the Tegra 4 basket yet. First out the gate showing your wares is always cool but the BEST is always saved for last. And believe this it's not the Nividia Tegra 4 that's for sure....

way to make my Nexus 4 feel obsolete

NEXUS 4?
They just made the One X+ obsolete.

Remains to be seen if this will be adopted by android oems given NVIDIA's refusal to offer their drivers up. Also, this thing STILL lags behind the S4 pro because its LTE baseband is still separate. Totally inexcusable on NVIDIA's part.

Can anyone let me know how this compares to the s4 pro quadcore since thats the fastest one out at the moment

"It includes the first quad-core application of ARM's most advanced CPU core, the Cortex-A15, which delivers 2.6x faster web browsing and breakthrough performance for apps." Is this really the world first quad core cortex a15 chip? I thought the Krait (s4) was a dual core a15 and the s4 pro was a quad core one. I'm probably wrong, since i dont think nvidea would lie like that.

You are a little bit off Qualcomm uses a self made Krait soc wich is different from Arm's A15 soc. We still need to see some good benchmarks to know wich one is better in terms of battery consumption and performance.

Looks like I'll be rocking my Skyrocket until June-July. By then, something epic will be on the way... And I'll finally get my JB upgrade from ATT. :(

sweet! by the time my contract is up i sure as hell hope this is in the google play store. i could sure use some decent muscle in my phone.

Doesn't look like LTE is baked in. Guess we'll have to wait.

14 hours of HD video playback on phones. Don't mean to sound negative, but I'll believe it when I see it.. I guess it can do 14 hours of playback with the screen off...