Notch vs. hole punch display — which is better?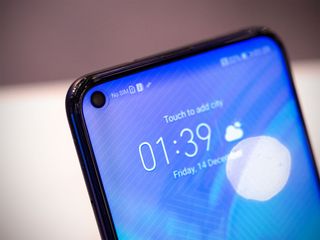 (Image credit: Android Central)
If there's one 2018 smartphone trend that'll go down in history, it'll likely be the infamous notch. 2018 is the year when manufacturers really jumped aboard the notch bandwagon, so much so that it was kind of difficult to buy a phone without one.
As we steadily make our way through 2019, it looks like the notch will be taking a backseat to the latest trend of hole punch displays. The Honor View 20 is one of the first phones to be released with this type of display, and in just a few short days, we're expecting Samsung to unveil its Galaxy S10 series with hole punch panels, too.
We've already debated this point back and forth a few times here on AC, but now we'd like to hear from our forum members. Which of these trends do you prefer?
What say you? Do you like notches or hole punches better?
Android Central Newsletter
Get instant access to breaking news, the hottest reviews, great deals and helpful tips
Joe Maring was a Senior Editor for Android Central between 2017 and 2021. You can reach him on Twitter at @JoeMaring1.
Whole punch. It doesn't interrupt the flow of the screen as much.. Notches are just so ugly.. Well, not the tiny ones like 1plus6T, but most notches aren't tiny. IPhone X and Pixel 3 XL are the biggest offenders.

A slim bezel wins over both! This notch/hole trend should never have happened.🤦🏻‍♂️

Exactly, i'm waiting out this whole stupid trend with a Note 9.

So do I. This phone is good for a few years!

Yep! I went with the U12 Plus for the same reason :)

I'm with you on this one. They shouldn't exist. Still, I Don't know what to expect. When I hold a s10 in hand will see. I still prefer the s8 and s9 design better, excellent overall simmetry. I'll probably get a note 9 later on, meanwhile patiently waiting with my s8+.

I'm fine with either one.

Asking which is better is like asking if I'd rather eat dog dung or cat dung; it's still dung either way, so why would I want it at all?

Exactly right, I'll be waiting as well with my note 9

The best one is the one you like the most. Don't like the "trend" of holes and notches? They're just a step toward the next stage, hidden front cameras. I'd bet within 2 years we will have front cameras that are hidden behind the screen. If you can read the details of a fingerprint with a camera through a screen, then taking a photo shouldn't be that difficult.

I'm with you on that or when the camera is active that bit of the screen is turned off so the camera can see through it. All next steps in edge to edge screens.

Asthetically, I prefer the drop shaped notch that the one plus 6t or Mate 20(not pro) has.
The whole punch looks odd to me.

Both for me are a major distraction. I'll keep my s9plus. Everyone has their own opinions!

Borrrring. Boring boring.

How about neither? Love the Razer Phone 2 with is large bezels that are put to good use.

It's funny that gaming phones have bezels, and phones that have no bezel suck at gaming.

Bezels are nice because you don't keep accidentally 'tapping' the sides of the screen. My case broke recently so I've been using a Pixel XL without a case and I keep accidentally opening the apps with icons that are on the sides of my home screen.

Though I will never willingly buy a phone with either I think the notch, and more specifically the teardrop notch, is the better of the two evils. If you are talking about the Pixel 3XL notch then it is more of a toss up but I like how the notch can be hidden better on the Pixel 3XL than on the hole. The glory hole has the notification icons shifted which looks bad when you hide the hole with fake bezel.

Neither?... Yep, neither.

I'll take a little chin room for 300 less alex.

as long as it isn't a 16x9 screen it doesn't really matter. Personally I think the best solution is having the extra small screen on the back and no front facing camera/notch/hole at all.

This disallows for video calling while using other apps though. May not be a big deal for some (definitely not for me), but I can see people not liking that.

Go watch sakitech's comparison videos. No contest: the hole punch is the lesser (better) of two evils.

I despise notches and don't like hole punches but the hole punch is the lesser of two evils. My preference is for slim bezels like the S9. I will never ever buy a phone with a notch.

Neither. I do not like any of them and I own the Pixel 3 XL (Worst offender), but Nacho Notch takes care of that issue.

Enough of these full page pop-up ads already!

I'll take the one that does not remove pixels from the screen! Oh, wait...

As long as I can hide the notch, teardrop or hole punch in developer options.

Tear drop >>hole punch >> notch. In that order!!!

Both can go jump into a bottomless pit.
Android Central Newsletter
Get instant access to breaking news, the hottest reviews, great deals and helpful tips
Thank you for signing up to Android Central. You will receive a verification email shortly.
There was a problem. Please refresh the page and try again.