Nokia's first Android smartphone is now official in China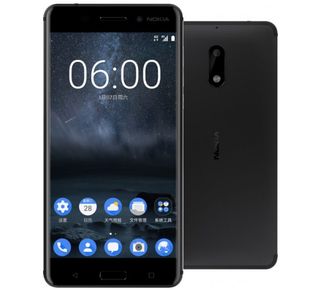 In a low-key affair, HMD Global — the Finnish company that snagged exclusive rights to Nokia's branding — has launched its first Android smartphone. Dubbed the Nokia 6, the phone will be exclusively offered on China's JD.com for ¥1,699 ($245).
The phone itself is crafted out of aluminium, with HMD Global describing the process thusly:
In terms of hardware, the Nokia 6 offers a 5.5-inch Full HD display with 2.5D curved glass, Snapdragon 430 SoC, 4GB of RAM, 64GB storage, microSD slot, dual-SIM connectivity, 16MP camera at the back with PDAF, Dolby Atmos sound with stereo speakers, Bluetooth 4.1, LTE, 3000mAh battery, and a fingerprint sensor. The phone runs Android 7.0 Nougat out of the box.
With 552 million smartphone users, China is a "strategically important market" for HMD Global, which is why it is launching its first handset in the country. The brand is set to launch six phones under the Nokia name this year, so we should hear more about its plans at Mobile World Congress. If the Nokia 6 is any indication, it's going to be an exciting year for the brand.
See at Nokia (opens in new tab)
Android Central Newsletter
Get instant access to breaking news, the hottest reviews, great deals and helpful tips
Harish Jonnalagadda is a Senior Editor overseeing Asia at Android Central. He leads the site's coverage of Chinese phone brands, contributing to reviews, features, and buying guides. He also writes about storage servers, audio products, and the semiconductor industry. Contact him on Twitter at @chunkynerd.
My body...and wallet is ready!

to buy a SD 430? No thanks...

if the software is correctly optimized, then sure. But the only recent phone I've seen that even claims they'll juice the same amount of performance on a 4-series hasn't been released yet (I also don't remember the name haha, but I read about it here on AC I believe). This article doesn't say a word about the software being so lightweight as to be able to juice a lot of performance (which was a selling point in the other phone)
Or, if it was a 6-series processor, I'd be ok with that too.
4-series means budget phone that'll start lagging in a few weeks to a month (which I guess speaks to its price tag...)

You allways wanted a Nokia branded "China-phone" with no connection to Nokia what so ever besides the branding?

No connection to Nokia... Apart from being made by a Finnish company that Nokia created, made entirely of ex-Nokia employees and where Nokia not only has a sit in the Board of Directors but also a say in design and supervision over the products that use Nokia branding and tech. Yeah apart from that, no connection to Nokia...

Yes, HMD are made up of former Nokia Employees. A member of the board is a Nokia employee, but he do not directly represent Nokia at this position. He have lots of former experience that can be used by HMD, but in his role as board member he also have to decide by what is best for HMD, not Nokia. Therefore, as a company Nokia have no official influence over the development, and as far as I have found out they need not approve the devices developed by HMD. If you have sources saying other vice I'm open to be corrected. Naturally, personal connections to two companies might carry over some influence based on the members and employees personal preferences. However, this is nothing new. People change jobs all the time, and old ties might be factors on decisions in their new jobs. Can HMD be a spiritual successor of Nokia? Yes. But the point remains though. HMD have nothing of the backbone Nokia had, and they have to rely on Foxconn. Can this change over time? Yes. If they sell lots of Nokia branded phones they might eventually be able to build a solid backbone like Nokia once had. That won't make them Nokia either, but it might make them just as solid as Nokia once were.

Yes. This one doesn't have Google Play Services which is why it's China only.
Google Play enabled devices for the Western market will be presented at MWC ;)

As long as Elop didn't originally screw that up with the forked Android they did.

When will there flagship device come to America? I'm waiting to sell my Samsung.

Loving all of the curved displays coming in 2017. 😁

Yeah. Though nothing new to Nokia. The Nokia 920 from 2012 already had a 2.5D curved display ;)

It had a curved glass. Not display. Not the same thing.

We don't need curved displays. Look at how this fake Samsung S7 Edge supports the swipe edge functions even without a curved display. There is no reason that Samsung could put the edge features on a flat screen phone.

Forgot to post the link:
https://youtu.be/g2A_lFreZdI

We may not need them, but I'm glad we have them. Even as just an aesthetic choice I find value in them

I think the curves spoil the viewing experience. Just my opinion though, I can appreciate that the curves make the phone narrower and easier to hold.

I've never found that it ruins the viewing experience, quite the contrary. I love the picture and text running off the screen and bezel less appearance. But Edge screens are just not for everyone. I'm just glad they exist for people like me.

The Nokia 6 doesn't have a curved display either. It has 2.5D glass. Just like the 920 had.
I assumed that's what ThrottleJohnny was referring to, not a 3D display (the really curved, "Edge" display).

Western flagships for Europe and North America are expected at MWC.

At $250, I would accept a 430 Snapdragon with all those specs...Except...Is there dual speakers?

Yes. One at the bottom and one at the top front. You can see the official video on Nokia's website http://www.nokia.com/en_int/phones

Oh look our nokia expert is here...

I've been here for quite a long time. Did you just woke up? (or did you finally mustered the courage to ditch that dead OS that is W10M? ;P)

Geez what a ********* yes but I been on both platforms Android I had a Moto Atrix running gingerbread since that time I got into Windows since WP7.

Well, you provoke and then complain when you get a snarky reply? I thought you'd know better by now. I'm like Beetlejuice except I answer at the first call ;)

Well, W10 Mobile is not as dead as Nokia Mobile. Gluing the Nokia logo on some "china-phones" don't make them Nokia phones. By choice I'd rather have the good old Nokia making Windows 10 mobile devices. Largely thanx to SC that will not happen, but I'm not jumping on this horse just because of the name...

I don't know what shows more your ignorance... Calling this a China-phone or saying Windows Phone isn't dead. But both speak volumes nonetheless.

W10m is not WP, and as a OS Windows 10 mobile are still supported and developed further by MS and phones are still being developed and sold. The Nokia mobile division is gone. No, the market share at the moment is not in W10m's favor, and I have no doubt HMD and Foxconn will sell more Nokia branded phones than MS ever did. If MS mobile strategy will ever succeed remains to be seen, but the total width of their commitment might prove beneficial over time, as UWP are being picked up by developers. Xbox and W10 might turn out to be the salvation for W10m app problems. This is a different discussion though. It's not ignorance, I would very much like HMD so succeed. Over time they might get to a point where they could compare to the old Nokia. But having a few ex-employees gathered in a building in Finland don't equal the bird phoenix for Nokia in my view. It's not enough for me to trigger the "I buy everything Nokia gene" in me. I'm sitting firmly on the fence. People born later then 1985 might not have that connection to Nokia some of us have, and the competition is harsh.

The only notable W10M device released in 2016 or as HP's overpriced box of bugs, the Elite X3. If the platform isn't dead, there's definitely a do not resuscitate order on it (signed by one Mr Nadella, no doubt) .

They had a revenues of over €12bn last year so they very much still exist.

They do exist outside of mobile. Might wanna do your research.

Nokia have not contributed to the development or manufacture of these phones. They only sold the rights to their logo for 10 years. Mobile devices however were only one, but very important, part of the business.

I like the specs but what about nfc or wireless charging. With those I'd be likely to buy one just to try it.

It's a unibody aluminium phone. So wireless charging isn't possible.
And since it's a budget phone, it's likely to not include NFC either (let's admit it, most people don't use NFC).

I use NFC all the time for Android Pay so it's very much a deal breaker for me, and I imagine I'm not alone.

Well, that's why I said most people and not "no one uses it" ;)

I have a budget LG Phoenix 2 I got as a backup awhile back, I needed it for an emergency. It is a $100 phone (I got it for $40 during the holidays). It has NFC, I also use NFC, and you are right most phones in that price range do not have NFC, I cannot understand why medium to higher end phones do not, a lot of them don't. have NFC Is it a licensing thing?

NFC is the sort of thing that hasn't caught on, actually. You have some people who use it namely for things like Samsung Pay (or Google's equivalent). The thing is, even that is niche. The vast majority of consumers don't actually use Google Pay or Apple Pay or alike. So the NFC ends up being wasted money. At $245 I can easily understand why it got cut. It's a niche feature. They likely preferred to put that money on a better display for example.

Half the people who got off the tube this morning paid using either Apple or Android pay. It's not exactly widespread but it's certainly not niche. Whilst I can't speak for usage in China, Nokia / HD would do well to invest a few pennies when they release their first phones in the UK.

Here in Norway I see more people using NFC to pay every day, and more stores getting NFC terminals as well. The biggest issue here is not the technology, but the banks and to a certain degree apple. The banks don't want users to use the built in Wallets, but would rather have people use their payment apps. Then apple refuse to let the banks have access to the NFC chip on their phones, locking it down to their Apple Pay feature only. Still, it's a growing feature. If it got closer integration between OS and service, letting us just hold the phone by the terminal and write a code, without having to unlock the phone, open the app and write the pin before holding it at the terminal, even more people would use it. BLE is another way to go, but around here, NFC is the growing technology. There are no BLE based payment solutions anywhere near that I know of.

I have a LG DAB+ It doesnt have NFC but my bank gave me a small adhesive "card" which I stuck on the inside of the back of the phone, another plus for having a replaceable battery. As for phone to phone it's got Bluetooth so no need for NFC.

Sorry, wireless charging is possible. The S7 for example has an aluminum chassis and handles wireless charging no problem. A lot of phones are following similar manufacturing and assembly methods. CNC machined aluminum frame and adhesive assembly generates stiffness and partial water resistance.

Last I checked the S7 had a glass back, not an aluminum back. The frame won't block inductive charging, the back will.

No it's not. The S7 has a glass back. No phone with an aluminium back has wireless charging. It's not the presence of a material that prevents it. You could have the screen made of aluminium and it wouldn't matter. But between the charging coil and the wireless charger there can't be a metal barrier. Which is why you only see wireless charging on phones with polycarbonate backs (the Lumias), with plastic or leather backs (like the G4) or with glass backs (like the S7).

They literally replicated the HTC 10 nav bar.

I don't mind the processor. I have a Nokia 735 with the 400 processor and the battery life is great.

Why do I feel like this could be an Onion article....

This looks like a pretty good (re)start for Nokia. Edit: Microsoft owns the Lumia name right?

Not any more, not sure if Microsoft ever had the rights to the name. All relations between Nokia mobile division and Microsoft concluded last year...

Yes, Microsoft owns the Lumia trademark as well as the name PureView and ClearBlack. However they don't own any of the technologies behind those brands. ;)

Oh man, Nokia doesn't have the Lumia trademark, whatever will they do?!

Yeah. They're doomed! DOOMED!

Not with that softkey layout, they'll be fighting for sales scraps with LG, Sony, Huawei, Motorola etc.

Looks the same as Samsung's to me. They don't have any issue selling phones.

Huawei are not fighting for scraps. They are on the way to world domination.

The specs seem pretty good to me.

I was playing with my old N95 recently and it was a brilliant phone! It does most stuff that current devices do ....

I think it's a good phone, with good build quality, waiting for high end phones with Qualcomm Snapdragon 835, usb C...and pure stock Android

Please give me an android 1020 successor. PLEASE!!!!! Hopfully they bring the goods for MWC.

That'd be really good. Since camera expierence is important these days.

I loved my 1020. Just that windows gimped it. No apps was the death blow. Over on W/C I was talking to someone and they said people keep saying that theres no apps, Give him a list of whats on my iPhone that I cannot get on windows mobile.....I listed over 50 apps that I use regularly. Too bad too. The 1020 was my favorite phone hardware. I loved the size, feel, weight, camera etc.

10 hours per phone! That's a lot of work. But Nokia products are always of the highest quality. I'm surprised they can sell it for that price just based on the manufacturing alone

You can't look at the quality of the old Nokia Phones and by that decide to buy the New Nokia Phones. I'm not saying the new ones will be bad quality, but Nokia have no involvement what so ever in the development, manufacturing or distribution of the new Nokia Phones. They have only leased their logo to HMD for 10 years.

Yeah nokia is back and I want to see it succeed...and hope they make awesome phones...gonna wait to see what comes in mwc and then will decide which nokia phone to buy

DJCBS I am new to this OS. When you say this phone doesn't have Google play services does that mean they don't have anything Google including app store? What exactly will be different in the international variant and this this exclusive model

That's correct, no Gmail, YouTube, Google play store et...

Exactly. No Google apps or Store. The international version will have those (assuming there will be an international version of this one). Android is an open-source OS. Meaning anyone can use it. However, to access the Google Play Store you need to play by Goggle's rules (namely pre-install a bunch of Google apps etc). Because of a political issue, the Play Store isn't available in China. So if you get this phone, you'll have to either side loading it or install the Amazon app Store.

The Chinese Nokia 6 is not pre-installed with Google Play Store. Can we install the Google Play Store when we are out of China?

Chinese Nokia, never thought I'd live to see the day

The phone was conceived and designed in Finland by a Finnish company...

Yeah, like the Chinese Apple. Don't be ridiculous.

Ah ok then. This is then Chinese. Just like Microsoft's Surface line, Xbox, Apple's iPhone etc. All Chinese because that's where they were manufactured.

This is not the first android phone that is branded with Nokia's brand. Nokia X came out in 2014 with it's own UI that ran on top of Android. It mimicked a lot of the tile UI from Windows phone.

That was actually a Nokia phone made when Microsoft; this is Nokia "branded" because HMD Global is the actual OEM and they are licensing the Nokia brand. For most purposes though, HMD Global and Nokia can be used interchangeably because HMD Global seems to have been started by former Nokia staff for the express purpose of creating Nokia branded phones.

HMD Global doesn't "seem to have been started". HMD WAS started by ex-Nokia VPs and staff...and Nokia actually had a hand in its creation. It's an independent company for all legal and financial intents and purposes, but don't think for a minute that the Nokia Corporation doesn't oversee it or keep a certain amount of control in it (specially as many of its staff are also Nokia shareholders lol).

Don't think our statements disagreed, but I'm adding context to why the nokia x was not Nokia "branded" while this one is.

What is the difference between Nokia "branded" and Nokia phone? Anyway, the Nokia X was Nokia's. It was announced before Microsoft finished its buy-over of Nokia's mobile businesses.

It's Nokia phone when Nokia makes and markets it itself. When other company designs, makes and markets phones, but has rights to use Nokia logo on these phones they're called "Nokia Branded".

Ok, so the iPhone is just an apple branded phone. got it.....

No, the iPhone is an Apple phone. They use a third party manufacturer but that's not what we're talking about. The Nokia X, and all other Nokia phones prior to this one's were designed and commissioned by Nokia. This one is designed and commissioned by HDM and they license the Nokia name. The "branded" part is referencing that agreement to use the name of a different company on a product, ie their brand. Apple has no such agreement, they exclusively use their own brand and merely contract out some of the work. Going forward all Nokia phones are Nokia branded HDM phones. All Blackberry phones are BlackBerry branded TCL phones. Those are the only two major OEMs which are licensing their name out to other companies. All of the others, afaik are operating their own brands.

HMD's phones are designed by ex-Nokia designers, use Nokia technology and are approved by Nokia. So it's not actually just a "branded" phone. HMD acts pretty much as a division of Nokia in everything except in legal terms.
In the end, it's almost like Microsoft Mobile, the company Microsoft created to hold the D&S division they bought from Nokia. Microsoft Mobile wasn't part of the Microsoft Corporation. They were a separate thing. The only difference is that Microsoft was giving MM money and Nokia isn't giving HMD money.

Even if it was after, Microsoft would still have officially been Nokia and it wouldn't be licensing a brand.

Still, while the intentions might be good, they are not proof of quality by themselves. Yes, former Nokia employees have joined HMD. However, they do not have any of the infrastructure behind the old Nokia mobile brand, the stuff assuring good quality. How much involvement Nokia have might be contested, but as far as official terms goes, Nokia are not involved in the development of the phones in any way, not physically or economically. In addition, HMD pretty much only bought the logo and patent rights. Foxconn bought everything else of the old Nokia/Microsoft Feature phone division. Foxconn also manufacture and, as far as I know, distribute the new phones. HMD have no backbone to handle this by themselves Yes, the new phones might be good. Nevertheless, the point is, I'm not buying them believing they are top quality just because of the name.

You do know that in the last 5 years before the deal Nokia wasn't manufacturing the phones themselves either, right? No Lumia was manufactured by Nokia. The 920, a beast of a phone, was manufactured by Compal.

Yes they used Compal, but this was because they had not rebuilt their production lines for the new Windows devices in time for the release. They still had their infrastructure and backbone intact, and the production of Lumia phones were as far as I know moved in-house. This included 920 and 820 as well as later phones. I believe the lower end phones were still manufactured by Compal. I'm not saying the new Nokia phones are bad. For all I know they might just be the best android phones ever. Some of the best Android phones are pure "china phones". My point is to create some awareness to the people wanting to buy new Nokias because their old Nokia "whatever" was so great. Even with former Nokia employees HMD is very far away from being the Nokia we remember. I would not buy just because it's Nokia branded and nostalgia, but rather wait and see how they turns out. Remember, companies having full control of both their development and production lines often have big issues with their devices as well.

That is incorrect.
The reason Nokia started outsourcing production was to reduce costs. As part of Eflop's plan to restructure the mobile division, Nokia started selling and closing down their own plants.
The Nokia 920 and 820 were built by Compal. Nokia's own plants were manufacturing feature phones (which are the ones that Microsoft bought and where they then manufactured Lumias for a small period of time before selling them and starting to outsource too). As for the "awareness" you want to create, it's a false "awareness". In fact, it's plain wrong. If anything, these phones are more Nokia than any Lumia ever was since Nokia couldn't change or improve Windows Phone at their will (and believe me, the frustration with the limitations of the OS were enormous to Nokia's engineering team) and with Android they can actually do whatever they want to the OS, making it "theirs". All Google requires is a couple of Google bloatware installed to certify the devices.
But I've already told you why you're wrong in another comment so I won't repeat myself ;)

That soc looks meh but the specs look pretty good. If it does come to the us I expect the MSRP to be 399.99

Yeah the should have went with the 625

430 is still a pretty solid chipset with decent gpu.

Maybe Nokia's fifth Android smartphone, because Nokia X, Nokia X+, Nokia XL and Nokia X2...

Dual Amp +6db, hmmm not bad

The return of a giant from decades back....
But the arena is congested no matter what you bring on the mari

Well, in that case it helps to be a giant in an arena congested by tiny players ;)

The difference is that Nokia has an established fan base lining up to buy their phones.

Luckily for HMD that fan base will not care or understand that these new phones have nothing to do with Nokia besides the logo. They will buy the phones because they used to love their old Nokias, not realizing the logo is no assurance of quality by itself.

Unfortunately you continue to spew ignorance all over the place. Allow me to educate you:
1 - HMD was created by Nokia. It didn't materialise out of thin air;
2 - Nokia has a sit in the Board of Directors of HMD, with supervising and veto power over products
3 - HMD is owned by a private fund that belongs to an ex-Nokia VP.
4 - HMD is run by ex-Nokia VP's and its CEO worked for Nokia since the 90's.
5 - HMD's staff is made out of ex-Nokia employees
6 - HMD has access to all the patents help by the Nokia Technologies division
7 - Nokia hasn't manufactured a single Lumia in-house. All the Lumias were always outsourced for manufacturing, just like HMD will do. So yeah, these are Nokia phones.
The only think keeping Nokia and HMD apart is a legal construction - which you clearly don't understand - that prevents any possible financial problems that HMD may have to affect the Nokia Corporation, its shareholders or its share values.

Was that fingerprint sensor under a glass i saw?

Yes. The phone has a fingerprint sensor in the home key (like Samsungs, OnePlus etc).

I wonder how resistant it is

All Nokia needs to do is to make a smartphone that's almost impossible to destroy.

The Nokia 6 is apparently very good to crack nuts so...I guess they're on the right path lol

Always liked Nokia's designs, they off something a bit different. This phone isn't bad but it's still a little bit generic. Could use a bit less rounding on the corners like some of the older Lumias. Interested to see how things work out though.

Nokia's first Android smartphone is the Nokia X, is it not?

Yes it is, but technically it belongs to microsoft, since it was realeased when microsoft had taken over nokias phone business.

Then, technically, Nokia have never developed any Android Smartphones as Nokia is even more disconnected from the development of these new phones than the Nokia X.

I like what I see so far and the price is right in my comfort zone. I couldn't care less about having the latest and greatest processor (that won't really make a difference anyway) just for bragging rights. I'm an old-schooler, more interested in making phone calls, texting, reading emails, listening to music, reading the news and occasionally watching videos. My Lumia 640 works fine for all that, but I like the big screen of my Moto X PE, so the Nokia 6 should be perfectly fine.

With the Nokia name i was hoping for some pizazz, but this is blah. Looks like a samsung with mediocre specs.

Note 7 on the front,Moto g on the back lol.

and better than both hopefully!

the US version will be here soon will slimmer bezels on the top & bottom.........I wish ;)
Android Central Newsletter
Get instant access to breaking news, the hottest reviews, great deals and helpful tips
Thank you for signing up to Android Central. You will receive a verification email shortly.
There was a problem. Please refresh the page and try again.