Nokia 6 hits UK shelves SIM free for £200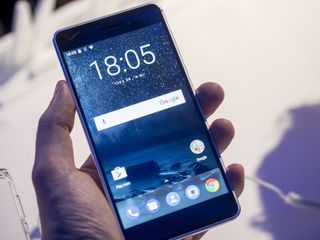 If you're British and you've a hankering for a SIM free Nokia 6 then you'll want to stop by Carphone Warehouse where you'll now find one for sale for £200.
Besides that legendary logo you're getting a solid phone that's built like a tank, a fairly vanilla Android 7.1 experience and of course, that attractive price. If you go on pay-as-you-go terms you'll pay even less, £189.99 to be precise for the privilege of taking a carrier SIM and £10 of credit.
You'll get it in four colors; Blue, black, copper and silver. Out front is a 5.5-inch 1080p display, inside you'll get a Snapdragon 430 processor, 32GB of internal storage which is expandable, 4GB of RAM and a 3000mAh battery. Round back is a 16MP camera. There's certainly a lot of phone for £200.
SIM free the Nokia 6 is exclusive to Carphone Warehouse in the UK so if that's what you want then that's where you'll have to go. The Nokia 5 and Nokia 3 are also available. Hit the link below to get started.
See at Carphone Warehouse (opens in new tab)
Pretty good just a shame about the SoC. Might have considered it otherwise.

My thoughts exactly. It this phone had the 625 processor instead of the 430, it would have been a great purchase.

That's pretty much the main question mark for the Nokia 6. It's really nice through and through, but the processor makes it a step behind the Moto G5+ in terms of performance.

I am wondering if this will be an upgrade or sidestep from my Xperia XA Ultra. I love the build quality of the Nokia but they always come with some type of caveat.
Android Central Newsletter
Get the best of Android Central in in your inbox, every day!
Thank you for signing up to Android Central. You will receive a verification email shortly.
There was a problem. Please refresh the page and try again.