Hands on with Nokia's new Android phones: the 3, 5, and 6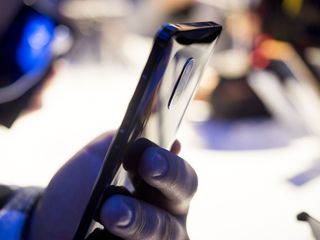 Nokia is still a company that is focusing on their core business: networking technology. They're quite good at it; there's a good chance you're using Nokia tech on a regular basis through your cellular network, even if it's not a Nokia. But the Nokia brand? That's all about smartphones. And while Nokia knew that, they also sold their phone business to Microsoft in 2015 (which Microsoft has struggled to turn into a successful business as well). So with no phone business of their own and a bunch of disgruntled former Nokia/Microsoft employees, HMD was born.
HMD is licensing the Nokia brand to produce phones bearing the Nokia name, look, and spirit (much as BlackBerry has licensed their brand to TCL and produced the BlackBerry KEYone). Nokia's new phones are a departure from the old ones in one very important way: gone is Windows, all hail the new Android-powered Nokia.
While Nokia might come out with some higher-end devices in the months and years to come, the Nokia 3, 5, and 6 are decidedly low-end phones. But don't let the low-end specs or prices fool you — these are shockingly nice phones.
Nokia 3
On the bottom rung of the new Nokia smartphone line-up is the Nokia 3. This 5-inch phone is powered by a lowly MediaTek 6737 processor (a quad-core 1.3GHz chip) and sports 2GB of RAM and 16GB of internal storage, plus microSD expansion support. It's certainly not a powerhouse phone, nor should you expect it to be. The IPS LCD is a respectable 1280x720 (that's 294ppi at 5 inches), while the cameras are 8MP on the front and back — both are ƒ/2.0 lenses with 1.12um pixels.
This phone has a two-part construction that will be familiar to most Nokia fans, with an aluminum unibody frame and a polycarbonate back plate. It's fairly reminiscent of the old Nokia 925. It feels really solid and comes in your choice of a silver+white, black, dark blue, and a sexy copper frame with a white back. There's no fingerprint reader here, and there's a trio of capacitive navigation buttons under the display.
Image 1 of 7
Software-wise, the phone's running Android 7.0, and aside from the custom camera app is "pure" Android, down to using the same launcher as the Pixel phones. Despite the low-end hardware, in poking around the phone it was actually nicely responsive. Just goes to show what kind of experience you can get on even middling hardware when you don't load it down with bunches of poorly implemented customizations.
The phone itself measures 8.48mm thick (so not the thinnest, but also not bulky) and packs a Cat. 4 LTE radio and 2650mAh battery. The only real knock against the phone is one that's somewhat understandable, given the price point, and that's the Micro-USB port instead of the modern USB-C. But at just €139, there's only so much you can ask for.
Nokia 5
The Nokia 5 comes in a bit larger and a bit more powerful. It bumps up to a 5.2-inch IPS display, though still with a 1280x720 resolution (that's 282ppi at this size) and swaps the MediaTek processor for the Qualcomm Snapdragon 430 chipset. It has the same 2GB of RAM, 16GB internal storage, microSD expansion, and Cat. 4 LTE support. The rear camera in the Nokia 5 has seen an upgrade, jumping to 13MP, though still with 1.12um pixels and an ƒ/2 aperture lens. Again, the Micro-USB port makes a sad appearance, providing power to a 3000mAh cell.
Image 1 of 5
A fingerprint sensor sits front-and-center below the display, taking the place of the home button, though it's still flanked by capacitive back and multitasking buttons. The body of the phone is a single piece of machine aluminum, coming in silver, black, dark blue, and copper, though all have black glass fronts with lightly curved edges. While it's hard to do a machined aluminum phone without making it look like an iPhone, HMD set the Nokia 5's antenna cutouts along the top and bottom of the phone — as if the iPhone 7's plastic-inlay strips had been shifted slightly off the backside.
The end result is a phone that simply feels and looks great, and at €189 it's an easy sell.
Nokia 6
The current top end of HMD's smartphone line-up is the Nokia 6. This phone was actually launched in early January 2017 in China, but is now making its global debut at the starting price of just €229 in matte black, silver, copper, or "tempered blue".
For that price, you're actually getting a really decent phone. Running on top of a Snapdragon 430 CPU with 3GB of RAM and a 32GB internal storage drive (plus microSD expansion) is a 5.5-inch laminated IPS LCD panel with a full HD 1920x1080 resolution. While it looked a little yellow, it was admittedly hard to judge in the blue-hued light of the event venue.
Image 1 of 6
The rear camera's been bumped up to a 16MP sensor (with smaller 1.0um pixels) behind a ƒ/2 lens, along with a dual-tone LED flash. The machined 6000-series aluminum body is simply beautiful and solidly built (as one would expect from a phone bearing the Nokia name).
Like the Nokia 5, you're looking at a bottom-front mounted fingerprint sensor flanked by capacitive navigation buttons and antenna cutouts that have been pushed to the very edge. The curved edges of have been swapped for more angled ones, with the front sporting a crisp chamfer.
Nokia 6 Arte Black
You like your black aluminum Nokia Android phones shiny? Then you'll want Arte Black edition of the phone. They've taken the aluminum body and polished it five times over and then anodized it black twice. Oh, and they upped the RAM to 4GB and the internal storage to 64GB. Otherwise, it's the same phone, just a shiny blank fingerprint magnet.
Image 1 of 8
Want one? That'll be €299.
Android 7
HMD has taken a very spartan approach to the software; the Nokia series of phones is running Android 7 Nougat with barely any customizations — the only visible non-Google app was the camera app, which isn't a bad thing considering how minimal the Google Camera app is.
They're committing to staying on top of security and OS updates, which should be made easier by having stayed on the light side for their customizations and standardized as many components between the devices as possible. It's a question of if they'll be able to deliver, however. Nokia is merely the brand, and while HMD is full of veterans from Microsoft and Nokia, they're also a small and new company with limited resources. At least they won't have to worry about managing an entire manufacturing supply chain as Nokia did — HMD has outsourced their manufacturing to Foxconn — the same company that makes the iPhone (no wonder the Arte Black Nokia 6 looks familiar).
The trio of Nokia phones will be launching globally in the second quarter of 2017, with HMD putting special emphasis on getting the new phones into the developing markets where the price-to-performance ratio will be most appreciated.
Oh, and there's a brand-new Nokia 3310 feature phone coming and it's simply adorable.
Android Central Newsletter
Get instant access to breaking news, the hottest reviews, great deals and helpful tips
Derek Kessler is Special Projects Manager for Mobile Nations. He's been writing about tech since 2009, has far more phones than is considered humane, still carries a torch for Palm (the old one), and got a Tesla because it was the biggest gadget he could find. You can follow him on Twitter at @derekakessler.
Huh ??! And this is what you Nokia hold outs where holding out for . Samsung just drop the s8 already

Nokia has to postpone the flagships because Samsung - in a totally not corrupt way of acting - managed to prevent anyone from using the SD835 before them.

True, even though most Galaxy S8's won't be using the SD835 but their own exynos processors.

Eh most likely just the international version will use the exynos chip.

What do you mean the "international" version? All of the skus sold thorough out the world apart from North America?

Which just makes this "grip" on the SD835 even more suspicious.
And considering the level of honesty in Samsung's management, I wouldn't be surprised if judicial enquiries were open to investigate this "deal" between Samsung and Qualcomm.

well, the sony has the 835.

Yes, yes it does, and it won't be released until late spring. You know, after the S8's are already in people's hands.

Why can't they launch with a different chip? Everyone who is not Samsung is doing that.

Because why use last years chip when you can just wait a couple of months? Nokia is very focused on the consumer. And they know people who are willing to spend hundreds and hundreds of euros on a phone do *not* like the phones to be outdated. They learned that with the Lumia line. They preferred to wait and deliver to their consumers the best instead of releasing the possible.

These are the first phones from this new Nokia though; we can't attribute anything previously believed about either prior iteration to this company until it's seen in action. I agree that could be a motivation, but that can't be known without someone involved actually staying it.

But this is not the real Nokia It's just an company that rented the label, because the real Nokia took 2 years to bring an phone with hardware obsolete and an operative system that was like Microsoft Windows Phone , without any support and come late to the party besides the biggest companies avoiding make applications for those, somebody recall to symbian , was not supported by developers and must apps were garbage

wow, disappointed to say the least....Thought the 6 was the mid ranger.

The 6 is a mid ranger. Do the people that moan realise that we are not even in March yet. We have the whole year to see what they will release.

The Snapdragon 430 is not a midrange chip, no matter how much of a Nokia fanboy you are, that does not actually alter reality. 400 series- low
600 series- mid
800 series- high

The 6 is a mid-ranger. Nokia's flagships were delayed because of Samsung's grip on the SD835.

OK. Hope they have something in the works

Do you know a general timeframe they are to be released?

For what phone is Samsung using the SD835? How did Sony announce a phone with the SD835 if Samsung has a "grip" on the chip?

Yea... these guys don't understand what you're trying to say. The Nokia 6 is their current "top end" model but at mid tier specs. Either way, I'm ok with what I see. We'll see what they bring out in the coming months.

If you understood their replies you'd know that they do understand what he's trying to say.

Someone missed the "no bezel" memo...

Not everyone is obsessed with not having bezels. Let's wait and see how the no bezel, curved screen, glass backed phones perform in drop tests.

Sounds like a case would fix that haven't broken a glass curved phone yet.and I've had them all

I don't want phones with no bezels. So...there's that.

Do you honestly expect extremely small bezels in phones in this price range?

What's price have to do with bezels?

Less bezels = hard/expensive to manufacture = more price

Thank god that statement is false.

Baring something crazy from the Chinese brands . The guys at Samsung have to be high fives right now it a wrap

Nokia's presentation was classy compared with the used car sales people that gave the Samsung presentation.

That's not gonna help them sale phones though ..Just saying . But it's nice to have them back although I think theyll have a hard time here in the states

why would Samsung be doing high fives? Most people knew that Nokia were not going to pull a flagship phone at this point. Nokia only confirmed that they were doing phones again in November 2016. And lets be honest Samsung has been refining the s8 curves and big screen to body ratio for a number of years now and also the manufacturing process to build them a flagship at this point was never going to happen.

I wasn't just talking about the Nokia . Im thinking about all the new phones that where announced today most are just meh , the LG meh and the mate 10 is just meh and some others . Don't think anyone was wowed from most of the post I've read

"HMD is licensing the Nokia brand to produce phones bearing the Nokia name, look, and spirit (much as BlackBerry has licensed their brand to TCL and produced the BlackBerry KEYone)." Actually it's NOTHING like the deal between BB and TCL.
1 - HMD is made of ex-Nokia people. There's no "Microsoft people" there. Those who spent a little time at Microsoft did it as a result of the purchase of the D&S division, nothing else.
TCL is a Chinese company made of random people. Not BB Veterans. 2 - Most importantly, Nokia - as their CEO explained at the Press Conference at lunch, which you skipped - has a sit at HMD's Board of Directors and actively controls what HMD does.
BlackBerry has no sit at TCL's and doesn't say sh*t or has any power.
It's more than just a brand deal.

Good point but these are budget phones that are coming out in a very crowded market of budget phones. I wish them well but man it won't be easy for them

True, Richard, there are many budget phones available, but let's not forget even your beloved Samsung sells more low end phones than their flagship devices. Nokia have a reputation for building solid reliable phones and these phones look to be very well built for the price. The flagships will come once they have built up a brand reputation again.

OK, not sure who Richard is but if he's a fan of galaxy phones then yes we have something in common.he sounds like a nice guy,haha

One thing I agree with you: it was a big mistake to not talk about the postponed flagships. That'll cost them momentum for sure. However, when it comes to the sales of these phones, you're getting a lot of bang for your buck alongside a brand that has WAY more cachet with consumers than any of the Chinese brands or even the likes of LG. Even in China the Nokia 6 sold so well that Nokia had a problem with keeping up with the production of the phones. These, at such low prices, will do really well in Europe as well. But yeah, the absence of a flagship to carry the attack will not help. The pseudo-3310 is doing that in its place by appealing to the nostalgia (and nostalgia sells REALLY well) but it's nowhere near the same.

TCL is using BlackBerry Software. The software is signed by BlackBerry - not TCL. The HW is all TCL and TCL is responsible for Marketing, Sales and Support.

I may be interested in the Nokia 8 when it drops. Too many unfixed issues with my Google Pixel . I've come to the conclusion that I'd rather wait for the updates a little longer then deal with updates currently that don't fix things with the Pixel. Almost 4 months in with this phone and it still can't be used as a phone. Bring it Nokia and I will buy it!

so you cant make phone calls, take pictures or send a message or read an email or send one or log into Facebook if you so choose?

Really looking forward to seeing these devices. As someone who likes to get a new phone on a regular basis I will be getting one of these in the not too distant future, probably the 6.

Front Button is best button

I do not mid the fingerprint button on the front. Not sure about the capacitive buttons though, I have always has phones with on screen buttons. I am willing to give them a go though at this price.

If these will be as well-built as they claim, and will receive constant updates Nokia has a chance. Add the stock Android experience and these will be a success! But i do think Nokia is just regaining credibility with these phones. Nothing outstanding, just a starting point. I bet this is a strategy. They will start getting creative in terms of design and other features starting with 2018. After all, Moto G series were a good starting point for Motorola. That's what it will be these 3 for Nokia. And Nokia has a much better brand addictedness then Motorola. In 2018-2019 Nokia needs to be creative or it will die. Forever. But from what I've seen they are carefully planning things and with this approach oriented towards user's needs (updates, stock Android and durability) they will definitely be back in the game and going strong. Full throttle is in 2018. Can't wait.

Amazing!! Can't wait to learn more about all of them!

The Nokia 6 has "...a full HD 1920x1090 resolution." Should this be 1080?

maybe buy the 6 just for fun. But what I'm more interested at:
buying some shares in the
Company. Nokia pays decent ~ 5% dividends and still going strong in future think.

Its a start. Elop and Microsoft destroyed the relations with carriers and retailers for a long time. Releasing Windows Phones and a android. (Nokia X) then not support it.
So I think HMD Global must build up the trust for the Nokia brand again from scratch so to speak.
I understand why they not releasing a flagship device at this point, the main focus are probably China, India, Brazil, Kenya, Nigeria etc.
In time we will se a high end Nokia 8 or something. But probably at the next big event in IFA Germany.

Intriguing, even as a mid-tier it's promising. I'm interested to see what they pull out of the hat over the coming months, as I'm looking to retire my ageing LG G3.

those bands don't look VZW-ish. ammirite?

Where's all the bright colors , like they had with their Windows Phones?
I wonder how good their camera software is ? Did Nokia keep the rights to their PUREVIEW tech when they sold their mobile division to Microsoft?

I'm having very fond memories of my Lumia 1520. What an amazing phone.

I'm still using my 1520. Aside from one battery replacement it had 0 problems. Still one of the best phones. It's probaly going to serve me a few more years.

How can all y'all be Nokia D$%K riders already?

Very boxy and ugly, looks like something from LG L7 era. Sorry Nokia.

Hmm, that 3310 look's good, hope the battery will last a week.

Your kidding ....Right lol I still have that phone it was my first cell phone . There bullet proof haha

I wish the Nokia 6 had the 625 processor.

Me too. I somehow expected that they would hold better chipsets in general

Will this work on a Verizon network?
Android Central Newsletter
Get instant access to breaking news, the hottest reviews, great deals and helpful tips
Thank you for signing up to Android Central. You will receive a verification email shortly.
There was a problem. Please refresh the page and try again.