Nokia 3310 3G will be available in the U.S. for $60 later this month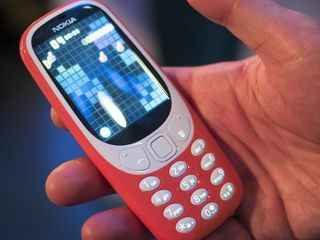 Back at MWC in February, HMD Global unveiled the Nokia 3310 – a throwback to the classic phone by the same name that first came out in 2000. The phone was originally announced with only support for 2G networks, but in September, HMD announced a 3G version with faster data speeds. That variant was already confirmed to work in the United States, and shortly following that announcement, the 3310 will officially be making its way to the States for immediate purchase.
Best Buy will be the official retailer for the Nokia 3310 in the U.S., and preorders are actually open starting today (October 23) if you want to hand over your dollars ASAP. The phone costs $59.99, and it'll launch on Sunday, October 29 in Azure, Charcoal, Warm Red, and Yellow.
You'll be able to use the 3310 on any GSM networks (including the likes of T-Mobile, AT&T, Cricket, MetroPCS, etc.), but if you were hoping to use it on a CDMA network such as Sprint or Verizon, you'll be out of luck.
Is the Nokia 3310 worth 60 bucks even with the 3G speeds? For most people, probably not. However, if you're a nostalgia finatic and want to get your hands on an updated piece of the past, this isn't the worst way to go.
See at Best Buy (opens in new tab)
Get the Android Central Newsletter
Instant access to breaking news, the hottest reviews, great deals and helpful tips.
Joe Maring was a Senior Editor for Android Central between 2017 and 2021. You can reach him on Twitter at @JoeMaring1.
For $60 it's worth just keeping one in the off chance your smartphone dies you have a decent backup.

By now, people have multiple smartphones that they have upgraded from in the past.

But how's the battery life on those old smartphones?

My LG G4 is still great. It's not super old (about 2 1/2 years now), but it's old enough that I only know one person who's using it as their daily, and that's because he's a teen and can't afford to buy his own new phone. Since it had a removable battery and I switched them out often, neither of them are worn down. Plus the replacements are dirt cheap (~$6 from LG on Amazon, or $16 from Anker if you want to make use of Prime shipping). Doesn't match the performance of my Note 8, but no phone that's that old will.

Glad to meet you. You now know two. I am riding this G4 as long as I can.

I have a G4 still working also. That makes 3 of us!!

I switch between my G4 and my V20 as daily drivers. The V20 is nice but sometimes just too big for work and lugging it around. I checked out a Note 8 in person today in store and yep too tall for my taste.

Or if you are on T-Mobile or Att (the two carriers in the USA this will work on) you can go get a prepaid dump phone at Walmart or target for around $20 and have a cheaper backup that, while not as cool or retro does the exact same thing. I'm still boycotting HMD Global and Nokia because they don't care about the USA with their Android smartphones.

At 4.4-inches, would love to see this as a near zero bezel vanilla Android smartphone. It's shorter than a 5C/SE.

How fast is the 3G In this phone? My last Nokia did 3.5G

It's not about internet speeds so much as att killed its 2G network last December. So the global version of this phone released earlier in the year could only operate on T-Mobile's network so HMD Global needed to make the 3G model so they could have something to sell in the USA that would work on both (all) GSM USA networks.

I'd like a red one just to have as a novelty. Probably just sit in a drawer though.

By show of hands, who's buying one???

Well I'm on Verizon but I still might get 1 for the heck of it. lol. Flicked via the BlackBerry keyboard on my Asus ZenPad Z8s.

Nokia wants to stay the number 1 choice for that TV bad guy demographic who just needs a simple burner phone that just works!

I'm getting one for work. Might even just get the non 3g version seeing as my company provides a Lumia 650 with calls/sms only and data blocked. We have iPad mini's for anything we need to do online so it will be perfect for my needs at work. I've been there so long I can still remember the original 3310 they gave us.

Worth it can't wait to get my hands on the 3G capable one

Hey if you wanted a phone for going out just to call a taxi or something not a bad deal. Probably good for kids who want a phone or to give as a safety took without all the bells and whistles.

My brother and father-in-law would be all over this if it worked on VZW. Hell, I might even consider it for the nostalgia value. Oh, BTW, it's spelled "fanatic," not "finatic." Not a criticism, since typos get everyone eventually.

Actually, I think finatic is not a typo, but rather a reference to the company's country of origin. Finland. Many Nokia fans might be considered finatics, but I haven't heard the moniker before.

I can't believe they still make this phone. I'm going to pass unless someone gifts it

I'll check it out at Best buy before I buy. I've been trying to stop using messaging apps and this would be great to train myself not to chat too much.

I agree I am getting it for my work and business number. I hate when my employees and customers text me or send me a MMS. IF they need to reach me right away call if not email me.

Will this work on AT&T? I looked at T mobile and this Nokia doesn't support the AWS 3G so effectively 2G on TMO. Might be a ATT MNVO phone.

Manufacturing cell phone with ancient technology is another scum. 3G ???!!! And what about data speed 600 Mb/sec , - like in Europe ?!!! No SIM card ? - Go to hell !!!