Nikon Coolpix S800c hardware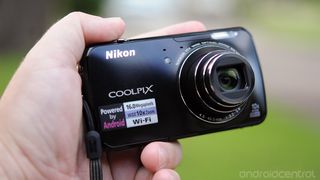 We're going to do up this Nikon Coolpix S800c -- aka Nikon's Android-based camera -- a little different. Mainly, I'm going to walk through the hardware, Android software, and the camera software separately. That's for a couple reasons, but mainly so that I won't let the wonk overshadow what's good about this little point-and-shoot.
First, though, a quick reminder on specs. What we've got is a pretty standard-feeling point-and-shoot. It weighs about 6.5 ounces with the battery and an SD card installed. It's got a lens that ranges from 4.5 to 45 mm, f/3.2 to f/5.8. It's a small little guy. It's also got a 3.5-inch OLED touchscreen on the back and a 480x854 resolution. There's about 1.6GB of on-board memory, but you'll be sharing that with the operating system, so you'll want to consider an SD card. The phone camera has about 248MB of RAM, according to a quick peek with a system info app.
For all intents and purposes, this thing feels like a point-and-shoot camera.
The body of the S800c is plastic. And it feels like plastic. And the buttons are exactly where you'd expect them. The shutter is big and easy to feel out. The zoom rocker is on the front edge of the shutter button, and you might have a hard time reaching it because of its proximity. The on/off button's on the top edge as well, and it's got a a small LED in the middle of it, showing when the phone camera's in standby or is charging.
The built-in flash is smartly designed. It doesn't pop up or anything. The lens extends with the usual mechicnal whir, but it's not too loud. When it's retracted, the lens itself is protected with one of those little automatic sliding doors -- again, exactly what you'd expect from a $300 point-and-shoot camera.
On the bottom you'll find the standard threaded connection for tripods and the like. There's a sliding door down there for the SD card and the 1050 mAh battery. The SD card is spring-loaded, while the battery is held in by a small, orange, spring-loaded clip.
The S800c comes with a charger and USB cable (it's USB 3.0, by the way). The USB and mini HDMI ports are on the right-edge of the camera, flanking the wrist strap connector. The wrist strap is pretty basic, and it lacks a tensioner, so it's going to flop around on your arm, which is a shame.
Other items of note in the hardware department: Wifi and GPS are a go, as is Bluetooth.
So, yeah. It's a point-and-shoot. With Android. The hardware is predictable. The Android operating system -- and, of course, the camera software and how well it takes pictures -- are what we're really interested in. And they're coming up next.
Image 1 of 18
Get the Android Central Newsletter
Instant access to breaking news, the hottest reviews, great deals and helpful tips.
248MB of RAM,
No wonder it doesn't have ICS or JB

>"There's about 1.6GB of on-board memory," No. There might, however, be 1.6GB of on-board storage, however.

it is never good to correct spellings, grammar, or usage or words... and do so in cush a way where someone else can come in and correct you. even more so when he was correct in how he worded it. from dictionary.com The capacity of a computer, chips, and storage devices to preserve data and programs for retrieval. Memory is measured in bytes. See more at hard disk, RAM, ROM. A part of a computer in which data is stored for later use.

You shouldn't try to correct someone when you are also wrong. RAM is referred to as memory. Storage is referred to as storage. Technically, it was wrong how it was worded.

I am wondering how well this is going to go over with the average point-and-shoot soccer Mom who could give a flying rip about Android. Just like my wife who only cares about one thing on a camers... which setting do you put it on to shoot Auto? If you are a real high tech guy that would go for something like this its not going to be in a low end point-and-shoot. You are going to want a DSLR with high end specs. Personally, I think Nikon and Samsung are totally missing the market. Or, better yet, completely mis-reading the market. What real value does Android have on a point-and-shoot camera? Ok... so maybe you can send your pictures directly to Facebook via Wi-Fi. Other cameras have had the ability to do that without Android on-board for several years... so no big deal. I guess I am totally lost with this one. It simply makes no sense. From my point of view this is another example of the total misuse of technology just for the sake of using technology.

You are right in a sense, but development costs may be the driving force behind this trend. Writing an entire operating system for a camera is expensive and time consuming. Lots of camera companies end up totally rewriting these (or the vast majority of them) for every camera they release. Its a huge expense. But if you look at the specs of some of the CPUs in Android phones you can see that all the video and still image processing is pretty much handled by the main CPU, whether its Snapdragon or Tegra. Its baked in. You don't need to write anything. So you can buy the lowest speed CPU you can find from those suppliers, and slap it in the camera body for about $25 mass-purchase-wholesale, wrap it in Android which pretty much fell out of your phone development (for Samsung at least), and never have to worry the huge development cost for each new camera model again. You can throw that money at better optics and sensors. Oh, and your users will already know how to deal with it because they all have touch screen phones already. Its really about cost savings and ease of use. One more point: I categorically reject the concept of Misuse of Technology. Its not a child or a dog, and it doesn't care if its processing phone calls or storing images.

You're also forgetting the numerous amounts of photo editing apps there are in the market. You can use just about any of them with this camera to make the picture you take even better. Personally I think this is a great concept and will getting the galaxy camera when it comes out

Both this and the Samsung camera's automatically go into the camera app when they start up. So most likely any soccer mom can just turn it on, shoot, tun it off, turn it back on later, shoot and turn it back off and never really have to explore the rest of the OS if they don't want to. But for those that are so inclined to use the added capabilities of the Android OS and all that the App store has to offer for photo editing, and email/social sharing, than it's there for them if they want it.

Half the price of the Galaxy Camera. Super +1!

I haven't been able to connect the S800c to my Eclipse Android Debugger, has anyone else been able to debug on the camera? (I have a camera app I am working on). The camera itself is great, nice and compact. Takes great pictures.

Hi! is it succeed to use 3rd-party app on it? For example CameraPro or Camera-fv...

According to the german Nikon support team there is no usb-driver for this camera available so there is no chance to connect the camera with eclips/android sdk. The only solution is to register with google play, download any of the apk-installers, connect to your pc via usb, enable usb-access, copy the apk to the camera, disable usb-access, install your apk via the apk-installer, start your application. Weird. If any of you have a better solution please post it here.

You could do development on Linux instead of Windows :-). The linux USB driver works out of the box (almost - you do need to put Nikon's vendor ID in the ~/.android/adb_usb.ini file). As far as just loading apps, I run a web server on my development machine on my LAN with a "appstore" directory where I stash apk files when I build new versions of things I'm testing, then I just use a bookmark in the browser to goto that web page and download the .apk file and install by clicking on it in the download notification I get on the camera. I find it much simpler to do that than to fiddle with the USB cable even though I can use adb on linux.