Nexus Player looks set for official UK release on March 26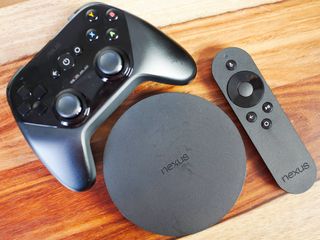 Having been officially available in the U.S. for sometime now, the ASUS made Nexus Player looks set to go on sale officially in the UK on March 26. Amazon UK currently has a listing to pre-order the Nexus Player for £79.99 with free shipping around its expected shipping date.
Android TV has been something of a slow burner as it gets off the ground, though since the start of the year we've seen more devices announced of various form factors. The Nexus Player is Google's own take and while not perfect, at £80 it's certainly priced competitively. It's about the same price as Amazon's Fire TV with the added bonus of full Google Play access.
If you've been waiting for one of these, get your pre-order on at the source link down below. And if you need to know more, check out our full Nexus Player review
Source: Amazon UK (opens in new tab)
I'm not confident about Nexus Player. Let alone Andorid TV in general. NVIDIA has a better set top box than this. Posted via the Android Central App

Nvidia set top box is also runs by Android TV

Yet again the delay to market outside of the US has killed it and allowed Amazon Fire TV to take the market. Had Google made this available last year I would have been interested. Too little too late. Google needs to wake-up. Posted via the Android Central App

This will take the market. It will have all the catch up services, for starters - I believe? Fire TV doesn't. Simple victory for this. Posted via the Android Central App

Amazon Fire TV does have on demand catch up services, such as BBC iPlayer, Channel 5 On Demand. http://www.amazon.co.uk/dp/B00KQEJBSW?ref=spks_0_0_588437967&ie=UTF8&pf_...

Plus £50.70 for the Gamepad http://www.amazon.co.uk/ASUS-TV500I-0011-Google-Nexus-Player/dp/B00SN1FN...

That looks like the USA gamepad. I'd wait for the official release myself.

Will this be sold from Google Play? I don't see anything on there atm.

The lack of storages and Ethernet make this a non starter for me. Great concept just lacking in some key areas. Stick 32gb in and Ethernet and I'd happily pay £150 for it. Posted via the Android Central App

You can add storage and Ethernet through USB. You just need an OTG adapter.

I love mine, especially with Kodi (formerly XBMC) installed. Still, it sometimes feels like Google has already abandoned the platform. And the gamepads were clearly designed by people who have never played a video game. The layout on the ASUS gamepad (referring to where start/select buttons should be) is an atrocity. You think you're going to pause the game, and you end up at the launcher.

There's videos on YouTube showing how to use a PS4 controller on the Nexus player.

Not an ideal solution. I run a button mappings FAQ over at XDA. The PS3/4 and Xbox 360/One controllers don't map 1:1 to the standard mappings, so some game mappings are off with these controllers. Left analog stick and 4 face buttons DO map identically across all of these controllers, at least. The best controller so far seems to be the upcoming Serval from Razer. It has the standard (by now) Xbox (yes, fanboys, we know Sega started this) controller design, has start/select buttons left/right of the power button, and the back/home buttons have been moved to the bottom. Even if I don't get a Forge TV, I'm getting at least one Serval controller.

It really does seem like they abandoned it...you know, like when they put out the update for it 2 days ago...

Sorry, I should specify. There's a multi-step process for getting your apps on the Play Store on Android TV. But let's break it down to the two most important. 1) Make your app Android TV compatible (pretty simple, just flag it as compatible, and make a leanback icon)
2)Google has to "approve" it. For apps that don't make it to step 2, you can STILL download them FROM an Android TV device, they just don't show up on the store front. You have to search it. For example, GTA: Chinatown Wars is on ATV, but it's not on the storefront yet. It's been compatible since shortly after launch. Google seems to be abandoning it (a real stretch, I know), because they're only approving one or two apps per week. The pace has been glacial. Their slow approval process has turned off some developers.

Getting this on discount from currys pcworld when they get it... Posted via the Android Central App

If it comes with as many freebies as Chromecast does, I'll be grabbing one for sure. Posted via the Android Central App

Have no interest in Android player for the UK unless it comes with all the UK on demand apps Posted via Android Central App using galaxy s4

I'm sure it has full google play store Posted via the Android Central App

Amazon.co.uk is also shipping this internationally (at least for now), no need to be in UK :) You will need to buy a plug converter for a couple of £, though.

Wait for the Nvidia Console, it is WAY better than this.

The storage is meh.
It's alright but the Nvidia is much better and I have to say while the Chromecast is a different animal, I find that more bang for your buck! Posted via the Android Central App

I'll just get the Ouya again. It has full USB support. You can even install apps on the USB.
Android Central Newsletter
Thank you for signing up to Android Central. You will receive a verification email shortly.
There was a problem. Please refresh the page and try again.