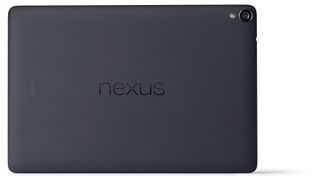 Following are complete specs for the new Nexus 9, and 8.9-inch Android 5.0 Lollipop tablet from HTC and Google.
Swipe to scroll horizontally
Category
Features
Size
8.9 x 6.05 x 0.31 inches
Weight
Wifi version 425 grams, LTE version 436 grams
Display
8.9 inches (2048 x 1536), 4:3 aspect ratio
Processor
NVIDIA Tegra K1 64-bit dual-core processor at 2.3 GHz
LTE model uses Qualcomm MDM9625M modem
Operating system
Android 5.0 Lollipop
Memory
16GB and 32GB for Wifi-only, 32GB for LTE
RAM
2GB DDR3
Network
HSPA+/LTE
Connectivity
3.5 mm stereo audio jack, NFC, Bluetooth 4.0 with aptX, Wifi 802.11ac, Chromecast
Camera
8MP rear with BSI, f/2.4, 1080p video
1.6MP front, BSI, 720p video
Sound
Front-facing BoomSound speakers
Battery
6,700 mAh Li-polymer
Accessories
Keyboard Folio, cover
Get the Android Central Newsletter
Instant access to breaking news, the hottest reviews, great deals and helpful tips.
Price? Only 2gb ram is disappointing. Posted via the Android Central App

Price is $399 if im not mistaken ~My $0.02~

if they made it 4Gb they could of allowed devs to untapp the potential of the 64bit processor

I'm sure all this was taken into consideration when NVIDIA was working on development of the Tegra K1 (64 bit) especially using Android L. If there was an obvious issue or lack of RAM resources they would have enough time to recommend adding more RAM.

"Would have" NOT "would of".

yLMost 32-bit processors can still allow addressing up to 4gb. Also, I think the Android heap size limits will prevent accessing that much. The benefits of 64-bits processors at the mobile space aren't more for memory, but more for security as well as a more efficient execution.

What do you want to do with 3gb ram that u can't do with 2gb ram? Posted via Android Central App

Well I was comparing it to tab s that has 3gb, if they want my money I want the beat specs to go with the price and making it 3 or 4gb would have been much better for the CPU and all around speed of the thing, more is always better with tech, surely you knew that. Posted via the Android Central App

You have to remember that there is no overlay i.e Sense, Touchwiz.. Probably need that 3rd Gb to handle those UI's.

Great points there. This is vanilla Android and has no UI overlay to slow things down.

I was hoping this lollipop might come ready for a bit of side by side action, like watch a vid while browsing, and the memory would be there, hell they using 64 bit CPU, 2gb seems ridiculous, my 7 year old laptop has 2gb of ram, it seems there is always some skimping going on with specs and gimped on purpose, to me know it looks like if I upgrade all I'm getting over my n7 is a bigger screen and some front facing speakers, hardly worth doing, I think I just get a iPad mini, makes more sense and most likely just as good and cheaper. Posted via the Android Central App

Yes, being able to address over 4GB is one benefit of 64bit CPU's, but the main benefit is more registers for the CPU and the speed improvement it gives. Apple showed this with their 64bit CPU's and devices with 1GB RAM. So Nexus 9 has more RAM than an iPad mini, is that a problem for the iPad? Probably not. Is there a benefit to run a 64bit CPU with less then 4GB RAM, yep. And you also get the benefit to be able to tweak the system and apps long before you pass the 4GB "barrier".

Qualcomm SoCs need more RAM. Tegra SoCs don't need as many resources.

Not really when you look at the 64-bit chipset and how lite Android L is.

Boomsound on Nexus...take my money already now...glad i waited to buy tablet.

This! I could not let go of my Nexus 10 until I found another tablet with great front facing speakers or just great speakers that beat mine...it is now here. Money being tossed at screen now!

looks nice except for one thing and that's the 4:3 aspect ratio... it just feels like a step backwards

I dont think so... After using Ipad and Nexus 10 I felt like 4:3 is better. Weight is another factor

Agree with still1. 4:3 is better for viewing websites in landscape among other things.

Wide aspect ratios on tablets are good for movies / videos, but I much prefer 4:3 for web browsing.

Sources? Just curious to know where they have officially announced it... Magenta is the new Yellow

On their blog and twitter

http://www.google.com/intl/all/nexus/ Posted via Android Central App

And for some reason no one is talking about the nexus player they announced too, that thing is awesome

Thanks! Magenta is the new Yellow

Wireless charging? A must have for me. Love it on my Nexus 7 (2013) and my Galaxy S4...can't live without it now! (first world problems suck) ;)

That's what I'm wondering about myself Posted via the Android Central App

That also is a big one for me. I have Qi charging pads in my bedroom, kitchen, home office, and work office. I need to be able to just drop and charge.

I have a n7-2012 and n7-2013. I don't about wireless as much as a nice dock that charges. Both n7's are basically drop in and charge, not fragile or fiddly at all. I'll be very disappointed if the nexus-9 requires playing with fragile and finicky micro-usb connectors.

Player and Nexus 6 articles missing Posted via the Android Central App

4x3 aspect? What year is this!? Get ready for a lot of broken apps.

All of those center-cut movies will look really good on that!

There are missing 2GB of RAM -.-

the nexus 6 is beautiful on android.com

The battery looks weak. I would have thought it should be 10000 as a minimum. Just my 2 cents. Posted via Android Central App

That's either hilarious or ridiculous, I'm not sure which Posted from the Avengers: Age of Droid Ultra

Why? The nexus 10 was 9000mah

NVIDIA claims to have some great battery life with the new Tegra K1 line (32bit and 64bit). I can confirm very impressive battery on the NVIDIA Shield Tablet running the K1 32-bit version.

Shut up and take my money. Posted via Android Central App

4:3 in my opinion is the right aspect ratio for a tablet.. Better browsing and productivity.. Phones should stick to 16:10 or 16:9 .. Was hoping for SD storage expansion though and wireless charging.

The nexus 6 looks awesome and battery life looks great but 6inch screen. Far to big. That's a deal buster for me. :( Posted via Android Central App

Fuck you Google...4:3 is for iPads... Posted via the Android Central App

$399 is just too much for a tablet imo. Posted via Android Central App

Take a look at Sony tablets. Posted via Android Central App

Go home. You're drunk. You want high specs,then bitch about the price. GTFO Posted via Android Central App

Spec-wise it doesn't look an better than the Nvidia tablet, like maybe slightly. Not worth an extra $100, unless I got it wrong... EDIT: OK, took another look. The NVIDIA isn't a 64 bit processor and a little slower (slightly), Screen resolution isn't as good and smaller, Battery is smaller as well. Front facing camera isn't as good either. But if you're a gamer the NVIDIA still looks awesome and $100 less.

Good points! NVIDIA Shield Tablet also performs very well as a daily driver too :) Love that DirectStylus 2


Why is storage on smartphones always referred to as 'memory'? As I would see it, this device has 2GB of memory, and 16/32GB of storage. I'm not writing this on a laptop with 1.2TB of memory. my home HTPC doesn't have 4.5TB of memory. Or am I?

That's because RAM IS storage. Its very very fast storage Posted via Android Central App

What's the ppi work out at on this? Posted via the Android Central App

What?!?! They actually did go with a 4:3 aspect ratio?!?!? And only 2GB of RAM? Only 16GB and 32GB storage options?!?!? Sorry NVidia, I'd rather have a Snapdragon 805 too. Man, the Nexus 6 looks great, if you want a 6" phone, but this tablet is pretty bad in comparison. At least it will have better sound than any other tablet on the planet.

Where's the SD card support? 16GB is useless without it... so basically I have to spend $499 to use it as it's intended to be used - as a media consumption device?

It's a Nexus! Posted via Android Central App

As I figured the rumored sdcard support was exactly that.. A rumor. Its a Nexus and we all know Google's stance on sdcard.

You can probably get away with an OTG flash drive, but I agree, not adding that's a mistake. When I'm trying to watch something on my tablet on an airplane, I don't want a drive sticking out of the tablet begging to get snapped off, and I don't want to be killing my battery copying crap around to avoid that.

I fkn hate 4:3 yes even in tablets love 16:9 nexus.

Not certain that this is a significant step up from my Nexus 7 FHD or my Transformer TF300T. The 9 doesn't have any more memory or significantly greater processing power, and still no removable memory. The TF300T is only slightly larger and supports a dock that one can actually type on and removable memory. Am I missing something or are we going sideways?

Not sure that is a fair comparison of the N7 or TF300T to a 64 bit processor. Given time as devs learn to harness the power of Android L & the first 64 bit Android mobile processor, the NVIDIA Tegra K1 we will see some impressive stuff. I know the Tegra K1 32 bit version kicks ass.

I want to buy this, but I have no faith that the Nvidia CPU is any good. Wish the LTE version just had a snapdragon 805 in it.

Too many folks are still living in the past on the NVIDIA processor going back to the Nexus 7 and the Tegra 3. The Tegra 4 found in the NVIDIA Shield Portable and Tegra Note was a huge improvement and the newer Tegra K1 line has set new standards for NVIDIA. Don't knock it until you try it ;)

The storage provided is anemic for the price. Especially since it's once again not expandable. Movie watching and comic reading are better on a 16:9 screen vs a 4:3. Web browsing would be better on a 16:9 if Google simply enabled immersive mode on its browser and all apps by default. For now, I'll stick to my 2nd gen Nexus 7.

Throwing credit card at that picture! Posted via Android Central App

Nice design i want one ... Really nice with HTC boomsound HTC Desire S»HTC Desire HD»HTC One S»HTC M8 (Naked)

The Nexus 7 had speakers on the back and I see they moved to the front on the Nexus 9. HTC phones have had their speakers on the front

Micro SD card, as suggested?
Please clarify! Awesome AC.

HTC boomsound <3
Let HTC manufacture the next nexus phone.

Could this be used as a phone to make and receive calls with the 4G model??

Very happy for the 4:3 aspect ratio! Makes reading word docs and pdfs so much better!

Pretty funny how the next ipad mini just happens to leak today... Apple is worried because they know how good this looks! Posted via the Android Central App

Doubtful Apple is worried at all about a $400 nexus tablet...

Yeah must just be a coincidence... Posted via the Android Central App

Maximum 32gb on a tablet?!?!?! What a missed opportunity, Google.

And a lower pixel density screen than the 7 but a larger screen, will have to wait to see it, it don't really bring much to the table IMO, just double the price and a slightly bigger screen? I'm not missing anything am I? 64 bit CPU is no biggy if you cannot use more than one thing at a time, no multitasking? Posted via the Android Central App

"It does not really bring much to the table IMO, just double the price ." This say's it all.

2Gb ram for a 64bit processor? Funny this has less RAM than the Nexus 6...

Exactly, this just seems to fail, it should be Quad HD display with a bigger pixel density than my 7 but its not, you should be able to multi task/have two things open on screen and that's where a qhd display would have been useful and the extra ram, how come a phone gets more ram, I suppose because it demands a higher price oh and the phone gets the qhd display, I wish Motorola had made the nexus 9. Posted via the Android Central App

Yeah, riiiiight. Don't forget the 600$ price tag that would have gone with it. Posted via Android Central App

I mentioned this before. If the RAM was an issue during testing of the 64 bit Tegra K1 processor & Android 5.0 then we can assume NVIDIA would of taken the steps necessary to recommend to Google/HTC an increase in RAM.

4:3? 32gb max?? 6700mah battery??? This thing has FAIL written all over it! No wonder android tablets are a hot mess - even Google can't get it right! Damn shame...

Did I miss it, or does it not say Qi charging in that spec sheet? Disappointing. As for the 2gb/4gb debate, 64 bit means you CAN address 4gb of RAM, it doesn't mean you HAVE TO. Think about your windows box. You're probably running x64 windows, but if you have 4gb ram, you're not pegged all the time. More RAM =/= faster performance unless the existing RAM is all used up, and no developers should be writing code to consume 2gb of memory. The ram doesn't effect the apps at all it's about HOW MANY apps you can have running in memory at once. With proper OS level memory management, 2gb should be fine.

64 bit can address way, way more than 4GB of RAM.

Too much? Posted via Android Central App

BoomSound definitely makes more sense on a tablet/phablet.

If my memory serves me correctly... 1 0 1 0 1 1 1 0 1 1

Let's keep in mind the Nexus 9 is the ONLY device currently with the NVIDIA Tegra K1 64 bit processor than can take FULL advantage of the 64 bit offering in Android 5.0 Lollipop ;)

You do realise its dual core and made by nvidia? I got rid of my first gen nexus because a tab 2 from Samsung could display games in better quality graphics, I don't trust nvidia one bit and you always pay a price premium for nvidia , its just hype saying it has 64 bit, how many apps are going to support that yet? This tablet is a mess. Posted via the Android Central App

Yes well aware its a dual core 64 bit processor. The first one for Android to be exact. You can read more details on it here. http://blogs.nvidia.com/blog/2014/08/11/tegra-k1-denver-64-bit-for-android/ Not everyone was disappointed with the Tegra 3 chip offered in the Nexus 7 (2012) version. Mine ran fine and still continues to.

Who cares? 64bit with 2GB of memory will give essentially no advantage over 32bit. I guarantee there will be ZERO noticeable difference.

Just to get things straight.. You know this because you have used a Tegra K1 64 bit processor with Android 5.0 running in 64 bit mode, right? Not saying that I have myself but I think your argument is a little far stretched without even having any hands on, reviews, benchmarks, etc to back it.

I know this because I understand computer CPU and OS theory... it is what I do for a living. 64 bit is a wider address space and some additional register operations. *IF* one were to make use of those extra operations extensively, it might produce a tiny bump in overall speed. Even in the best of cases, when you are running something extremely specific and it is CPU-bound, the improvements are still small. 64 bit on phones and tablets is all about marketing. Nothing wrong with having 64 bit, everything will move that way eventually anyway. It is certainly wonderful on systems with more than 4GB of RAM. But it would be like having a phone with a 512 million color screen instead of a 256 million color screen... looks impressive on specs but has no real value for most purposes.

OMG! He's right! The move to 64 bit computing over the past decade is just a marketing ploy with no benefits! Posted via the Android Central App

Please re-read what I said, because you are having a comprehension issue.

Yeah kind of like comparing VHS tapes to DVDs.... DVD's are just a marketing ploy, they still record audio and video just like VHS tapes did back in the day. Nothing gained here.. LOL.. Everyone is entitled to their own views and opinions. Doesn't mean we have to agree.

Front facing speakers yet no HDMI out, no sd slot, and its 2014 and we are still considering a 16GB as something useful. What is this Amazon?

Did you think Google has changed its stance on sdcard (removable storage) options?

Yeah, Google is a forward moving company, you think they would have learned or at least offered 64 GB.

I agree on offering more memory options. But I also understand Google's stance on removable storage, in regards to supporting and marketing their service of Google Cloud. Plus it has been put through the ringer many times the headaches that can be involved with sdcard's and their file structure.

Amen, I really wanted this tablet (have only owned HTC smart phones and love them) but I was hesitant about the 4:3 layout. No SD expansion seals the deal for me. My buddy has a Samsung Tab S 10.5 and it is fantastic. Off to Best Buy this weekend to get one myself!

Actually, maybe I'll get a second Gen Nexus 7 on the cheap and wait for the new Nexus 10 that is rumored and may fix some of the shortcomings of this one.

Dual Core ( 64 bit ).. We need to read deeper into what NVIDIA has done here and don't base it on what you know in 32 bit technology. http://blogs.nvidia.com/blog/2014/08/11/tegra-k1-denver-64-bit-for-android/

Lower resolution than the Nexus 10? That's really disappointing. I was looking for a replacement for my N10. Don't really care that much about aspect ratio, but definitely don't want to step backwards in resolution.

But maybe the display will not stall like my Nexus 10.

They lost me with 4:3 or I would have bought this

Anyone have any idea if this will be able to support any of the NVIDIA shield apps/services? I mean it's using the same processor and all. If not....then I think the shield tablet may still be winning out for me in the tablet market. One of the few pieces of functionality I'd look for in a tablet over a phone is gaming potential, and having the ability to stream PC games would be really nice.

Its safe to say it will be recognized as having a Tegra processor so it should be able to take advantage of Tegra enhanced games/apps in the Play Store or TegraZone app. However some stuff that are found on the NVIDIA Shield Tablet MAYBE EXCLUSIVE and not available on the Nexus 9. I will see if I can come up with a concrete answer for this.

Oh awesome, please do, that would be awesome. Thanks!!

Not to be a Debbie downer but my moms Samsung 10.1 from like 2011 has a 7000 mah Posted via the Android Central App

Am I seeing this correctly? 16 and 32 GB with no SD expansion?

Yep. Nexus devices don't have SD cards and Google is pushing Google Drive as storage.

This is a huge drawback for me. 16gb is the bare minimum now (IMO), how long before 32gb is? It's a nice tablet, and I love the K1, but FOR ME, no SD card slot, and no stylus makes it a deal breaker. Looks like it'll be either Samsung, or go with one of the new Windows tablets. I really don't understand the lack of a stylus, and not just this Nexus. Why is everyone letting Samsung own this market? I currently using a Tegra Note 7, and I use the stylus a lot, but I want something more sophisticated (like what the new Samsung Note 4 has). As far as an SD card, I just don't like using the cloud. Guess I'll have to get used to it someday.

Anyone know much about the K1 processor. How does it compare to say the 805?

K1 supposed to be fast and efficient. I think I've seen it compared to PS3 GPU online but I am not 100% sure on that.

Here is more info on the NVIDIA Tegra K1. http://blogs.nvidia.com/blog/2014/08/11/tegra-k1-denver-64-bit-for-android/

Why 4:3 aspect ratio and why only 2GB of memory - meaning you really getting only about 1GB no ?

Am I the only one who believes that the 'killer hardware" for any tablet -beyond the screen of course- should be a fantastic front facing camera? Maybe even a dual tone (soft) led light to better illuminate the subjects. Now that would be pretty awesome! Anyhow that's just my two cents. For me personally, the manufacturer could simply reverse the current camera hardware as is. I don't take pics with my tablet.

Not me. I don't need to do Skype or other broadcasting of my face or voice.

This is a beast. Posted via the Android Central App

Sticking with my Nexus 10. I've used iPads & do not like the 4:3 aspect. Movies, magazine's & games are way better on a wide screen. Sorry Google, I was ready to buy a N9, but that one thing killed it for me. Posted via Android Central App from a beautiful Ebony backed Moto X or the amazing Nexus 10

Dammit, I want a Nexus 9 with 64GB storage, or even 128GB. 32 just isn't enough, and I'm not interested in cloud storage (living in a rural area and expensive Australian data plans has that effect).

Hate the aspect ratio. Will stay with the Nexus 10 until they can make another wide-screen Nexus tablet. And no storage option bigger than 32GB is another huge disappointment.

Be nice to know if it had built in gps and a memory card slot, two must haves. Still not sure if I want to downsize from a 10 inch display. I high priority for me is accessing reference material from large format books and magazines. I have no desire to magnify and scroll. I'd go 12 inch but the devices start getting heavy and unwieldy.

No expandable memory?? A killer for me.

Does it support usb 3.0 ?? Posted via Android Central App

4:3 ? Overpriced? And 32GB max? In 2014? This thing is just a disappointment. This will be the first nexus tablet i will not buy...

I have a question, Nexus 9(http://www.amazon.com/s/?_encoding=UTF8&camp=1789&creative=390957&field-...) has wireless charging and entry to microsd?
I have not found this information in any site (http://www.theblackfriday2014.com/).

Too big for comfort, and surely could use more than 2Gb Ram!

No SD card slot ? - No external memory ? - Another junk on the market !!!