Nexus 7 (2013) official premium cover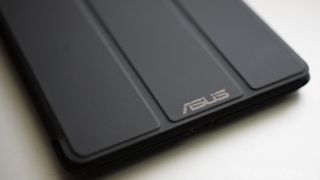 This "official premium cover" for the 2013 ASUS Nexus 7 is not cheap. Of course, it kind of says so right there in the name. "Premium." But, still, this case and cover is $38 and change. That's going to be hard for a lot of us to stomach. But after just a few seconds with it attached to your tablet, you'll find it's quite deserving of that name.
Yes. It's expensive. But, yes. It's good. Very good.
Read on for our look at this expensive piece of kit.
(Note: This accessory is for the newer, 2013 Nexus 7 — not the older, 2012 Nexus 7.)
So, a pretty simple deal here. You've got a thin shell protecting the back of the tablet, with a tri-fold cover out front. The case is done in a soft-touch plastic. It looks and feels great (we opted for black, as you can see, but there's a white one, too), but it is a little prone to showing dust and picking up oils on your hands and fingers.
Most important, though, is that it ads a minimal amount of thickness to the overall size of the tablet. In fact, the case and cover (and the Nexus 7, of course) end up being just a hair thicker than the 2012 Nexus 7. (I'd argue that it still feels thinner, though, because of the sexier texture.)
The sides of the Nexus 7 aren't straight. There are two facets, extending and meeting about halfway up. It's at that point that the premium case grips the tablet, so it doesn't extend over the front of the display. That gives the case a really nice look and feel — almost giving the illusion that it's part of the tablet itself. It's really nicely done and shows how the design of the tablet extends to accessories. Form and function.
It's worth mentioning at this point that three fourths of the Amazon reviews for this cover that are online as of the time we're writing this are ... well, they're kind of freaking out. They mention that the case doesn't fit at all, or it doesn't properly hold the tablet. We've had no such problems whatsoever, and we ordered this from the same place as everyone else. It almost makes you wonder if hey're trying to use this case on the 2012 Nexus 7.
Then there's the cover. It's smartly hinged, rounding over from the back quite nicely. The cover's got three panels that do exactly what we expect three-panel covers to do. (Hi, iPad Smart Case!) Fold them onto themselves to make a triangle, and you prop up your Nexus 7 at a shallow angle for typing, or a high angle for watching videos of cats.
You'll notice how one panel's got a different material on the inside than the other two. It's tacky. Sticky, almost (but not quite). It doesn't help the cover stay shut on the screen — rather, it keeps the the panels in place when you've got them tucked into a triangle to prop up your Nexus 7. A neat little trick, and the ASUS logo looks smart there as well.
The cover lies flat on the tablet when it's protecting the screen. Our only complaint is that there's no magnet embedded in the panels to wake the tablet when it's opened. Not a deal-breaker, perhaps, but we're a little surprised to see it missing.
You've also got all the proper cutouts and buttons for the speakers, microphone and camera, plus the volume and power buttons.
Th​e bottom line
This is our go-to cover/case combo for the Nexus 7 at this point. Never mind price. OK, grumble about the price. It's not cheap. And grumble about it not having a magnet to automatically turn on the display when the cover opens. That's a surprising (and a bit perplexing) omission. But it's also not the end of the world.
This is a high-quality accessory for a high-quality tablet. It does its job, but without the bulk and unsightly design of other cases. And we might never take it off.
You can snag one from Amazon for about $38 and change.
Image 1 of 13
Image 2 of 13
Image 3 of 13
Image 4 of 13
Image 5 of 13
Image 6 of 13
Image 7 of 13
Image 8 of 13
Image 9 of 13
Image 10 of 13
Image 11 of 13
Image 12 of 13
Image 13 of 13
I purchased this case and can say this it is absolutely horrible. The case is supposed to grasp to the tablet at all four corners, but it seems that it only securely attaches to 3. This defect does not allow the case to securely hold the tablet when trying to use the case as a stand. This renders the case useless for me and I am returning it. See the Amazon reviews for more people that had the same problem.

You saw where I said exactly that about the Amazon reviews, right? The one I bought — from Amazon — attaches just fine.

Yes I did, and the one I bought - from Amazon - does not fit my 2013 tablet. I am having the same problem that some of the other reviewers cite; does not attach to all four corners of the device.

Obviously you're using it wrong brah.

Clearly. To make matters worse, I have to pay shipping to send this piece of garbage back to the seller.

Then you didn't buy from the seller "Amazon", Amazon does not charge you return shipping for defective products.

I realize this. However, I bought from the same same seller that is indicated in the amazon.com link posted by the author. I only called it "Amazon" because he also called it "Amazon".

You would think that but I have had the exact same issue as the people on Amazon. Definitely brought the right case and definitely have the 2013 N7...

Do me a favor, search Amazon for "Nexus 7 FHD premium cover"... Click the first item... Then click on "5 New"... Notice the Amazon one is available for pre-order? That means the others are Chinese imitation crap. Its not out yet. You got duped because you don't pay attention.

This is a very nice looking case, but without anything helping to keep the cover closed or the auto-wake/sleep magnet, I think I'm going to stick with my Poetic Slimline, which basically does the exact same thing for 1/4 of the price.

I can't see a reason to get this over the Poetic, even if the Slimline was 2-3x the current $10 price. Posted via Android Central App

Same here, used the Poetic on my old N7 and got the new version, same good fit & finish, and even better features when you use the trifold stand function the magnetic locks the trifold stand in place which is brilliant! Posted via Android Central App

Definitely get the Poetic! Fits like a glove and has THREE year warranty! 3 years for a $10 purchase! This is my third poetic and I don't think I will buy any other cover moving forward. One Poetic cover is 2.5 years old and in great shape with my HP Touchpad. Love it! Don't buy the Asus cover. Buy the Poetic.

Phil, I can't believe you would take that case over the Poetic slimline as your go-to case? It's cheaper, good build quality, magnetic lock, auto on/off and has a 3 year warranty to boot! I think it's a no brainer which is the better choice. But to each there own I guess.

Wow, those reviews look really dumb. Since the case is "too short" it's safe to assume they're fitting it onto a 2012 N7.

That's what I'm thinking.

Except for the fact that the new Nexus is taller/longer than the 2012 model. Posted via Android Central App

the reviews are not dumb as I have the 2013 N7 (and I know my tablets) and it does not fit. One of the corners will not stay down. there may be a bad batch of case out there.

I can safely say that the cases do not fit. I have both Nexus 7 Tablets, and I know the difference. I'm having the same issue as everyone else, It only grips 3 corners. You can push it onto the offending corner but it just pops off. No amount of pressing will get it to stay on. Premium indeed.

No magnet to wake = fail.

I think blowing off the negative reviews is a little...dishonest (not the best word but I can't really think of a better one). You acknowledged them but then implied it was probably user error. The no magnet is a deal breaker for me, on an almost 40 dollar case that seems inexcusable.

If I was "blowing them off," I wouldn't have mentioned them at all. What I did was point them out — and point out that while there might well be manufacturing defects that cause such problems (hardly unheard of), there's something about them just just doesn't feel right. And given that you have two similarly named tablets, it's very possible that someone's trying to cram a 2012 N7 into this thing.

I didn't see any mention of possible manufacturing defects, only mention of possible user error. At least one of those reviews specifies that it's on a new Nexus 7. Fair enough though, at least you guys mentioned it. I would hold off if I was going to buy one but then again, no magnets.

Nope, there are a number of pics out there of the 2013 version not fitting. I have the moko for 99 cents (4 bucks shipped) and it's great. Magnet and auto wake. Only 1 or 2 mm thicker than the Asus.

The same thing happened with the regular Asus case that came out for the 2013 nexus for $20. People gave it bad reviews but when I got it work as expected. I learn the hard way when I listened to the review from the official nexus 7 (2012) case. Posted via Android Central App

If there is nothing to keep the flap closed when not being used it isn't even worth $5. And the fact it doesn't turn the screen on automatically is another deal breaker that my $5 generic case has for my 2012 N7. I hate it when sites promote something simply because it is Google or Apple or whatever the main product is. IS the case constructed well, sure. Is it worth $38 or even a great case, not really. Can it stand in portrait?

I had a Portenzo case on my 2012, so I ordered another Portenzo for the 2013 N7. I highly recommend Portenzo for a premium case. But if you balked at the $38 you will not be happy with the price of the Portenzo.

Well if it A) fits the device, and B) has something that keeps the flap closed then it's already better than the official one. Probably worth the price. Posted via Android Central App

This is hilarious. I was reading the article and was going to say that just last night I decided to order the poetic slimline instead and found ten others have already posted the same. Glad I picked the right case to get. Unfortunately it won't shop for two more days and wasn't prime. Looking forward to getting it though. Posted via Android Central App

Oh and Phil,
The ASUS site does say that you can wirelessly charge the tablet WITH the case on. It says that it is "95% Efficient" at wireless charging. Just a neat factoid you might want to try.

Probably depends on the Qi charger, but mine charges through a Moko case (slightly thicker) on a Nokia Qi Pad (DT-900), THROUGH my glass desk, which is almost as thick as the tablet naked.

I've never been so passionate about a 7" tablet case. Get the Poetic. Now I must take my meds.

I want an otterbox case for mine. Guess the waiting continues.

Don't hold your breath. If the fact that they ignored the nexus 10 and 4 says anything about what they are planning on doing... Then there probably won't be one. They told me that if there was enough demand for an otterbox on the nexus 4 that they would make one. It's been the most popular nexus phone ever and we still don't have one...

"It's been the most popular nexus phone ever and we still don't have one..." That's not really saying much.

They had one for the original nexus 7 so they might make one for this generation. I'm holding out for the next few weeks though because I really don't like the other cases, we'll except for this one (asus). Posted via Android Central App

I would love to get this case as it's just damned beautiful and I would've probably bought it however I picked up the Moko case that's almost identical, has magnet for wake and to help keep the flap folded and only cost me 5 bucks. It's a damnned shame to see manufacturers 1 up'd by off brands. Oh well...maybe a revision at 1/3 the current cost? Not likely..

Oddly the site removed my post as Spam (??) I will try this again. I was just about to mention that I finally decided to get the Poetic Slim last night instead of the OEM due to the reviews made me think that maybe they were made from a bad mold (even though I did consider that they were trying them in 2012 models, but that would not even come close to fitting the 2013 design)
I found it amusing that ten other people already said that they like the Poetic Slim better. That being said, Phil you should try to wirelessly charge it with the factory case on, ASUS says that it is "95% efficient" at it and let us know. http://www.asus.com/Tablet_Mobile_Accessories/Premium_Cover_for_Nexus_7_...

No mention of the auto wake/lock feature working or not?!? This review is incomplete without it

I used to buy a new device and then peruse Amazon or eBay for that perfect dirt cheap case. Then I actually purchased a more expensive Incipio and then Otterbox and will never look back. Sure, there's cheaper cases out there. (99 cents, really???) But I do not want to put the cheapest possible cover on my devices just for the sake of it being a "cover". I have an acquired taste for cases of high quality because it enhances my joy in using my device. I recently purchased the Otterbox Defender for my Note 10.1 and while it was $67, I know what i'm getting and I know it's made well with high quality materials. If I had the Nexus 7, i'm quite confident i'd be spending the $38 for this case. It looks great and I don't swing my tablets around wildly so I don't need them to have a mechanism for staying closed. Although the auto-wake magnets are a very nice and necessary feature.

This is the kind of thing I want for my N10. But no love for N10. No dock, cover is out of stock, pogo is third party (and works well).

http://www.amazon.com/Poetic-SLIMLINE-Portfolio-Function-Warranty/dp/B00...

Lol whoever is buying these for 2012 models... Seriously have issues...not hard to look at the preview displays before buying... I usually look for the speaker positions. Definitely getting this soon Posted via Android Central App

Bought 3 diff folio cases from eBay for $30, they arent perfect. But for about $10 each, i ain't gonna complain. :)

Sure, it's spiffy. Real spiffy.
But no magnet? Sorry Phil - maybe not the end of the world, but a deal-breaker for me.
At $38, it's unconscionable. Or... perhaps shopandroid.com is ramping up to carry them, so Phil can't say much.

I have read some reviews that claim magnetic locks interfere with the device's magnetic compass, causing it to give erroneous readings. Could this be a reason why Asus left off the magnetic locks? Has anybody with a magnetic case verified the proper function of their device's compass? Just curious. I'm in the market for a case, but need the magnetic compass to be accurate.

I was just about to add that. I'll bet that's why...

I did a quick generic test once I read this with my Moko case. I flipped open the cover and folded it behind the tablet and set it down on my desk, then opened up Google Maps. My loc dot's general heading was mostly accurate (maybe due to magnetic north). I then spun slowly in my chair and watched the heading arrow move as it should have. I then closed google maps, took the case completely off, and repeated the test exactly and there was little difference. If anything, with the case it was more accurate lol (makes no sense I know). Also, the Moko case has 2 magnets, one for the flap to stay closed, and another near the bind that triggers the screen on/off function. One more thing, with the exception of the GPS bug that would lock up GPS (fixed it latest patch), the case/cover has not impeded in my ability to use Google Maps/Navigation to get from one place to another.

FYI I just tried to order this from Amazon and it showed 38.99 from antonline and then when I added it to my cart it changed it to $46.55 with no warning. I tried it twice and it did the same thing. I'm pre-ordering directly from Amazon themselves for $39, I don't need it right away. I would like to know however what sort of game antonline is playing here, I've ever seen that happen before. Here's what it looks like when I add it to my cart: https://dl.dropboxusercontent.com/u/6778081/scam.jpg

I cancelled my Amazon pre-order as well, once I read all the comments that there's no auto-on/sleep function. Ridiculous.

That's a problem antonline has: they list one price and charge another. They also sell used equipment as new, and then refuse any typical return processing. My company has black-listed them, and I have complained loudly and in great detail to Amazon.

Manufactures should be making fitted cases for all of their tablets! We shouldn't have to rely on 3rd party cases 3 months after a product is released. I'm sure there is a decent size market for them...

Phil, any chance we could get a video posted with your case? Posted via Android Central App

Uhm, amazed they copied Apple, not just in price rippoff, but more importantly, in the industrial design! That is exactly the same as the iPad Smart Cover, of which I have owned two, for a regular iPad and iPad mini. What were Google/ASUS thinking? They have just mass trolled the whole Apple community.

Android has been a mass troll of Apple since they changed the design from looking like Windows Mobile to looking like the iPhone the day the iPhone came out. Thats why so many Android companies are paying huge amounts of money because they lost patent lawsuits.

I picked up the MoKo for .99 cents ($4.95 shipping). The following week it was going for $12.95, It is a nice case. No issues with the fit or its build quality. I have a friend that has the Poetic. I don't think you can go wrong with either one. I have a case made by Marware for my daughters Kindle Fire that I really like and look forward to one they build for the Nexus 7.

I bought the Poetic Slimline case from Amazon on August 2nd for $5.95 plus $3 shipping and it just came today. I read Phil's review this afternoon at work and to my surprise it was in my mailbox when I got home. Looks great, feels great and has the magnetic wake. It does everything the Asus does and more for fraction of the price. Even at $12.95 it's a no brainer. Posted via Android Central App

It seems like buying a Nexus 7 FHD cover is a bit of a crap shoot. Some people have had problems with the official ASUS cover and unlike Phil I believe them. Probably the reason I believe is because of my experiences. When I first got the Nexus 7 I went on Amazon and found several cheap covers. I said what the heck, they're so cheap I will buy several. They were all less than $5 with shipping. The first cover I received was the Poetic StrapBack. I have one for my N10 and liked it. The cover didn't work as the tablet shut off when the cover was folded back. Other people had the same problem, and had a replacement shipped which did work. I just received my 2nd replacement and none of the 3 work properly when the cover is folded back. Also on the 2 replacement covers they do not fold over correctly because the material in the fold is to short. I also ordered a Moko StrapBack and Slimline. I am pleased with both and the magnetic shut off works correctly. I agree with the positive comments about the Moko SlimLine. It has the magnetic closure and is priced better than the official ASUS cover. If you like the StrapBack style go with the Moko over the Poetic.

I have to say that I really get annoyed when i see a suggestion that intimates people are stupid when their experience does not match one's own.
I bought the New Nexus Premium cover in white from Gamestop for my NEW Nexus 7 FHD tablet. It is my first Google tablet ever. And guess what? The case did NOT fit. One corner would continually pop out. Those people over at amazon are not crazy and they are not morons. Apparently some, but not all are defective. This should not be some monumental surprise.
BTW Gamestop took the cover back and refunded shipping as well.

This agitated me about the article as well. In fact, I have both the 2012 (received at Google I/O last year) and 2013 models and I do know the difference. The reality is that the case did not fit my 2013 Nexus 7 and had the same problem you mentioned in your post.

So now that it's obvious some people are getting bunk covers I assume there will be an update to the review? Posted via Android Central App

Looks just like the poetic case I had on my 2012 N7. I liked it so much that I just ordered another last week for my 2013 N7. Nice to see a company like Asus ripping off someone else's idea and selling it at three times the price. http://www.amazon.com/gp/product/B00E5NOXM4/ref=oh_details_o01_s00_i00?i... Posted via Android Central App

I dislike the tablet cases that fold to a triangle stand in the back. I do not find them to be as stable. The case that I got for my new Nexus 7 (2013) is the Moko Slim-Fit Multi-Angle Stand Case which I purchased from Amazon (http://www.amazon.com/MoKo-Google-New-Nexus-Case/dp/B00E4OKXPU/?tag=andr...). It is designed for the second generation Nexus 7. So, all of the cutouts are in the right places for access to the back camera, micro USB port, headphone jack, and buttons. The cover also has magnets that put the tablet in sleep mode when closed and awaken the tablet when opened. I was also pleased to find that the case allows for me to use my Qi wireless charger to charge my tablet without removing it from the case. All that for $14.99 at the time of this post.

How do you compare this to the poetic slimline? Posted via Android Central App

I'm sitting here looking at my Poetic Slimline and the first thing that came to mind when I saw this review was that the review must have been of the same case. It's possible that the ASUS case is better build quality than the Poetic but only time will tell there. They look almost identical. I'm very pleased with my Poetic Slimline case. The cost was trivial ($7.95 including shipping) and the fit is perfect. It shuts down when the case is closed and turns on when opened. It provides very little extra thickness - an important factor on such a slim tablet. Go to Amazon and read the reviews of both covers first.... The Poetic has many more good reviews. Even the bad reviews only fault the build quality on the older version of the covers... and it's an $8 cover too....

My goodness, if they came out with a clear pastic bag and called it a Nexus 7 cover you guys would review it. I thought this was Android Central, not Nexus 7 Central. Hee, hee Posted via Android Central App

So, is the official cover released or not? Some say yes, others no. Are the ones people are receiving imitations?

So you are absolutely positive that this is not a KIRF right? I just find it strange that you cannot find this particular cover, anyplace else online (reputable sellers). Apparently "antonline" has more juice with Asus than Amazon, I guess this allows them to start selling the covers before anyone else. I think I will wait for "Amazon.com" to officially start selling the cover, that way if it sucks or is defective, I can easily return it for a full refund.

I used the Poetic case on my Nexus 7 2012, extremely pleased. Quality fit and finish. Could not wait for the Nexus 7 2013 version, finally got it, LOVE IT! Fits perfectly and has THREE year warranty! Don't buy the Asus cover 3 times the money and does not even turn the unit on or off? WHAT? Buy the Poetic, you will not be disappointed!

I found this case at Fry's. https://www.asus.com/Tablet_Mobile_Accessories/VersaSleeve_7/
It's very nice and fits the 2013 Nexus 7 perfectly. It also allows you to prop it up for video watching. My favorite part is being able to take it out and hold the beautiful N7 in my hands without a bulky case always on it. Posted via Android Central App

I do find it shocking that the Official case has all these errors?! Have people been receiving the knock off versions, or are the ones direct from Amazon.com at fault too? I see they are selling them now...
Also, as alternatives, I know there are several Poetic or Moko cases, all varying slightly, has anyone used this one?
http://www.amazon.co.uk/MoKo-Google-New-Nexus-Case/dp/B00DE8R3BO/ref=sr_...
(The stitching is different and more subtle than others and bezel cover edge on the front is slim profile)
I am waiting in the UK for a decent case!!

In the UK and waiting/looking for a decent case too. Bewildered by the options, but more confused by the amount of places that don't distinguish between new and old Nexus 7's. I don't want a generic case, I want something dedicated and fairly small that protects the device, stays shut, folds to a stand and handles the on/off functionality. In short, I want the official Kindle Paperwhite case, but for a Nexus 7...! Were it not for the lack of magnetic catch (and manufacturing issues that don't seem to have been officially acknowledged/explained), this case would be top of my list (regardless of price). But without a magnetic catch, how can it possibly go under the moniker of "premium"?! It just doesn't make sense to build specific functionality into a device, and have a supposedly premium accessory not take advantage of it.

I preordered the case from Amazon, not a 3rd-party vendor, and while the build quality is great, it does not fit. http://www.amazon.com/review/R2CIV2ZH8M2YWY/ref=cm_cr_rdp_perm?tag=hawk-...

WOW, WHAT A PIECE OF CRAP, I ORDERED THIS CASE, EVEN FOLLOWED THE INSTRUCTIONS TO CHOSE THE OPTION OF "NEW" AND CHOOSE AMAZON AS THE FULFILLMENT PROVIDER, THINKING THIS IS BEING FULFILLED FROM AMAZON (PRIME) SO NO 3RD PARTY, WELL I GOT IT TODAY, AND IT SUCKS ASS, DOES NOT FIT ON THE SIDES. DOES NOT GRIP AT ALL.

We purchased 3 new 2013 Nexus 7's for work along with 3 of these cases. 2 of the 3 Nexus 7's do not fit into any of the 3 cases. Only 1 of the tablets fit into all 3 cases. The only difference I could find is the manufacturing date of the Nexus 7's. The 2 tablets that don't fit into the case have a date of 2013.06 and the 1 table that fits into all the cases has a date of 2013.07.

Hi.
i am an Ebay seller and I sold a lot of the official Nexus Premium cover Case. 3 customers (only) asked for a returned because it didn't fit properly their tablet. I asked them to send it back to me as I own a Nexus 7 (2). I tried them, and they fits perfectly on my tablet. So I decided to take the case to one of the "Google Store" at PC World here in the UK. I know the "Google man" and told him the problem and didn't understand what could be the problem. So...we tried the cases on each Nexus 7 on display! And guess what? All fits perfectly! So my only opinion is that the first batch of Nexus 7 tablet is slightly different. I am convinced the fault is the tablets (first batch) and not the case, because it fits perfectly on mine, and on all nexus 7 on display. And a lot of customers are happy with it too! The black has been very popular. I own the ivory colour and find it excellent.

Mine is 2013.08 - pops out

I think there are many reviews about this newly released tablet but I myself love it. I agree with this reviews: http://googlenexus7reviews.net/google-nexus-7-reviews.html

This is certifiably the worst cover I EVER bought for any tablet or phone.
After three months all four corners show stress fractures and will soon come lose completely.
Not having a magnet to switch the device on/off is a major bummer and inexcusable (just confirms the greed).
I paid $45 at the time and even $30 would be a rip off. It's just not built to last.
Can't get why Mr. Nickinson praised it so much - his review is not consistent with my real use experience. "This is our go-to cover/case combo for the Nexus 7 at this point. Never mind price. ... not having a magnet to automatically turn on the display ... also not the end of the world"
==> maybe time to grumble about unhelpful reviews...
Android Central Newsletter
Get the best of Android Central in in your inbox, every day!
Thank you for signing up to Android Central. You will receive a verification email shortly.
There was a problem. Please refresh the page and try again.