Nexus 6P owners eligible for up to $400 from Huawei and Google in class action settlement [Updated]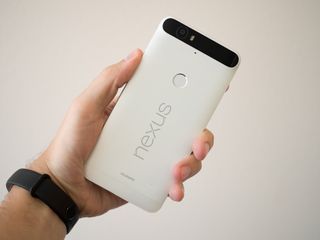 (Image credit: Android Central)
Updated June 11: The claim period for the settlement has officially opened, and you can fill out the claimant form here if you experienced boot loop or battery issues with your Huawei Nexus 6P for the chance of receiving up to $400 from the class action lawsuit. For the best chance at receiving the most from the settlement, make sure you include some proof which may include any of the following:
The Nexus 6P was a hit for both Google and Huawei when it was released in 2015. It combined a premium design, a great camera, and a clean build of Android all together into a fantastic package. Unfortunately, for many people that bought the phone, this story did not have a happy ending. As time went on, many began to experience bootloops and random shutdowns, including myself. If you happened to order the Nexus 6P from the Google Store, you might have gotten lucky and been given a replacement Pixel phone.
However, for many of us, we were simply left with a brick of a useless phone with no resolve. Thankfully, the law firm of Chimicles & Tikellis filed a class action lawsuit back in 2017, and it looks like there is now a preliminary settlement offer. On the table is a $9.75 million dollar settlement, which at the time of publication is still waiting for approval from the courts. While much of this will go towards legal fees, Nexus 6P owners could be eligible for up to a $400 settlement.
Per the settlement:
You'll need to submit a claim in order to get your money, but before you do, make sure to check the draft long-form notice (opens in new tab) for more information. Once the settlement is approved, the lawyers will be able to provide you with instructions as well as any deadlines. It may have taken years to get here, but as someone who was personally affected by this issue, it is nice to know there is some closure within reach.
Google Pixel 3: Everything you need to know!
Android Central Newsletter
Get instant access to breaking news, the hottest reviews, great deals and helpful tips
I'm not gonna lie, I'm a little upset at Google. They replaced my defective one with a new Pixel XL which was fantastic. The Pixel though literally took a **** and just died on month two without any warning. It wasn't dropped or submerged just defective. They said the warranty was void because it was free. Figures...

This is exactly what happened to me.. After months of the battery issues, they finally agreed to replace my Nexus 6P with a Pixel XL. Then the Pixel XL randomly died a couple months later and they said it wasn't under warranty and wanted $300 to fix the motherboard... I told them no thanks and bought a different phone.

I had this happen to my 6p and I got a refurbished one it's place. I have the case ID but not the original message I sent complaining about it. Just their response to my initial inquiry. I wonder if there's a way to get a transcript

Who saves receipts? It's not like it was released the other day! Is it too little too late?

Was the 6P actually sold in irl shops? I'd expect most people's receipts will be buried in their email inbox, not made from paper.

Did you buy it from the play store? It still shows my purchase from 2015.

Funny, I looked through the store for the receipt, and the order history said it was cancelled. Other orders said they were shipped but never delivered. Idk if Google updates their order statuses.

My receipt is still showing in my Play Store purchases. I'll have to look for my email communications with them since I had the battery issue, and still do.

Very few will get paid for this.
Nobody keeps those claim numbers or receipts

I don't see why people wouldn't have their receipts especially since, Google sold the phone. I have my receipt and this is a resolution, finally!! They didn't offer me a replacement -- had to purchase a new phone. Be lucky some of you got replacements, but yet you're still complaining

Getting a replacement wasn't much of a perk. This is what Huawei put me through to get a 6P replacement: https://www.linkedin.com/pulse/making-brand-terrorists-out-fans-huaweis-... $400 wouldn't even scratch the surface of my professional time wasted. (if the link doesn't show, Google for "Making brand terrorists out of fans: Huawei's worst-of-breed service recovery"

Registered just to reply to Eli G1. Hi. Just wow. Full marks to you for spending even more of your time raising awareness - certainly won't be buying Huawei myself now either. Cheers!

The real winners here are the lawyers who will get a giant amount of money as soon as this is finalized.

I purchased my Nexus 6P from Google, then it died and they sent me another one. Then that one died and they sent me a free Pixel XL. Then Google had a trade in for the Pixel XL for $400 towards a Pixel 2 XL for $400 with a full 2-yr warranty. Now I could get $400 for my troubles on top of that. Not a bad racket...

Per The Verge article, you may only be eligible for a $10 settlement: The proposal currently states that those who are eligible for the settlement could be paid up to $400 for their faulty device, while those who received a Pixel XL in a prior warranty exchange program would only be eligible for up to $10. Those who submit proper documentation for the bug will receive the most settlement money, while those without may be eligible for up to $75. https://www.theverge.com/2019/4/11/18306552/google-huawei-nexus-6p-class...

The Verge article also said the $400 applies only to US owners of the Nexus 6P. I wonder why that fact isn't mentioned in this AC article. Canadian Nexus 6P owners are left out.

I have a Nexus 6p.
So my battery does drain fast and has shut down numerous times . No I have not called it in and complained . Is there anything I can do about it now ?

Anyone complaining about not finding your receipt... I'm sure most of you paid with credit cards... so the transaction must be in your email and your bank statements.

Historically the only beneficiaries of class actions are the attorneys involved.

Wow.....this lawsuit has surprised me. I bought the 6p early on with Fi project and loved it till one day it began having boot up issues, then wouldn't boot at all. After much support finagling I got it replaced with someone else's problems. It works fine to this day but I had to have the battery replaced almost right away as it wouldn't hold a charge for long. I'm not holding out hope for getting any reimbursement after all this time. I dropped Fi project for T-Mobile so any record of all this has probably gone away. My refurbished 6p is very smooth and this comment is coming from my ancient 6p.

When and how to file a claim, can anyone help? After long years of pain something good, battery draining problem and sudden shutdown even if the battery is more than 45%.

Glad that law firm did that. I had two 6Ps with premature battery death. Of course, I no longer have any "evidence" of the two replacements, but at least the lawyers can enjoy lunch on me.

The reason they did is they know proof of purchase is hard to come by. Good luck trying to prove you purchased the 6P? How many carrier's actually handled it? That's what I thought!

Is anyone willing to donate their bricked 6P to me? Mine took a swim in the sea and I'd very much like to play franken-phone to recover some photos and video that were on it.

I just received my $400 settlement. Anyone else?

OMFG, I got my check today, and I got 325!
Android Central Newsletter
Get instant access to breaking news, the hottest reviews, great deals and helpful tips
Thank you for signing up to Android Central. You will receive a verification email shortly.
There was a problem. Please refresh the page and try again.