Nexus 6P and Nexus 5X — what's the difference?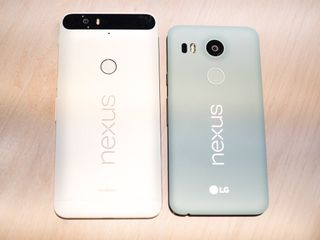 Google has finally, officially pulled the wraps off of its latest Nexus hardware, and breaking away from previous tradition we actually have two Nexus phones launching at the same time. The Nexus 6P and Nexus 5X are both heading out to the market at once — so the question is, what are the differences between the two? We're going to break it down.
Hardware and features
Though the fact that both phones are running Google's latest Android 6.0 Marshmallow operating system differentiates them from the rest of the Android world, the only thing setting them apart from one another is the hardware. We're looking at phones that both wear the Nexus badge but are actually made by two different manufacturers — the Nexus 5X by LG, and the Nexus 6P by Huawei. This is Huawei's first swing at a Nexus device, while LG has done two — the Nexus 4 and 5 — previously.
The Nexus 6P is the larger and higher-end device of the two. Despite the "6" in the Nexus 6P name, the phone is actually smaller than the Nexus 6 of 2014. The screen comes in at 5.7-inches, but is the same type of screen, AMOLED, as well as resolution, QHD (2560x1440). Its larger size lines up with its higher-end position of the two phones, with the internals rounding out to a Snapdragon 810 processor, 3GB of RAM and a base of 32GB of storage. You'll get a 12.3MP camera on the back, and while it has large 1.55-micron pixels it lacks optical image stabilization (OIS). A 3450 mAh battery is powering it all, which is an interesting bump in size over the Nexus 6 considering the body itself is smaller.
Read: Hands-on with the Huawei Nexus 6P
The Nexus 5X is more in the lineage of the original Nexus 5 from 2013, with a smaller size, plastic exterior and a step down in hardware internals. The 5.2-inch screen comes in just a touch larger than the original Nexus 5, and keeps the same 1920x1080 resolution. The internals are just a slight step down from the Nexus 6P — a Snapdragon 808 processor, 2GB of RAM and a base of 16GB of storage. The camera here is also 12.3MP, and it has IR laser-assisted autofocus like the 6P to go along with a broad spectrum dual LED flash.
Read: Hands-on with the LG Nexus 5X
Both phones have their own little design flourishes, with the Nexus 6P having a distinctly large black glass portion on the back that houses the camera hardware, setting off against an otherwise all-metal body — available in three colors — with chamfered edges to give it a little shine. The Nexus 5X is nice-looking in its own right, with the solid plastic exterior available in three colors. Both phones share several similarities, though, with front-facing speakers, a back-mounted fingerprint sensor, USB-C charging ports and relatively clean lines all around.
Comparing the specs
Specs don't tell the whole story of a phone (well, not even a majority of it), but when you're ready to put money down for a phone you want to know what's inside it. Looking for a straight-up internal spec comparison of the two new Nexuses? We have you covered right here.
Category
Huawei Nexus 6P
LG Nexus 5X
Operating System
Android 6.0 Marshmallow
Android 6.0 Marshmallow
Display
5.7-inch 2560x1440 AMOLED
Gorilla Glass 4
5.2-inch 1920x1080 LCD
Gorilla Glass 3
Processor
Snapdragon 810 octa-core
Adreno 430 GPU
Snapdragon 808 hexa-core at 1.8GHz
Adreno 418 GPU
Storage
32, 64 or 128GB
Non-expandable
16 or 32GB
Non-expandable
RAM
3GB
2GB
Rear Camera
12.3MP
1.55 μm pixels
f/2.0 aperture
IR laser-assisted autofocus
4K (30fps) video capture
Broad-spectrum CRI-90 dual flash
12.3MP
1.55 μm pixels
f/2.0 aperture
IR laser-assisted autofocus
4K (30fps) video capture
Broad-spectrum CRI-90 dual flash
Front Camera
8MP
1.4 µm pixels
f/2.4 aperture
5MP
1.4 μm pixels
f/2.2 aperture
Sensors
Fingerprint sensor
Sensor Hub
Accelerometer
Gyroscope
Barometer
Proximity sensor
Ambient light sensor
Hall sensor
Android Context Hub
Fingerprint sensor
Sensor Hub
Accelerometer
Gyroscope
Barometer
Proximity sensor
Ambient light sensor
Hall sensor
Android Context Hub
Charging
USB-C
USB-C
Battery
3450 mAh
2700 mAh
Dimensions
159.3 x 77.8 x 7.3mm
147 x 72.6 x 7.9 mm
Weight
178 g
136 g
Colors
Aluminum, graphite, frost
Gold (Japan only)
White, black, blue
Pricing
A big differentiator between the two when it comes to finally choosing one is the price. The Nexus 5X is marketed as the lower of the two, starting at $379 — add an extra $50 for double the storage. For the bigger (and more spec-heavy) Nexus 6P, you'll be forking out a smooth $499 — add $50 for 64GB or $150 for 128GB of storage. Both prices seem fair and are definitely a step below the super high-priced offerings from other manufacturers that easily tip over the $600 price point for their base models, but the new Nexuses are hardly inexpensive themselves in a world of solid phones filling the sub-$250 price range as well.
Of course you won't be signing up for a contract with either of these phones, you'll be buying them directly from the Google Store — or potentially on a Project Fi financing plan — for use on your carrier of choice. That makes the price differential a bit more important, but only you can decide what the "right" price is when you're putting down your own money on the phones.
Andrew was an Executive Editor, U.S. at Android Central between 2012 and 2020.
One is big and the other is bigger.

Maybe in the hands of a teenage girl

The 6P is bigger regardless of who's holding it

And uglier Posted via the Android Central App

Everything is bigger in the hands of a teenage girl*. *All of our models have signed consent forms and have been verified through our triple validation process to be at least 18 years of age or older.

Haha Posted from the Nexus 7 (2013) via Android Central App

I was going to say that one is small and the other is tiny.

Stole my punchline. Grrrr. :)

Nah one is from China, the other is from Korea. Posted from the Nexus 7 (2013) via Android Central App

I have someting bigger than that... a Xperia Z ultra, of course.

...or obligatory deez nutz response.

The 6P WILL FRY YOUR SKIN WITH THAT 810. ANDREW BE CAREFUL REVIEWING THE THING. Posted from my Nexus 6/Nexus 7 2013/Surface Pro 3

Here I was thinking to myself "Wow, all these articles and comments about the phone and no one has thrown up the 810 overheating mantra!" Then you came aong and had to be "that guy". Oh, wait... Lolz ;) Posted via the Android Central App

The 13 year old troll strikes again

17 but at least you tried. Posted from my Nexus 6/Nexus 7 2013/Surface Pro 3

Going from your first comment response on this article, do you know what hypocrisy is? Wubba lubba dub dub!

True that. The fanboys might hate it but any version of the S810 is a P.O.S.

you're an idiot Posted via the Android Central App

Worked hard on that one didn't ya? Posted from the Nexus 7 (2013) via Android Central App

Take it easy Posted from my Nexus 6/Nexus 7 2013/Surface Pro 3

Anyone know when frost white 32Gb will be available to order again from play store?
Its a pre order and this soldout thing is BS

Honestly not sure the 32GB Frost model is "sold out" as much as it just isn't available at all. Huawei's own store doesn't even list the Frost model, and Project Fi's store doesn't have 32GB Frost either. This is a little annoying, but isn't too surprising — previous Nexuses almost always have some kind of mismatched SKUs where certain colors can't be had in certain configurations. If you want Frost that bad, you can pay $50 more and get a 64GB model. Or if money is a bigger deal than the color, get 32GB in the other two colors. I'm really not sure this is something worth complaining about that much.

Was also hoping for the frost white 32gb. Bummer but I wasn't about to pay more for storage than I actually need so I went with the black. The white looks great though. Posted via the Android Central App

First World problems are not really problems at all.

Not true, they're just not particularly significant problems. Wubba lubba dub dub!

Maybe not to you. Posted from the Nexus 7 (2013) via Android Central App

I haven't been paying close attention to the nexus line since it's inception, just the last few. And this year's additions are the weakest imo Posted via the Android Central App

You say you haven't been paying attention to the Nexus line of phones but this is the weakest? Well when you don't pay attention this is how dumb you sound.imo Posted via the Android Central App

To be fair, in terms of raw power (CPU, GPU and RAM) when the nexus 4 released there was pretty much nothing that matched it. The nexus 6P is matched and surpassed by several devices including the Oneplus 2 which is much cheaper. Wubba lubba dub dub!

The Snapdragon 820 isn't available yet so......... I wonder if illiterate people get the full effect of alphabet soup

Yea the OPO doesn't surpass the Nexus 6P in any way sorry Posted via the Android Central App

How? Lol. The OPO 2 is definitely an inferior product. Posted via the Android Central App

Oneplus2, you must be joking. The phone doesn't even exist. Kind of like the yeti, sure there has been sightings, but no actual proof. Posted via the Android Central App

Pricing isn't particularly attractive given the deals you can get on the S6, G4 and M9 these days for what are, spec wise, better phones. Posted via the Android Central App

What? U wanted them to be like $200 less than that? Sometimes you people exaggerate too much in things u expect. Posted via the ONE M9

It's 650 euros here where I am :)... My G4 costs 430 euros... That's a HUGE difference.

And the g4 sucks... Posted via the Android Central App

The G4 sucks?? Posted from the Nexus 7 (2013) via Android Central App

Really? I didn't know. And nobody told my g4 with an awesome camera and expandable memory qhd screen and replaceable battery and 3gb ram and 32 internal storage and awesome backs. My poor g4 had no clue!

Too be fair it does have a POS skin on top of it which would turn a lot of people, including me, off
also it is made of plastic, which may not matter to some but for that much money it is for me
Also the leather backs have shown bad wear after just a few months so yeah it definitely doesn't suck but for some people including myself I can see why people wouldn't like it

People want a high end smartphone for 99 cents Posted via the Android Central App

IMO, they are not necessarily better than the two nexuses. Google has got the things right this year. Affordable price, fast and smooth performance, excellent camera. Just hope the battery will be good too. Posted via the Android Central App

And I just can't have a phone with an update path that's questionable at best. And TouchWhiz.

Not sure where you see the G4 and M9 being spec to spec better than the Nexus 6P.... S6 in certain areas but that SHOULD be expected. Now compared to the Nexus 5X then you have a point, although I think it's priced pretty fair as well.

The 6P has a faster processer, larger battery, and larger screen than the G4.

They have the same processor so unless their clock speed is different?

Rear Camera:
Broad-spectrum CRI-90 dual flash Doesn't this apply to BOTH phones?

Yes! Not sure how i got every other camera spec but missed the one with the longest name...

So since they have 2 different gpu's, does that mean one will perform differently than the other in gaming frames/sec? Or will the resolution "hinder" that "performance" gain? Posted via the Android Central App

The 810 gpu will get better graphics benchmarks and potentially play intensive games a bit smoother, but both GPU's should do gaming fine. The GPU in my M8 is below both of these, and it handles everything I throw at it with ease. Posted via the Android Central App

Both should hold up just fine considering the 6P has vastly more pixels to manage.

Is it really too much to ask to get a premium phone that isn't gigantic? Why couldn't they make the 5X not suck even though it's smaller? I really like my G4, but it's borderline too big. I miss the Nexus portion of my Nexus 5, I was really hoping the 5X would be a top notch phone and smaller, so much for that. The 5X offers nothing over my existing G4 and I'm not really interested in the size of the 6P.

How do you know that the Nexus 5X sucks?

For real. So many people are getting their panties in a bunch over a phone that no one outside of Google has handled for more than 15 minutes. Why don't we all wait on some actual, real world reviews before passing judgment rather than be slaves to a spec sheet? Posted via the Android Central App

"Sucks" might be overstating it, but is it too much to ask for an amoled screen on a sub 5.2 inch phone that isn't made by Samsung?

Although AMOLED has improved, I prefer true colors and saturation provided with LCD. LCD and its size places the Nexus 5x 32 GB as phone I'll consider when upgrading. I'm looking forward to in depth reviews particularly the camera and speaker quality. However, I do love HTC's phones because of ergonomics, build quality, their remarkable Sense UI, dual front facing stereo Boomsound speakers, and IR blaster. I'm spoiled.

I also have to learn more about Project Fi via Sprint. For example does GPS Navigation work as well?

Ok, it might not suck, but it clearly doesn't have top of the line specs and features. Why can't it be the same as the 6P but be smaller? Are we going to argue that the 6P isn't a higher end phone?

Since when is the 808 not top of the line? I don't have any lags or stutters on my G4, let alone on a nexus device. I think it'll run just fine. It's a better processor than that of the Nexus 6 (805). That didn't stutter at all. With 0 bloat, it'll fly. :)

Ok, then why does the 6P have an 810? Why does the 5X have the Adreno 418 instead of the Adreno 430? Why is the screen lower resolution? Why doesn't it have Gorilla Glass 4 instead of 3? Why does it have 2GB of ram instead of 3GB? People are clearly not getting the point. The 5X is a sub par phone to the 6P, no one can argue that. Yeah, I said it sucked, that was wrong, I'm sorry, get over it. It's probably a great phone, but it's not a 6P. Once again, my complaint is why does it have to be a lesser phone because the screen is smaller? That is the BS I'm tired of.

It doesn't. Sony offers the Z3 and Z3 compact, a phone with just a smaller display. I believe that they are marketing the phones at different people and price points. I understand what you're saying. But hopefully Sony will launch something more to your taste seeing that they are basically the only company selling "compact" phones with high specs. Best of luck!

Agreed, but I want a bloat free plain Android Nexus, oh well...

I'd love a Nexus 6 with good battery life, expandable storage, an IPS display rather than AMOLED and the LG G4's camera. xD

Sorry but I'll never go back to an IPS screen as they are terrible in bright sun light I have a Nexus 6 and the AMOLED screen is awesome in Bright sun light. Posted via the Android Central App via My Nexus 6

Full HD is still better than QHD. Their camera are more or less the same. But you should note that nexus 5x is cheaper than the nexus 6. Posted via the Android Central App

I'm not in any way arguing that the Nexus 6P isn't the higher-end of the two Nexuses. Clearly a few corners were cut to drop the 5X down to a lower level and price. But just because it's cheaper doesn't mean it sucks as a phone.

You are correct, I admitted that "sucks" was a bad choice of words. As I said, and as you said, it's clearly not the phone that the 6P is, and that is the annoying part, bigger shouldn't have to mean better, but it pretty much always does.

You and me are in the exact same boat. Well said! Posted via the Android Central App

Just admit it, no phone is good enough for you. It's too big, it's too small, it's too expensive, it's too low end, it's too mediocre.

You say that like it's a bad thing. Dissatisfaction is the mother of progress. Wubba lubba dub dub!

I'm pretty sure there is a sizable chunk of consumers who want a premium phone (Google themselves just today said the P was for premium) that isn't huge. Although they aren't making one, so what do I know. The screen is small on the S6 but the hardware is top end, I don't want a Samsung, I want a Nexus, because the Nexus line is awesome.

Just checked... for both the Nexus 5X and 6P: 4K (30 fps) video capture
Broad-spectrum CRI-90 dual flash This is a typo on the specs you list for the Nexus 5X: 4K (340fps) video capture
That should say: 4K (30fps) video capture

Of course. No phone is doing 340fps 4K video ;)

Nexus 5X can record slow motion at 120fps and the 6P can capture at 240fps

Yup. The slow motion specs are missing. (Or perhaps that "340 fps" typo was mixed up for the 240 fps for slow motion). Specs should be:
Nexus 5X
4K (30 fps) video capture
Slow-motion (120 fps) Nexus 6P
4K (30 fps) video capture
Slow-motion (240 fps) Oh, and as long as we're pointing out mistakes: IR Laster assisted?

Nope thats correct, they have IR lasers for auto focusing

The position of the 6P camera would concern me a little. My original RAZR Maxx had its camera at the top left of the back like that and I can't tell you how many pictures I accidentally ruined when my index finger would stray too far from the very edge of the phone. Posted via the Android Central App

Yeah it is a bit annoying. I often cover the camera on my iPhone 6 because it's so dang close to the edge. You just learn how to hold it differently, I suppose. Google's hands were kinda tied with this design. They used that one window at the top for all of the radios and the camera, rather than using multiple holes in the metal.

Same here which also makes the Nexus 5x more appealing.

Google made two killer phones. IMO, the 6P doesn't have any major compromises or dealbreakers. It sure will be my next phone.

Pricing sucks. 650 euros for the base model is too high in my opinion.

Def an 'imo' situation. Here in the states the pricing is pretty stellar for that type of hardware.

5X single front facing speaker, no LED notification light. 6p has dual and a light.

I heard about only 1 speaker too in the 5X despite the 2 grills. Andrew can you confirm or clarify? Huge difference for me sadly.

Has one speaker. Kinda like the Moto X 2014 — the two grilles are for symmetry in the front.

Actually, it does have an LED. It's just missing from the spec list.
http://www.androidpolice.com/2015/09/29/the-nexus-5x-does-have-a-true-rg... 5X has one speaker, according to the spec list on Google's Store.

The 5X actually has a LED notification light just like the 6P. Google just left it off the article. Android Police has an article. I don't know why Android Central hasn't mentioned it, as it's pretty important to users.

Let's talk about RAM, how does it perform under AOSP? I really want 5X as a secondary phone for weekends and night outs.. But the issue will be if the 2GB will be a bottleneck. Posted via the AC App on Galaxy Note 4 (5.0.2)

I'm at about 700 MB out of 1.5 GB (2 total) on my Nexus 5. RAM isn't an issue right now but it may be in the future. Nexus 5 | T-Mobile $30 Plan

For reference, I have a HTC M8 with SenseUI. The only time I've seen RAM be an issue is when playing some games. After I close them, it takes a second or two for the home screen to load. Other than that, I haven't noticed a performance issue. I also only have 5.0.2..which had some memory issues. YMMV.

A bit disappointed with the N5 2015 being its the lower end phone of the two nexus phones I prefer the 5 inch phones better man this was wall for me not to jump ship to dare I say iPhone but just looking for a better overall phone guess I'll give it a 2nd look Posted via Android Central App

Well considering the old nexus 5 performs like an absolute monster performance wise... Who cares that it doesn't have the most high end specs? If u needed more memory besides 16 or 32 sure you got a good reason but besides that? I'm sure the 5x is going to tear everything up that comes at it. Posted via the Android Central App

Bwahaha, good luck finding better phones on that ship. bye bye

Will the project fi nexus 6p work with Verizon as well? (Are there multiple models or just one like last year?) I want to try Fi, but if it doesn't work out then I would have to fall back to VZW (or the other way around I guess)

The phone is the same model whether you buy it through Project Fi or not. But be aware, Project Fi doesn't use Verizon's towers. The phone will work on any carrier, but if you use a Project Fi SIM in it, that service doesn't use Verizon. Project Fi uses Sprint and T-Mobile's towers (as well as WiFi for calling). Buying the phone while signing up for Project Fi will allow you to finance the purchase of the phone over time (24 months). That's the only reason it was mentioned in the article. Otherwise, the capabilities and/or limitations of Project Fi have nothing to do with the phone's capabilities when not using that carrier. Oh, and if you do decide to finance the phone through a Project Fi sign-up, double-check to see if the balance on the phone comes due with termination of Project Fi service. I don't know if it does or not, so you might want to read the small print before you do anything.

I am actually doing the same thing, i've been wanting to switch to Fi so I ordered the N6P with Fi but I think i'll throw my Verizon SIM in the N6P and use the Fi sim in my N6. I am certain Verizon is the best provider in our area and I am not sure what the coverage is like for Sprint/TMo where I live. But I don't think it wil be a problem throwing in a VZW sim into a N6P ordered through Fi. At least I hope not.

Thanks, I'm aware it doesn't use verizon towers, I use VZW right now though :) thought about switching to TMo but if Fi uses Tmo AND sprint theoretically there's better coverage. Just thought I'd check to make sure I can go any path I choose (even later on) :)

I really like both phones. But I'm really asking myself how much of an upgrade is the Nexus 5x to the Nexus 5. 2gb RAM? no wireless charging and no Led notification light? Posted via the Android Central App

It DOES have the LED notification light. See posts above. I was originally considering the 5X, but opted for the 6P for some of the reasons you cited. If I was going to give up wireless charging I figured I would do so with a metal body. I wasn't going to stay with plastic and still give up that feature. Don't get me wrong. I like the 5X, but I like the 6P more, given the choice of upgrades from a Nexus 5.

I, too, like both Nexus phones. I prefer the premium build of the 6P, but favor the size of the 5X.

So really, it's $70 more for an extra gig of RAM, a bigger, higher resolution screen, a bigger battery, a better forward facing camera, and a faster processor? That's a lot of upgrades for $70. Posted via the Android Central App powered by Droid Turbo

Sure if you plan to get the 32GB Nexus 5X just to save money, it may be worth the extra $70 to bump up to the 6P. But even then, that's still another ~15% extra to bump up, when apparently if you're considering the 5X you're not too worried about the performance on it. And if you're not someone who needs that much storage, going from the based 16GB 5X for $379 to the base 32GB 6P at $499 is a considerable jump. About a 30% premium — that may not be worth it to some. And let's also think about the fact that people aren't just choosing the 5X purely for the price — a lot of people are seeing the smaller size as a feature. They want the 5.2-inch screen and see the larger screen and body of the 6P as a burden.

Agreed. I'd love to see a smaller phone with higher specs, too, but nobody is listening to me/us Posted via the Android Central App powered by Droid Turbo

6P for me, $70 price gap between the 32GB version for both is too narrow for me to pass up all the extra stuff it offers.

I know specs don't tell the whole story, but I really don't see the value in buying one of these. It's no criticism against the phones themselves, but more the fact that the Snapdragon 820 is on the horizon (as well as the competitors by the links of Mediatek and all that I imagine) and buying something with a chipset that's about to be superceded is a bit of a no-no in my opinion.
On the other hand, if you aren't obsessed with the specs (like I am lol), I guess it wouldn't be much if an issue. Sony Xperia Z2
Nvidia Sheild
Xperia Z3 Tablet Compact

The LG V10 has the same SD 808 as the 5x and it has enough power to have Electronic Image Stabilization. So why exactly did the Google engineers say the 5x couldn't handle it? They're both LG phones and the V10 is even running LG's UI as apposed to stock Android so it just sounds like greed. Posted via the Android Central App

One is premium and one is decidedly mid range. I like the Nexus 6P it's easily the best Nexus phone produced by Google and Huawei. Posted via the Android Central App via My Nexus 6

the other one is better ...
Android Central Newsletter
Get the best of Android Central in in your inbox, every day!
Thank you for signing up to Android Central. You will receive a verification email shortly.
There was a problem. Please refresh the page and try again.