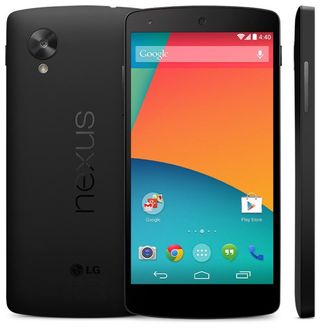 Complete spec listings for Google and LG's five-inch Nexus phone
The Nexus 5 is finally official, bringing a top-level smartphone hardware paired with stock Android 4.4 KitKat at an affordable price point. Though pre-release leaks have told us a great deal about what's lurking beneath the Nexus 5's hood, it's worth taking a glance down the spec sheet now that everything's official, announced and finalized.
The short version: 5-inch 1080p screen, Snapdragon 800, 2GB of RAM, 16 or 32GB of storage, an 8-megapixel camera and 4G LTE connectivity over a whole bunch of different bands.
You find the longer version after the break.
Nexus 5 hardware specifications
Swipe to scroll horizontally
Screen
4.95" 1920x1080 display (445 ppi)
Full HD IPS
Corning® Gorilla® Glass 3
Camera
1.3MP front facing
8MP rear facing with Optical Image Stabilization
Dimensions
69.17x137.84x8.59 mm
Weight
4.59 ounces (130g)
Battery
2300 mAh
Talk time up to 17 hours **
Standby time up to 300 hours **
Internet use time up to 8.5 hours on WiFi, up to 7 hours on LTE **
Wireless Charging built in
Audio
Builtin speaker, 3.5mm stereo audio connector
Processing
CPU: Qualcomm Snapdragon™ 800, 2.26GHz
GPU: Adreno 330, 450MHz
Wireless
Dualband WiFi (2.4G/5G) 802.11 a/b/g/n/ac
NFC (Android Beam)
Bluetooth 4.0
Networks (North America)
GSM: 850/900/1800/1900 MHz
CDMA: Band Class: 0/1/10
WCDMA: Bands: 1/2/4/5/6/8/19
LTE: Bands: 1/2/4/5/17/19/25/26/41
Networks (Rest of World)
GSM: 850/900/1800/1900 MHz
WCDMA: Bands: 1/2/4/5/6/8
LTE: Bands: 1/3/5/7/8/20
Memory
Choose 16GB or 32GB internal storage (actual formatted capacity will be less)
2GB RAM
Ports and Connectors
microUSB
SlimPort™ enabled
3.5mm stereo audio jack
Dual microphones
Ceramic power and volume buttons
Sensors
GPS
Gyroscope
Accelerometer
Compass
Proximity/Ambient Light
Pressure
Hall
** Testing was conducted by Google using preproduction Nexus 5 devices and software. Talk time tests used default settings with WiFi off and LTE on. Standby time tests used default settings with LTE on and WiFi connected to a test access point. WiFi internet tests had Airplane Mode on with WiFi connected to a test access point, while loading three popular websites cached on a local server. The Nexus 5 loaded a page, waited 40 seconds, and then loaded a page from the next site. LTE internet tests had WiFi off and LTE on, and used the same testing method as the WiFi internet tests.
Android Central Newsletter
Get instant access to breaking news, the hottest reviews, great deals and helpful tips
Alex was with Android Central for over a decade, producing written and video content for the site, and served as global Executive Editor from 2016 to 2022.
Wahoo! Posted via Android Central App

Jesus! They packed all these bands into ONE model??! Or are there sub-variants also?

Is that two North American sub-variants, or two variants (NA and ROW?)

Wow. So they ARE packing all the NA bands into one device. Impressive.

which means i can't let my friend pick me one in the US and save a lot of money... sad :(

In all fairness, you'd be saving a lot of money by getting this rather than something like the HTC One or Samsung Galaxy S4 anyway :)

I have called the Play store support now twice, and both times they assured me that the phone includes both groups of LTE bands listed; that is, both the North American *and* the Rest of World (ROW) bands. So, either they are seriously mis-informed, or the phone supports both North American and European LTE bands.

On the other hand, it looks like their support is probably wrong; there seem to be two variants D821 (north america) and D821 (rest of world). Time for me to call again!

Hi paultroon, Did you get any confirmation, I was digging this since morning as I ordered mine from US store and planning to use it in my 4G network which support only B3? Appreciate your feedback!

I called and spoke to them about the white Nexus 5, they informed me that the phone was white front AND back. I explained that the images and video reviews showed two tone models. I mention this to backup paultroon in that their support may be wrong.

There's one in every batch? XT1060 via Android Central App

will never happen, Google does not want micro sd cards on the phones.

sucks that the 32gb version doesnt have that rumored 3000mAh battery!! :(

This would have been huge. Was one of the reasons I was looking forward to this phone.

Don't believe every rumor, Google never said anything officially to support that rumor. I don't want a fatter phone just to accommodate some wishful thinking battery size Posted via Android Central App

Nexus 5 69.17x137.84x8.59 mm = 2300 mAh
Galaxy S4 136.6 x 69.8 x 7.9 mm = 2600 mAh
LG G2 138.5 x 70.9 x 8.9 mm = 3000 mAh It doesn't need to be "fatter," or "bigger" even. Something else is taking up space from the battery. Qi charger? Radios?

Possibly NFC & wireless charging. Awesome A C

But Google Play only has the 16GB version listed. They don't have the 32GB version yet.

i ordered 32gb site, and im in US

445ppi?!? Amazing. Dear Sprint, please announce an advocate program for this phone. I wants.

Guys I currently have a S3 with T-mobile.. I could easily by the Nexus5 and replace sim cards? I really want to get it now

You should be able to...if this phone uses a micro-SIM. Otherwise you may have to get a nano-SIM. But since you're on TMO, be advised that if you were to purchase this directly from Google Play, you will not have WiFi calling. TMO may bring WiFi calling to the phones they sell (IF they sell this one,) but otherwise, this phone won't have it.

I dont care for wifi calling to be honest. and If i was to take it to T-mobile i could get a micro sim? My number would be the same right?

Your number would stay the same, yes. They just might charge you for a new SIM card in store though.

T-Mo has never offered WiFi calling for Nexus devices (at least since the Nexus S). WiFi calling requires an app installed at the system level to create the VPN tunnels required for WiFi calling. The stock Nexus image doesn't offer that ability, and it would go against the Nexus experience to put any sort of carrier-ware into the image (see how the Galaxy Nexus and Sprint Nexus S turned out).

I did exactly that when I switched from my crappy T-Mobile Exhibit 4G to the Galaxy Nexus. Went from that to the Nexus 4. I did have to go into the store to get the sim card cut so it would fit the Nexus 4, however.

You can also buy a SIM cutter... they aren't terribly expensive. Saw one for $1.99 on a google search.

or print a template and use a pair of scissors, it was much easier than i expected and my sim card is working great so far

What about the OTG support? The Nexus 4 can support but with some patchs and custom Kernel. And the other thing is the battery with 3000mAh for 32gb??

No sd card ill stick with my galaxy s3 for now Posted via Android Central App

No sd card ill stick with my galaxy s3 for now Posted via Android Central App

Yeah, expandable memory is a necessity for me. Some people don't like/want it. My thing is if your storage memory is full/nearly full , you have to delete something to make room. "Well, I'll use the cloud" Well yeah, but you have to have a data connection for that and you still have to wait for the download/stream and either remain in a wifi area (restricting your "mobility") or pay for your data charges (if you have a limit).

Kind of worried about the battery life...I'd want something at least a little better than my HTC One. Next question, jump on it now or wait for reviews??? Posted via Android Central App

Guys I currently have a S3 with T-mobile.. I could easily by the Nexus5 and replace sim cards? I really want to get it now

I thought I read somewhere that the N5 had a nano sim, while the S3 has the micro sim.

Are you serious???? How would i be able to switch over? ::((((

Get a new SIM or use a SIM cutter to change yours. Don't worry!

Just get a new SIM or trim the old one. I have trimmed 2 without any problems. Posted via Android Central App

Cut your Microsoft into a nanosim Posted via Android Central App

just get a new nano sim.... T-mobile has them at no cost and free shipping right now.

CDMA? Does that mean I can use on Verizon? Posted via Android Central App

No. Not necessariliy. There is no support for Band 13 LTE which is what Verizon uses right now until they do the switch over to AWS Band 4 LTE, which will take some time. Theoretically you can't utilize it fully on the VZW network. I'm not sure about the CDMA bands that Verizon uses. I do know they use the 850mHz and the 1900 mHz frequencies.

The white only comes in 16Gb! WHYYYYY?!?

Never mind, came across a bug on the website. On some pages I can get to the 32GB white version, on others it shows 16GB only

Did the 32GB in black already sell out?? The black 16gb is the only option available on the Play store's page.

That's strange. I am able to select White and 32gb when I look it. Refresh your page, maybe that'll do it for you. Oops. Ignore my comment. Enjoy your new phone!

Lol it's all good. Thanks!

Anybody know about how long it will be before Google starts pushing kit Kat to other nexus devices? Nexus 7, nexus 4..... Posted via Android Central App

Any ideas if it is a microsim or nanosim?

Google, why did you equip the Nexus 7 with LTE 13 for Verizon & not the Nexus 5?

That's not Google's choice I believe. Verizon owns the 13 spectrum all to themselves. It's up to them to allow Google to use that spectrum. Which of course, Verizon says no to due to the openness of the Nexus.

Actually, Google could certify the device to use Band 13 with the FCC, and VZW would HAVE to allow it to be used (as long as it doesn't cause network interference). When VZW bought the spectrum for LTE, it came with the obligation to allow all devices that DON'T cause problems on their network (I guess VZW could argue that it causes problems, though). The CDMA bands are a different story, though. Right now, in order to activate a SIM card, VZW uses the CDMA bands. And it has NO obligation to allow any device on its CDMA network that it doesn't want to. If VZW doesn't put the MEID for the Nexus 5 in its system, the CDMA won't work. (This is why the Nexus 7 LTE works on VZW, but only with a sim card that is already activated, because the Nexus 7 doesn't have CDMA and VZW is only setup to activate using CDMA).

thanks for the explanation

DING DING DING!!! **THANK YOU** -- that is the most accurate, concise response I've found on the VzW vs new Nexus 5 issue in the last 2 hours. I've bumped across LTE Band 13 which I didn't know about, and hit the "It won't work!" vs "It WILL work!" activation argument. It works but just won't activate from scratch, and VzW doesn't want to deal with explaining it. And if it doesn't let them sell new hardware they're JUST NOT interested. I hear they are working on it though (LTE activation only), but are doing it on their own time frame.

Hmmm so I bet you could activate this on Verizon's network, but coverage will be less than ideal. According to http://en.wikipedia.org/wiki/List_of_LTE_networks Verizon uses LTE bands 13 and 4. They have more band 13 coverage and are adding band 4. Nexus 5 North America version doesn't have LTE band 13 so....I'm glad I got my LG G2.

At that point, you've completely negated the one thing Verizon does well... So why would you bother?

32Gb in black ordered but like others I've not seen any confirmation anywhere about the type of sim it uses. Anyone ?

Spotted on Google's specifications page in support: Supported Service
Unlocked: Use with any provider that offers service on Nexus 5 supported networks
Carriers: T-Mobile, Sprint AT&T noticeably absent?
It's interesting also that the specs don't list support for T-Mobile's 1700/2100 HSPA+ bands. So the Nexus 5 is not a pentaband phone like the Nexus 4. I suppose having LTE support should make this less of an issue for T-Mobile customers.

Actually WCDMA *IS* another name for HSPA+ or UMTS, isn't it? So T-Mobile's 1700/2100 AWS is Band 4. My problem is that I don't know right now what LTE bands are used by T-Mo and ATT.
I suspect the North-American Nexus 5 will have them, but I also need LTE Band 3 for my European travels and Band 3 is only on the *other* Nexus 5. I would probably buy that if it still could also be used in the US on T-Mo and ATT LTE networks.

I think you're confusing HSPA+ support on 1700/2100 AWS and LTE support on AWS, or Band 4. So while the Nexus 5 does support LTE on T-Mobile on Band 4 (which is the band I believe T-Mobile uses for LTE), I don't think the Nexus 5 supports HSPA+, or "3G", on AWS. In the future, T-Mobile will probably drop HSPA+ support on 1700/2100 and only support HSPA+ on their 1900 spectrum anyway, which is why it shouldn't be a huge problem for T-Mobile users going forward. Please correct me if I'm wrong.

Just wanted to state that I believe rover#AC is correct and I'm wrong. After some googling and reading other posts I believe OCDMA is another name for T-Mobile's HSPA+ service on AWS. These acronyms are all so confusing.

Thanks for confirming that, hpham72. I also agree with you that T-Mobile's stated intention is to move its HSPA+ traffic from the current AWS to the 1900 band and repurpuse the 1700 band for its LTE.

I have Sprint right now, but I planned on switching to T-mobile before the end of the year. If I bought my Nexus 5 now, I can activate it on Sprint and use it, and once I go to T-mo, all I have to is deactivate it from Sprint, port my number, and pop in the T-mobile SIM, correct?

Damn the battery is kinda low for all that processing to last a full day on regular use I guess.. Otherwise its a damn good phone.. What is the price btw?

$350 - 16gb
$400 - 32gb Posted via Android Central App

Not seeing the 32GB version on US Store or the white..hmmmm

Heard about that problem (and the solution) while listening to TNT (post-show): If you only see an option for this:
https://www.androidcentral.com/e?link=https2F2F... Just change it to this:
https://www.androidcentral.com/e?link=https2F2F...

Updated: Site now says "Out of Inventory" darn; missed out..oh well; I love my Nexus 4 so will probably wait a bit.

32GB still available... for now.

I HATE VERIZON SOOOOO MUCH!!!!!!!!!!!!!!!!!!!!

What's the purpose of the Hall sensor? Edit: oh it's probably for the step counter.

I was wondering the same thing about the Hall sensor Posted via Android Central App

I think its the magnet that senses if you have a cover. Like the iPad. (Just did a google search and that is what I came up with.

I just bought mine from play store. Got a confirmation # and says it will ship on 11/5. 32GB in black! Posted via Android Central App

Does anyone know a little more details on the camera besides the fact that it's an 8mp with ois?

WOW!! Under carriers it actually list Sprint...I AM IN!!

I'm in NA, but I need to buy the int'l 32GB version from UK store. How do I do this?

I am in the same shoes, mickey4mice. Let me know if you find where to get it.

Does it have a notification LED?

Back when that "leaked" user manual came out, I'm pretty sure it said there was one. Though I haven't seen any of the sites covering the official release mention it yet.

And this will mark my exit from Verizon as of the end of my contract...

Has anyone found these on the T-Mobile site? Google provides a link to http://www.t-mobile.com/nexus5 but that just gives a 404.

So I can buy it on playstore and activate on sprint?

No IR blaster? Posted via Android Central App on the New Nexus 7!

anyone's order stuck on processing? i always have such bad luck with the play store for hardware!! :(

My status was on "processing" for 2 hours, but I just received an email confirmation. I'm really pumped for this phone. I've been struggling with a HTC sensation that I rooted, but it has been incredibly buggy the past few months. I just hope the camera is solid and the battery life can take me a solid day.

One of the highlights in the KitKat 4.4 video was IR support. Why no IR on the Nexus 5?

That's a great phone. I'm sure many will enjoy it however I'm happy with my Note 3 for my needs. Bigger screen
Bigger battery
More RAM
13 Megapixel camera
IR Blaster
S-Pen
4K video
Verizon 4G LTE
TouchWiz is lag-less on this phone. I'm not concerned about the fastest Android updates, so to each their own.

It always a choice that people need to make for their own needs MY reasons for choosing the Nexus 5 over Note 3 Big enough screen at 5"
Big enough battery (more would be better)
Enough RAM (as opposed to needing it)
8MP sufficient (quality of pictures more important)
IR would be nice but not essential
Stylus not needed
4K video not needed it's a phone
Verizon LTE - not needed in the Uk
Doesn't have TouchWiz
I prefer to have the latest version of Android ASAP But most importantly
THE COST
£349.99 Nexus
£699.99 Note 3 My reasons for choosing the Nexus will not be yours Just as your reasons for choosing the Note 3 are not mine. At the end of the day will hopefully enjoy our purchases Posted via Android Central App

Ordered. Darn long wait for this. Posted via Android Central App

I'm not parting with any cash until I see some reviews on the camera. Not making that mistake again. Posted via Android Central App

Wow so much buzz its like a mass orgy on AC except most are guys hmm im outa here, leave you all to it lol seriously though 2.3ghz snapdragon 800 cpu, Note 3 snapdragon 800 cpu, Nexus-Andreno 330 GPU, Note 3 Andreno 330 GPU, Nexus 2gb ram, Note 3- 3gb Ram, Nexus -16gb & 32gb non expandable or removable battery, Note 3- 32gb & 64gb and expandable and removable battery, Nexus 8mp Camera, Note 3 -13mp. Thats just the hardware line up so im guesing the buzz must be just with Kitkat? Posted via Android Central App

The nexus will be faster than Note 3.
Same specs other than RAM, but without Lag-Wiz and PILES of carrier bloat, 2GB is overkill.
iPhone, Moto x, HTC 1 all don't use expandable storage or removable battery, and it has never been an issue. Not even ONCE. S pen - useless.
Nexus OIS camera
Samesung -No OIS - I tried the Note 3 cam on demo unit at AT&T, took me 5 shots to get one that wasn't blurry. Kitkat is just icing on the cake.

Atleast im realistic i have never written off the Nexus 5 im sure it is and will be a great device, just like the Htc one, the experia z1, Nokia range ect ect m.. Its like a broken record touchwiz= bloat there for its slow and laggy, hmm not in my experiance, No Lag what so ever and great features. And you dont care about the tiny battery in the Nexus or Non expandable storage so around 25gb is enough for you great, that wouldnt be for me. And you can go on about cloud storage but you have to have a good internet signal to access it, i just like to be able to whenever i want. Whatever many may think about the Nexus 5 its NOT as goood as the Note 3 not even close in my personal opinion. It just wouldnt suite my requirements. S-Pen = Useless hmm look up the definition of that word im sure youl find that your wrong. No OIS on the Note 3 yes that would have been great, however i have a steady hand so not an issue for me, i can throw in Nexus is Not capable of 4k video recording. Again the Nexus 5 is a great device it just doesnt have the same benefits and usability that the Note 3 has and that is Fact, wether you use the features or not. Posted via Android Central App

So would this work in singapore Posted via Android Central App

No removable battery?
No SD card slot?
No sale. I've never owned a cell phone without a removable battery and every phone I've had for the last 9 years has had an SD card slot (back when they were called "TransFlash"). I'm not about to backpedal now on technology. Epic fail, Google. My Galaxy S2 is getting long in the tooth.

You already knew this about the Nexus devices, why are you making such a pointless comment and pretending to be surprised? Posted via Android Central App

I ordered 32gb in white. If this phone goes a solid day with battery I will be very satisfied. My favorite android is the Nexus One. It just started to die on me after 3 good years. My wife has the Nexus 4 and I have been very impressed. She doesnt really care for smartphones but instantly loved the Nexus 4. Considering how much nexus phones costs and what you get (in terms of specs and quick updates from google) these phones area a STEAL. Hopefully there are some good accessories that come out soon.

Awesome phone! Wish I can get one!

How come no ir blast or fm transmitter? Posted via Android Central App

Is it possible for me to buy international version in US?

Stand by is quoted as "up to 300 hours" - HOW?
They should have gone for a bigger battery, unless 4.4 radically transforms power consumption. Awesome A C

Question! With the frequency and band listings, I am trying to understand if the Nexus 5 will support 3G in a country that has UMTS 2100 only. I dpn't see 2100 listed...Is it the same as Band 1? On nexus 4 they listed 2100 explicitly. If it doesn't work, contact me...I will have a new Nexus 5 to sell you when it ships November 5...

I love everything about Nexus 5

32 GB flash, LTE Advanced, WiFi ac, Snapdragon 800, FHD in a mid priced phone, go Google, luvin my N7 FHD, N4, wish I hadn't bricked my GNex and waited, damn the carriers for getting in the way of updates. We're all waiting for N10/2, I'm hoping that it's a Tegra 4, apparently not UD (4k,) wish it was. Posted via Android Central App

@Alex Dobie Thanks for the hot post. Camera video shot capability and resolution didn't added here. The battery is non-removable, as this is a major fact, it should be added on specification. As Google used to not add SD card slot on their smartphone, then Google should start with 32GB. finally a cool beast from Google. Thanks in Advance.

Yes I am very excited about the device but I am going to wait until someone sells theirs on Craiglist

Give me one! Posted via Android Central App
Android Central Newsletter
Get instant access to breaking news, the hottest reviews, great deals and helpful tips
Thank you for signing up to Android Central. You will receive a verification email shortly.
There was a problem. Please refresh the page and try again.