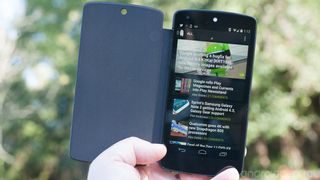 You'll be able to find cheaper Nexus 5 cases, for sure. But Google's official Nexus 5 flip case is a fine specimen.
There wasn't a whole lot of new ground for LG and Google to cover with its new Nexus 5 QuickCover (opens in new tab). We've all grown accustomed to this sort of case/cover combo. So the devil's in the details. Just get them right. And to that end, we've got a winner here. OK, an expensive winner — the QuickCover runs $49.99 in Google Play — but a good product nonetheless.
Let's take a quick look.
The QuickCovers very much mirror their intended devices. You can get one in black, or white. (Or get both if you want.) And like the Nexus 5 itself, the black cover is done in the pleasingly matte, soft-touch finish. The white version — again, just like the phone — is a bit more slick. The color and finish also mean the black case shows fingerprints more readily.
The plastic also feels a little different than that on the Nexus 5 Bumper case — that is to say, this definitely feels like a more premium product. (And since you're paying another $16 over an already expensive bumper case, I suppose it should.) Everything fits as it should. The phone goes in easily enough. And while you can pry up the bottom edges a little, we don't get the feeling at all that your Nexus 5 might come flying out without warning. Oh, and you've got cutouts for the 3.5mm headphone jack and the power buttons, and the secondary microphone up top.
The QuickCover also is useful when closed. The volume rocker is hidden behind the hinge, but there are a couple little telltale nubs to use — as in when you're listening to music and just need to turn things up (or down, I suppose) but don't actually need to see the display. The earpiece speaker is left exposed as well, so you can keep the cover closed while you're on a phone call. (It'll be interesting to see how the white model holds up to the dirt and grime and makeup on your face, — you dirty, grimy, made-up person, you. But, again, the white one's a little easier to clean, probably.)
As we noted in our look at the Nexus Wireless Charger, you'll also be able to charge your phone with the case still on. Cool.
And, finally, this case has a magnet embedded in the cover. Close it, and the display turns off. Open it, and you're back at your lockscreen. Excellent.
Again, the Nexus 5 QuickCover is not a cheap accessory at a penny shy of $50. But it's also nicely done.
Image 1 of 20