The new SteelSeries Stratus XL game controller works on Windows and Android games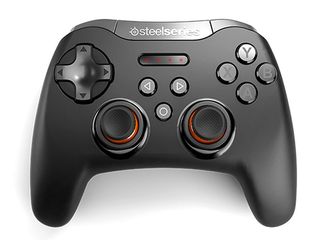 SteelSeries has just revealed plans to launch a new version of its Stratus XL Wireless Gaming Controller. It supports Bluetooth for controlling games running on both Windows and Android devices.
SteelSeries says:
The controller goes on sale in July for the price of $59.99.
Android Central Newsletter
Get instant access to breaking news, the hottest reviews, great deals and helpful tips
I love my Steel Series mouse. Hopefully this controller will have the same level of quality.

Is AC scanning my Amazon Searches? Wow! Still using the Sprint GSIII on FreedomPop Unlimited for $19.99

I've always been confused by Android controllers. The couple I've used had an app required that only worked for certain games. Are there any that let you to just play any Android game with it?

That's why I loved the original Nvidia Sheild so much. Game wasn't optimised for the controller/couldn't use controller input? No problem, map the controls and give it a crack anyway. Sure many games had touch controls in such a way that made mapping touches and simple swipes all but impossible, but at least you could do it to some extent. Sony Xperia Z2
Nvidia Sheild
Xperia Z3 Tablet Compact

I still have a 10 buck Gamestop controller for Android that works and needs no extra apps. Works with all emus, including dosbox, and any of the shooters i DL all work. Posted via Android Central App

what's the name to the controller that you got from Gamestop

To answer your question, look for a controller with HID mode support, which in theory should work with nearly all games and platforms but to remap buttons for touchscreen-only games that will still require root and a lot of fiddling. Glad to see a new option since Moga appears to be running on fumes. The Pivot app was finally updated about 2 weeks ago but they social media posts have dried up and I haven't seen any new announcements about game compatibility. Google needs to step up and release an officially sanctioned, supported controller that works on EVERY modern Android phone, console, and tablet out there.

Looks like a nice controller. Except PlayStation layout is bad layout. Wubba lubba dub dub!

I like it, been looking for something to replace my crappy Oya one.

My first mobile controller was ipega pg-9017 and fell in love.
I'm not sure about new controllers but they should make comparison review.
I recently bought new version pg-9025 both have 8h gaming time. newer one has amazing response and feel to it and price is just ridiculous.
20$ maby less and you get much better controller than more expensive competition.
Expensive and known brand won't always equal best product. Posted via the Android Central App

Having spent just a few days with this controller, MAN. It's the real deal. Works well with a good number of games, and takes away the frustration of trying to play FPS for Android (Dead Trigger, Modern Combat). Super happy with this purchase!
Android Central Newsletter
Get instant access to breaking news, the hottest reviews, great deals and helpful tips
Thank you for signing up to Android Central. You will receive a verification email shortly.
There was a problem. Please refresh the page and try again.