New, plastic HTC One outed on HTC China site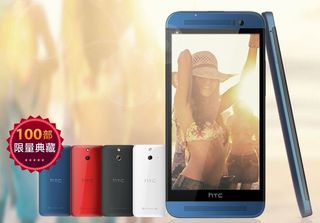 Following recent rumors of a plastic HTC One being in the works, HTC China has taken the wraps off this new model with a post on Weibo linking to a promotional site for the phone. Besides the change in materials, you're looking at familiar chips and software, a 2.5GHz Snapdragon 801 processor and HTC's BoomSound-based audio. Despite the high-end internals, the chassis looks a little more like last year's HTC One, the M7, than this year's offering.
Major differences inside the plastic frame include a 13-megapixel camera with single LED flash, as opposed to the Ultrapixel-based Duo Camera of the HTC One M8, which comes with dual-LED flash. It's unclear at this stage whether it'll be the same 13MP sensor that's used in the HTC One Mini 2, nor whether this new HTC One will see a release outside of Asia. But with promotional activities kicking off in China this week and next, hopefully it won't be long before we learn more.
Source: HTC (opens in new tab) via Weibo
Alex was with Android Central for over a decade, producing written and video content for the site, and served as global Executive Editor from 2016 to 2022.
If the black and blue ones are soft touch it would be a huge improvement in practicality. I'm so tired of boutique phones. Just my opinion of course.

If the only other differences are the camera, I might even prefer this to my current One M7 if it is lighter in weight. Waterproofing would be good too. Posted via Android Central App

just the 13mp camera is enough for me to like it better than the M8

PLASTIC JUNK Posted via NEXUS 5

lol I'm very supportive of metal, glass and other premium materials... But plastic isn't always 'junk'. I love the plastic on the Lumia phones, and I think it is every bit as high quality as metal. Posted via Android Central App

+1 Posted via my sixth Sense HTC M8

Posted via plastic Nexus 5?

Yeah, what could they be thinking, using a material that's lightweight, low-cost, durable, easy to produce, doesn't retain heat or cold... Oh, probably the same thing LG/Google were thinking when they made the Nexus 5.

Whats your crappy Nexus made out of?

The lovechild of every HTC One flagship so far. The plastic of the X(Hopefully), the form of the M7, and the front facing setup of the M8.

Agree Must include mechanical OIS and release all colors on all US carriers.

I would choose this over the "beer can" version any day

I am no fan of the metal build on the M8/M7, you guys are taking it a bit far with the beer can analogies.

Obviously, no one should take seriously what you are a fan of.

I could use a beer right now Posted from the Avengers: Age of Droid Ultra

Schlitz Malt liquor Bull..... Posted via Android Central App

Somehow, the beer can never slips out of my hand like the phone..... Posted via Android Central App

Priorities... Posted via Android Central App

seriously i think i would like this better than the regular M8. 13mp camera and sense camera interface should make a pretty bad ass camera setup

I still hate the off-center top speaker grill but other than that this is a better option than the M8 especially with a soft matte finish like the Nexus 5. Posted via Android Central App on The Nexus 5

If it's soft touch plastic I instantly love this phone more than the M8 :p Posted from my TARDIS!

I'll take one in Orange please.

I would love to see this stateside. I really enjoy my M8. I solely bought the phone b/c of the front facing speakers/internals,metal chasis and build quality. Personally I think all manufacturers should adopt front facing speakers, it just makes sense. However, the one thing I can say I don't like about my M8 is the metal. As contradictory as that sounds to my first sentence. I really enjoyed going case less on my Moto X , but now I am petrified to drop my M8 and had to put a case on it. I would gladly sell my M8 for one of these b/c I think I would feel less worried dropping it....

I don't want front facing speakers on a cell phone, I much rather use the front space for as much screen as I can get (thinking LG here). It's a cell phone not a radio. The only time I use my phone speaker instead of headphones is if I'm by myself. And then I don't need anything loud, because I'm by myself LOL. If I want to listen to music outside our something I have a blue tooth speaker. I use my screen all day every day so it is more important to me then front speakers.

Prioritizing the screen is definitely understandable, tx tuff, but I love the front-facing speakers, too. Even when using a Bluetooth speaker, the One sounds louder and better than my parents' and brother's phones when connected; however, maybe that's a result of HTC BoomSound more than speaker placement. Still, great when communicating on speakerphone, the ringer, alarm, etc. Posted via AC App on HTC One

If you use front facing speakers you wouldn't be saying that. LG will adopt Front-facing speakers and having front facing speakers doesn't have much to do with screen. Posted via Android Central App

Isn't this the Desire 816?

Now we're talking!! Kuddo's to HTC for trying something different with the UltraPixel LAST year, but when they didn't improve on the camera with the M8, they lost most interest and a sale. Now that there's something worth spending my money on, I'll be ditching my SGIII.

They actually did improve the camera on the M8. Posted via Android Central App

Still way too much wasted screen space, which makes the phone too big for the usable screen size. HTC One needs to figure out a more efficient internal design.
Android Central Newsletter
Get the best of Android Central in in your inbox, every day!
Thank you for signing up to Android Central. You will receive a verification email shortly.
There was a problem. Please refresh the page and try again.