The new Nest Aware will start at $6 per month and cover all of your devices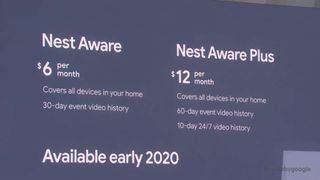 (Image credit: Android Central)
What you need to know
The new Nest Aware base plan will cost $6 per month and $12 per month for Nest Aware Plus.
Both plans will cover all devices in your home with 30 days of event-based video history for Nest Aware and 30 days of event-based video history with 10 days of 24/7 video history for Nest Aware Plus.
The new plans will roll out in early 2020.
Google just unveiled a slew of new devices at its Made by Google event in New York. Along with all the shiny new hardware, it also announced some new pricing for the Nest Aware subscription service.
The new subscription plans will start at a flat rate of $6 per month for the base Nest Aware plan and $12 per month for Nest Aware Plus. While both of the new plans include coverage for all devices in your home, the main difference will be the amount of video history saved. The base Nest Aware plan includes 30 days of event-based video history, while Nest Aware Plus offers 60 days of event-based video history with 10 days of 24/7 video history.
Currently, Nest Aware plans start at $5 a month for five days of video history and go all the way up to $30 per month for 30 days of video history. Even though the lowest tier plan is currently a dollar cheaper, it often got more complicated and more expensive once you realized each additional camera required its own subscription.
With Google's new Nest Aware plans, it is simplifying the subscription service while including all the cameras in your home. Meaning, if you have more than one camera, not only will your bill be more simplified, but it will also be cheaper.
The new Nest Aware offers:
One low subscription price for all Nest products in your home, including cameras, speakers* and displays*.
Event-based recording (EBR), which records only when the camera detects activity, to help you focus on the events that matter. You can also upgrade to Nest Aware Plus, which includes 24/7 continuous video recording (CVR).
Emergency calling*. Use Nest speakers and displays or the Google Home app to call emergency services for your home.
Sound detection*. Nest speakers and Nest Hub can alert you when they detect the sound of a smoke or carbon monoxide alarm.
Along with the new pricing, Nest Aware also brings with it event-based recording, sound detection, and emergency calling. Plus, the new Nest Mini and Nest Hubs will even be able to integrate with Nest Aware to alert you to the sounds of a smoke or carbon monoxide alarm.
While Google announced the new plans today and it already makes mention of them on the main Nest Aware site (opens in new tab), it states that the new plans won't roll out until early 2020.
Google smart speakers
(opens in new tab)
Still tiny, more mighty
The Nest Mini is the new updated and rebranded Google Home Mini speaker. It now has better sound, a wall mount, a new blue color, and a built-in 3.5mm aux jack. Now, you can do even more with this mini Google smart speaker, especially with the new Nest Aware integration that's coming soon.
Get the Android Central Newsletter
Instant access to breaking news, the hottest reviews, great deals and helpful tips.
This is awesome. Great to hear.

I disagree. I only own the Nest Hello. Just give me 1 day of 24/7 recording on the 6 dollar plan. I bought the camera with the understanding that it would have continuous recording. Why are you making me pay 1 dollar more per month for less features? This is ridiculous.

I will only use Ring. One small fee and doesn't matter how many devices.

Not sure if I like this or not. While it covers all my devices for a dollar more it is actually a downgrade on recordings

I've decided I do not like this and will be leaving nest. I want continuos streaming like I currently pay for and not events which many times are missed.
Add 24 hours of continuos streaming to the 6 dollar plan and then it maybe makes sense.

I pay $8 for 5 day 24/7 recording on the doorbell and a cam. I'll now have to pay $12 to keep the same functionality. 😒
I bought Nest over Ring for the continuous recording support. There should be a lower tier 24/7 option as well. Don't really need 10 days of doorbell footage. Just a day or 2 would suffice.