New Google Chromecast passes through FCC, but you likely won't spot anything new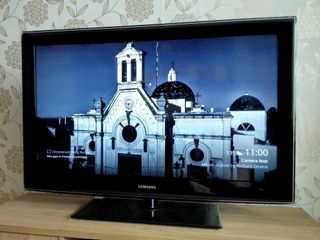 What appears to be a new model of Google's Chromecast has been spotted passing through FCC, but unfortunately it's a filing that will fail to excite many holding off for 5GHz Wi-Fi support and other features. In fact, H2G2-2A will not bring any noticeable improvements to the table, confirmed by a recent Chromecast team AMA on Reddit. According to Google's Jacky Hayward:
So while we will see a new Chromecast come from Google, there won't be any new features you'll be able to use. The good news is for those who already own the Chromecast – your device won't suddenly become obsolete. We'll have to hold out on the Nexus Player.
Source: FCC, via: Zhats Not Funny, Engadget
So what was changed? Posted via the Android Central App

They probably just changed the components they are using, possibly because what they use will stop being available or maybe the new components are cheaper Posted via Android Central App

That makes sense Posted via the Android Central App

Wonder if they fixed the Heat problem, gets hotter than my phone when charging. Can't wait for a review of the Android/ Nexus TV box with game controller, I just hope 1GB processor will be enough for a game, my GNex with 1.2 processor can't run half the games I play.

"...unfortunately it's a filing that will fail to excite many holding off for 5GHz Wi-Fi support..."

Reading is fun. You should try it sometime. There is a great article posted on this page; all you have to do is scroll up. ;-)

#headScratcher Posted via HTC soon to be a moto 5.2 or 5.9

Not really a head scratcher. They added a 5GHz band,

No they didn't. Read the article.

Still likely to only support the same modems/routers as the first gen Chromecast..?? Had to return my Chromecast as it constantly kept disconnecting from my home network..come to find out my modem/router was not on the list of compatible modem/routers...

Where is this list? Posted via Android Central App

Never mind I found it https://support.google.com/chromecast/table/3477832?hl=en Posted via Android Central App

All I want is better screen mirroring support. Nexus player with Plex will certainly be a better solution for video.

Plex already supports Chromecast directly, obviating the need for screen mirroring support. What are you streaming from? Or are you not using Plex at this time?

Yup. I use Plex with my Chromecast all the time. It works great.

The chromecast is prefect the way it is. Android TV Nexus Player is the next step. Posted via the Android Central App

Some of us with dual band routers would disagree. I would love to be able to cast in 5Ghz and free up my 2.4ghz network.

+1 Posted via Nexus 7 2013 or verizon Galaxy S5 or maybe one day through my moto 360

Moving sharing via google drive! finally I would prefer the google movies app instead. you know, make it like google play music.

Seems faster? Posted from the amazing whatever device I can afford because I'm a broke college kid.

Hopefully this will mean they can drop the price. Not that it wasn't cheap to begin with, but think how many they'd sell at $20/£20 each. Posted via Android Central App

Hopefully it will be WiFi AC
Android Central Newsletter
Get the best of Android Central in in your inbox, every day!
Thank you for signing up to Android Central. You will receive a verification email shortly.
There was a problem. Please refresh the page and try again.