New Android 7.1.1 builds bring Jan security patch to Pixel, Nexus devices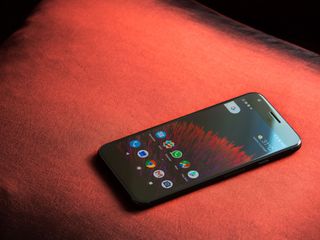 (Image credit: Alex Dobie / Android Central)
Google has released new Android 7.1.1 builds for the two Pixel models and several Nexus devices, including the Nexus 6P, 5X, 9, Player and Pixel C.
The new builds bring the requisite bug fixes that we all know and love, along with nearly 50 security updates bundled in the January 2017 (happy new year!) security patch. Pixel owners should look for Build NMF26U or NMF26V depending on the variant ("V" is for Verizon), while Nexus and Pixel C users can look for N4F26J or N4F26I.
As always, the updates are available in factory images or OTA updates, the latter of which can be easily sideloaded using ADB.
The January 2017 Security Bulletin details a number of vulnerabilities that have been patched, both within Android itself and from third-party vendors like Qualcomm and NVIDIA.
How to download and install Nougat on your Pixel or Nexus right now
Daniel Bader was a former Android Central Editor-in-Chief and Executive Editor for iMore and Windows Central.
just got it on pixel c build # N4F26I not on my Rogers nexus 6p yet.

Installing now on VZW Pixel XL....

Anyone know if this includes a fix for the bluetooth issue with the Nexus 6p and car hands free?

It didn't for me in my Honda Accord. I looked through the bulletin and never saw any word of bluetooth incompatibilities being addressed. I guess we have to keep waiting for them to get their act together and decide bluetooth functionality may be important to some users.

If history is any indication, it'll probably take them around 6 months to finally address it. I was hoping the Pixel with its premium price tag might make fixes a higher priority than they were on Nexus devices. Guess we'll see.

Did you factory reset after os update ?

What a shambles eh! They manage to reintroduce this but every few months and then take half a year to fix it again! I've reported to downgrading to the latest build of 7.0.0 to fix the BT car issue and its going great so far. Don't lose a great deal being on this build rather than 7.11 either

Interesting. I'm downloading it now, but I initially got a pop-up that said that it's only available to download over wifi now, and will be available to download over mobile wireless on 06 January. I've never gotten that before.

Mine said the same thing about Jan 6th too. My Dec update had a deadline with it too. Lol

I got the same thing, and had to turn on my wifi in order for it to be carried out.

Did they fix the battery issue? When I get to 15%, the battery saver pop up appears, but immediately says I have 0% and it shuts down.

I didn't have any issue before this update. Not sure if it does.

I had that problem, it got worse and worse over a month or 2. Eventually it was shutting down at 50%. I had to swap it using Nexus Protect and get a new one. The new one is fine. It's a battery issue, not a software issue.

My phone says it's downloading now, but I'm on Verizon and i was assured that Verizon would be causing these updates to be delayed. It makes no sense

lol, guess VZW was right this time. It's actually nice for a change!

What about the Nexus 6P owners who are using their phone on Verizon's network? We/I never received the initial 7.1 release. Are we now going to get our chance to get into the game, or are we still on the bench?

From all that I've read so far this update only fixes security issues with this phone and doesn't address or fix anything else. I'm beginning to think Google is never going to fix any of these issues! They've already tried to fix things several times to resolve Bluetooth and LTE connectivity issues to no avail for everyone.
A company like Google doesn't even know fixes for their own operating system. How sad is that ?

I am a N6p user on VZW and have 7.1.1 (N4F26J) and the Jan17 security patch. 100% up to date.

When and how did you get it? Did you side load?

I was in the Beta Program and then removed the device from it which gave me the OTA stable version of 7.1.1 without wiping my data. The security patch just came OTA a few hours ago.

Can you help me out I have N6 original and I'm on beta if I remove it from beta should I get 7.1 OTA

Not the N6, I am afraid. 7.1.1 stable has been delayed on your device. It is still supposed to be released, though.

Weird. I got the U variant and I'm on Verizon. Anybody else getting this?

me too. after some digging, this seems to be correct. The "V" might be for europe or somewhere else

Yes.. VZW here, with a U variant. V is not for Verizon.

Nexus 6 ??????? Come on Google !!

No kidding. I just hope they don't think they're gonna convince me to buy yet another phone from them by keeping their traps shut about the Nexus 6 and just making N6 Nougat OTAs available for download but not actually pushing them out OTA.

Do you guys think the Nexus 6 will get the assistant?

Also have a Verizon pixel with the "u" variant.

I've got the Google store unlocked pixel xl and I'm using it on Verizon. In the few hours since I performed the update I'm receiving pink screenshots from my wife's iPhone 7 plus, again, and my voice to text has gone to hell with the microphone turning off over and over again in the course of transcribing even short voice to text. Anyone else? I've got until the 9th to return my pixel, and I'm beginning to wonder if that might be the prudent thing to do and look toward the hopefully "unrushed" pixel 2. I don't really want to, there are many things I really like about this phone, but........?

Sounds like you need to replace it with a different one.... Sounds like a hardware problem

I think you're right about the replacement. I have a regular sized pixel arriving tomorrow that was going to be a surprise gift for a family member. I'm going to return the xl and use the regular sized pixel(I have another large screen phone). As long as everything goes well with it(for 2 or 3 weeks), I'll reorder another as a replacement gift. I'm glad I got the gift as a surprise and didn't tell them ahead of time.

Received security patch of 5-Jan on 4-Jan itself on my 5x

Same with me, I have to admit that's quite funny.

Verizon model with the "U" version here as well.

Not part of the beta program but I got NMF26U on my Rogers Pixel today.

Overpriced rubbish, only good thing about the Pixel is the security and fast updates.

Come on, tell us how you really feel! Don't hold back now. Your opinion is of utmost importance to everyone here.

And that's only guaranteed for a year. Next year current gen Pixel owners will be left in the lurch like current Nexus owners. I have the Nexus 5x from last fall. While everyone else is getting 7.1.1 and the January security patch on their Pixel, my 5x FINALLY got the December security patch today, and it was still 7.0.

Can you provide me the wallpaper from the pixel smartphone?

@R3Cyrax, it's a MIUI wallpaper. Here you go...http://www.miui.ch/inc/uploads/2016/02/Mi5_wallpaper_03.jpg

V is for europe. U is for all American.

I'm afraid to update again. I lost the ability to root by updating and I feel like an idiot. I'm going to stay on this build for a while and hope it gets rooted. I need my titanium backup, my AdBlock and the ability to image the phone so I can restore it. I plan on sticking with Google's builds, I don't think I'll go custom ROM. I had slot of bad luck on the Nexus 6 with it. We will see. First I need to hope.

I wish they would fix the bluetooth issue that has been present since the 7.1 beta:
https://productforums.google.com/forum/?utm_medium=email&utm_source=foot...

50 security patches? How can I be using a HTC One M8 which as the 12-2015 security patch and fell safe, then? Why didn't I get hacked yet?!

It also raises the question about how many potential security threats there might be if they release 50 security patches just a month from a previous update.

got the 'I' version as OTA and installed .( nexus 6p - international version ). Look like for verizon it is the 'J' version. is it safe to adb sideload 'J' version ?

Is anyone concerned about the monthly security patches? While I applaud Google's efforts to keep things secure, it makes me wonder if this thing is secure at all? I know things change constantly but are they able to keep up? What about the users who are not getting the updates? I love N6P but I'm curious as to what this all means.

I have a N6P and I still haven't gotten the security update. My last security patch is from November 2016. I have Nougat Beta Program. Am I the only one? I also have a problem with Bluetooth...hopefully it gets fixed....

Similar here, Nexus 5x, but not in the beta program. Still on the November patch, like you.

Checked for update after my last post, and there was one. December update, 7.0 still. Amazing. It had previously checked 2 hours before, so I'm just now getting the December security update, without 7.1.1, while everyone else is getting the January update with 7.1.1. I bought Nexus to avoid fragmentation. Might finally bite the bullet and go iPhone.

I'm thinking the same thing. All of the Google apps and none Google apps I use are on the iPhone. I also have seen that most of the apps are better on the iPhone. I have the N6P but because I use it on Verizon, I can't get the latest 7.1.1 update. I'm stuck on 7.0.

I'm on the December security update but still on 7.0. I talked with Google and they said because I enrolled in the beta program to get 7.0 and then unenrolled, it may take longer to get the update, but it will come they assured me. I'm tempted to refill and then unenroll again to get 7.1.1.

I have now received three updates in the last week, counting the first update that I mentioned. Here were the 3 updates: 1. December security update w/7.0
2. December security update w/7.1
3. January security update w/7.1 So, I guess that I'm all caught up now.

And I'm still on December with 7.0.

Still on 7.0 on my Nexus 5X, what gives?

i still havent received the january security update but i am on 7.1.1. what gives?
Android Central Newsletter
Get the best of Android Central in in your inbox, every day!
Thank you for signing up to Android Central. You will receive a verification email shortly.
There was a problem. Please refresh the page and try again.