Netgear PTV3000 gets a firmware update, now officially supports host of Android devices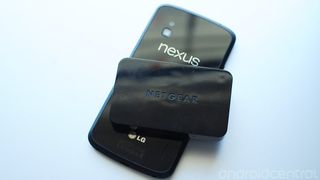 NetGear's PTV300 Miracast adapter has been available for some time now, but it just recently received a firmware update that made it compatible with a number of Android devices. Now at v2.2.9, which is the third official firmware update (Android functionality was added in 2.2.7), supported devices now include:
Samsung Galaxy S3 (Android 4.1.1 or above)
Samsung Galaxy Note II
Samsung Galaxy Note 10.1
LG Optimus G (Android 4.0.4 or above)
Google Nexus 4 (Android 4.2.1)
Sony Xperia (various models with Android 4.0.4 or above)
Miracast remains a fairly new standard, so some hiccups may still arise. Lakeeast in our Nexus 4 forums says the recent Android 4.2.2 update might have affected things, but we've yet to confirm this. (Still trying to our PTV3000 updated from a the last firmware update.) If you've got one, give it a shot. And if you're still on the fence, keep an eye out to see what's what.
We've got the full v2.2.9 changelog after the break.
Download: PTV3000 v.2.2.9
NetGear PTV3000 Version 2.2.9 firmware update changelog
Miracast support for compatible mobile phones and tablets.
Combined Intel wireless display (Widi) and Miracast a single user interface. There is no need to use the push button on the side of the PTV3000 unit to switch between Widi and Miracast modes. The side push-button is strictly used to go into FW update mode.
(Miracast) Both PIN and PBC methods for WPS are supported. The device automatically communicates with the source device (mobile phone, tablet or laptop) to determine which WPS method to use.
(Miracast) The device is already PBC ready waiting for source to initiate connection.
Fixed HDCP connection error issue with some Sony mobile phones.
Fixed issue that screen projection does not take place until swiping action takes place on mobile phone.
Fixed some disconnection with mobile phone.
Device does not allow second Widi or Miracast souce device to interrupt existing Widi or Miracast session.
Enable 5Ghz Miracast operation with preferred operating channel as channel 40.
Reduced image size and faster boot time.
Fixed system lockup issue after wrong PIN entry.
Improved connectivity with Intel Widi running under Win8. Repaired issue in win8 that device connection has issue after removal of device under Devices and Printers interface in Win8.
Fixed issue of connecting screen appearing after a session teardown on Win7 laptop.
Fixed issue of one Widi session affecting screen projection of subsequent Widi or Miracast session.
(Widi) Fixed issue of cursor position not updated until "resize TV picture" takes place.
Fixed kernel panic issue that system goes into a non-responsive state.
Implement regional domain control allowing shipment to Europe, Australia, and Canada.
Localization support for international languages.
Be an expert in 5 minutes
Get the latest news from Android Central, your trusted companion in the world of Android