Netflix works just fine on the Motorola Photon 4G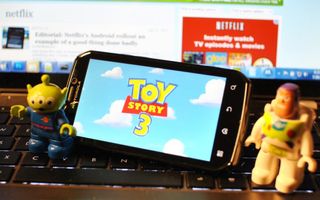 When Netflix updated its Android app a couple weeks ago, the number of officially supported devices climbed to two dozen. The number of devices that the app actually works on is even bigger. And another one of those devices is the Sprint Motorola Photon 4G.
The Photon wasn't -- and as of this writing still isn't -- on the list of supported devices. But Netflix is visible in the Android Market on the Photon, downloads and installs just fine, and we were watching Toy Story 3 in no time at all.
Not sure if this is an oversight, or if we're just lucky, but either way, it's a good thing.
It also shows up in the Market for the Sensation.

It doesn't show up in the market, but that build works perfectly for the inspire 4g also.

I'm sorry I'm still pretty new to this android thing, iPhone just not keeping me entertained anymore. But how in the heck am I supposed to get netflix, its driving me crazy. When will we see it? Know anything or where I can get it, without rooting my phone?

but the most important question remains, does it work in mirror mode? Can you see netflix onto your HD TV?

The real question is when in the hell will they start streaming all movies in their DVD library.
Android Central Newsletter
Get the best of Android Central in in your inbox, every day!
Thank you for signing up to Android Central. You will receive a verification email shortly.
There was a problem. Please refresh the page and try again.