Netflix adds a screen lock feature to its Android app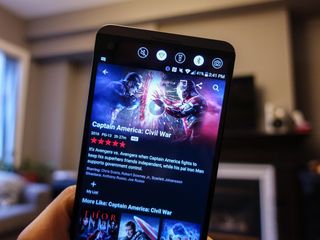 (Image credit: Android Central)
What you need to know
Netflix has updated its Android app to include a screen lock option.
This new feature will strip the player interface of all controls so as to prevent accidental triggers.
It was rolled out via a server-side update over the past week.
While we're all at home watching Netflix, the company has just improved its Android app with a neat little quality of life feature. It's added a new screen lock feature that locks the player UI and strips all action buttons like play/pause, scrubbing and so on.
Instead, the focus is placed on the content being played. You won't accidentally skip half an episode while sneezing, and you can disable the lock by double-tapping your screen.
The feature was delivered via a server-side update (spotted by the folks over at 9to5Google) and should now be available on Android phones. It's a small change, but one that'll make Netflix more pleasant to use.
Netflix: Everything you need to know
It has Steve Carrell, so I truly WANTED to like it. I expect to like it a lot. But the trailer left me completely....meh. And, as an Air Force vet who grew up dreaming that we'd eventually have something like Star Fleet, I was very disappointed in the creation of Space Force (because I actually know what its mission is). I was really hoping this would be a spoof of just how ridiculous I believe our Space Force is, one that would be worthy of Steve Carrell's considerable talent. The trailer does nothing for me. I still may give the show a try because it IS Carrell. I'm not holding out a lot of hope.
Android Central Newsletter
Thank you for signing up to Android Central. You will receive a verification email shortly.
There was a problem. Please refresh the page and try again.