MWC 2019 preview: Galaxy S10, LG G8, foldable phones, 5G and more!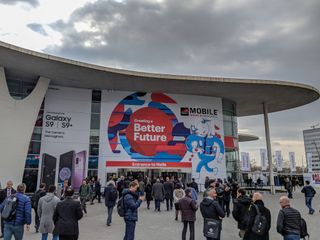 (Image credit: Android Central)
Mobile World Congress, or MWC as it's known, acts as the true starting point of the year's smartphone season.
Unlike more general trade shows like CES and IFA, MWC is primarily focused on (as you could guess) mobile technology — and with its timing right at the end of February, it's perfectly situated to as a launch point for phones for the second quarter and through the summer.
While there are a few distractions around in smart home tech and gaming, MWC makes Barcelona a smartphone fan's playground for a week. The show officially starts on February 25, but announcements start rolling in on February 23. Here are all of the biggest announcements you can expect at MWC 2019.
Smartphones — both flat and foldable
MWC marks the point where the flood gates open for smartphones every year. While CES at the start of January is typically devoid of smartphone announcements, MWC is packed full of them from companies big and small. Let's run through the list of expected announcements, in chronological order:
Samsung Galaxy S10, S10+ and S10e (February 20 at 1 p.m. ET)
Samsung's Galaxy S10 launch event is obviously before MWC, but just barely. And everything that happens at MWC will surely be viewed through the lens of what Samsung does the day before everyone heads to Spain. We know most of what to expect, including a standard Galaxy S10, larger Galaxy S10+, and simpler (and cheaper) Galaxy S10e. Expect additional details from the launch to trickle out in the days following as everyone gets their eyes and hands on the phones at MWC.
Xiaomi Mi 9 and foldable phone (February 24 at 4:30 a.m. ET)
Xiaomi has already told us the Mi 9 will launch at MWC, so we can expect to see its crazy high-megapixel camera and beautiful glass back on February 24. Xiaomi could also choose to show off its foldable phone concept in person, after putting up a tantalizing video of the hardware just a few weeks ago.
Nokia 9 PureView (February 24 at 10 a.m. ET)
The forthcoming Nokia 9 could mark the return of the "PureView" brand, and if this rumored crazy five-camera setup turns out to be official you can mark me down as excited. Nokia's phones have inched up in quality and price with each generation, and this is likely to be even bigger of a hit at the show than last year's Nokia 8 Sirocco.
LG G8 (February 24 at 1:30 p.m. ET)
LG has pre-announced a considerable amount of the LG G8, so we mostly know what's coming. It looks a whole lot like a successor to the G7 and V40, with a rumored touchless gesture control system and some neat hardware upgrades.
Sony Xperia XZ4 (February 25 at 2:30 a.m. ET)
The latest Sony flagship is expected to be a particularly giant phone, with a 6.5-inch 21:9 display — but it doesn't have a notch or a hole punch in the screen. Chances are it will be the first Sony phone with three cameras on the back as well. Sony has tamped down the idea that there will be a "Compact" version, but we could see some sort of companion model launch at a slightly lower price point.
5G phones and networks
We actually heard a lot about 5G at last year's MWC, but now the carriers are actually starting up live 5G networks and companies are making 5G phones, MWC 2019 will be the biggest show yet for 5G.
Samsung Galaxy S10 5G
Along with the standard Galaxy S10, larger S10+ and less expensive S10e, Samsung should announce a completely separate Galaxy S10 5G. The 5G model isn't likely to be a 5G version of the Galaxy S10+, but instead an altogether different phone. It will probably be larger than even the Galaxy S10+, making more room for a larger battery, the 5G radios and extra antennas.
LG V50 5G
LG is expected to make a 5G phone announcement, and it's likely going to be branded as the LG V50. Much like LG made upgraded versions of the V30 after launch, including the V30S and V35, the V50 is expected to be primarily based on the LG V40 with a few strategic changes — namely, a 5G radio. Because the LG V50 should be a 5G phone, there probably won't be a 5G version of the LG G8.
OnePlus 5G phone
OnePlus already let the cat out of the bag here, pre-announcing that it will have a 5G phone in partnership with EE in the UK. But MWC would be a perfect time to give us some details. We know it's going to be considerably more expensive — about $300 more — than the OnePlus 6T, but we don't know what it will bring to the table beyond the network.
Huawei foldable 5G phone
Since Huawei will be unveiling the P30 at a dedicated event, that leaves MWC to talk about 5G and foldables. Huawei has already said it will show off some sort of phone that is both foldable and have 5G connectivity. That's a big step into new territory where other companies are doing one or the other (or neither); but considering the size and power of Huawei in both components and networking, this is a great way to show off all of its capabilities at once.
Xiaomi Mi Mix 3 5G
Alongside its other announcements, Xiaomi is expected to roll out an upgraded version of its recently released Mi Mix 3 with 5G radios. We're basically looking at a standard Mi Mix 3, but with a Snapdragon 855 processor and the supporting 5G modem.
Carrier announcements
Carriers from around the world, not just Europe, are going to take to MWC to make big announcements about their milestones with rolling out 5G networks in their home countries. Many of these announcements will center around the consumer launch of their networks in specific cities, and will often be tied into partnerships with manufacturers that will launch 5G phones made specifically for their networks. Because 5G networks are in their infancy, it will take a strong relationship between carriers and phone makers to pull the whole experience together.
Network provider announcements
Related to the carrier discussion, the 5G network providers themselves will have big announcements of the partnerships they've inked to supply carriers with 5G equipment. The likes of Ericsson, Qualcomm, Huawei, Intel, Nokia and dozens of others are all fighting to get in on the ground floor of providing carriers with the hardware they need to launch their new 5G networks to the public. The individual announcements may not be too interesting, but the implications are massive and in aggregate show the way the industry is headed.
What are you looking forward to most?
MWC may just be focused on phones and networks, but that's a whole lot of news to follow and get excited about. What are some of the things you're looking forward to the most? Let us know in the comments!
Sign up for Black Friday email alerts!
Get the hottest deals available in your inbox plus news, reviews, opinion, analysis and more from the Android Central team.
Andrew was an Executive Editor, U.S. at Android Central between 2012 and 2020.