LG G8: Everything you need to know!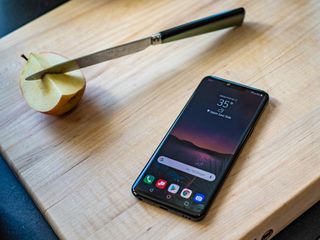 Every year for the past few years, LG's first big flagship to be released is a new entry in its G-series.
After going out-of-the-box with the G5 and its failed module system, LG decided to play it safe in 2017 and 2018 with the G6 and G7. At first glance, the G8 looks like another safe-bet, and while it is in some regards, it also tries a few new things that remind us that LG still likes to scratch that innovation itch.
From the latest news to all the big details, here's everything you need to know about the LG G8!
The LG flagship
A mixed bag that's worth checking out.
While the LG G8 isn't a perfect smartphone, it is one we still recommend checking out. It has a quality design, display, and specs, along with one of the best headphone jacks around. So long as you can look over the awkward air gestures, it's a solid device.
Check out our review!
Year after year, it feels like LG makes a really good smartphone with its G series, but in one way or another, falters somehow and gets left in the dust by its competitors. With the G8, that's the case yet again.
There are a lot of things the LG G8 does well, including its gorgeous display, super sleek design, and a headphone jack that audiophiles will love.
Unfortunately, aging software, mediocre cameras, and LG's confusing Air Motion feature end up holding the phone back from greatness.
For a deeper dive, be sure to watch and read our full review.
LG G8 review: Almost there, yet again
Get acquainted with the specs
The LG G8 is a flagship phone through and through.
Under the hood, you'll find things like a Snapdragon 855 chipset, 6GB of RAM, 128GB of storage (that can be expanded), and a 3,500 mAh battery.
The spec list is an impressive one, and if you want your next handset to have the latest available tech, you'll find just about all of it in the G8.
Swipe to scroll horizontally
Category
Spec
Operating System
Android 9 Pie
Display
6.1-inch OLED
3120x1440
Gorilla Glass 6
HDR 10
Processor
Qualcomm Snapdragon 855
Storage
128GB
Expandable
microSD up to 2TB
RAM
6GB
Rear Camera 1
12MP, 1.4µm pixels, ƒ/1.5, OIS
78° lens
Rear Camera 2
16MP, 1.0µm pixels, ƒ/1.9
107° lens, fixed focus
Front Camera 1
8MP, ƒ/1.7
80° lens, fixed focus
Front Camera 2
ToF
Battery
3500mAh
Non-removable
For the entire spec list, check out the link below. 👇
LG G8 Specifications: Same look, bigger battery, new gimmicks
It looks a lot like the G7
From a design point of view, the LG G8 looks almost identical to last year's G7.
The dual rear cameras are now in a horizontal position instead of a vertical one, but the glass back, aluminum frame, and large notch cutting into the display are all the same.
The G8 is far from an ugly phone, but compared to some of the other smartphone designs that are out there, it's hard not to feel like it's already somewhat outdated in 2019.
The first OLED display on a G-series device
LG's been steadily improving the quality of its OLED displays, but up until now, those displays have been reserved for the more lustrous LG V-series.
However, LG's shaking things up this year by equipping the G8 with a 6.1-inch OLED display.
There's a resolution of 3120 x 1440, Gorilla Glass 6 offers protection against unwanted scratches, and support for HDR10 means your videos will look better than ever.
OLED displays have a lot of advantages, whether it be with more contrasty colors or improved battery life, so it's great to finally see this tech make its way to a G device.
Air Motion and Hand ID are the G8's two biggest features/gimmicks
With the G8, two of the features LG's promoting the most include Air Motion and Hand ID.
Air Motion, the most interesting of the two, allows you to perform a variety of actions on the G8 by making hand gestures over it — allowing you to control parts of the phone without actually touching the screen.
You can use Air Motion to switch back and forth between apps, adjust your media volume, and that's it. It's a unique idea with a lot of exciting technology powering it, but the use cases for it are currently quite limited.
Harnessing the tech behind Air Motion, LG also outfitted the G8 with something called Hand ID. Hand ID maps and identifies the blood flow in your hand as a new type of biometric authentication to unlock the phone. So, instead of hopping aboard the face unlock train, LG wants you to hover your hand in front of the G8 to unlock it.
I hope the Google Pixel 4's air gestures can succeed where the LG G8's failed
The G8 is all about great audio
One of our favorite parts of the G7 was its audio experience. In a market that can't wait to ax things like great external speakers and headphone jacks, the G7 delivered on both fronts. With the G8, we get more of the same.
The 3.5mm jack on the G8 is a 32-bit Hi-Fi Quad DAC, meaning you can plug in your favorite pair of wired headphones and have your music sound as good as possible. Also present is the Boombox feature that increases the volume and bass of your tunes when you play music from the G8's speaker and place it on a solid surface.
Lastly, the G8 also ships with something called a "Crystal Sound OLED Stereo Speaker." When you make a phone call, the audio is emitted from small vibrations in the OLED display rather than a traditional earpiece speaker.
You can buy the LG G8 right now
The LG G8 carries an $850 retail price in the United States, and if you're interested in it, you can buy the phone right now.
That's a lot of money to spend on a phone, but since the G8's now been out for a few months, it's not uncommon to find it being sold for hundreds of dollars less at various outlets.
The available retailers/carriers include:
Make sure you buy a case!
If you do decide to buy the LG G8, we'd recommend getting a case to go along with it.
While we love how the G8 looks, it's also incredibly slippery and prone to shattering thanks to the slick glass back. If you want to make sure you avoid any nasty damage, a case is a cheap and easy way to do that.
The LG flagship
A mixed bag that's worth checking out.
While the LG G8 isn't a perfect smartphone, it is one we still recommend checking out. It has a quality design, display, and specs, along with one of the best headphone jacks around. So long as you can look over the awkward air gestures, it's a solid device.
Sign up for Black Friday email alerts!
Get the hottest deals available in your inbox plus news, reviews, opinion, analysis and more from the Android Central team.
Joe Maring was a Senior Editor for Android Central between 2017 and 2021. You can reach him on Twitter at @JoeMaring1.